Plymouth Girls Basketball League: Welcome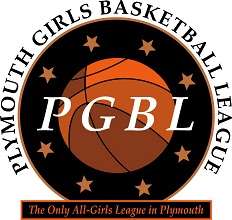 REGISTRATION EXTENDED TO NOV 8th. -- NEW MULTI LEAGUE DISCOUNTS AND PAYMENT OPTIONS AVAILABLE FOR BOTH HOUSE LEAGUE AND TRAVEL USING REGISTRATION BUTTON BELOW THIS MESSAGE!
On-line Registration for 2014-2015 Now Open!
Hello Parents,
We've extended the deadline to November 8th so please get your registration form in the mail or register online using a credit card. The registration forms can be accessed here.
The PGBL is Plymouth's only all-girl basketball league with four divisions starting with the instructional division for all first and second-grade girls, and continuing up through 8th grade. The season starts in early December.
NOVEMBER CLINICS
For girls in grades 3 through 8 that are registered, pre-season clinics will be held on November 8, 15, and 22 at Plymouth South Middle School (PSMS). Every player must attend at least one of the pre-season clinics. We encourage girls to attend as many as possible as this is the best way for coaches to evaluate skill level and balance the teams.
The schedule is as follows:
Grades 3 & 4: 9:00 - 10:15 am
Grades 5 & 6: 10:30 - 11:45
Grades 7 & 8: 12 - 1
For more information or questions, please email pgbl@comcast.net
or you may also phone Diana Hamblin at 508-747-1358.
on behalf of the PGBL Board,
Diana Hamblin
President
| | | |
| --- | --- | --- |
| On-line Registration for 2014-2015 Now Open! | | Congratulation to the PGBL 5th grade team on winning the Kingston Sports Center summer league championship! |
| | | |
| Congratulations to the 6th Grade PGBL Travel Team Division 1A Mass State Tournament Champions! | | Congratulations to the 5th Grade PGBL Travel Team. SGBL Finalists and winners of the Kingston Sports Center St. Patricks Day Tournament! |



2013 - 2014 PGBL Champions

Junior Division - Claychicks

Intermediate Division - Camp Bournedale

Senior Division - DiCarlo Masonary & Stoneworks
Plymouth Girls Basketball League
PO Box 985
Plymouth, MA 02362
PGBLweb@comcast.net