Pittsburgh Lady Bulldogs: Welcome
Thursday, August 8
The Pittsburgh Lady Bulldogs was founded in 2009 by Dave Marx, Sr.
As a former Semi Pro Baseball Player, a former Professional Softball Player, 2 Time High School All American at
North Catholic , and over 20 years of successful coaching experience, he thoroughly enjoys sharing his knowledge and passion for the game of softball with the next generation of athletes.
Dave's comprehensive program with the Lady Bulldogs is the best in the area!! He knows first hand how important it is as an athlete to learn and refine the fundamentals of softball that build a stable foundation to perform at your highest ability. The Lady Bulldogs take great pride not only in how they are coached and play with integrity but also in the quality of instruction available to the girls. They have a professional instructor present at all practices along with the team's certified coaches. The emphasize training fundamentals with all their athletes. Each week the girls receive professional instruction in hitting, fielding, pitching, catching, as well as speed & conditioning. Our instructors attend clinics all over the U.S. and are teaching the most up to date techniques available at the collegiate and olympic levels.
The Pittsburgh Lady Bulldogs train at the Dave Marx Baseball and Softball Academy
https://www.google.sites.com/davemarxbaseballandsoftball
which is safely and conveniently located on the I 376 and I 79 corridors in Carnegie, PA.
This facility was selected with the Lady Bulldogs in mind and as such, our girls practice at the most convenient times. The Academy is well lit, well equipped, with ample safe parking and a spacious parent waiting area. Nearby are grocery stores, specialty shops, CVS, and restaurants.
If this sounds like an opportunity you'd like for your daughter, our 2014 Try-Outs are taking place on:
August 10 @ 1pm
August 14 @ 6pm
August 24 @ 1pm
August 27 @ 6pm
AT:
Skvarca Park 121 Delfred Drive Carnegie, PA 15106
We are looking for a few players in all age groups, 10U - 18U to round out our rosters of seasoned returning players.
Please don't hesitate to get in touch with us should you have any questions or concers at:
pghladybulldogs@aol.com
412-853-5412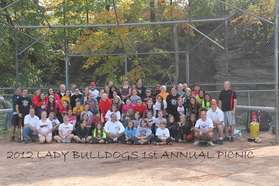 2013 Pittsburgh Lady Bulldogs