Pitman Athletic Association: Welcome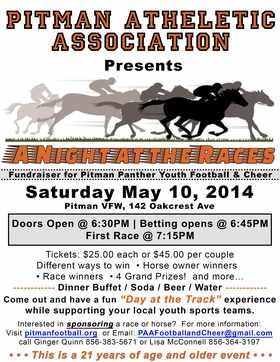 May 10th - PAA Presents "Night at the Races"
PAA Updates
PAA Football and Cheer 2014 Registration dates:
Wednesday April 23rd 6:00PM - 7:30PM @ Boro Hall
Thursday April 24th 6:00PM - 7:30PM @ Boro Hall
Saturday April 26th 10:00AM - 11:30AM @ Boro Hall

Registration forms are available on the Handouts page for download.
A Night at the Races will be held on May 10, 2014 at the Pitman VFW on Oakcrest Avenue. Doors Open @ 6:30PM, Betting Opens @ 6:45PM, First Race @ 7:15PM. Tickets: $25.00 each or $45.00 per couple
Dinner buffet, soda, beer, water, 50/50, different ways to win including, horse owners, race winners.

Win chances at 4 Grand Prizes!

Interested in sponsoring a race ($75.00) or owning / naming a horse ($20.00)?

For tickets email: PAAFootballandCheer@gmail.com
call Ginger Quinn (856-383-5671) or Lisa McConnell (856-364-3197)

Next PAA Meeting is scheduled for May 7th @ 8:30PM
Check the Calendar of events for updated important 2014 dates.
Welcome to the Pitman Athletic Association-established in 1924
The PAA is a non- profit organization dedicated to providing a safe, healthy, and fun environment for young people between the ages of 4 and 14 to learn the fundamental skills of football and cheerleading. Through football and cheerleading , we hope to impart in our youth the values of sportsmanship, teamwork, discipline, and hard work that will carry them throughtout their lives.
Pitman Panthers football. It's easy not to play!
Handout:
Night at the Races Order Form