Pitman Athletic Association: Welcome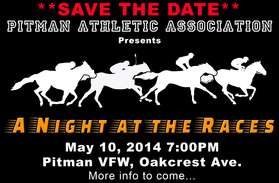 May 10, 2014 7:00PM - Pitman VFW - Email PAAFootballandCheer@gmail.com for info
PAA Updates
PAA Football and Cheer 2014 Registration dates are April 23, 24, 26th. Registration times to be determined. Check back for updates on times and location.
Registration forms are available on the Handouts page for download.
A Night at the Races will be heald on May 10, 2014 at the Pitman VFW on Oakcrest Avenue. More information to come so please check back. Tickets available soon.
Next PAA Meeting is scheduled for March 5th @ 8:30PM
Check the Calendar of events for updated important 2014 dates.
Welcome to the Pitman Athletic Association-established in 1924
The PAA is a non- profit organization dedicated to providing a safe, healthy, and fun environment for young people between the ages of 4 and 14 to learn the fundamental skills of football and cheerleading. Through football and cheerleading , we hope to impart in our youth the values of sportsmanship, teamwork, discipline, and hard work that will carry them throughtout their lives.
Pitman Panthers footabll. It's easy not to play!
Congratulations to the 2013 Pitman Panther Freshman Division Champions!! 11-0 Record
2014 PAA teams introduced at the Pitman High School football game.
race horn