Pine-Richland High School Girls Lacrosse : Welcome
Congratulations Coach Adams-2017 WPIAL Coach of the Year!
A message from Coach Adams ...
We strive to instill the necessary skills for these student-athletes to compete at the highest level and work to maintain consistency throughout our PRMS and PRHS Program. Building a safe environment and professional rapport with our players is critical in developing a successful team and program. In addition to skill development, our coaches will strive to teach these student-athletes lifelong lessons such as the importance of individual and team purpose, healthy competition, hard work, respect, responsibility, and accountability. Lacrosse is a team sport and therefore a team effort. Every player on the team has a purpose and with the support of our coaching staff, will help each player understand their role on the team so that success occurs. Positive and constructive feedback will be provided to all players. We emphasize the word Student-Athlete and "student" coming before "athlete". School is a priority, and lacrosse is a privilege. It is our intention to positively lead, communicate, and encourage.
2017 WPIAL Champions & Back-to-back Section Champs!!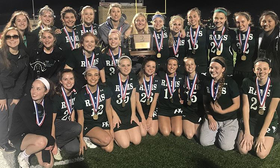 2017 WPIAL CHAMPS!!
Friday, April 27
Headstrong Week!
Monday, March 26
Community Outreach - March Mad Dash
Thursday, May 25
Congratulations to the 2017 Girls Lacrosse WPIAL Champions! (Pittsburgh Tribune Article)
Sunday, May 28
Coach Brittany Adams named Western PA Coach of the Year! (read article here)
Congratulations Coach Adams for this well-deserved award!
Saturday, May 27
Congratulations to the coaches and team for a phenomenal 2017 season! A special shout-out to the following players for earning WPIAL team awards:
Marina Miller: All-American, All-WPIAL, All-Section
Caitlyn Byerly: All-WPIAL, All-Section
Alexa Mellis: All-Section
Megan Lieberman: All-Section
Friday, October 6
Marina Miller ranked 39th - Inside Lacrosse Women 2017 Young Gun Senior Rankings (more info here)
Thursday, November 2
National Honor Society Induction