Poway Titan Baseball: Alumni News
IN THE NEWS
PRO ALUMNI
Tuesday, September 22
Josh Anderson (2010) - Hillsboro Hops (Short Season A) - Arizona Diamondbacks
Saturday, January 7
Alex Dickerson (08) - El Paso Chihuahuas (AAA) - San Diego Padres
Tony Gwynn Jr. (00) - Los Angeles Dodgers Broadcaster
Sunday, August 24
Connor Joe (11) - West Virginia Power (A) - Pittsburgh Pirates
Friday, March 10
Thomas Neal (05) - Coach - Salem-Keizer Volcanoes (A) - San Francisco Giants
Tuesday, September 22
Tyler Nevin (15) - Grand Junction Rockies (Rookie) - Colorado Rockies
Sunday, August 24
Kevin Newman (12) - West Virginia Power (A) - Pittsburgh Pirates
Friday, March 10
Xavier Scruggs (05) - Memphis Redbirds (AAA) - St. Louis Cardinals
Monday, November 9
Austin Wynns (09) - Frederick Keys (Adv A), Baltimore Orioles
Thursday, February 10
Keegan Yuhl (10) - Lancaster JetHawks (Adv A) - Houston Astros
TITANS PLAYING COLLEGE BALL
Sunday, February 5
Filip Banjac (15) - St. Katherine College
Wednesday, February 18
Tommy Brunansky (14) - St. Katherine College
Wednesday, February 18
Joey Fiske (14) - St. Mary's College
Wednesday, February 18
Austin Hirtzel (14) - San Diego Mesa College
Wednesday, February 18
Chris Lowe (14) - Indiana University
WHERE ARE THEY NOW?
Not playing ball? We'd still love to know what our former Titans are doing! Please let us know!
Tuesday, June 10
Jake Allen (2004)
Congratulations to Jake Allen (Class of 2004 and Coach Caleb's brother) on his graduation from the Air Force Academy. Jake earned a degree in Aeronautical Engineering. He's pictured here at his graduation with someone you might recognize.
Tuesday, February 8
ALUMNI PRAST (1999) NAMED TO USD ALL DECADE TEAM
Congratulations to Joey Prast (1999) who was named to the USD Toreros 2000's All Decade Team. His USD senior year accomplishments include . . . Finished his USD career as the school's all-time leader in runs scored (190) and doubles (67)... Also set single-season school records in doubles (26), hits (90) and at-bats (260) as a junior in 2003... Prast appears on several of USD's all-time career top-10 lists offensively, including hits (259), RBI (165), batting average (.329) and HR (28)... Huge part of USD's run of two consecutive WCC Championship titles... Earned numerous WCC Player of the Week awards... Named the 2001 WCC Freshman of the Year... Named team captain as a senior (the first player in the history of USD head coach Rich Hill's 17-year coaching career that he had honored one of his players with that title... Overcame a slow start his senior season to be named a First Team All-WCC player for the second consecutive season... His 16 doubles and nine homeruns in 2004 were tied for team-highs... Played and started in all 56 games for USD as a senior... Led the team in runs (58) and hit .315 with 46 RBI and nine stolen bases... Hit a grand slam against UC Riverside (3-31-04)... Went 4-for-5 against St. Mary's (3-28-04)... Enjoyed 18 multi-hit games and 14 multi-RBI games as a senior... Hit safely in 18 straight games to close out his college career.
Thursday, March 3
AN INTERVIEW WITH THOMAS NEAL
Check out this video interview with Thomas Neal (2005) on the World Series Champion San Francisco Giants website.
Tuesday, January 22
DAN PELLEGRINO HIGHLIGHT VIDEO
Those of you who enjoyed Coach Dan's talk at this evening's parent meeting might enjoy his highlight video . . .
Thursday, January 10
DEREK HASENBECK INTERVIEW
Enjoy this interview with Derek Hasenbeck (2011), catcher at Xavier University . . .
Tuesday, August 6
ALEX DICKERSON (2008) NAMED EASTERN PLAYER OF THE MONTH
From milb.com . . .
CURVE, Pa. - Altoona Curve outfielder Alex Dickerson has been named the Eastern League Player of the Month for the month of July, the league announced today. During the month in 26 games, Dickerson batted an off-the-charts .413 (43-for-104) with 10 doubles, six home runs, 27 RBI and 23 runs scored. He was named the Eastern League Player of the Week two times during the month of July as well.

He led the league in nearly every offensive category during the month of July, pacing the league in average (.413), runs scored (23), hits (43), extra-base hits (16), total bases (71), RBI (27), slugging percentage (.683) and OPS (1.123).

The Poway, Calif. native began the month batting .251 before finishing the month 26 games later with an average of an even .300, the highest it had been since it was .308 on April 11. He also started the month in the midst of a six-game RBI streak that started on June 29 and ran through July 5 (eight RBI total).

He turned in 14 multi-hit games in July, including two four-hit days nearly 14 days apart. The slugging outfielder also enjoyed a season-best nine-game hitting streak during the month from July 13-23 where he hit .486 (17-for-35) with five straight multi-hit efforts to start the streak.

A trip to New Hampshire for the final weekend of the month put a ribbon on the terrific stint for the right fielder. After going 0-for-7 to start the series in Manchester, Dickerson went on a tear to drive in a career-high eight runs on July 26 while going 3-for-6 (two doubles, one homer). The eight RBI tied a Curve franchise high that was set back in 2010 by OF Alex Presley and it was Dickerson's second game with seven or more RBI this season.

For an encore, Dickerson came out the next night (July 27) and went a perfect 4-for-4 with four singles, three runs scored and a hit by a pitch.

As of today, Dickerson is among the Eastern League leaders in average (.297, 8th), doubles (31, 1st), extra-base hits (48, 1st), total bases (188, 4th) and slugging percentage (.516, 3rd). His 15 home runs are tied for the team lead while his 62 RBI are a team-best.

Since June 1, Dickerson has hit .351 (74-for-211) with 32 extra-base hits (10 doubles, 12 homers), 47 RBI and 41 runs scored in 56 games. That average is third-best in all of Double-A as of Monday.

Dickerson was selected by the Pirates in the third round of the 2011 draft following his junior season at Indiana University. Last season, he was named the Florida State League Player of the Year for his season with High-A Bradenton.
Monday, July 29
ALUMNI KUDOS - CONNOR JOE (2011) AND KEVIN NEWMAN (2011)
From CapeCodOnline.com:
It was a little more than 10 years ago that two Southern California Little Leaguers turned a triple play on a dusty community park not unlike Red Wilson Field.

Those two Little Leaguers grew up, playing diligently through all facets of the game, like most young boys dedicated to a future in baseball. As years went on, and their teammates from elementary school dwindled, these two rose to the top of their games.

Though a year a part in age, they played through middle school and into high school at Poway High in Poway, Calif., about 20 miles north of San Diego.

When one was a sophomore and the other a junior, their Poway Titans team won a California Interscholastic Federation state championship.

But when it came time for college, the two who were both natural shortstops received Division I scholarships at schools in separate parts of the country — one near home in San Diego, the other in Tucson, Ariz.

And so that brings us to present day, when the paths of those two boys, now young men, converged in the Cape Cod Baseball League — 3,000 miles from their Southern California hometown.

It's a league that prides itself in compiling the best players in the country, and somehow two of them happen to be from the same place.

On Saturday, Connor Joe, of the University of San Diego, and Kevin Newman, of the University of Arizona, made Poway proud, starting on opposites of the diamond at the league's premiere event — the Friendly's Cape League All-Star Game.

"He's catching and I'm playing short on opposite sides, so it'll be fun," said Newman, the Falmouth Commodores shortstop, during the pre-game hustle and bustle on Saturday at Red Wilson Field.

Newman started for the West All-Stars while Joe, a catcher for the Chatham Anglers, got a starting spot in the East. Before this summer, the two had never played on opposing sides.

Joe admitted it was a bit odd being behind the plate when Newman came to bat in Chatham's first game against Falmouth earlier this summer.

"Over winter break, I see him at the gym, but I've never played against him," said Joe, who seamlessly converted from an infielder to a catcher this summer in Chatham. "I was catching the first game against him, and it was pretty cool. Being able to talk to him and play against him for once. We shared a couple words."

A similar moment took place when Newman came to the plate in the third inning for the West while Joe was catching. Newman popped out to right on the first pitch from Harwich pitcher Chandler Shepherd.

Newman's mother Tammy, a school teacher in Southern California, made the trip to the East Coast to visit friends and family and to watch her son in yet another all-star game.

"It's a way cool story," said Tammy Newman. "We're about 2 miles from the Joes (in Poway)."

Even living so close to the Joes, Tammy Newman hadn't seen Joe since high school, so when she ran into him in the pre All-Star festivities, a big hug and long conversation were in order.

On the field, neither player has missed a beat since those Little League days.

Newman, who just finished his freshman season at Arizona, earned Louisville Slugger Freshman All-American honors, which goes to about 100 freshmen in Division I baseball across the country. He started all 55 games for Arizona, hitting .336 and drove in 42 runs.

Joe took home first team all-West Coast Conference honors for San Diego, starting all 61 games and hitting .319 with seven homers and 43 RBIs.

Those numbers have carried over to this summer, as evidenced by the All-Star selection.

Newman has the fifth best average in the league among active players at .339 through 30 games. He currently leads the league with 42 hits and has 16 RBIs along with nine walks. He also has 14 steals.

Joe has the ninth best average at .328 in 31 games. He has 40 hits with nine doubles and three homers along with 22 RBIs.

Despite their successes, playing on the Cape, so far from home, has been a humbling experience.

"I lived in San Diego my whole life, so I'm definitely used to the West Coast vibe," Joe said. "But the Cape is awesome. Small towns — it's unbelievable. The people of Chatham treat us like we're special, and truly we're not. They're the special ones."

The fans in Chatham and Falmouth may beg to differ.
Monday, July 29
ALUMNI KUDOS - ALEX DICKERSON (2008)
From the Altoona Curve website:
Outfielder Alex Dickerson turned in another off-the-charts week for the Curve and has been selected as the Eastern League Player of the Week, the league announced today. It's the second Player of the Week award in three weeks for Dickerson, who scooped up the award for the period of July 8-15, and the third weekly award in his career. He batted .400 during the week with four doubles, two homers, 13 RBI and seven runs scored.

Dickerson, 23, homered and drove in three during the Curve's mid-week series in Trenton before going on a tear over the weekend in Manchester, N.H. The slugging outfielder drove in a career-high eight runs in the Curve's 13-6 win on Friday night. Dickerson had a three-run double before hitting a towering three-run homer later in the game. He capped his night with two-run double in the eighth inning.

It was his second game with seven or more RBI of the season after driving in seven runs on June 2 in Portland. The eight RBI tied a Curve franchise-high as well, which was set back on May 24, 2010 when Alex Presley drove in eight runs in Akron's Canal Park.

The Poway, Calif. native followed up his eight-RBI game on Friday with a perfect four-hit day on Saturday to help the Curve to a fourth-straight win. He had four singles in the game, scored three runs and also reached base via a hit by pitch as part of a, 9-2, win. In Sunday afternoon's series finale, Dickerson went 2-for-4 with a pair of run-scoring doubles in a, 7-3, victory.

At the time of his selection Dickerson is batting .298 (101-for-339) with 30 doubles, two triples, 14 home runs and 59 RBI in 95 games. Since June 1, Dickerson has been on a torrid pace, batting .360 (67-for-186) with 30 extra-base hits (19 doubles, 11 home runs) to go with 44 RBI and 39 runs scored in 50 games. The .360 average since June 1 is the second-best in all of Double-A over that time frame behind Binghamton's Cesar Peullo, who's hitting 378.

He's now among the Eastern League leaders in average (.298, 9th), doubles (30, 1st), extra-base hits (46, 1st) and slugging percentage (.522, 3rd).

Dickerson was selected by the Pirates in the third round of the 2011 draft following his junior season at Indiana University. Last season, he was named the Florida State League Player of the Year for his season with High-A Bradenton.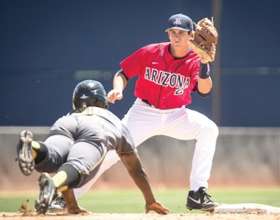 Monday, July 15
ALUMNI NEWS - KEVIN NEWMAN (2012)
Click
here
to read an article in last week's Poway News Chieftain about the great freshman year that Kevin Newman (2012) had at the University of Arizona. College Baseball Newspaper selected the Wildcats' starting shortstop to the Louisville Slugger Freshman All-American team. Kevin was also the only positional freshman selected to the Pac-12 All-Conference team.
Tuesday, September 22
ALEX DICKERSON - ROOKIE OF THE YEAR
Congratulations to alumni Alex Dickerson who was named Pacific Coast League Rookie of the Year. Click the heading above to read the article. Alex is also a September call-up for our Padres. Go Alex!
Saturday, August 8
ALEX DICKERSON GETS HIS FIRST MAJOR LEAGUE HIT
Click
HERE
to see Alex's first major league hit and to read an article about his homecoming. Go Alex!
Thursday, February 25
ALUMNI JOEY FISKE (2014) IN THE NEWS
Click on the Heading above to read about Joey Fiske, now playing for St. Mary's College.
Tuesday, May 10
ALEX DICKERSON (2008) - GRAND SLAM!
Our own Alex Dickerson hit a grandslam in today's game at Wrigley Field. Alex is the first Padre ever to hit a pinch-hit grand slam for his first career homerun. Go Alex!!!!!
Tuesday, April 19
KEVIN NEWMAN (2012)
Click
HERE
to check out this great article about our own Kevin Newman.
Sunday, April 10
ALUMNI IN THE PROS
Teammates at Poway and now teammates playing for the Pirates organization, Connor Joe (2011) and Kevin Newman (2012) are once again in the starting line up together. Kevin is playing shortstop and Connor is at third for the Bradenton FL Marauders. In today's game, Connor hit a walk off in the tenth to score Kevin. How great is that?! Click on the heading above to read a recap of the game.
Connor Joe Walk Off
Monday, August 28
TYLER NEVIN WINS SOUTH ATLANTIC LEAGUE PLAYER OF THE WEEK
In MILB.com . . .
ASHEVILLE-- Tyler Nevin began the season with the Asheville Tourists and hit .218 through his first 22 games of the season. Following a stint on the DL, the Poway, California native returned as one of the best hitters in the league. Since returning to Asheville Nevin has appeared in 47 games; the right-hander is hitting .344 with 17 doubles and five Home Runs over that stretch.
Nevin recorded a five-hit game on Sunday, August 20 at Lexington. He was the first Tourists player this year to tally five hits in one game. That five hit performance set the stage for an All South Atlantic League performance for the week of August 21-27.
During this past week, Nevin finished 15-for-30 with six doubles, one triple, six runs scored, seven RBI, and three stolen bases. Nevin also worked two walks for an on-base percentage of .515. Tyler's 5-for-5 performance on August 20 was not even included in his one-of-a-kind week performance.
Nevin is the third Tourists player to win the SAL player of the week award this season. Infielder Colton Welker won the award during the week on May 15-21 and Tourists outfielder Manny Melendez took home the honor the week of May 29-June 4.
Tyler Nevin is batting .307 on the season with six Home Runs and 40 RBI. The former first round Colorado Rockies draft pick has 82 hits in 69 games played this season. The Tourists have eight games remaining in the 2017 regular season.
Thursday, August 24
TITANS REPRESENT
In Class A action today the Ashville Tourists (Colorado Rockies) played the August Green Jackets (San Francisco Giants) pitting two Titans against each other. Tyler Nevin (2015), third baseman for the Tourists vs Thomas Neal (2005), hitting coach for the Green Jackets. Go Titans!
Saturday, July 15
ALUMNI - DOUBLE A NEWS
This week the Altoona Curve played the Bowie Baysox pitting Connor Joe (2011) and Kevin Newman (2012) against Austin Wynns (2009). What a special day for Titan Baseball!
Thursday, December 13
CONNOR JOE, CLASS OF 2011
CONGRATULATIONS to Connor Joe, Poway's newest Big Leaguer!!! Connor was picked up via Rule 5 Draft by the Cincinnati Reds. We can't wait to see you on the field! Yay Connor!
Saturday, November 17
TYLER NEVIN -CLASS OF 2015
Congratulations to Tyler Nevin, Class of 2015, on being named the Arizona Fall League Batting Champion. Yay Ty!