Poway Titan Baseball: Hall of Fame
TITAN HALL OF FAME
PHIL PLANTIER
Major League career: Played Parts of 8 Major league seasons from 1990-1997 with 5 Major league teams including Boston Red Sox, San Diego Padres, Houston Astros, Oakland A's, St Louis Cardinals. Most productive season was in 1993 with the San Diego Padres while compiling 34 HR's and 100 RBI's. Voted 1993 San Diego Padres Player of the Year by Baseball Writers Association of America. Phil finished career averaging 1 HR/per less than 20 AB's.
-Proudest accomplishment in Major league Baseball: "God allowing me the opportunity to live a dream."
DAVE SMITH
Dave Smith graduated from PHS in 1973. He attended SDSU for three years and was named an All-Pacific Coast Athletic Association selection as an Aztecs freshman. Dave was Houston's 8th round draft pick out of SDSU in 1976.
Dave served as the Padres pitching coach from 1998-2000 after spending the previous five seasons as a minor league coach and instructor in the organization. He spent the 1998 season as pitching coach at AAA Las Vegas, coached at Rancho Cucamonga in 1997, served as the organization's minor league pitching instructor in 1996 after spending the 1995 season as pitching coach at Rancho Cucamonga, and began is coaching career in 1994 at Spokane.
An All-Star in 1986 and 1990, Dave retired in 1993, following a thirteen year career with the Astros (1981-91) and Cubs (1992-93) during which he went 53-53 with 216 saves and a 2.67 ERA in 609 appearances (608 in relief). He topped 20 saves for six consecutive seasons from 1985-90, including a career-high total of 33 in 1986. Dave ranks 24th on the all-time major league saves list heading into the 2000 season.

Dan Allen with his boys - Jarrod, Caleb, Jake
Sunday, October 1
DAN ALLEN
June 10, 1944 - September 28, 2006
Dan Allen, and his wife Jane, have three sons who went through our baseball program - Jarrod (2000), Caleb (2002), and Jake (2004). Dan and Jane volunteered to run our auction when Jarrod was a freshman. They took on more and more during the eight years that their sons were in the proram. Dan was on the board. He went from Treasurer to Vice President to President. Taking care of our program became a full-time, volunteer, job for him, and he felt honored to do it. Many of the improvements done on our complex were spearheaded by Dan. You could find Dan on the field most weekends and evenings doing whatever needed to be done, often being helped by Jane and the boys. He wanted nothing more than to have the best for the Titans. Even after Jake graduated, Dan would come out and help wherever needed.
In addition to everything he brought to our program Dan was a Naval Flight Officer. He completed two tours in Vietnam, one aboard the USS Kitty Hawk and the other aboard the USS Nimitz. He took command of VAW-117 in May 1984 and deployed aboard the USS Enterprise. He also commanded VAW-110, and became the Commanding Officer of NAS Norfolk, VA in 1990. Dan retired as a Captain from the Navy in 1994 after 26 years of service.
We thank Dan for his service to our Country and to our Poway Titan Baseball program. He will be greatly missed.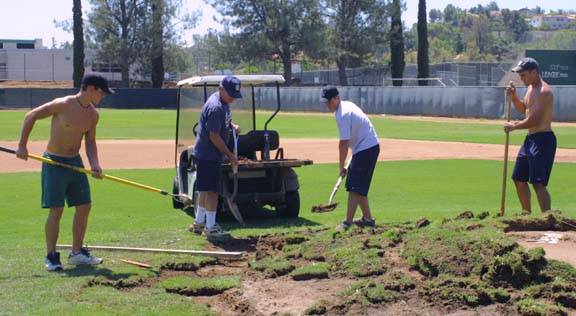 Dan and his boys working on the field . . . as usual.