Poway Titan Baseball: Welcome
THANK YOU TO OUR BANNER SPONSORS!
Wednesday, January 17
FIELD DAY
Please join us as we prepare the field for the upcoming season. It's time to clean everything from top to bottom.
Saturday, January 27 following the JV game - POWER WASHERS needed. We will wash everything - bleachers, pressbox, snack bar, restrooms, dugouts.
Sunday, January 28, 8:00 a.m. - Clean Up and repair day! Please. come armed with your favorite supplies - cleaning supplies, rakes, brooms, shovels, toolbox.
So far we have one power washer coming and an extension ladder so we can replace the burnt out bulbs on both scoreboards. We have a volunteer ready to paint the Visitors dugout - thanks Dean! Now we need YOU!
Wednesday, January 17
TRYOUTS
Tryouts begin on Saturday, February 17 (rain or shine). Check this website often for updates.
Varsity (Varsity Field) - 10:00 a.m. - Noon
JV (Frosh Field) - Noon - 3:00 p.m.
Frosh (Frosh Field) - 9:00 a.m. - Noon
These times are for Saturday only and the end times are approximate. There is NO practice on Sunday. The coaches will let the players know what the tryout schedule will be for the following week.
Your player should be at the field, dressed and ready to stretch, at least 15 minutes prior to the stated start time.
All Frosh players will report to the Frosh tryouts unless specifically instructed otherwise by Coach Parry. All Sophomores will report to JV tryouts unless specifically instructed otherwise by Coach Parry.
In order to tryout you must have a TICKET TO PLAY. Your player will receive a Ticket to Play when all of his paperwork is complete. This includes an up-to-date physical. You can find the forms HERE. He gets his Ticket to Play from Mrs. Grosely in the Athletic Office. He must have it in his possession by Friday, February 16. Mrs. Grosely will not be in her office on February 17.
Your player's Ticket to Play must be GIVEN to me before the first tryout - even if he's already played a sport this year. YOUR PLAYER HAS TO PHYSICALLY HAVE HIS TICKET. He will NOT be allowed to try out without it - NO EXCEPTIONS. This is a PUSD rule.
Your player must be academically eligible:
Your player must have passed at least three classes for the current grading period.
Your player must have at least a 2.0 GPA for the current grading period.
Monday, August 28
TYLER NEVIN WINS SOUTH ATLANTIC LEAGUE PLAYER OF THE WEEK
In MILB.com . . .
ASHEVILLE-- Tyler Nevin began the season with the Asheville Tourists and hit .218 through his first 22 games of the season. Following a stint on the DL, the Poway, California native returned as one of the best hitters in the league. Since returning to Asheville Nevin has appeared in 47 games; the right-hander is hitting .344 with 17 doubles and five Home Runs over that stretch.
Nevin recorded a five-hit game on Sunday, August 20 at Lexington. He was the first Tourists player this year to tally five hits in one game. That five hit performance set the stage for an All South Atlantic League performance for the week of August 21-27.
During this past week, Nevin finished 15-for-30 with six doubles, one triple, six runs scored, seven RBI, and three stolen bases. Nevin also worked two walks for an on-base percentage of .515. Tyler's 5-for-5 performance on August 20 was not even included in his one-of-a-kind week performance.
Nevin is the third Tourists player to win the SAL player of the week award this season. Infielder Colton Welker won the award during the week on May 15-21 and Tourists outfielder Manny Melendez took home the honor the week of May 29-June 4.
Tyler Nevin is batting .307 on the season with six Home Runs and 40 RBI. The former first round Colorado Rockies draft pick has 82 hits in 69 games played this season. The Tourists have eight games remaining in the 2017 regular season.
Thursday, August 24
TITANS REPRESENT
In Class A action today the Ashville Tourists (Colorado Rockies) played the August Green Jackets (San Francisco Giants) pitting two Titans against each other. Tyler Nevin (2015), third baseman for the Tourists vs Thomas Neal (2005), hitting coach for the Green Jackets. Go Titans!
Saturday, July 15
ALUMNI - DOUBLE A NEWS
This week the Altoona Curve played the Bowie Baysox pitting Connor Joe (2011) and Kevin Newman (2012) against Austin Wynns (2009). What a special day for Titan Baseball!
Monday, June 5
VARSITY TEAM AWARDS
Most Valuable Player - Dayton Dooney
MVP Offense - Alex Andranovich
MVP Defense - Kevin Van Linge
MVP Pitcher - Justin Miller
Leadership Award - Nik Stansbury
Victory with Honor - Sam Roberts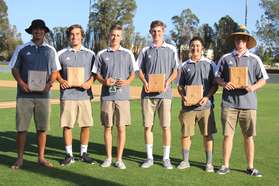 l to r Dooney, Andranovich, Roberts, Miller, Van Linge, Stansbury
Monday, June 5
UNION TRIBUNE ACADEMIC AWARDS
The Poway Titans are so proud that 19 of our 24 Varsity players are on the Union-Tribune All Academic Team:
| | | | | |
| --- | --- | --- | --- | --- |
| DJ Ackley 4.13 | | Derek Gaswirth 3.87 | | Hayden Salverda 3.69 |
| Alex Andranovich 3.70 | | Deron Johnson 3.60 | | Nik Stansbury 3.37 |
| Braeden Bentley 3.29 | | Justin Miller 3.84 | | Kevin Van Linge 3.66 |
| Alex Blaszyk 3.93 | | Javier Olivo 3.57 | | Blake Wagenseller 3.95 |
| Ben Decker 3.54 | | Ricky Padilla 3.60 | | Dylan Weese 3.11 |
| Dayton Dooney 3.73 | | Sam Roberts 3.43 | | |
| Jake Engel 3.51 | | Ryan Ryskamp 3.31 | | |
Monday, June 5
TITAN SCHOLARSHIPS
The Poway Titan Baseball Boosters are proud to present scholarships to the following players:
Monday, June 5
JV TEAM AWARDS
Most Valuable Player - Brady Ware
MVP Offense - Jakob Elizondo
MVP Defense - Rylan Nigro
MVP Pitcher - Trevor Riley
Leadership Award - Zach Walker
Victory with Honor - Jacob Moncrief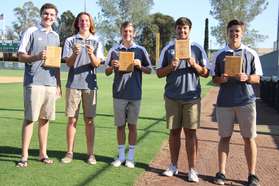 l to r Riley, Moncrief, Walker, Elizondo, Ware (not shown Nigro)
Monday, June 5
FROSH TEAM AWARDS
Most Valuable Player - Kyle Kolas
MVP Offense - Will Walden
MVP Defense - Matt Walker
MVP Pitcher - Danny Avila
Leadership Award - Logan Simpson
Victory with Honor - Sammy Ozuna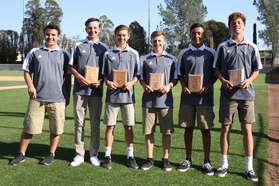 l to r Ozuna, Kolas, Walker, Walden, Avila, Simpson
Monday, May 22
ALL PALOMAR LEAGUE
Congratulations to our All Leaguers!!!
First Team - Dayton Dooney, Blake Wagenseller
Second Team - Alex Andranovich, Dylan Weese
Honorable Mention - Deron Johnson, Justin Miller, Kevin Van Linge
Tuesday, May 16
FROSH - PALOMAR LEAGUE CHAMPS
Congratulations to our Frosh who after beating Rancho Bernardo 4-3 in 9 innings today ended the season as Palomar League Champions!!! Woohoo!!!!!
2017 SEASON PHOTOS
Photos of this season will be posted on
Shutterfly
. Feel free to download any of the photos there.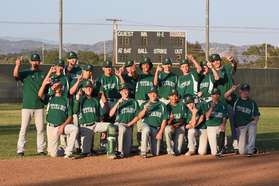 2017 Frosh NCC Tourney Champions
Friday, March 31
CONGRATULATIONS JV AND FROSH!
Congratulations to our JV and Frosh Titans on winning their NCC Tournaments! JV beat La Costa Canyon 2-1 and Frosh beat Rancho Bernardo 10-7. Great job!!!!!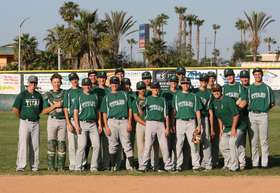 2017 JV NCC Tourney Champions
Wednesday, February 10
#23 RETIRED
Today we proudly announce that Tyler Nevin is the first Titan to have his number retired. Tyler embodies everything that is Poway Baseball. His work ethic is second to none. His love of the game is undeniable. He put team first always. When he was on the DL his junior year he became Coach Nevin. Not only was he at every practice, he encouraged, cheered, instructed, and mentored his teammates.
Tyler is the first Titan to be drafted in the first round of the MLB draft right out of high school . . . and deservedly so!
We look forward to watching Tyler as he advances through the ranks up to the big leagues.
This is just the start of a new Titan tradition. We begin with Tyler from the 2015 class and will work our way back. There are so many deserving Titans . . . who will be next?
Friday, October 7
PUSD
The Poway Unified School District (PUSD) is an equal opportunity employer/program and is committed to an active Nondiscrimination Program. PUSD does not discriminate on the basis of race, color, national origin, sex, sexual orientation, ethnic group identification, ancestry, religion, gender, gender identification, mental or physical disability. For more information, please contact Associate Superintendent, Personnel Support Services, Poway Unified School District, 15250 Avenue of Science, San Diego, CA 92128-3406.
Tuesday, May 5
TWITTER ANYONE?
Can't make it to a home game? Jason will keep you updated through our Twitter account. A click on the heading above will bring you right to it.
Friday, March 6
CAN'T GET TO THE GAME?
Click HERE to follow the Varsity games live (when available).
Please note that these stats are UNOFFICIAL.