Poway Titan Baseball: Welcome
THANK YOU TO OUR BANNER SPONSORS!
PLEASE SUPPORT OUR SPONSORS!
Thursday, December 13
CONNOR JOE, CLASS OF 2011
CONGRATULATIONS to Connor Joe, Poway's newest Big Leaguer!!! Connor was picked up via Rule 5 Draft by the Cincinnati Reds. We can't wait to see you on the field! Yay Connor!
Saturday, November 17
TYLER NEVIN -CLASS OF 2015
Congratulations to Tyler Nevin, Class of 2015, on being named the Arizona Fall League Batting Champion. Yay Ty!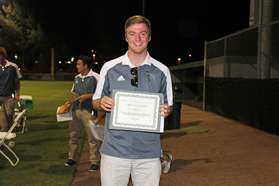 DJ Ackley - 2018 Poway Titan Baseball Boosters Scholarship
Wednesday, June 13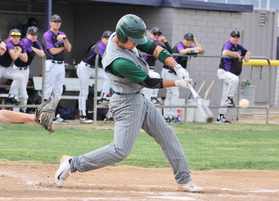 Dayton Dooney - First Team All CIF
Wednesday, June 13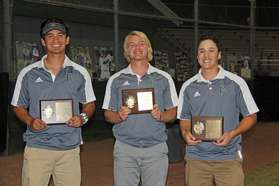 First Team All Palomar League
Tuesday, May 22
ALL PALOMAR LEAGUE
Dayton Dooney, Taylor Johnson, Kevin Van Linge
Second Team
Deron Johnson, Rylan Nigro, Nick Salafia
Honorable Mention
Kyle Nevin, Ivran Romero, Brady Ware
Wednesday, June 13
UNION-TRIBUNE ACADEMIC AWARDS
| | | | | |
| --- | --- | --- | --- | --- |
| DJ Ackley | 4.24 | | Kyle Nevin | 3.58 |
| Dylan Moran | 4.09 | | Deron Johnson | 3.57 |
| Jake Detamore | 4.00 | | Rylan Nigro | 3.53 |
| Kevin Van Linge | 3.82 | | Zach Walker | 3.53 |
| Dayton Dooney | 3.68 | | Brady Ware | 3.53 |
| Trevor Riley | 3.66 | | James Benham | 3.47 |
| Nick Salafia | 3.65 | | Robby Williams | 3.37 |
| Cooper Fowler | 3.58 | | Taylor Johnson | 3.19 |
Wednesday, June 13
2018 VARSITY TEAM AWARDS
MVP - Offense - Dayton Dooney
MVP - Defense - Taylor Johnson
MVP - Pitcher - Nick Salafia
Leadership Award - Deron Johnson
Pursuing Victory with Honor Award - Brady Ware
Wednesday, June 13
2018 JV TEAM AWARDS
MVP - Offense - Jaxson Gregg
MVP - Defense - Cayden Hunting
MVP - Pitcher - Danny Avila
Leadership Award - Sammy Ozuna
Wednesday, June 13
2018 FROSH TEAM AWARDS
Most Valuable Player - Trevor Gaswirth
MVP - Offense - Austin Hoyt
MVP - Defense - Chris Sauer
MVP - Pitcher - Owen Bittner
Leadership Award - Simon Krvaric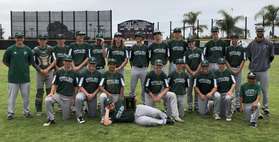 2018 JV Pirate Classic Champions
Sunday, April 8
JV PIRATE CLASSIC CHAMPIONS
Congratulations to our JV Titans, winners of the 2018 Pirate Classic. They beat Great Oak 2-1.
Sunday, April 29
LITTLE LEAGUE NIGHT
Thank you to all who made last night's Little League Night a great success! Thank you to PALL and PNLL for getting the word out to their teams. Thank you to the Booster Board - Lisa Moncrief, Jill Salafia, Lesa Benham, and Jeff Ackley, for their hard work to make the night run smoothly. Thank you to the snack bar volunteers - I think half of our parents were working in it - Sara Ackley, Carol Detamore, Lisa Highhouse, Reese Johnson, and Kristin Nevin, Grillers Grandpa Benham, Dietmar Sauer, and Darien Moran. Katie Detamore and Jillian Benham helped with prize distributions. Craig Sanders brought his popcorn machine and kept it going all night. Sarah Santiago came to help check in the Little Leaguers and hand out their goodies.
We had our Voice of the Titans, Jason Lindquist, along with Jeff Ackley on the scoreboard, and Evi Valles on the scorebook up in the press box. John Riley tweeted the game. Our Groundskeeper Extraordinaire, Pete, spent all day making sure the field was at it's best. And the icing on the cake? I went up to the stands after the game to pick up trash and Taylor Johnson's family had already taken care of it!!! When you look at all of the names above, you see what it takes to keep our program first class! Several of those listed above were not even scheduled to help. They just saw the need and jumped in.
THANK YOU ALL SO MUCH!!!!!!!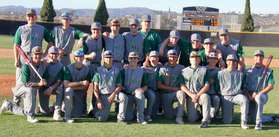 Lions Tournament Champions 2018
Thursday, March 29
LIONS TOURNAMENT CHAMPIONS
Congratulations to our Varsity Titans, winners of the Lions Tournament, Classic Division. Out of 5 games, three were won in walk off fashion, including today's semi-final. This was a total team effort. The games were exciting and the boys never gave up.
James Benham was named the tournament MVP. James pitched a beautiful semi-final game taking us into the finals. The final score was 8-4 over Francis Parker.
Click the heading above to read Terry Monahan's account of our game in this morning's Union Tribune.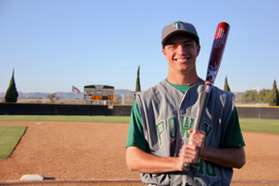 James Benham Tournament MVP
2018 SEASON PHOTOS
Photos of this season will be posted on
Shutterfly
. Feel free to download any of the photos there.
Friday, October 7
PUSD
The Poway Unified School District (PUSD) is an equal opportunity employer/program and is committed to an active Nondiscrimination Program. PUSD does not discriminate on the basis of race, color, national origin, sex, sexual orientation, ethnic group identification, ancestry, religion, gender, gender identification, mental or physical disability. For more information, please contact Associate Superintendent, Personnel Support Services, Poway Unified School District, 15250 Avenue of Science, San Diego, CA 92128-3406.
Tuesday, May 5
TWITTER ANYONE?
Can't make it to a home game? Jason will keep you updated through our Twitter account. A click on the heading above will bring you right to it.
Friday, March 6
CAN'T GET TO THE GAME?
Click HERE to follow the Varsity games live (when available).
Please note that these stats are UNOFFICIAL.
Monday, August 28
TYLER NEVIN WINS SOUTH ATLANTIC LEAGUE PLAYER OF THE WEEK
In MILB.com . . .
ASHEVILLE-- Tyler Nevin began the season with the Asheville Tourists and hit .218 through his first 22 games of the season. Following a stint on the DL, the Poway, California native returned as one of the best hitters in the league. Since returning to Asheville Nevin has appeared in 47 games; the right-hander is hitting .344 with 17 doubles and five Home Runs over that stretch.
Nevin recorded a five-hit game on Sunday, August 20 at Lexington. He was the first Tourists player this year to tally five hits in one game. That five hit performance set the stage for an All South Atlantic League performance for the week of August 21-27.
During this past week, Nevin finished 15-for-30 with six doubles, one triple, six runs scored, seven RBI, and three stolen bases. Nevin also worked two walks for an on-base percentage of .515. Tyler's 5-for-5 performance on August 20 was not even included in his one-of-a-kind week performance.
Nevin is the third Tourists player to win the SAL player of the week award this season. Infielder Colton Welker won the award during the week on May 15-21 and Tourists outfielder Manny Melendez took home the honor the week of May 29-June 4.
Tyler Nevin is batting .307 on the season with six Home Runs and 40 RBI. The former first round Colorado Rockies draft pick has 82 hits in 69 games played this season. The Tourists have eight games remaining in the 2017 regular season.
Thursday, August 24
TITANS REPRESENT
In Class A action today the Ashville Tourists (Colorado Rockies) played the August Green Jackets (San Francisco Giants) pitting two Titans against each other. Tyler Nevin (2015), third baseman for the Tourists vs Thomas Neal (2005), hitting coach for the Green Jackets. Go Titans!
Saturday, July 15
ALUMNI - DOUBLE A NEWS
This week the Altoona Curve played the Bowie Baysox pitting Connor Joe (2011) and Kevin Newman (2012) against Austin Wynns (2009). What a special day for Titan Baseball!
Wednesday, February 10
#23 RETIRED
Today we proudly announce that Tyler Nevin is the first Titan to have his number retired. Tyler embodies everything that is Poway Baseball. His work ethic is second to none. His love of the game is undeniable. He put team first always. When he was on the DL his junior year he became Coach Nevin. Not only was he at every practice, he encouraged, cheered, instructed, and mentored his teammates.
Tyler is the first Titan to be drafted in the first round of the MLB draft right out of high school . . . and deservedly so!
We look forward to watching Tyler as he advances through the ranks up to the big leagues.
This is just the start of a new Titan tradition. We begin with Tyler from the 2015 class and will work our way back. There are so many deserving Titans . . . who will be next?