Sunday, September 16
Poway High School Cross Country Team Practice Schedule
FIRST OFFICIAL PRACTICE: August 6th, 3:00 - 5:00 P.M.
Mon. - Fri. Practice Schedule: 3:00 PM - 5:00 PM
Saturday Practice Schedule: 8:00 AM - 9:45 AM
Please check Events for meet and additional details
Questions: email Coach Jackson at bjackson@powayusd.com
Check the Team Handouts for parent information, rules, policies, and much more...
Click
here
for direct quick access!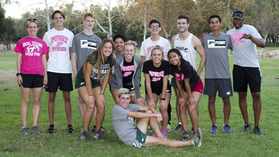 Poway Cross Country 2017-18 Seniors


Sunday, September 16


Spirit Week!




Theme days for Spirit Week are listed below. We hope all student athletes participate.

Monday (9/17): Hippie Day [Peace and love]

Tuesday (9/18): Tu-Tu/Tie Dye Tuesday [Tap into your inner grace]

Wednesday (9/19): Hawaiian Day [Chill and embrace the sun]

Thursday (9/20): Twin Day [Match your teammate]

Friday (9/21): Hat Day [Be creative in covering your dome]



Sunday, September 16


PHS XC Donation


Parents please donate $100, which goes towards transportation and coaches stipends. Write 2 checks ($50/$50) addressed to "Poway High School". In the memo section please write "Cross Country-Transportation" for the $50 check, and "Cross Country-coaches" for the other $50 check. Thank you for your continued support.

Sunday, September 16
Snap! Raise Fundraiser

Sunday, September 16
Poway XC Meet Pictures