Monday, August 31
The Mighty Cross Country Titans of Poway
Poway High School Cross Country Team Practice Schedule
Monday Practice 2:00 PM - 4:00 PM
Tues. - Fri. 3:30 PM - 5:30 PM
Saturday Practice 8:00 AM - 10:00 AM
Please check Events for meet and additional details
Questions: email Coach Jackson at bjackson@powayusd.com
Check the Team Handouts for parent information, rules, policies, and much more...
Click
here
for direct quick access!
https://Primesports.tuosystems.com/stores/poway-cc
Boys Uniform: White Adidas Singlet/Green Adidas Short.
Girls Uniform: White Augusta Tank/Green Adidas Short Tight.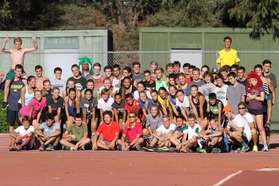 2014 Poway Cross Country
Sunday, August 30
Pomerado News: Titans' Girls Capture Title at Vaquero Stampede
Saturday, August 29
Poway Team Night at Road Runner Sports
Poway Cross Country will be having a team event at Road Runner Sports on Tuesday, September 1st starting at 6:00 PM. Come out and enjoy great savings, running education, free food and raffles!
•10% Athlete Discount (20% if you're a VIP Member)
•FREE 1-on-1 Shoe Dog Foot Analysis
•60-day Wear'em & Love'em guarantee on Shoes
•And, earn $$$ for TITANS XC!!! (based on attendance)
Check handout for additional details.
Handout:
Fundraising
Saturday, August 29
Snap! Raise Fundraiser
Saturday, August 29
PHS XC Contribution
Sunday, August 30
Poway XC Meet Pictures