Sunday, November 16
The Mighty Cross Country Titans of Poway
Poway High School Cross Country Team Practice Schedule
Monday Practice 2:00 PM - 4:00 PM
Tues. - Fri. 3:30 PM - 5:30 PM
Saturday Practice 8:00 AM - 9:45 AM
Please check Events for meet and additional details
Questions: email Coach Jackson at bjackson@powayusd.com
Check the Team Handouts for parent information, rules, policies, and much more...
Click
here
for direct quick access!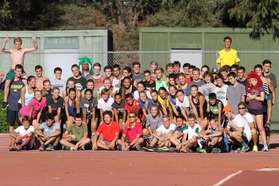 2014 Poway Cross Country
Sunday, November 16
Shoes with Heart
PHS Cross Country is again having a shoes and clothing drive this season. Please bring your labelled (student-athletes name) garbage bags with shoes and/or clothes to the track shed (northwest side of the stadium). Please separate your clothes and shoes when placing them in bags. Additional info can be found in the attached handout section. Our pick up date is December 12th so bring your bags in!
Handout:
Fundraising
Sunday, November 16
PHS XC Contribution
Sunday, November 16
Support Poway Cross Country through eScrip
Sunday, November 16
Poway XC Meet Pictures