Paradise Hills Little League ~ Albuquerque, New Mexico USA: All Stars
Wednesday, July 1
2015 All Star Players Announced!
Announcing YOUR 2015 Paradise Hills All Stars!
Ladies first of course. For Minor Softball All Stars managed by Gary Purcella we have:
Anastacia A
Desarae C
Marisol G
Emma G
Dayna H
Savanah M
Jade O
Natalia R
Sarah R
Shaylene S
Emily S
Lola T
Mackenzie V
And now the Major Softball All Stars managed by Gilbert Griego:
Raige A
Tatum A
Bailey D
Alyssa G
Elisabeth H
Cassandra J
Audrey J
Alyssa R
Kayla R
MaryAnn R
Delilah T
Taylar T
Tuesday, June 16
Junior Baseball All Stars Selected!
The Junior All Star Team Managed By Mike MacEachen Looks Like This:
Isaiah B
Cameron C
Isaiah C
Tyler D
Kyler G
Timothy H
Ian M
Garrett M
Lucas O
Caleb Q
Josef S
Austin T
Cesar U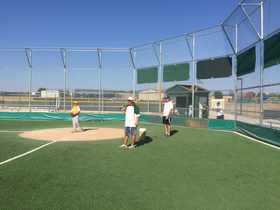 Coach P coach'n 'em up at 1st practice!
Wednesday, July 1
The 2015 Baseball All Stars Are Selected!
Manager Patrick Garcia is pleased to announce the 2015 Major Baseball All Stars!
Joshua B
Noah C
Brandon D
Logan G
Connor G
Johnny H
Evan J
Matthew K
Jack K
Jeremiah M
Isaiah M
Garrett R
Tyson V
And now, the TOC 11 year old All Star Team managed by Steve Ortega!
Julian A
Xander B
Jack J
Dylan L
Antonio L
Sebastian L
Xavier L
Caleb M
Josh N
Estevan O
Liam R
Christopher S
Iziah T
The Minor Baseball Team is managed by Wil Romero and looks like this:
Alexander A
Andres A
Andrew A
Dylan C
Ryan D
Nicholas G
Anthony G
Regan H
Peyton H
Joseph Q
Anthony R
Ryan S
Danny Y
Aidan Z
The All Metro 9 Year Old North Team is managed by Joey Romero:
Elijah B
Ethan D
Alijah G
Austin G
Luke J
Aidan J
Dylan L
Bryson M
Hunter M
Tommy P
Xavier R
Mariano V
Adan Y
And rounding out the field of dreams All Stars is the 9 Year Old South Team managed by Chris Montoya:
Adrian A
Adan B
Landon C
Aidan D
Seth G
Nolan G
Joel G
Aiden H
Zach M
Andrew M
Cameron M
Carlos N
Gabe N
Jacob R
LET'S GO PARADISE!!!!!