Paradise Hills Little League ~ Albuquerque, New Mexico USA: All Stars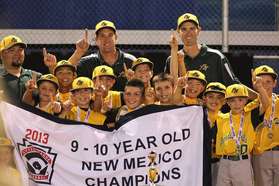 2013 State Champs
Monday, September 30
Paradise Hills Minors Win State Title!!!
All Star News: Paradise Hills 2013 Minor Baseball State Champions!!! Junior BB 13s & 14s -District 8 Champions!! *1st Regional Win for Paradise Hills Little League Juniors *Minor All Metro BB 9s: 3rd Place in the All Metro Tournament *Major TOC BB 11s: 2nd Place in the Tournament of Champions District 8 *Major BB: 2nd Place in the Little League District 8 Tournament
Thursday, July 4
Minor 9 Year Olds Metro Tournament
Here's the bracket for City Metro  Tournament. 9 Year Olds Start on June 22!
Handout:
2013 Minor All Metro Tournament
Thursday, July 4
2013 District 8 Juniors Tournament Bracket
Handout:
2013 Junior District 8 Tournament Schedule
Thursday, July 4
2013 District 8 Majors Tournament Bracket-12's
Handout:
2013 District 8 Majors Tournament Bracket-12's
Thursday, July 4
2013 D8 All Star TOC (11's) Bracket
Handout:
2013 D8 All Star TOC (11's) Bracket
Thursday, July 4
2013 District 8 Minor Tournament Bracket
For 10 Year Olds
Saturday, June 15
2013 PHLL Baseball All Stars
Junior AllStars: Majors: Majors (11) Minors (10) Minors(9)
Josiah A Matthew B Marcos A Noah C Aiden C
Trevor G Isaiah B Austin C Cade D Bryce D
Nick H Tyler C Tyler D Brandon D Deven D
Jared J David C Damien G Logan G Andrew F
Isaiah M Kyler G Elijah J Connor G Antonio L
TJ M Anthony G Isaiah L Johnny H Tyler M
Justin O Elijah G Ian M Matthew K Estevan O
Jarrod P Tim H Ryan M Jack K Liam R
Andrew R Jove M Jason M Jeremiah M Robbie S
Antonio S Zion S Lucas O Isaiah M Izaiah T
Evan T Cesar S Brandon P Garrett R Ross T
Jack W Garrett W Alec S Tyson V Tommy W
Mgr: Chris O Mgr: David C Mgr: Mike M Mgr: Jeff K Mgr: Steve O