Paradise Hills Little League ~ Albuquerque, New Mexico USA: All Stars
Friday, October 16
2015 All Star Salute
Congratulations to our 2015 Major Baseball All Stars! The boys of "Summer in Paradise" were definately "all in this together" and had a great run this summer. The ultimate dream of heading to Williamsport came up a little short as Paradise bows out gracefully to the Arkansas Pine Bluff All Stars. You guys looked great on TV! Congratulations also goes out to manager Patrick Garcia, coaches Johnny Hererra and Jeff Kindley for coaching up a great group of boys! Thank you also to all the Paradise fans who donated to the Paradise GoFundMe Travel Fund! The families really really appreciated it as it helped a ton with accomodation and travel expenses!!
Also, Congratulations to our Major Softball All Stars! They swept through the District 8 Tournament undefeated and have earned the League's 1st ever District Banner in softball!!! The girls, coaches and their manager have busted their tails the last few years to be where they are! Their hard work has made them DISTRICT 8 CHAMPIONS! Your little league and community are so proud you! That title is now a stepping stone for more great softball at Paradise Hills. Paradise was stopped by some great competition at the state tournament but promises to be back next year!! GREAT JOB GIRLS AND COACHES!
Monday, July 20
Congratulations All Players!
The Board of Directors want to congratulate all players who were elected All Stars and who represented Paradise in such fine fashion this season! You went out there and played your hearts out to win each game set before you! On behalf of Paradise Hills and your great moms and dads, we salute you for your performance, your commitment to excellence and the Little League Way which is Character, Courage, Loyalty!!
Monday, July 20
The District 8 Major All Star Tournament Hosted by PHLL
Paradise Hills LL and President Mike Vigil were pleased to have hosted the District 8 Major baseball teams and their families this year! Congratulations to all teamz who played their hearts out to vie for that all-important district 8 Major title! Big time thanks go out to all the volunteers who stepped up to help out in any capacity needed especially the first night when rains soaked Major field #2 and parents from Alameda, Eastdale and Paradise Hills came together to dry out the badly damaged field and make it playable! Also, thanks to Paradise Snack Shack and manager Linda MacEachen for providing such a great menu and service this year!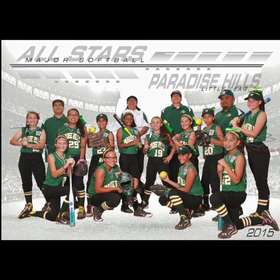 2015 District 8 Major Champs
Tuesday, July 14
Major Girls Take District 8!
A huge shout out to the Paradise Hills Major Girls as they put it all together to win Paradise's first softball banner in District 8!! WOW! Very Impressive ladies! More pictures at Paradise Hills LL Facebook page:
https://www.facebook.com/ParadiseHillsLittleLeague/photos/pcb.861899753879985/861899663879994/?type=1
Wednesday, July 1
2015 All Star Players Announced!
Announcing YOUR 2015 Paradise Hills All Stars!
Ladies first of course. For Minor Softball All Stars managed by Gary Purcella we have:
Anastacia A
Desarae C
Marisol G
Emma G
Dayna H
Savanah M
Jade O
Natalia R
Sarah R
Shaylene S
Emily S
Lola T
Mackenzie V
And now the Major Softball All Stars managed by Gilbert Griego:
Raige A
Tatum A
Bailey D
Alyssa G
Elisabeth H
Cassandra J
Audrey J
Alyssa R
Kayla R
MaryAnn R
Delilah T
Taylar T
Tuesday, June 16
Junior Baseball All Stars Selected!
The Junior All Star Team Managed By Mike MacEachen Looks Like This:
Isaiah B
Cameron C
Isaiah C
Tyler D
Kyler G
Timothy H
Ian M
Garrett M
Lucas O
Caleb Q
Josef S
Austin T
Cesar U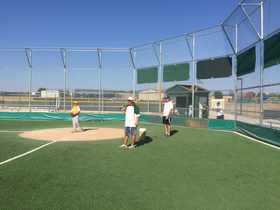 Coach P coach'n 'em up at 1st practice!
Wednesday, July 1
The 2015 Baseball All Stars Are Selected!
Manager Patrick Garcia is pleased to announce the 2015 Major Baseball All Stars!
Joshua B
Noah C
Brandon D
Logan G
Connor G
Johnny H
Evan J
Matthew K
Jack K
Jeremiah M
Isaiah M
Garrett R
Tyson V
And now, the TOC 11 year old All Star Team managed by Steve Ortega!
Julian A
Xander B
Jack J
Dylan L
Antonio L
Sebastian L
Xavier L
Caleb M
Josh N
Estevan O
Liam R
Christopher S
Iziah T
The Minor Baseball Team is managed by Wil Romero and looks like this:
Alexander A
Andres A
Andrew A
Dylan C
Ryan D
Nicholas G
Anthony G
Regan H
Peyton H
Joseph Q
Anthony R
Ryan S
Danny Y
Aidan Z
The All Metro 9 Year Old North Team is managed by Joey Romero:
Elijah B
Ethan D
Alijah G
Austin G
Luke J
Aidan J
Dylan L
Bryson M
Hunter M
Tommy P
Xavier R
Mariano V
Adan Y
And rounding out the field of dreams All Stars is the 9 Year Old South Team managed by Chris Montoya:
Adrian A
Adan B
Landon C
Aidan D
Seth G
Nolan G
Joel G
Aiden H
Zach M
Andrew M
Cameron M
Carlos N
Gabe N
Jacob R
LET'S GO PARADISE!!!!!