Paradise Hills Little League ~ Albuquerque, New Mexico USA: PHLL News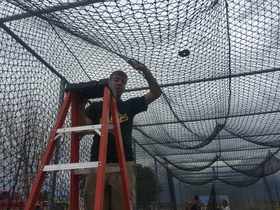 New Nets Installed
Monday, July 6
Clean Up Day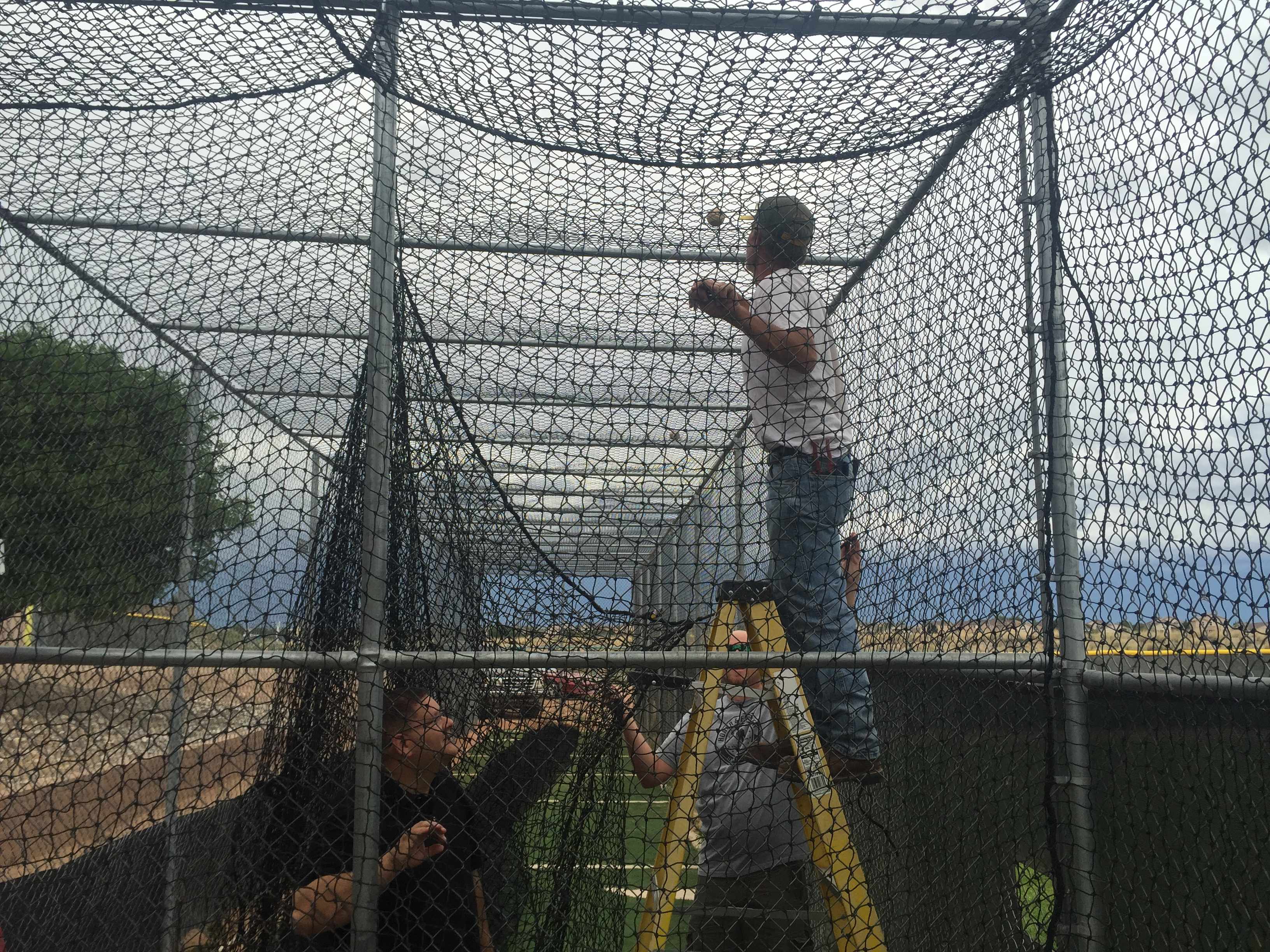 James, David and unknown dad
Thanks to all volunteers who helped clean up the fields and grounds on Sunday. Field 3 had a few wheelbarrows full of sand swept and blown out of the turf infield! The batting cages on field 3 also got new cage nets installed just in time for the Major tournament!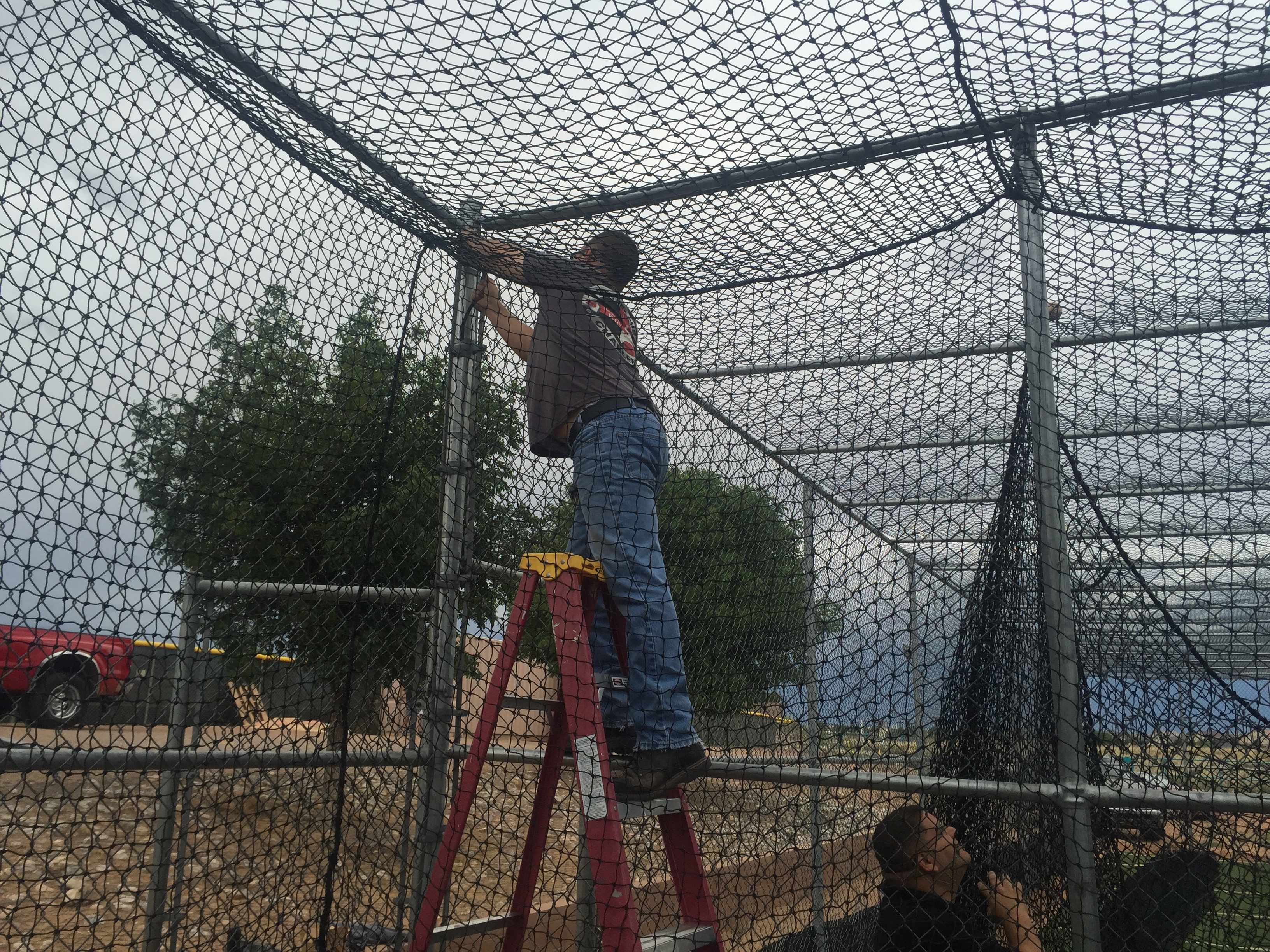 Dominic workin' for the kids
Wednesday, June 10
Volunteer Badges
Badges?? Who Needs a PHLL Badge?
All LL volunteers need a PHLL badge! Please come by the office for your LL Volunteer badge if you are an approved volunteer (background check completed). A board member should be able to take your picture and print out a badge in a few minutes.
Tuesday, June 2
Lobos Host Summer camps
Please see Forms and Documents for the 2015 UNM Lobo Summer Baseball Camps! Click below for Camp Flyer!
Handout:
Lobo Summer Camp Flyer
Wednesday, July 1
Little League Reminders
A Few Reminders to All Parents and Fans. The main reason we're putting this on the website is we've had to remind league patrons several times of certain rules they need to observe when attending games. So the Board of Directors wants everyone to be reminded of these basic little league park rules (The Nine Commandments):
1. Rookie coaches/team parents please remember to have your home plate umpire don full umpire gear. It is supplied by the league and available in the Umpire's room in the league office. See note in managers/coaches section from safety officer Dan Hibben. If ump doesn't want to put on all home plate gear he/she is welcome to call/count pitches from behind the pitching machine. Thanks!
2. There is No Smoking on LL grounds. Also, if you chew tobacco, please leave your chew and your spit bottle in your vehicle. It is against our league rules and parents have complained to board members on duty that on-field coaches were chewing and spitting as they coach games (see message below from Bernalillo County).
3.There are no unauthorized persons of any age allowed in dugouts during games including a 3 adult maximum for Rookies and above. Only coaches with background checks completed and badges issued are permitted.
4. Parents and coaches please remember to abide by the parents code of conduct you signed in your child's registration packet. Please advise your guests of these basic rules of decorum if they are exhibiting negative behavior.
5. Coaches please make every effort to be present for your mandatory umpiring assignment. If you can't make it you need to find a replacement Ump.
6. Please remember that bubble and/or chewing gum is NOT ALLOWED on or around the turf fields as this is some of the hardest foreign material to remove from artificial turf!
7. Parents please help us keep our Little League looking as great as it did after field cleanup day. We need your help by keeping your little ones from "redecorating" the open area near field #3 and the concession stand by insisting they leave the 4 inch boulder rocks where they lay (in the PH pattern our field day volunteers shaped them in).
8. Fans of all ages, Please remember to cut the volunteer umpires some slack by allowing them do their job without interference from the stands. Several LL umps are 1st year officials and are out there because there is a mandatory rule for all coaches to take their turn umping games. If you would like to help out umpiring please contact James Joyce at umpire@paradisehillsLL.com and he can talk to you about volunteering in this capacity. Thanks!
9. Last, and most importantly, since we installed our 2 new fields we have become a NO Shelled Seed/Nut Facility (includes sunflower, pinon, pumpkin, peanut, pistachio). Shells from the junior, softball or teeball fields will blow onto these fields and shorten the life of the turf dramatically. According to another local little league, it costs around $12,500 to properly clean their full sized Major and Softball fields...each. So to translate that to our league, our three half-turfed fields would cost about $6000 each to properly remove shells and restore to original condition and we just don't have that kind of money in the bank. Thank You Very Much!
Sunday, April 5
Dick's Sporting Goods Sponsors PHLL
A Big Thank You to Dick's Sporting goods for all the team donations this spring! Dick's Sporting Goods is sponsoring Paradise Hills Little League with team practice kits and a financial donation! The kids are already benefiting from the stuff in practice.
Sunday, May 17
Sports Authority Sponsors Paradise Hills!
A huge Thank You to Sports Authority for the donated practice kits and other baseball/softball stuff! The items really got our teams off on the right foot and will go a long way towards helping the kids improve their skills!
Sunday, April 5
Big5 Sports Sponsors Paradise Hills Little League!
A Big Thank You to Big 5 for all the team kits which included baseballs and much needed practice equipment! Please Continue to support Big 5 Sports as they are a big supporter of Paradise Hills Little League!
Saturday, January 10
The 2015 PHLL Newsletter is Hot Off The Presses!
Big Kudos to Mike, Patrick, Suzanna and family and all others who contributed to the 2015 Newsletter! To check it out click on the handout!
Handout:
2015 PHLL Newsletter
Wednesday, January 7
2015 Parking At PHLL
Parents and Coaches,
Please utilize the parking spaces in our 2 main parking lots and the overflow parking lot. Please DO NOT park along the sides of the access road that leads from the overflow parking lot to the main parking lot. We had trouble last year with that access road being blocked. This access road would be used by emergency vehicles in the event of a serious medical event on the Tee Ball Field. If cars are blocking this access point it would keep medical personnel from getting help to that location. In addition, parking along the access road has blocked cars trying to exit the overflow parking area. Also, please refrain from parking up against the gate that leads to the overflow parking lot. Just one car parked there can make it tough on fans, players, umpires and coaches from getting to their game on time, plus we do not want fans going across the street to the Trinity Family Church lot where we do not have permission to park.
Last thing: There is no parking in the main parking lot along the new major field fence with the curbs painted red. This area is for emergency/police/sheriff parking only. In the future, PHLL staff on duty have been authorized to tow vehicles parked in these two areas. Thank you in advance for not parking along these access roads and emergency parking areas.
Respectfully,
Mike Vigil
President - Paradise Hills Little League
Saturday, April 5
Sunset Times Link
Here's a link to the latest sunrise and sunset times for Albuquerque.