Palm Harbor Little League: Welcome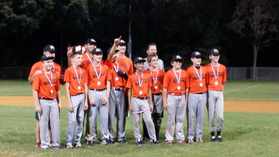 Fall 2015 Juniors Champs
Congratulations to the Palm Harbor Marlins
Managed by James Opp
Juniors' Orange Division Champions!
Way to go boys!!!!
2016 SPRING REGISTRATION IS NOW OPEN!
Take Advantage of our EARLY registration discount
Lets make this the best spring season ever!
If you are interested in Managing or Coaching a team in the spring please contact Marc Ballard
We are still looking for Volunteers and Umpires for Baseball and Softball!
Please reach out to us!
VOLUNTEERS
If you are interested in volunteering, or you are a returning volunteer
please fill out the appropriate form below.
PHOTO ID and SOCIAL SECURITY NUMBER is a must.
2016 Volunteer Form:
http://www.littleleague.org/Assets/forms_pubs/VolunteerApplication16.pdf
2016 Returning Volunteer Form:
http://www.littleleague.org/Assets/forms_pubs/Returning-VolunteerApp16.pdf
Medical Release Form:
http://www.littleleague.org/Assets/forms_pubs/asap/Medical_Release_Form.pdf
RAINOUT HOTLINE
Rainout information is available on the rainout tab from the CSA Palm Harbor website:
Friday, April 3
Updated
Tuesday, November 10
TOUCH A TRUCK!
Friday, September 18
FALL 2015 MANAGERS MEETING
FALL 2015 MANAGERS MEETING
ALL MANAGERS MUST ATTEND!
Wednesday 9/23 at 6 PM at Sunderman field. If you have a scheduled practice, please make sure your assistants can cover it. In the event we get rain, it will be in the meeting room in the blue building in front of the hockey rink. Again, that is Wednesday, September 23rd for all Managers, it will run 30 to 45 minutes.
Thursday, September 10
CSA Halloween Festival
PALM HARBOR CSA HALLOWEEN FESTIVAL
Come...be a part of it! CSA Palm Harbor is hosting our 12th annual Halloween carnival on Saturday, October 24th, 2015 at our main facility, the Centre of Palm Harbor. It promises to be another great year with over 1500 community residents enjoying the trick or treat room, haunted hay rides, haunted house and a haunted trail. We invite you, our local businesses and organizations, to take part in this annual event. you are invited to attend and promote your business to the Palm Harbor community. All we ask is that you provide candy or trinkets for the Trick or Treat room. The Trick or Treat room is our Non-scary portion of this event. If you wish to decorate your table, please keep it non-scary. No fog machines are allowed inside. Please give us a call so we can partner together to make this an amazing event for the community and the perfect business opportunity for you! At CSA Palm Harbor, our goal is to help the community " meet, play and connect," so join us in bringing our neighborhood closer together. Lori Sakala Recreation Leader II CSA Palm Harbor Phone: 727-771-6000 Fax: 727-785-6877 Email: Isakala@csapalmharbor.org
Monday, September 7
FALL SOFTBALL CLINIC
FALL SOFTBALL CLINIC
To get us ready for the upcoming season we will be holding an instructional clinic for the AA and AAA age divisions on Wednesday September 9th at 6:00 PM at Sunderman Fields on field #1.
This includes girls ages 6-10 years old. We will be going through batting, catching, and fielding techniques to get the girls ready for the upcoming season. We encourage everyone to not only attend, but to bring a friend regardless if they are registered or not.
Please respond back with how many will be attending and the age by September 8th so we can have everything in order.
Monday, September 7
New Album