Hawks: Welcome

Thanks to USA Football for a 2014 equipment grant
Heads Up Football Ambassador Fred Baxter at 2014 end-of-season dinner
WELCOME 2016 PHILIPSTOWN HAWKS FOOTBALL & CHEER
We are very excited about the 2016 season! This year we hope to field one flag team, two tackle teams, and one cheer squad of children grades K-6.
Practice begins August 8 for tackle, August 15 for flag, and takes place at Mayor's Park. Tackle teams practice every weeknight, 6pm. The flag team practices 3 weeknights, 6pm, schedule TBD. We completely understand if you have vacations scheduled during this time!
Once school starts, practice is 2-3 times a week, alongside eight weekend games. The season runs through early November.
Cheerleaders of all ages participate in our squad. Football teams are divided as follows. No child is excluded or plays up based on size.
FLAG TEAM, GRADES K-2.
TACKLE TEAM, GRADES 3-4.
TACKLE TEAM, GRADES 5-6.
REGISTER EARLY TO TAKE ADVANTAGE OF BIG DISCOUNTS!
RECRUITMENT SPECIAL
Until May 31, 2016 - $100 all registrations
EARLY REGISTRATION
Until July 15, 2016 - $155 tackle / $105 flag or cheer
REGISTRATION
July 16 – August 19, 2016 - $180 tackle / $130 flag or cheer
LATE REGISTRATION
After August 19, 2016 - $205 tackle / $155 flag or cheer
** Get a new player to join! You BOTH get a $25 discount **
** $25 discount given to a 2nd/3rd family football player/cheerleader **
TO REGISTER
Email your child's name, date of birth, grade this fall, parent/guardian names, cell phones, and emails to Daniel A. Miller at footballhawks@gmail.com.
Registration by email means that you have read and agreed to the rules, waiver, and code of conduct that can be downloaded by clicking "Philipstown Hawks Documents" on the upper left.
Pay via PayPal using the button below or mail a check to Philipstown Hawks, PO Box 441, Garrison, NY 10524.
Please email any questions to Daniel A. Miller at footballhawks@gmail.com.
Don't forget to follow us on Facebook!
We look forward to another amazing season. GO HAWKS!!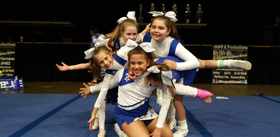 Cheer team in competition at Mid-Hudson Civic Center