Petroglyph Little League: Welcome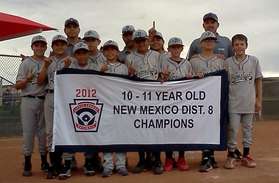 11y Majors District Champs 2012
Monday, January 28
Welcome to the Petroglyph Little League website!
Major 12's Take District and State-On To Waco!
We are located at 4901 Kachina St. NW (Mariposa Park), Albuquerque, NM. Please be sure and check the calendar for important dates and check back frequently for updates.
For Team Schedules: Click on the Handouts bar on the left side of this page to download yours!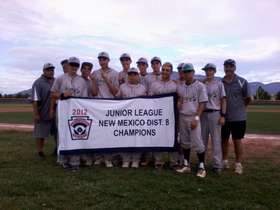 Juniors win district Championship!
Take Me Out.. by Dr John
Wednesday, May 8
Board Member Nominations
Board Member Nominations accepted at concession stand from May 8th thru May 25th, 2013. Click on Handouts bar to download your form and nominate someone who you think would be an asset to Petro!
Contact Information
Petroglyph Little League boundaries
Thursday, March 22
See who is sponsoring Petroglyph Little League
Click on our sponsors bar to see what local businesses are supporting Petro !
Thank you to all who help our community !
Subscribe to the Petroglyph Little League Newsgroup!
Enter your email address below and click the Join button to join the Petroglyph Little League Yahoo Newsgroup and stay up to date and informed on all things going on in your Little League.