Peter J. Foley Little League: Welcome
Welcome to PJFLL - Home of the 2015 CT Division 2 9&10 Year Old Champs!!
---
PLAY BALL!
With hundreds of friends and family in the stands, our annual Opening Day Ceremony was celebrated April 17th, 2016. With encouragement from PJF Alumni Mayor Pete Hess, Burgess Carl Herb, and Mr Jimmy Fenton among other, PJF players took to the field under a perfect blue sky.
During the ceremony, we stopped to reflect on friends we've lost, and to welcome new friends into the league. The ceremony was highlighted with the presentation of our new District 3 and Division 2 Championship Signs, which will hang on the outer fence for generations, in celebration of the hard work and accomplishments of our 2015 9-10 All Stars.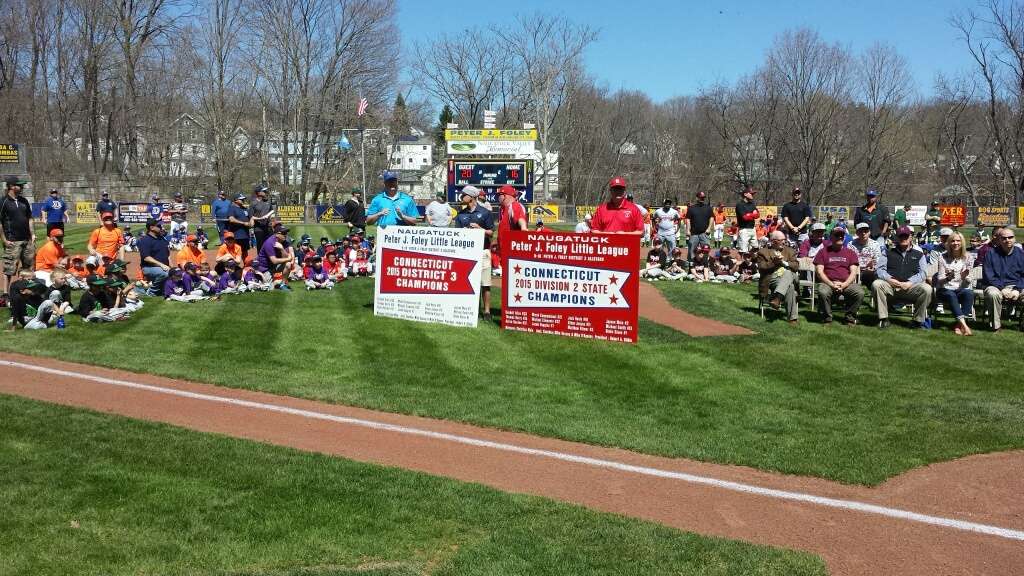 ---
July 2015
Congratulations to our 9/10 All Stars on their improbable run in the Summer of 2015, which came to an end on July 30th in the State Semi-Final. We are all so proud of you and your accomplishments, and more importantly, the way you represented yourselves, your league, and your town.
2015 District 3 Champions
2015 CT Division 2 Champions