Perry Soccer Club: Welcome



Registration has now closed for U10, U12 and U14. U6 and U8 registration is still open until the end of July, 2017. Thank you all who have registered to play!!

It is required that every player have shinguards when practicing and playing in games for all ages. U10 and above it is also required that every player have cleats.

Practices for 2017 Fall Soccer should begin within the last two weeks of August and games begin in September.

We encourage all parents, family and friends to come cheer on their player and their teams. Bring your chairs, blankets, and enjoy the game!!

Please remember to pick up after yourselves by putting the garbage where it belongs and not leaving it on the field. We appreciate your help in keeping our fields clean and safe for our players and families.

****************************************************************************************

Registracion ha cerrado por U10, U12, y U14. U6 y U8 registracion todavia esta abierta hasta el fin de Julio, 2017. Gracias por todos que hizo su registracion para jugar!!

Esta obligatorio que todo los jugadores tengan espinilleras cuando esten practicando y jugando en sus partidos por todo los edades. U10 y arriba tambien es obligatorio que todo los jugadores usan zapatos de futbol.

Practicas por 2017 Futbol de Otono comenzaran en las ultimas dos semanas de Agosto y los partidos comenzaran en Septiembre.

Animamos a todos los padres, familiares y amigos a venir a animar a su jugador y a sus equipos. Traiga sus sillas y mantas y disfrute el partido!!

Por favor recuerde recoger despues de ustedes mismo y poniendo la basura donde pertenece y no dejandola en los campos. Agradecemos su ayuda en mantener nuestros campos limpios y seguros para nuestros jugadores y familias.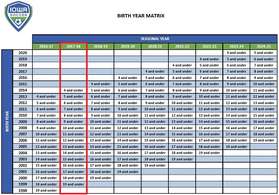 Use this Matrix to determine which age group your child would be playing in