Pembroke Lakes Optimist FastPitch: Welcome
2017 PLO Softball News

The City of Pembroke Pines Recreation and Cultural Arts department recently made sweeping changes to the baseball /softball programs and how they are operated in our city.

As a result, PLO Softball at the Flamingo Park location is now dedicated to travel league softball only. Those families looking for their younger daughter to play softball for recreational purposes only should look into the two other Pembroke Pines park facilities (Fletcher Park and Silver Lakes Park). These other Pembroke Pines park facilities will still continue to offer recreation softball for Spring and Fall seasons.

PLO Softball is now the only designated location in Pembroke Pines with a focus on competitive softball for girls ready to move on to the next level in the game. The softball training programs offered at our park are mostly geared for collegiate scholarship opportunities.

Having Fun is what its all about!

Athletic programs, like softball, brings young girls together, builds character, teaches life lessons, forms discipline, and creates lasting friendships.

It becomes a second family to you and your child and creates lasting memories on and off the field that your child will cherish when she grows into adulthood.

16U Travel Tryouts:

Contact Coach Reidy Olivo at
reidy@plfastpitch.com or cell: 754-204-7644


16U/18U Travel Tryouts:

Contact Coach Delvin Pascual at delvin@plfastpitch.com

Travel Team Tryouts

Does your child have what it takes to play competitive softball? Travel softball is for parents that want their child to play at a much higher level than a recreational setting.

PLO Softball is highly sought after and is considered the premier location for the best softball teams in South Florida.

Travel softball opens the door to college scholarship opportunities and definitely makes it easier to be selected for Junior Varsity and High School Varsity athletics. Your child must be selected by a travel coach to make the team and is considered a privilege and honor to be chosen among the very best players in your age group.

Open travel team try outs are typically held in January and August/September each year. There are many occassions when a travel coach may still be looking way past open tryouts for a particular player to fill a void or injury on their team.

So, if travel ball is what you are after for your child, we strongly encourage you to contact your daughter's age level travel coach directly for a possible tryout.

Please check here periodically for date/time of the next open tryout for each age division. All tryouts are held at our Flamingo Park Facilities.

HOT! HOT! HOT!
Pembroke Lakes Optimist Softball is Home of the Champion Pembroke Lakes Bandits.

Our Travel Fastpitch program is smoking HOT right now! Our travel team accomplishments speak for themselves. We have the very best softball coaches to make your child a champion. Many competing travel fastpitch programs talk about their past successes as a fastpitch program... but we are truly delivering championship caliber softball programs in all age divisions NOW!

Our travel team coaches know how to win and have racked up State championships, World Series championships, and countless local championship events in recent years. Feel free to read about our recent travel team accomplishments further below.

Our coaches work hard and also know what it takes to get your child prepared to play Varsity high school ball. We also know what it takes for your child to get noticed by colleges for potential scholarship opportunities.

Come join our winning program!
Hot News! July 19, 2015
Bandits 14U Reach the World Series Diamond 8 Finals Again!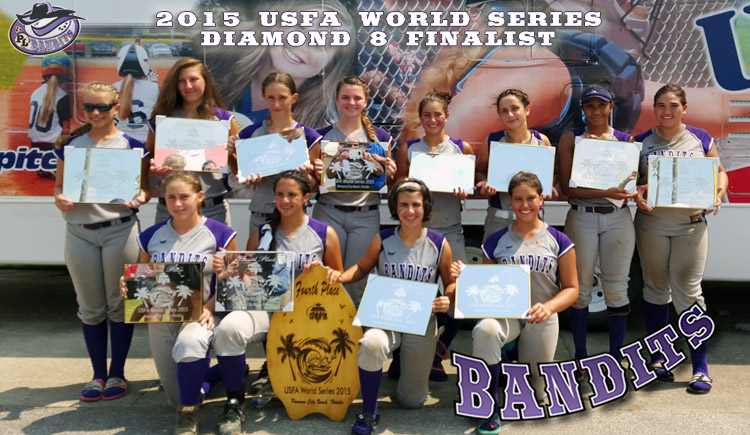 The Pembroke Lakes Bandits Delvin Team revisited one of the largest 14U World Series softball events in the country held in Panama City, Florida. Once again, the Bandits reached the prestigious Diamond 8 Finals after battling teams from Florida, Indiana, Georgia, Louisiana, and Missouri to name a few. This event played out over 4 days with 70+ teams battling for supremacy. This year, the Bandits advanced to Fourth Place overall and received the gnarly USFA Surf Board trophy for reaching the top 4 overall spots in the event.
Hot News! July 12, 2015
Bandits 14U Crowned USSSA "A" State Champions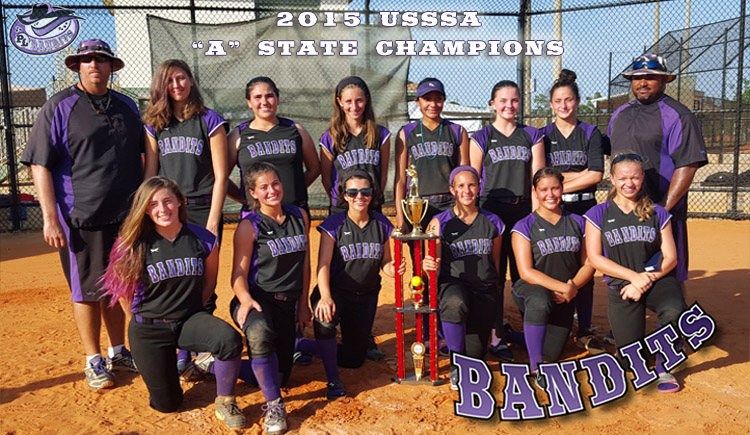 The Pembroke Lakes 14U Delvin team are now officially Back-To-Back USSSA "A" State Champions. For a second year in a row, Coach Delvin Pascual and Coach James Canfield have proven that the Bandits are the real deal. No losses throughout the entire event and no easy path to the championship either. The Bandits managed to play and beat all the top seeded teams in the tournament over this 3 day event.
Hot News! June 8, 2015
Bandits 16U Crowned Champions in Sunrise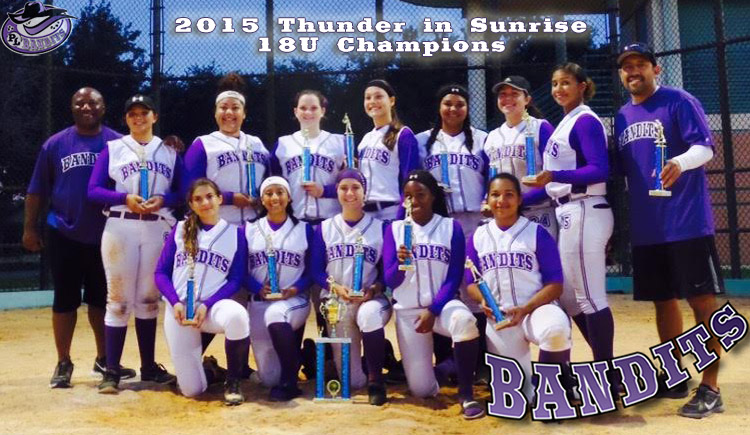 The Bandits 16U Travel Team stayed hot and won their second tournament in a row after taking home the 18U Championship trophy in the Thunder in Sunrise Tournament this past Sunday. Coach Luis Romero's Bandit team celebrated another tournament win by defeating the tough and experienced Cooper City Cobras 18A team in another intense contest that for the second tournament in a row was decided by a tiebreaker. Click Here to read more.
Hot News! May 25, 2015
This is definitely one of the grandest weekends for Bandits Travel Softball since the girls program was rebuilt by Commissioner Delvin Pascual. Two out of three Bandits Travel Teams were crowned Champions and the other was a Runner-Up Champ this memorial weekend. Congratulations to Coach Luis (pictured below) from the 16U Bandits, Coach Reidy from the 12U Bandits, and Coach German from the 10U Bandits (pictured below) for a phenominal accomplishment this Memorial Weekend.
The PL Bandits softball organization has quickly become the hottest park to play for in Pembroke Pines.
The Bandits 16U Travel Team (pictured above) headed up by Coach Luis Romero enjoyed an early Memorial Day on Sunday and closed out their weekend tournament with a BANG! The team celebrated Memorial Day by winning the 18U Championship Sunday at the Memorial Day Madness Tournament. While playing in only their second tournament of the season, the 16U Bandits defeated the Miami Wolfpack 18A team in an amazing game that was full of drama and suspense. The team started the weekend by posting a 2-1 record in three seeding games and finishing 2nd in their bracket. On Sunday, Bandit hitters pounded the ball and got to the elimination round by defeating the Miami Waves 12-0. The bats stayed hot as the Bandits rolled past Plantation Pressure 11-5 in their second elimination game to earn a spot in the Championship game. The final contest was an epic battle that lasted three hours and three Kansas City tiebreakers later. For more on the story, click here.
Hot News! May 25, 2015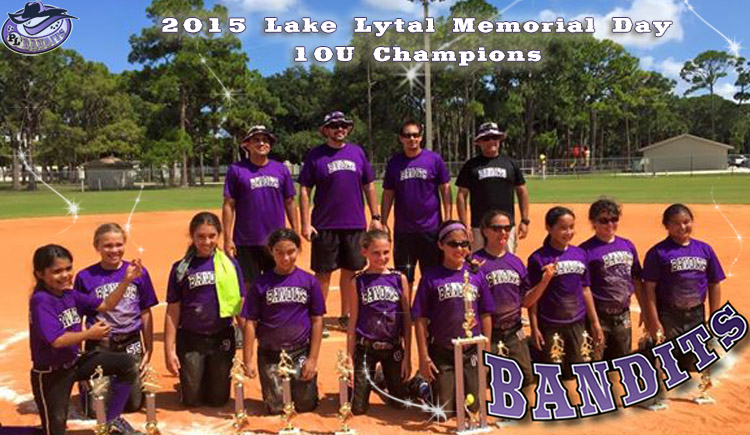 This is Coach German's first win as Pembroke Lakes Bandits coaches. Coach German racked up over 60 runs in their 6-0 run! German's team also had a combined 6 homeruns and over 40 strikeouts.
Hot News! May 11, 2015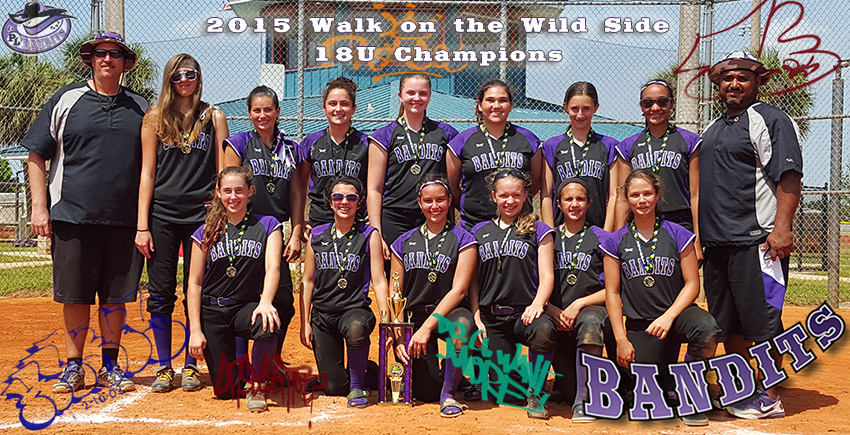 Oops! Bandits Delvin does it again in grand fashion.... or should we say 18U fashion. That's right. Our very young athletes went looking for higher competition and registered in an 18 Open event this past weekend. They ultimately took home the Championship hardware for their Mom's on Mother's Day. The tournament had a little of everything including local competition we had been waiting to play since last season, and two big wins against the well-respected Gold Coast Hurricane organization. In the end, the girls put on a strong finish by beating the number 1 seed Plantation Pressure 18A team 7-1 and the number 2 seed Gold Coast Hurricanes 14A team 8-4.
Hot News! May 5, 2015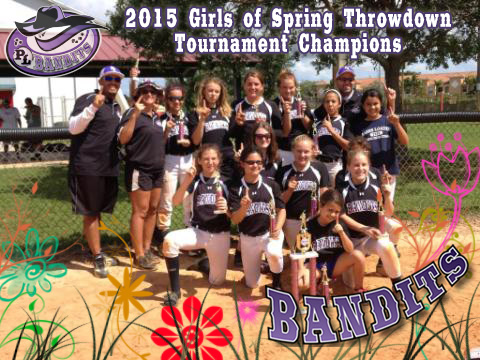 Coach Reidy, Coach Chris, and Coach Matt do it again in Pines with an impressive 12U championship victory at Fletcher Park this past weekend. "Great pitching and solid hitting were the keys to their success" according to Coach Reidy. As anticipated, Coach Reidy and crew are off to a great start this season and are now ranked 2nd place (out of thirty 12B teams) in S. Florida according to the USSSA power ranking system. Keep up the great work!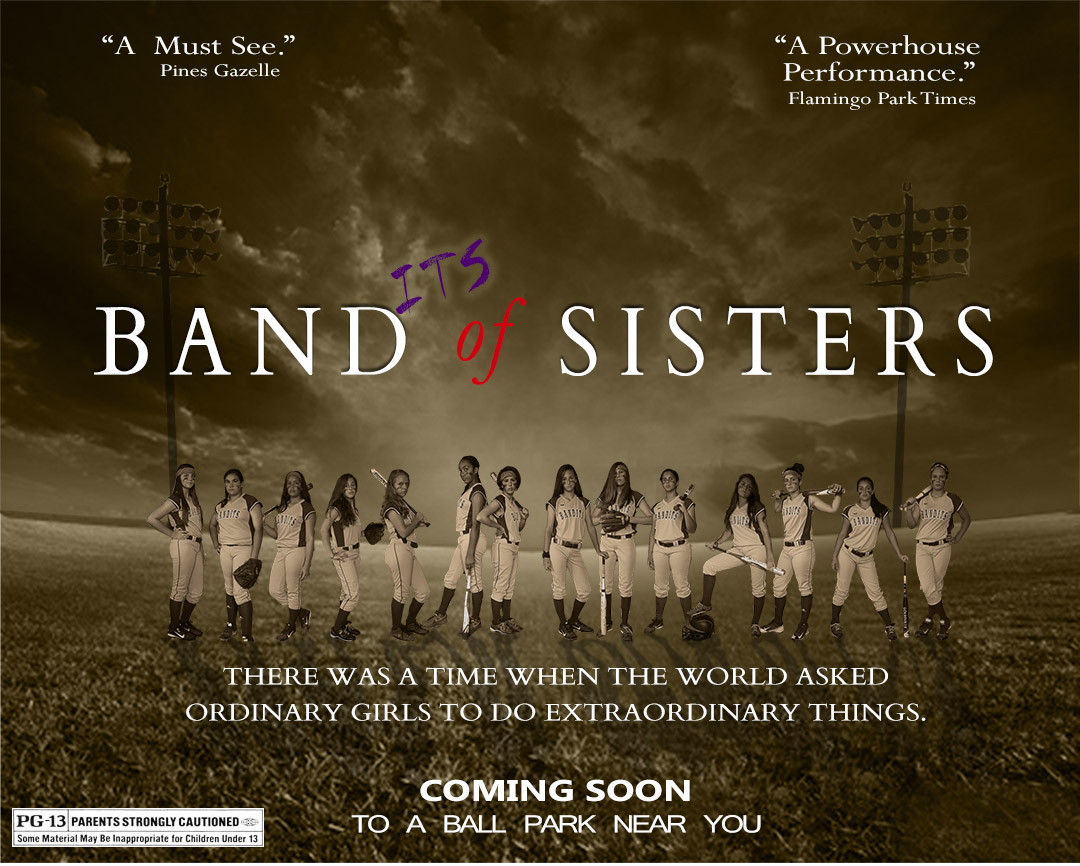 Hot News! March 23, 2015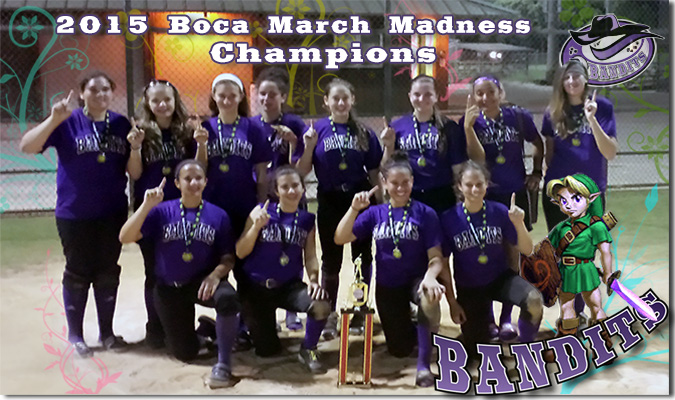 In the second tournament of the season, the Bandits 14U Delvin team shine again... this time at the Boca March Madness 1-Day Event. Playing without key players on the Bandits roster does not seem to slow this team down, even though Zelda's Hero "Link" showed up to give us a helping hand. Two new 14A competitors were in the way of victory this week... Gold Coast Hurricanes Neveling and the Gator Gold Flannery team. Both of these teams are top rated 14A teams in the State of Florida. They were exciting games and our team was able to come out on top again without giving up any runs against either team in the Semi-Finals and Championship round.
HOT News! March 16, 2015
14U Bandits start off the 2015 season strong with a Championship win!
The beginning of the 2015 Spring Season is finally here and the Bandits 14U team started off with a BOOM! The competition was decent at the West Boyton March Madness event. We got much more than was expected for this one day event.
The final championship game was exciting and the action fierce. The Bandits executed 2 incredible double plays in the game that left the coaches speechless. There was also an amazing play at the plate (see video above) to hold the opponent from scoring a critical run. Our very own Destiny Falquez was playing short-stop and made the agressive decision to go after the runner coming home versus the out at first base. This was a pivotal turning point in the game. The coaches and even the catcher Vanessa Ibarra were not expecting the play at the plate, but Destiny was "On Fire" all day long and her hard thrown ball with Vanessa's execution at home plate was fun to watch. Destiny also had her first OTF Home Run earlier in this tournament.
February 27, 2015
2015 Opening Ceremonies at Pembroke Lakes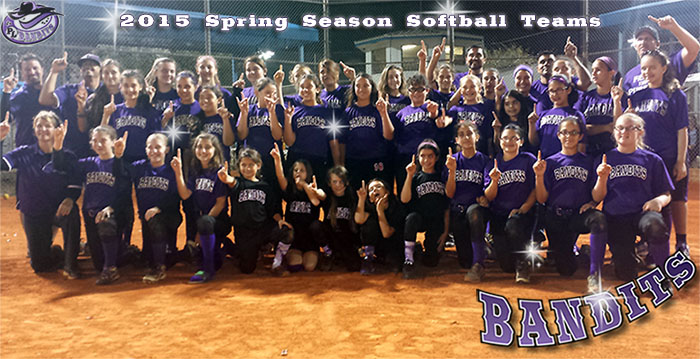 The Pembroke Lakes Optimist held its 2015 Spring Season Opening Ceremonies tonight. Most of our softball players were in attendance tonight from 8U to 14U age division. Our girls program is now over 50+ young athletes strong.
HOT NEWS! February 4, 2015
New 10U State Championship Coach arrives to Pembroke Lakes
We are proud to announce that Coach German Caravaca has decided to join the Pembroke Lakes Fastpitch program this season and for many seasons to come. Coach German is very well known throughout Florida and has built State and World Series Championship 8U and 10U softball teams in his past 6+ years of travel coaching.
He will now be focusing his coaching skills full-time as a 10U travel coach this season. To read more about this coaches incredible accomplishments in the fastpitch world, click here.
HOT NEWS! December 22, 2014
14U Bandits Finish Season STRONG in a 15U Open Event!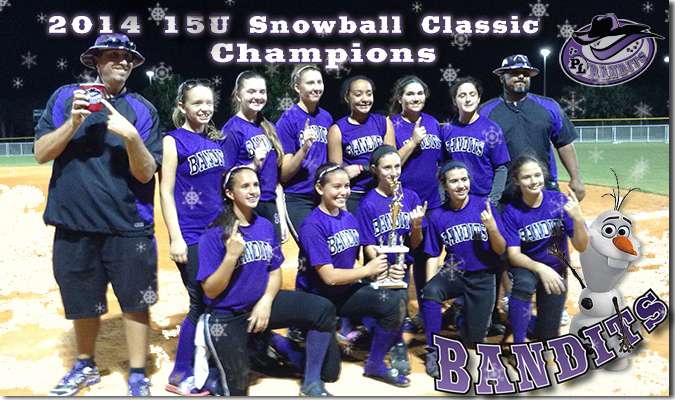 The PL Bandits 14U Delvin team continues to impress. In the final USSSA tournament of the season, the Bandits win all their games in double elimination rounds to be handed the SnowBall Classic 1st Place Title. Even snowman "Olaf" came down to join in the celebration victory.
As anticipated, the very tough Gators Elite '01 14A team reached the Championship round at the end of the tournament day. The Gators Elite pitcher, Mekayla Frazier, is a well recognized pitcher in the S. Florida area for the last several seasons and recently dominated the USFA World Series 12A Division by reaching 2nd place almost single-handedly as the team's primary pitcher in all games played. Team Delvin was not sure what to expect, but the girls were prepared.
In their first ever 2014 meeting and this tournament itself, the Bandits handed the Gators a 6-0 beatdown. It was a great performance by the Bandits on both offense and defense. Gator Mekayla's fastball was exemplary, but the Bandits pitching from Mollie Canfield was even more impressive.
Well, things changed quickly in the second encounter with the Gators and a much tighter game ensued. With the end of the game on the line and down 2-0, the Bandits team woke up in the 7th inning while the Gators team had a hard time holding it together. When the gators took the field, the pitches were no longer fooling our batters and a series of walks, wild pitches, and timely bunts ultimately put the Bandits ahead for a final score of 3-2. It was an exciting finish for the Fall Season and Team Delvin is now looking stronger than ever before with two 1st place Finishes, one 2nd place Finish, and one third place Finish in tournament play this season.
November 30, 2014
14U Bandits Reach New Championship Status!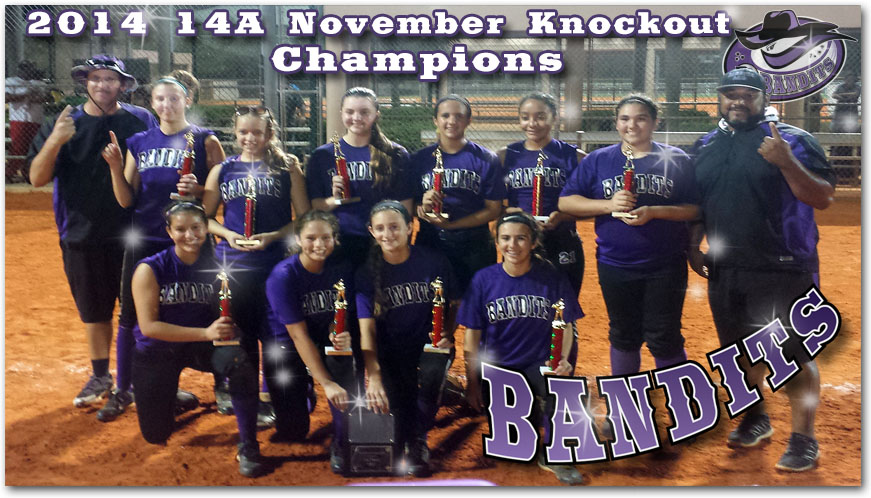 The "PL Bandits Delvin" Team reached new heights this Fall season. In the largest USSSA softball event of the Florida Fall season, the 15U Open division had over 16 registered teams that were divided into respective "A" and "B" status. USSSA placed us among the 6 best teams in the "14A" caliber bracket and Coach Delvin and James had their work cut out for them right from the beginning. The Bandits 14U team is made up of an average of 12.8 years old compared to the other 5 teams in the "A" Bracket being around 14.5 years of age. Two of the 14A teams in this tournament were already existing hurdles our team had not been able to overcome so far this season.
No matter... Coach Delvin and James orchestrated a great weekend tournament victory. The girls put together some of the best offensive and defensive performances to date. They did not lose a single game and were even able to come back from a 2 run deficit in the last inning of championship play to win it all! This is now Team Delvin's first 14A level championship. Things are looking BRIGHT for this newly bumped up 14U team.
November 17, 2014
12U Bandits are Mad Chill Tournament Champions!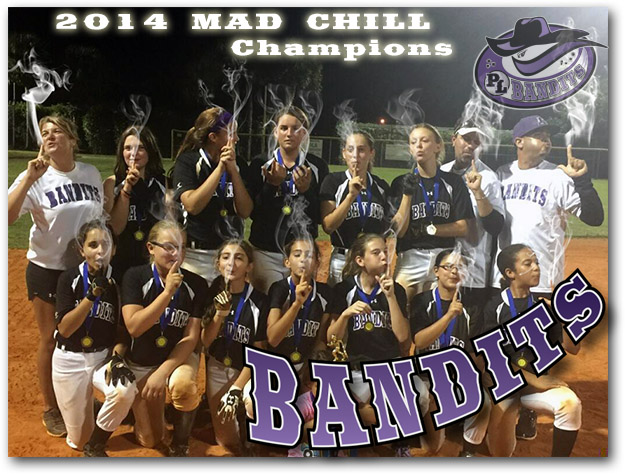 Bandits do it again! For the second time, Coach Reidy and crew have imprinted their success on an inaugural tournament hosted at Silver Lakes Park. This was a 1 day event, and the Bandits had to win all 3 games to claim the title. In their path to victory was an older Miami Pride 13U team that will be playing 14U ball this January. The age gap didn't bother the Bandits as they were "Smoking Hot" all day. Of course they got a little help from the crowd to solidy this victory too. The majority of the Bandits 14U squad were present at the Final championship game and they made this game LOUD and EXCITING! It definitely pumped up the younger girls and was fun to watch. Coach Reidy, Coach Chris, and Coach Matt are now 8-0 in tournament play. Great Job!