PEMBROKE HOT SHOTS: Welcome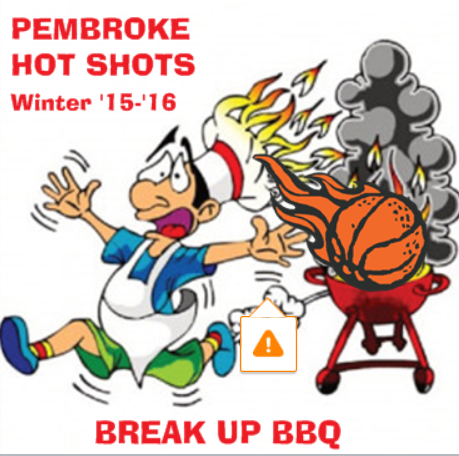 Hot Shots Ready for Season Finsh FUN!
The Hot Shots had a sucessful winter season finishing in second place with a 9 - 3 total for the seasonand now are ready to party in the park. We are scheduled for a cookout on Saturday April 2nd for 12 - 2 pm. We will participate in some games other than basketball and enjoy some burgers and dogs!

2015 - 2016 PEMBROKE HOT SHOTS

Hot Shots Season Ends with Close Loss
The Hot Shots put in all the effort they had in the championship game versus Carver. We lead for a majority of the game but in the end we left too many free throws and came up 2 points short. Carver completed an unbeaten season and had to play harder to beat us than they expected. EVERY Hot Shot should be proud of the season they completed with an 11 - 4 record.
ENJOY YOUR SUMMER EVERYONE !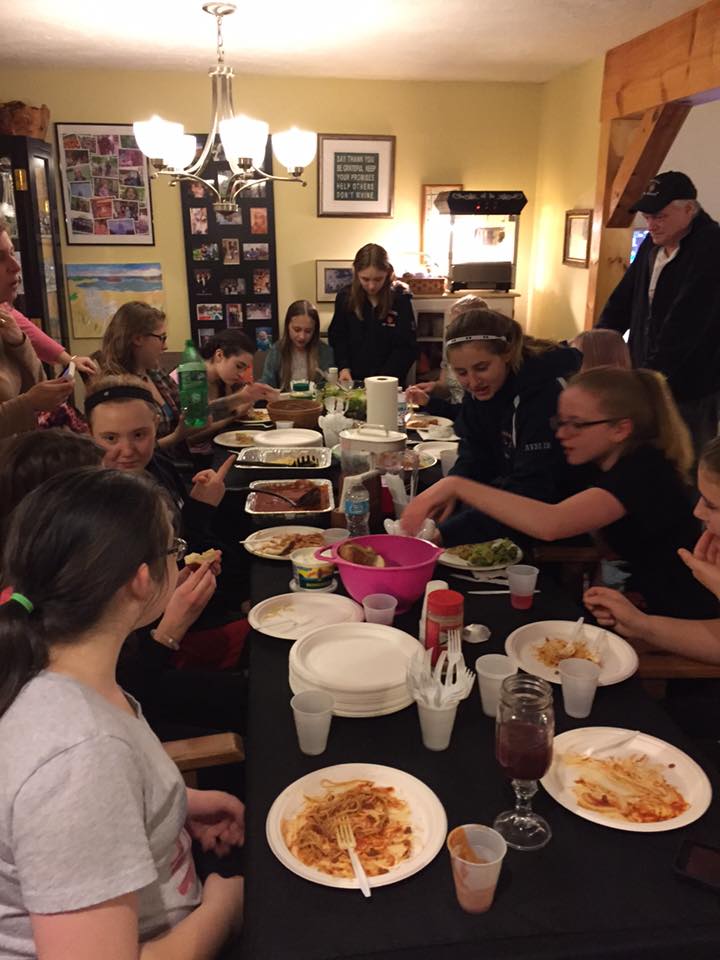 HOT SHOTS SPAGETTI DINNER

Hot Shots Defeat Hanson .. Take on Carver!
The Hot Shots put together a sucessful revenge game over Hanson to meet Carver in the finals. We all sat down to 'carbo load" and enjoy each other's company the night before the Championship on Sunday!


Hot Shots Finish at 9 - 3!
The Hot Shots put together a sucessful winter season finishing in second place with a 9 - 3 total for the season. We are scheduled for a Semifinal on Saturday and a win will have us playing for the Championship on Sunday


Hot Shots Enjoy Exciting Weekend !
The Hot Shots put together back to back wins to improve to 7 - 1 three quarts of the way through the season. Our second unit got a large amount of playing time and experience by starting against Duxbury on Saturday and it really showed against West Bridgewater on Sunday. It was easy to see how much this group has improved!! Great effort from our first year rookies, Sam, Rachael and Janina as well as smart seasoned play by veterans Kate Cobb, Lucy, Jada, Lily and Avelina.


Hot Shots keeping pace with Carver !
After a close 6 point loss to first place Carver, the Hot Shots put together back to back wins to improve to 5 - 1 at the halfway mark of the season. We are scheduled for both a Saturday and a Sunday game next week so come on out and see how well the team has improved!!


Hot Shots go into Holiday Break at 3-0 !
After a nice win, the Hot Shots made their way to Papa Gino's and celebrated with pizza and the annual gift exchange. Although there were three players not dressed to play and after some early mistakes, the Hot Shots improved their record to 3-0 as they head into the holiday break. All 13 members of the team participated in the annual Hot Shots secret santa and enjoyed some pizza with friends and family!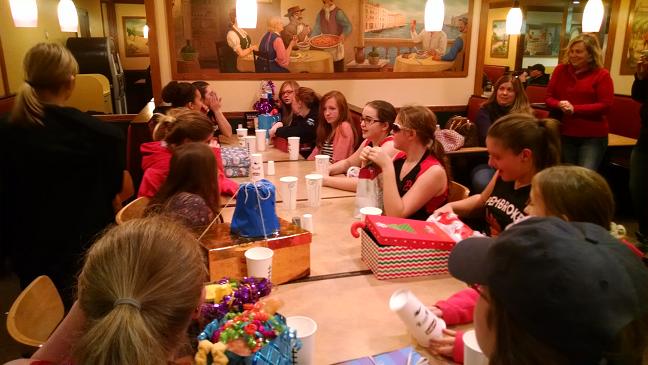 HOT SHOTS GIFT EXCHANGE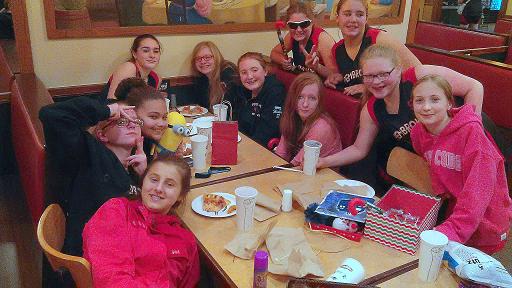 Bench gets plenty of game time in # Two !
The first five got things going early and the bench brought home a 37- 20 win against West Bridgewater. Only 3 Hot Shots failed to find the hoop but everyone contributed.


First Game In The Books!
The winter season got going with a 20 - 11 win against East Bridgewater. The full schedule will be out soon but our next 5 games are listed on the Winter games and results page.


It's Game Time!
The winter season gets underway on Sunday December 6th at 9 am when we go up against East Bridgewater. We are going to face many teams for the first time and we look forward to the opportunity. The full schedule will be out soon but here is a list of the other towns in our group.
Hanson / Bourne / West Bridgewater / Duxbury / Carver / Barnstable


Our 1st PCMS Winter Concert Performance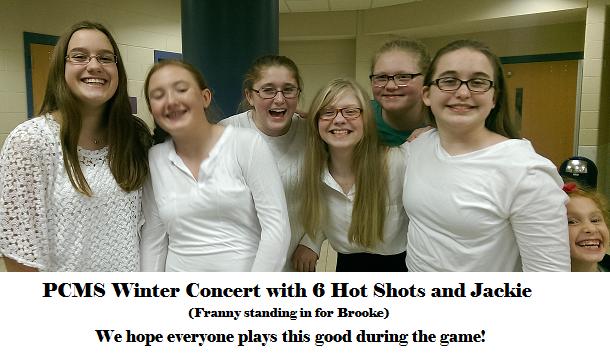 Our 1st Halloween Candy Swap!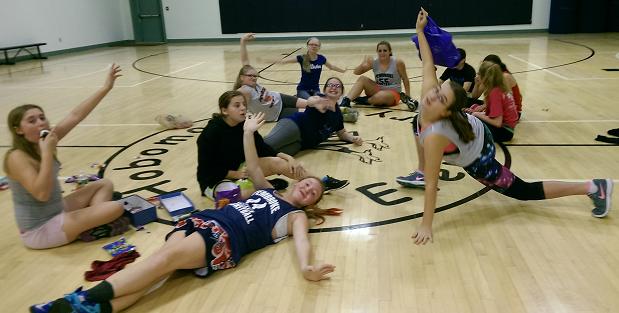 It's 7th Grade Winter League Time!
The Winter season got underway at the end of September and our season begins on December 4th & ends on March 13th . We are going back to the Kingston Sports Center. Keep coming back for more information and updates all season!


It's Playoff Time!
The Summer season comes to an end this week with our first playoff game on Tuesday the 11th at 6pm versus Norwell. The finals will be held on Thursday the 13th.


Last Stretch of Summer
"Rebound… Outlet ... Look up .... Pass ... Layup"
In less than 10 seconds
FOR MORE EXCITING PLAYS CLICK HERE


Hot Shots Summer Season 1/4 Done
So far the Summer season has had its ups and downs. On Tuesday the 7th the Hot Shots defeated St. Joes of Holbrook for their first win. This came one week after Avelina scored her first basket in game action! Our newest member, Liz, has provided some really great hustle and has been on the receiving end of some great lead passes from Kat. Brooke had an impressive offensive put back and drew the foul just like we've been working on. Thank you to all the players for the effort they make to attend the optional workouts on Thursdays and Saturdays. We still have to work on our fundamentals like layups and free throws so when you find yourself texting, watching T.V. or laying around… grab a ball, find a basket and challenge yourself to make 10 shots. Next time 15 and then 20…..


Being a Hot Shots is more than Basketball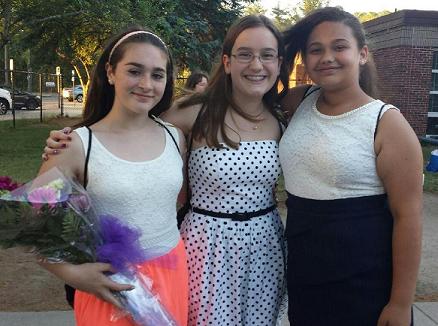 On Thursday the 18th the Hot Shots in the Hobomock Elementary School were presented with their promotion certificates. Jen Mahar organized and provided transportation so their Bryantville teammates could attend and show their support Then on Tuesday the 23rd the roles were reversed when Heather Cobb loaded the Hobomock gang, braved the Tornado warnings and got drenched in a down pour entering Bryantville. This is a tremendous example of what a member of our team does for each other. A big assist goes out to our parents who never hesitate to step up and help out. Next year we will only have one ceremony to attend for Avelina. I'm sure that will be a very loud group!
Visit the new "More Than Basketball" tab on the menu.


Hot Shots Game 2 POSTPONED
Due to the Bryantville Promotion Night, we have had to reschedule the game against Weymouth. Please check back for new date and time.


Hot Shots Welcome Elizabeth "Liz" Hinkley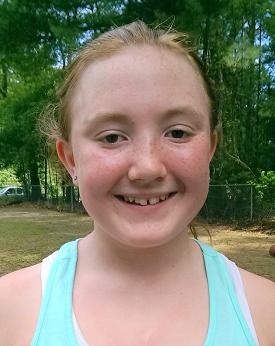 Liz is the newest member of the Hot Shots and she will wear # 27. She played on the PYB Winter travel team, is a member of the band, was also in the production of "The Wizard of Oz", shares a birthday with Jada and is on the same In Town team as Avelina. A very qualified resume!


Hot Shots Summer Schedule
All Games on Tuesdays and Played on Court 4
Jun 16 Pembroke Hot Shots v Hingham 6:00 PM
Jun 23 TBD (6th Grade Promotion Night)
Jun 30 Pembroke Hot Shots v Norwell 8:00 PM
Jul 7 Pembroke Hot Shots v MarshField 5:00 PM
Jul 14 South Shore Hoops v Pembroke Hot Shots 6:00 PM
Jul 21 Rockland v Pembroke Hot Shots 5:00 PM
Jul 28 Hingham v Pembroke Hot Shots 8:00 PM
Aug 4 Hanover-Duval v Pembroke Hot Shots 7:00 PM


Hot Shots In Town Summer Basketball
TEAM 3 Kat Mahar
TEAM 5 Kate Cobb
TEAM 6 Lily Jones
TEAM 7 Franny Riley
TEAM 7 Lucy Riley
TEAM 7 Brooke Young
TEAM 8 Avelina Cuscianna
TEAM 8 Liz Hinkley


Being a Hot Shots is more than Basketball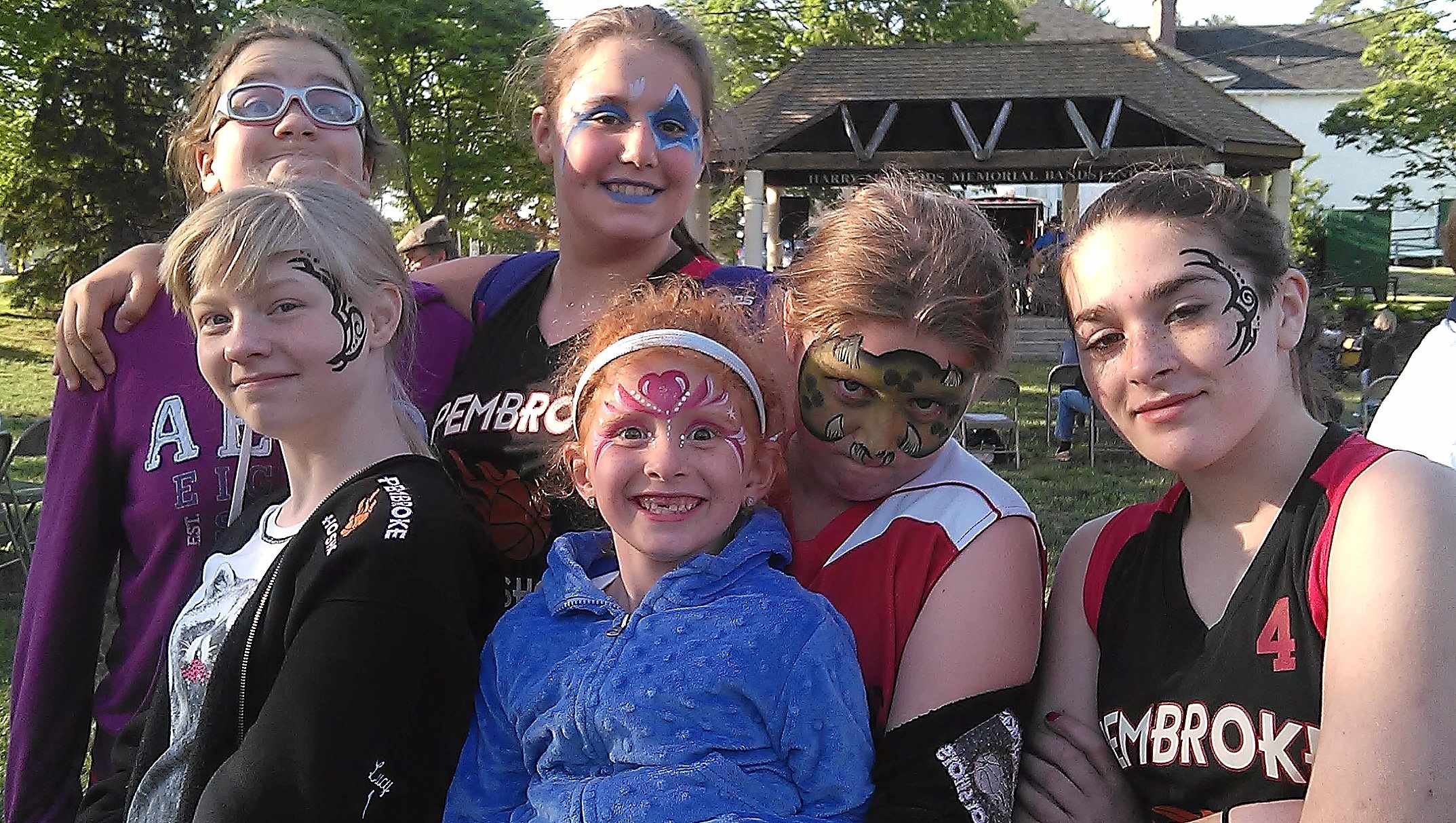 We all went to the Ginger and Rich Comeau 6th Ice Cream Fundraiser for the CCFA on the Pembroke Town Green after practice to make our own sundae, listen to live music and get our face painted by Nancy's Face Painting. All proceeds will support Ryan's Team at the Take Steps Walk in Boston on June 6th. It is important that we consider helping in other's efforts to find a cure and improve the quality of life of those suffering. Having some Ice Cream doesn't hurt either!!
View more photos in "Albums"


Hot Shots Ready to Play at The U.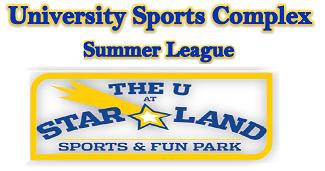 The schedule should be released next week. For those of you who have not been in the U before but have seen all the cars there during events, Click here for my recommendation for parking and access to the gym. There are flat screens throughout the facility that will display the teams, times and court numbers if you enter through any other way. The courts all have large numbers on the wall identifying them. The evens on one side and odds on the opposite side. The game times are 5, 6, & 7 but if one of these is bad for anyone ,such as "I can't do 5pm", I will ask for only games at 6 & 7. Let me know right away so we have a better shot at getting what we want.


Hot Shots Play at Gillette Stadium.
On Saturday May 2nd, our very own Lucy Riley, Lily Jones, Ella Merlan, Brooke Young, Kat Mahar and Kate Cobb demonstrated that they are very talented in things outside of basketball. They performed our National Anthem prior to the New England Revolution game along with the other members of the Pembroke Elementary School Marching Band.
Check out the performance on our YouTube page.


Hot Shots Winter 2014 - 15 Season ends.
The Hot Shots fought a tight back and forth game with great shooting and tough defense but in the end, the shots didn't fall and Marshfield made both of their one and one foul shots to take the game. Everyone gave all their effort but we just couldn't get any closer by the final buzzer. We inbounded the ball on our end of the court with 10 seconds remaining but our shots didn't fall.

Final Regular Season Standings 6th Girls Team
W L
1 Marshfield - Boyington 11 1
2 Wareham - Hathaway 9 3
3 Scituate - Maescher 7 5
4 Pembroke Hot shots - Riley 5 7
5 Marshfield - Powers 5 7
6 Carver - Francis 4 8
7 Duxbury - Chase 1 11


Hot Shots split regular season ending games.
The Hot Shots moved out to an early lead and crused to a 20 - 8 victory over Duxbury in an early morning tilt. The night game was a tight contest verses arch rival Marshfield keeping a 2 point difference well into the second half. Everyone gave all their effort but we just couldn't get any closer by the final buzzer.


Hot Shots drop one to Carver.
The Hot Shots moved out to an early lead but just could not find the hoop down the stretch and lost 16-15. The effort was there from opening tip to final buzzer and you could not ask for more. The second game of our twilight double header was postponed by a pending storm.


Hot Shots taken on a Surprise ROAD TRIP!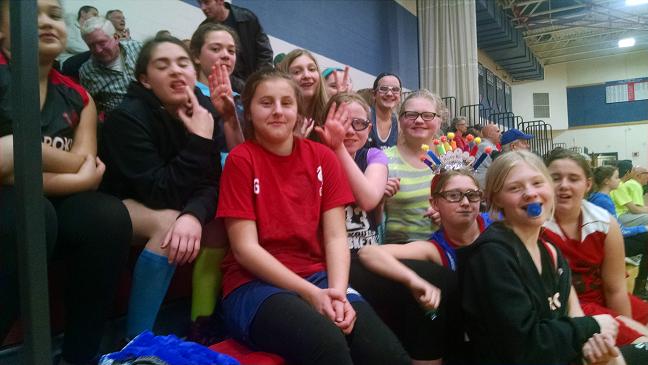 The Hot Shots arrived at practice only to wisked off to watch the Pembroke High School Girls varsity team take on Duxbury. The final score wasn't what we had hoped for but we hope that the girls enjoyed th experience and saw what it takes to play at that level.
A huge thanks to Heather Cobb for providing transportation and staying to watch the game.


Playoff times and dates posted.
Check the "Winter 14-15 Calendar" for up to date info


Congratulations to the members of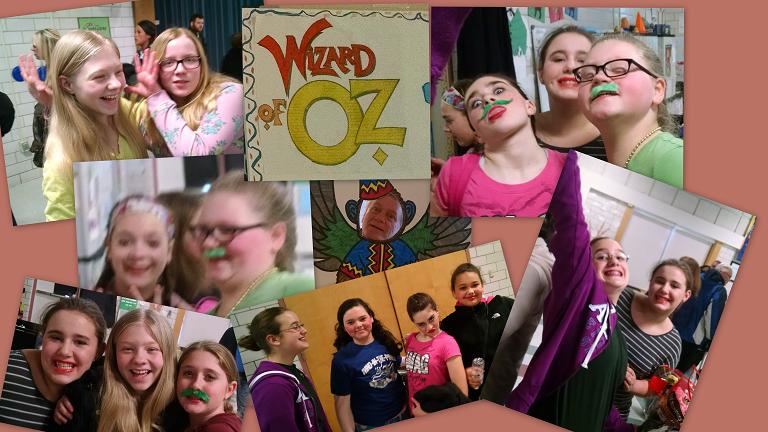 From: mattd@kingstonsportscenter.com
Subject: KSC Winter League Update
Date: Fri, 30 Jan 2015 13:02:56 -0500
Coaches,
A reminder that ALL teams make the playoffs, the playoffs will be held the weekend of March 6-9th. I will do my best to accommodate existing requests but with so many moving pieces in the playoffs it is difficult to accommodate game time requests.
- Playoff Brackets, I am working on the brackets now, every division will be different based on the number of teams in each bracket.


Hot Shots Practice CANCELLED TUE AND THURS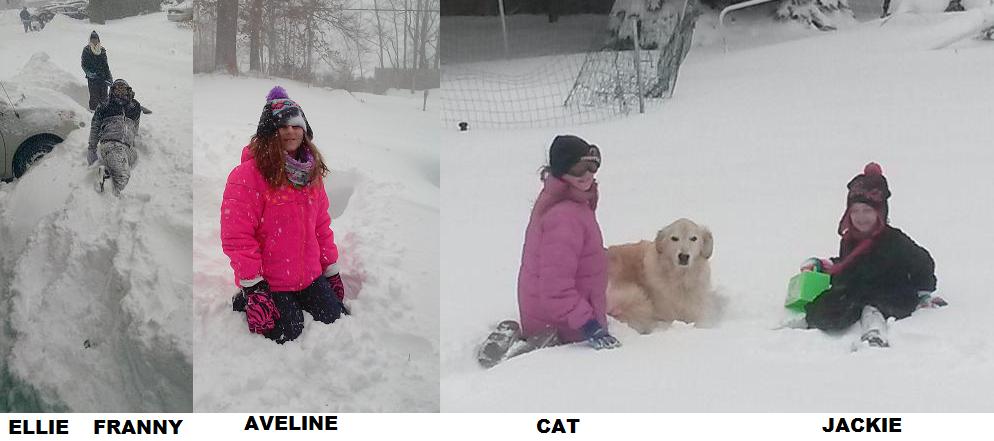 Hot Shots Hold on to defeat Carver 16 - 14
The Hot Shots fought hard throughout the entire game to get back into the win column. Strong pressure and a will to not give up the lead they worked hard to get was the difference today.


Hot Shots Unable to hold on to the lead...Fall to Wareham.
The Hot Shots fought hard for 3/4 of the game but gave up a couple of baskets and went down 21 -20. We hope to have achance in the playoffs to get one more crack at them.



Hot Shots Come together for the Hobomock Winter Concert ! The Hot Shots displayed talent and teamwork beyond basketball last night as members from Bryantville joined the Hobomock Orchestra for an evening of chorus and music.I'll have to get practice tips from Mr. Hawes! Nice job everyone.

photos by Heather Cobb



Hot Shots Start 2015 with a Win and Improve to 3 -1 in League ! The Hot Shots won their last regular season league game vs Marshfield (Green) by a score of 18 -14.Next up is Wareham for their only other regular season game. The Hot Shots jumped out to an early lead in the first game but got nipped by 2 in Over Time.


Hot Shots in the 2014 KSC Holiday Hoops Travel Tournament 12/26/14-12/28/14
The Hot Shots have accepted an invitation to play in the 2014 KSC Holiday Hoops Travel TournamentPlease watch for the schedule soon!

Wednesday, September 3


Fees / Sponsorship






Monday, March 21


Hot Shots 2015_16