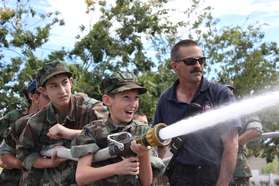 Put the wet stuff on the red stuff.
Thursday, July 26
PCR-12
---
PCR-12-4 LCDR Jack Dempsey darwin.dempsey@gmail.com
PCR-12-6 LCDR John Ferretti jpferretti@aol.com
PCR-12-8 LCDR Cammy Boschee boscheec@aol.com
---
---
RECRUIT TRAINING REGION 12 STAFF NEEDED
RT needs 6 males and 2 female adult staff and a couple more cadet male staff they are also looking for a CPO.
Dates 24 June to 8 Jul Camp Parks even if you can only make it for 1 week it will be helpful. Please contact Paul Norton at: pnorton@greyghostdivision.org
Steve Nash SRD Region 12

ADULT AND CADET STAFF NEEDED CAMP PARKS
Adult and cadet staff are needed for Region 12 Recruit Training on June 24 to July 9 at Camp Parks. The staff has been working hard all year to update the training and now needs the staff to make it a great training.
Please contact COTC LT Paul Norton or LCDR Laneya Littrell to assist.
Paul Norton pnorton@seacadets.org 925-961-7274
Laneya Littrell littrell0843@gmail.com 209-648-5310
---
SEAMANSHIP CHALLENGE OPEN ON MEGELLAN
Please be advised that Seamanship Challenge is open on Magellan. Sorry for delays but HQ has been struggling with the financial issues because of the new restrictions in place.
It is very important that you only register cadets and staff that are attending not your whole unit as some have done. It becomes a nightmare trying to sort it out and give proper training credit for those attending, as well as problems with financial matters.
Most information you need was already posted a couple months ago on the Region Website. If you have further questions please contact COTC Eric Thiessen at eric.thiessen29@gmail.com .
LCDR Steve Nash
SEAMNASHIP CHALLENGE USCG BASE ALAMEDA – 20 MAY 2017
Attached are the POD and Guidelines, these documents are need to prepare for the upcoming Seamanship Challenge. For the Units that have requested berthing you will receive a separate email when we get closer to the training. See Handouts Folder for details and documents.
LCDR Steve Nash
---
RECRUITING PLAN
This recruiting plan is from Pyro and written by Brad Kaplan and is very useful for all recruiting efforts. See Handouts Folder for the plan.
LCDR Steve Nash
---
TRAINING GRANTS 2017
Training grants must be returned to LCDR Steve Nash no later than 1 APR 2017. We need to evaluate and decide on who to fund and just a reminder, the grants are funded by the annual raffle fundraiser. If a unit has not returned their raffle money any award for cadets in the unit will be reduced by the amount of money the unit owes.
Application is attached in the Handouts Folder.
LCDR Steve Nash

---
NAVY LEAGUE FOUNDATION SCHOLARSHIPS
The Navy League Foundation awards scholarships to high school seniors who will attend college in the fall. Scholarships are awarded for four years and provide an award of $2,500 per year.
**All graduating Sea Cadets who plan to attend college in the fall are eligible to apply for this scholarship.**
To apply, cadets should complete the online application process, which can be initiated here:
https://navyleaguefoundation.starsscholarshipsonline.com/stars/default.aspx
Questions regarding the scholarship and application process should be directed to scholarships@navyleague.org.
Best regards,
Kate
---
MAGELLAN ACTION REQUIRED
Need the units to log into Magellan and update the cadets and adults records to include correspondence courses, training etc. The records are not updated and it is causing problems along the COC to make promotions. Some are taking weeks and should only take a couple days but because Magellan is not current with training and Courses the promotions keep getting kicked back.
LCDR Steve Nash
---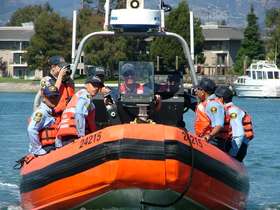 Training with the USCG