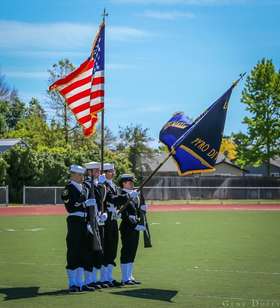 Pyro Division by Gene Duffy
Thursday, July 26
---
---
NICHOLAS BRANGO AWARD FOR INSPIRATIONAL LEADERSHIP
Dear LTJG Dao,
On behalf of the NSCC National President, John W. Alger, please accept our congratulations for your selection as the NICHOLAS BRANGO AWARD FOR INSPIRATIONAL LEADERSHIP AWARD recipient, recognizing you as the NSCC Officer of the Year for 2015. Well done!
Your hard work and effort in meeting all NSCC program requirements have resulted in your selection for this premier award. You have proven to be the 'very best of the best' in the NSCC program. The competition was keen, but you stood out as the clear winner. Your record is quite remarkable, and clearly the best candidate. We hope you will continue to excel and have every success in your unit. We believe you will do well in this regard.
We always invite the BRANGO AWARD selectee to attend the Navy League summer meeting to receive the award during the Annual Meeting of Members. This meeting will be at the NLUS National Convention to be held at the Embassy Suites North Charleston in Charleston, SC, June 14-19, 2016. We pay most of the travel expenses for you and one guest to attend the event, including airfare/mileage, hotel and meals. As planning develops, we will send you details regarding the date and time that the award will be presented to you, so that you can make your travel plans.
Our Executive Assistant, Chris Collins will assist you in obtaining an advance toward your costs of travel, if so desired, as well as making appropriate reservations with Navy League for your attendance.

We will provide more info as the date approaches. However, for now, please indicate if you will be able to attend so that we can include your award presentation in the agenda. Thank you.
Keep charging!
Best regards,
CAPT Henry J. Nyland
Executive Director, NSCC
---
MENU – OFFICER'S CALL - LOCATED IN HANDOUTS FOLDER
Please pass the attached menu for Officer's Call.
Training will include Magellan, how to recognize and deal with cadets and depression and Hazing/Bullying. We are having experts in all the trainings who will teach it come.
Note The ballroom is under remodel this year, so we'll be downstairs for the day.
LCDR Steve Nash
O CALL REGISTRATION UPDATE
For some unknown reason registration will show up on Magellan publically on 1 FEB . I can see it but apparently no one else can until 1 FEB. Please be prepared and ready to sign up on 1 FEB or later.
LCDR Steve Nash
OFFICER'S CALL UPDATE
All Officers Call ( AOM ) has finally been approved by HQ. Please go to Magellan and sign up for N5-CA-1601.
There will be training provided, including Magellan, Depression Recognition and how to handle as well as Hazing/Bulling by a subject matter expert. Check in 0800 to 0830 and we will end approximately 1500.
Please send meal request to LCDR Marcia Powell by email to mplcdr@aol.com. beef, chicken, fish or pasta by 3/6/16. A deposit of $20 to hold your morning snacks and meal is required because we had too many people make reservations and not show last year. Please send deposits to Marcia Powell.
You will receive per diem for attending. The meal cost will be deducted from the per diem.
Also included will be Coffee, Tea and snacks in the morning.
=======================================================================
Region 12 Officers Call (AOM) in Monterey at the Navall Postgraduate School was moved to 12 March. It had to be moved to this day because HQ could not fund it in January due to lack of money. This year's training will include Recognizing Depression, Hazing/Bullying and Magellan. I have been waiting for it to be approved in Magellan to get it posted.
Please do not schedule any drills or inspections that day because of the training we are offering.
LCDR Steve Nash
---
MATTHEW AXELSON DIVISION
We have a new NSCC unit in Yuba City, CA. The Officers will be CO Donald Herkal and Admin Officer Sherry Herkal.
Please add email of Don Herkal in your email addresses: donher74@gmail.com
The name unit will be the " Matthew Axelson Division" who was a Navy Seal KIA.
The unit will drill at the Army National Guard Base 310 B Street Yuba City, Ca 95992
Please welcome them aboard the Region
---
NAVY LEAGUE FOUNDATION SCHOLARSHIPS
The Navy League Foundation awards scholarships to high school seniors who will attend college in the fall. Scholarships are awarded for four years and provide an award of $2,500 per year.
**All graduating Sea Cadets who plan to attend college in the fall are eligible to apply for this scholarship.**
To apply, cadets should complete the online application process, which can be initiated here:
https://navyleaguefoundation.starsscholarshipsonline.com/stars/default.aspx
Questions regarding the scholarship and application process should be directed to scholarships@navyleague.org.
Best regards,
Kate
---
MAGELLAN ACTION REQUIRED
Need the units to log into Magellan and update the cadets and adults records to include correspondence courses, training etc. The records are not updated and it is causing problems along the COC to make promotions. Some are taking weeks and should only take a couple days but because Magellan is not current with training and Courses the promotions keep getting kicked back.
LCDR Steve Nash
---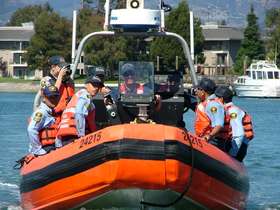 Training with the USCG