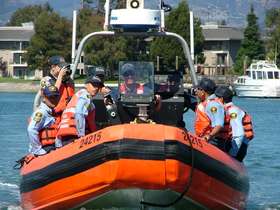 Training with the USCG
Thursday, July 26
---
---
CRUISE
An overnight aircraft carrier embark opportunity departing out of Naval Air Station North Island is available for up to 16 Sea Cadet leaders on Monday, June 15, 2015.

Participants in the DV program fly out to an aircraft carrier while it is operating off the coast of Southern California, departing Naval Air Station North Island (NASNI) in San Diego, via a Navy C-2 Greyhound and experience an arrested landing on the ship. Guests stay aboard the ship overnight, observing day and nighttime flight operations, and fly back to NASNI the following afternoon, experiencing a catapult launch off of the ship.

These embarks are meant to increase the public's understanding and appreciation for the Navy by providing guests an opportunity to view an aircraft carrier in action through direct interactions with Sailors and demonstrations of the unique capabilities of Naval aviation. The nominations are not to be sold or bartered in any way, and are not intended to be used as a reward or to promote any organization. Guests participating on a DV embark should not engage in business practices by attempting to sell products or promote themselves, or their organization, during the visit. Also, there is a five-year restriction on guests re-embarking; so anyone that went in your previous group, cannot participate on this embark.

Each guest must pay their own commercial transportation and lodging costs to and from San Diego, and will be charged $50 when embarking the ship to cover meals and other items provided. Guests are berthed, two per stateroom; so they should expect to be lodged with another guest. Males and females are berthed separately and should be nominated in pairs to accommodate the available berthing on the ship.

There are a few things that should be considered before replying to this query:

PHYSICAL EXERTION: There are no elevators for moving people on an aircraft carrier. Guests must be fully mobile and able to climb 10 stories of stairs in order to reach the Bridge and other upper-deck areas of the ship. You will make this climb a MINIMUM of two times during your visit to an aircraft carrier, depending on flight operations and schedules.
Another physical obstacle unknown to most guests is 'knee-knockers'. They are 12-inch high doorways cut into steel bulkheads (walls) that are located throughout the ship. Moving from bow to stern, guests will pass through dozens of these doorways requiring a 'high step' to clear each bulkhead.
During military aircraft flights, guest may experience multiple G-forces during take-offs, landings, and while the aircraft is in flight. The G-forces don't last long, but guests with back or joint issues may experience some discomfort.
Embarking guests must be over age 18, and not have reached their 75th birthday prior to the embark.

SAFETY CONSIDERTIONS: Naval aircraft and vessels are designed for the typical age and physiological characteristics of Sailors and Officers. Guests who are obese, or greatly exceed those physiological characteristics that cannot fit into a Navy aircraft passenger seat or floatation device with all of the safety connections properly attached, will not be allowed to participate.
Guests will be moving throughout the ship and into spaces that may need to be closed/secured during drills/emergencies. When moving between decks, guests MAY need to pass through smaller openings between floors, known as scuttles. Scuttles are round openings that are 53-inches in circumference. For personal safety reasons, any guest who is unable to fit through a scuttle should not participate in the DV program.
Guests who are not physically able to overcome these obstacles should reconsider their participation in the DV program. We want to make this a memorable visit for all, and that won't happen if a guest is physically unable to move around the ship, or is spending time in the Sick Bay.

Information about what to expect as a guest of the Distinguished Visitor Embark Program can be found by visiting the Commander Naval Air Forces Embark Information Webpages at: http://www.public.navy.mil/airfor/Pages/distinguishedvisitor.aspx. The webpages will provide you with needed information prior to your embark; so please review each tab under the Embark Information section.

If you have any questions, please e-mail or call me.
?NOMINATIONS DUE NLT 1600, 27 MAY 15.
LCDR Melissa Franklin, NSCC
mfranklin@seacadets.org
Find strength in God, and know that He's in full control.
---
FEMALE OFFICER NEEDED FOR POLA
POLA Alameda needs one more female officer 14 June to 20 June.
LCDR Marcia L. Powell
---
NLCC ORIENTATION
NLCC Orientation 05 – 11 Jul 15 aboard USS Hornet in Alameda, CA. T here are still a few spots available. Female staff and staff cadets needed. Please sign up on Magellan ASAP. See http://nlccorientation-pcr12.weebly.com for more details.
LTJG Anthony L. Sainz, USNSCC
Commanding Officer
Carson City Division
TS USS Carson City PF50
---
MOVE TO SUMMER UNIFORMS
Shift to Dress Whites on 1 May 2015.
LCDR Steve Nash
---
OPD-201 UPDATE
OPD-201 on 09 May 2015 has a signup cutoff date of 01 May 2015 and per the new regulations you will need to have completed OMSG to attend. If any questions, please contact Marilyn Gilbreath at parkbreath@comcast.net
LCDR Steve Nash
OPD-201 DATE CHANGE
We have changed the date of OPD 201 to May 9 due to a conflict. Marilyn Gilbreath will be the instructor at Coast Guard Island, VADM Johnson Classroom behind Gresham Hall. Info has been entered into Magellan and waiting for HQ to activate it.
---
2015 RECRUIT TRAINING
Tenitive 2015 start date for Recruit Training at Camp Parks is 28 JUN 2015 and end on 11 JUL 2015.
---
NAVY LEAGUE FOUNDATION SCHOLARSHIPS
The Navy League Foundation awards scholarships to high school seniors who will attend college in the fall. Scholarships are awarded for four years and provide an award of $2,500 per year.
**All graduating Sea Cadets who plan to attend college in the fall are eligible to apply for this scholarship.**
To apply, cadets should complete the online application process, which can be initiated here:
https://navyleaguefoundation.starsscholarshipsonline.com/stars/default.aspx
Questions regarding the scholarship and application process should be directed to scholarships@navyleague.org.
Best regards,
Kate
---
MAGELLAN ACTION REQUIRED
Need the units to log into Magellan and update the cadets and adults records to include correspondence courses, training etc. The records are not updated and it is causing problems along the COC to make promotions. Some are taking weeks and should only take a couple days but because Magellan is not current with training and Courses the promotions keep getting kicked back.
LCDR Steve Nash
---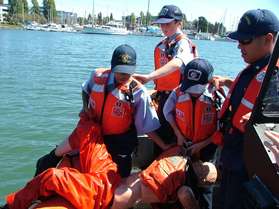 Life Saving Training