Pacific Central Region 12 - LCDR Steve Nash, SRD: Welcome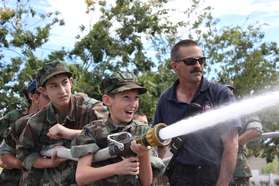 Put the wet stuff on the red stuff.
Tuesday, February 14
Pacific Central Region -12
---
PCR-12-4 LCDR Jack Dempsey darwin.dempsey@gmail.com
PCR-12-6 LCDR John Ferretti jpferretti@aol.com
PCR-12-7 LCDR Richard Reed reed3344@gmail.com
PCR-12-8 LCDR David Dackins myhbusybear@yahoo.com
---
Officer Professional Development (OPD) COURSES
Please save these dates for OPD courses. Because HQ is shut down this week these courses will be posted next week in Magellan.
Camp Parks OPD is already posted. There will be no per diem authorized for these trainings.
Feb 24, 2018 OPD101 Camp Parks Dublin
March 10, 2016 OPD101 Visalia
March 17, 2018 OPD201 Modesto
---
RECRUITING PLAN
This recruiting plan is from Pyro and written by Brad Kaplan and is very useful for all recruiting efforts. See Handouts Folder for the plan.
LCDR Steve Nash
---
NAVY LEAGUE FOUNDATION SCHOLARSHIPS
The Navy League Foundation awards scholarships to high school seniors who will attend college in the fall. Scholarships are awarded for four years and provide an award of $2,500 per year.
**All graduating Sea Cadets who plan to attend college in the fall are eligible to apply for this scholarship.**
To apply, cadets should complete the online application process, which can be initiated here:
https://navyleaguefoundation.starsscholarshipsonline.com/stars/default.aspx
Questions regarding the scholarship and application process should be directed to scholarships@navyleague.org.
Best regards,
Kate
---
MAGELLAN ACTION REQUIRED
Need the units to log into Magellan and update the cadets and adults records to include correspondence courses, training etc. The records are not updated and it is causing problems along the COC to make promotions. Some are taking weeks and should only take a couple days but because Magellan is not current with training and Courses the promotions keep getting kicked back.
LCDR Steve Nash
---
Pacific Central Region 12 - LCDR Steve Nash, SRD Divisions