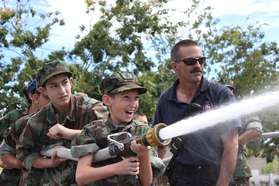 Put the wet stuff on the red stuff. Learning to fight a fire.
---
---
SEA CADET BALL TICKETS SOLD OUT AS OF 1500 HOURS, 09 DECEMBER 2013
SEA CADET BALL DEADLINE
It was decided to extend the RSVP to Tuesday, 10 December, 1800 hours. After that no further reservations will be accepted. We need to provide final count to the caterer and we need to provide gate roster.
LCDR Steve Nash
SEA CADET WINTER BALL
To all cadets, guests and adults, Tickets are still available for the Sea Cadet Winter Ball. This year our Disco Hall will feature a Photo Booth, Fog Machine, Disco Ball, Strobe Light, and always popular personal photo corner with "Surprise" photo prop. Also after dinner "snack" include a Nacho Bar, Fruit Bar, Dessert Bar and drinks.
Bring your MP3 players or iPods with some of your favorite songs (no R rated) and you may have a chance to a "guest DJ" for one or two plays. Our DJ's are making it available for you to DJ for a couple songs.
No tickets sold at door. If you have any questions, please contact Instructor Chang at Alberta Chang at aachang@sbcglobal.net
See Handouts Folder for updated handouts regarding the Ball.
Sharon Steelhammer
CO Diablo Squadron/TS Concord
LCDR Martha Lantz, NSCC
Hancock Squadron/TS Midway Commanding Officer
USNSCC Regional Director 12-2
15223 Andover Street
San Leandro, CA 94579-2108
510 308-8035
SEA CADET BALL BEARTHING
Those units interested in ship berthing for the Sea Cadet Ball need to pass on the word asap. While I've discussed the weekend with MARAD, I can't finalize the request without a possible number, and we can't wait much longer. Your quick attention to this matter is important.
LCDR Dave Autore
2013 SEA CADET BALL (Sign up in Handouts Folder)
Location: U.S. Coast Guard Base Alameda – Pt. Welcome Room
Date: Saturday, 14 December 2013
Time: 1730-2200 Dinner: 1800 Dancing starts at 1900
Cost $15.00
Please send to all units and advise that berthing is available on the Marad ships.
See attached flyer for details and sign up.
---
OFFICER'S CALL 2014 REMINDER
Please send menu request and $25 fee to:
LCDR MARSHA POWELL, NSCC
P.O. BOX 1327
LINDEN, CA 95236-1327
OFFICERS CALL MONTEREY 2014
Notice: there is training and the classes will repeat this year. Please get the RSVP back to LCDR Marcia Powell MPLCDR@aol.com as soon as possible. Also, the Exchange will have additional staff this year so we do not have long lines.
See Handouts Folder for Flyers on Agenda for the Meeting, luncheon, and the Menu choices.
LCDR Steve Nash
SRD PCR-12
OFFICER'S CALL 2014 UPDATE
CO/XO Call is being combined with Officer's Call in Monterey on 25 January 2014. Further info to follow on Officer's Call. We will have training and would like all CO's and XO's to attend.
LCDR Steve Nash
---
NEED HELP- 6 DEC 2013
NLCC Trainings are just three weeks away and we're short 5 male adult escorts. The end state will be that for the first time ever, we'll need to cancel NLCC Orientation training.
Please talk with your staff and see who might be able to participate 28 DEC (staff check-in) to 4 JAN. All interested people should contact LCDR Melissa Franklin at mfranklin@seacadets.org or 760/212-6859. I know holidays are a tough time and we appreciate all the support that every adult gives to the program. Training is what sets us apart from all the other youth programs….
As we enter this holiday season, I want to thank everyone for what you do to make the Corps the best it can be. Your dedication to our future generation cannot ever be measured in words or numbers – our cadets will always remember.
LCDR Franklin, Melissa (NSCC)
Commanding Officer
(760) 212-6859
mfranklin@seacadets.org
---
POLA FILLED UP 6 DEC 2013
Winter POLA at Alameda is full.
Marcia L. Powell, LCDR, NSCC
Commanding Officer
Petty Officer Leadership Academy
ONLY TWO OPENINGS LEFT FOR WINTER POLA
There are two opens left for POLA, 1 female and 1 male.
LCDR Marcia L. Powell, NSCC
COTC Petty Officer Leadership Academy
---
NEW NHQ REPRESENTITIVE, PSW TO TAKE COMMAND
To all
On January 1, 2014 CAPT Dave Rannells will be retiring from the position of Field Rep for our Region. Our new Field Rep will be CAPT Bill Ratner, USN – Retired. CAPT Ratner has been the XO and CO of Bryce Canyon Division and Betsy Ross Division since 2010.
He has had a long Naval Career starting out first as an enlistee and retiring as a Captain. He deployed to Forward Deployed Operations, Vietnam & South Korea and Desert Storm. He has received many awards including Navy Commendation Medal, Navy Achievement Medal, Combat Acton Ribbon, Joint Meritorious Unit Award, Navy Meritorious Unit Commendation, Navy "E" Ribbon, and various campaign service medals and ribbons. He has been involved in Big Brothers and Big Sisters for over 40 years. He also served as Vice-President, Naval Affairs, Pasadena Council in the 1980's.
We have started initial briefings and he has two philosophies:
o The Sea Cadet program is a "gateway" to the best years of a Cadet's life. Our job is to prepare them, the best way we can for their future
o Plan your work, work your plan
Captain Ratner is working on an email address with CAPT Rannells. Their hope is to use the existing one so it is seamless but he may have to get a new email address.
---
NLCC WINTER TRAINING AVAILABLE CAMP PENDELTON

NT-CA-W NLCC Orientation
(29 DEC to 4 JAN)
ND-CA-W NLCC First Responder Medical Training
(29 DEC to 4 JAN)
NL-CA-W NLCC Leadership Training
(29 DEC to 4 JAN)
Request the following for each cadet to secure billet:
(1) Local Orders for training
(2) $175 non-refundable fee (money order or cashier's check made payable to: USNSCC)
(3) Copy of ID card (must expire JAN14 or later)
Please send to:
LCDR Melissa Franklin
PO Box 39
Ramona, CA 92065
Welcome Aboard packets will be sent once received. Last day orders will be accepted is Saturday, 14 December 2013
LCDR Franklin, Melissa (NSCC)
(760) 212-6859
mfranklin@seacadets.org
---
POLA TRAINING OFFERED IN ALAMEDA 26 DEC 2013
Petty Officer Leadership to be held 26 Dec 2013 to 01 Jan 2014 at Coast Guard Station Alameda. Please list it on the Winter trainings for 22 cadets even number males and females, 5 officers COTC LCDR Marcia L. Powell, NSCC 209-969-0072 EMAIL MPLCDR@AOL.COM.
Marcia L. Powell, LCDR, NSCC
Executive Officer San Joaquin County Division
T.S. Sea Wolf
Associate Regional Director 12-4
---
SENIOR CADET LEADERSHOP CHALLENGE
Candidates for the Senior Cadet Leadership Challenge should:
1. Be age 15 or above, in rate of cadet petty officer, third class or above.
2. Have completed the Navy Military Requirements for Petty Officer First Class non-resident training course (NRTC), or be able to complete the course during the training period.
3. Possess high potential for advancement to cadet first class petty officer, chief petty officer, or midshipman, or for increased responsibility, authority, and accountability in a senior cadet leadership role such as:
a. Leading petty officer
b. Master-at-arms
c. High-visibility unit leader (staff cadet, honor guard, drill team, music or special service unit).
4. Be recommended by their commanding officer for advanced leadership training. An evaluation that reflects potential for senior cadet leadership responsibilities should support this recommendation. This evaluation should cite evidence of service motivation, personal maturity, and constructive initiative. The candidate's record should reflect activities and accomplishments in advanced training, fitness, military bearing, conduct, special qualifications, peer leadership, and community service.
See Handouts Folder for Attachments
Marilyn Gilbreath
---
SS Jeremiah O'Brien League Christmas Party
ARKDIV will be able to use the facilities and be aboard the national liberty ship SS Jeremiah O' Brien (http://www.ssjeremiahobrien.org/) in San Francisco at Pier 45 on Saturday, 07DEC13 for the Regional League Cadet Christmas Party.
The Event will take place from:
* 1000 - 1500
Each Ticket Cost will be:
*$25.00
Will include:
* Remembrance Service with morning refreshments
* ship board games with prizes
* lunch
* (each cadet will receive 25 quarters) then off to play games pier-side at the historic Musée Mécanique (www. museemecaniquesf.com)
* followed by an afternoon snack with a door prize drawing
* ship tour
* Dress Blue Uniform.
We will be putting together the information/order form so that the Region will be able to post it on the website by weeks end. However, if you want to post the information that is provided thus far please feel free to do so.
This will be a wonderful day for League Cadets and will take place rain or shine. It is our hope that the CO's of each unit will pass the word in support of this. All the best.
It's for the League Cadets!
INST Freitas
Tickets available by sending:
$20.00 unit check or money order for each ticket including a self addressed and stamped legal size envelope for return ticket(s) ordered.
(Cadets can order tickets on their own)
Make payable to:
Arkansas Division
Post Office Box 137
Newman, California 95360
---
Admin Manual Changes have been removed from the site, everyone should check the home port site http://homeport.seacadets.org/dashboard.action for the most recent admin manual for the proper order of forms due to the new application packets and changes to forms.
---
Tell Your Friends!
The VFW is now accepting submissions for our annual Voice of Democracy scholarship competition.
We're asking friends of the VFW like you to help us spread the word about this incredible opportunity.
The 1st-place winner receives a $30,000 scholarship paid directly to the American college, university or vocational/technical school of the student's choice. Download the entry form now
This Year's Topic: "Why I'm Optimistic About Our Nation's Future"

Students in grades 9-12 are eligible, and we hope to reach as many young patriots as possible. Please help us share the news with:
The deadline to submit an audio-essay to VFW Posts is November 1, 2013.
---
NAVAL SEA CADET CORPS ANNUAL FUNDRAISER

1. For the past thirty-nine years the Pacific Central Region has been conducting a national fund raising effort to benefit the Naval Sea Cadet Corps. This campaign is designed to benefit all Sea Cadet units desiring to participate. A portion of the ticket sales is returned to individual units and cadets become eligible for individual prizes as outlined in enclosure (1).

2. Lorraine Hughey, National Director, NSCC and NLUS, will again be the Chairwoman of the 2013 fund raising event. Here are the details of this year's fund raiser:

a. The Grand Prize is a five day, four night stay for two at the "All Inclusive" Oceanfront Beach Melia Resort located in the exclusive Marina Puerta Vallarta, Mexico. Air travel to and from the destination will be provided using air/sea Gateway cities anywhere in the continental U.S. via coach fare. Scheduling is dependent on space available during desired dates in April or May, 2014. (Vacation package has a value cap of $1,500.00, and a cash-out option for $1,000.00) Second prize is a Sony DSC WX80 Camera. Third prize is a Sony Blu-Ray/DVD Player. Fourth prize is a set of Firefield 12-36x50 Binoculars with tri-pod.

b. Winners will be chosen at a drawing to be held at the Pacific Central Region Sea Cadet Christmas Ball being held this year at the Point Welcome Room, Coast Guard Island, Alameda, CA on December 14, 2013. Winners will be notified no later than seven days after the drawing. You need not be present to win.

c. Requests for ticket books (12 tickets per book) are to be sent to: Lorraine Hughey, 1650 Candelero Court, Walnut Creek, CA 94598-1020. Please do not order more than 100 at any one time.

d. Tickets may be sold singularly for $2 each or by the book for $20 each. Whether sold by the ticket or by the book, the unit commanding officer must return $10 for each book sold, retaining either $14 or $10 depending on the manner with which the tickets are sold. Make all checks payable to "NSCC Fundraiser".

e. Of the $10 returned to Lorraine Hughey, a portion will be sent to NSCC Headquarters and the remainder used to pay fund raiser costs.

f. There are prizes for cadets also; these prizes are in two categories: prizes to cadets who sell winning tickets, and incentive prizes based on the number of books sold by individual cadets. The cadet who sells the Grand Prize winning ticket will receive a $100 gift card. The cadets who sell the second and third prize winning tickets will each receive a $50 gift card. Incentive prizes are based on the number of books sold. In order for a cadet to win a prize in either category, his or her name must be printed on the back of each ticket stub. The ticket books with stubs must be mailed before 05 December 2013.

Please be sure that each cadet is aware of this requirement.

Incentive prizes are:
Number of Books / Sold Prizes
3 - 1 NSCC key chain
5 - 1 cadet silver belt buckle (male/female)
10 - 1 gift card $50 value
15 - 1 MP3 Player 4.3
20 - 1 iPod Nano
25 - 1 (each) Nintendo 3DS XL
40 - 1 (each) iPod Touch 16 GB

3. An incentive prize claim form is provided as enclosure (1). Please note that the form is to be sent to NSCC National Headquarters, as well as to Mrs. Hughey.

4. Every year the prize winners are from all over the United States. Everyone that participates has a chance to be a winner.

5. This Information Letter will be cancelled on 31 December 2013.

James E. Monahan
Executive Director
---
FIRST RESPONDER NEWS
http://www.kcoy.com/category/187903/video-page?autoStart=true&topVideoCatNo=default&clipId=9062948#.UeSPTW8bxGM.aolmail
---
SEA CADET CHALLENGE
The Sea Cadet Challenge is being moved to May due to low sing ups for September. New date to follow.
---
Enrollment Requirements
NSCC Membership Requirements
In order to join the Naval Sea Cadet Corps applicants must meet the following criteria:
Be between the ages of 13 and 17.
Must be a US Citizen.
Be a full time student and maintain satisfactory grades (2.00 "C" grade point average).
Be free o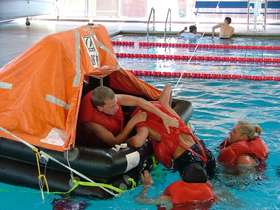 Survival at sea training.