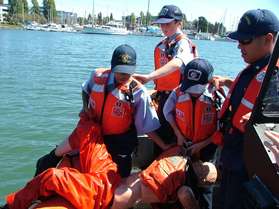 Life Saving Training
Thursday, July 26
---
---
OFFICER'S CALL
All Officers Call for 24 January 2015 in at Post Naval Gradate School in Monterey is now ready on Magellan. All unit Adult Staff are recommended to attend. This meeting is listed Adult Leadership. There will be training provided including "Darkness 2 Light" which is going to be a required training for all adults. After completion you will receive a certificate of completion. There will also be additional training by Capt Ratner.
Check in 0800 to 0830 and we will end approximately 1500.
Please send meal request to LCDR Marcia Powell by email to mplcdr@aol.com. Beef, chicken, fish or pasta. You will receive per diem for attending AOM. The meal cost will be deducted from per diem so no need to send meal payment in advance.
Guest speaker will be Rear Admiral Bonnie Potter USN (ret)
Coffee and Tea will be provided in the morning
Please register on Magellan under 2015 trainings ASAP as we need a headcount by 9 January:
---
WINTER HONOR GUARD TRAINING UPDATE
Winter 2014 Honor Guard Training is 12/26 to 1/1 at Two Rock Coast Guard Station.
WINTER 2014 HONOR GUARD TRAINING, USCG TRAINING CENTER PETALUMA, CA
1. AVAILABILITY
10 billets (5M/5F) remain available for the subject training. Registration will close out 14 DEC 2014.
2. COURSE DESCRIPTION
USCG master training specialists and honor guard personnel will provide expert, hands-on, performance-based instruction in key aspects of honor guard operations, including:
*Planning, leadership, and public contact skills
*Basic and ceremonial drill commands and movements
*Honors and ceremonies afloat and ashore
3. BENEFITS TO UNIT/STUDENT
Participants will learn how to:
*Plan for and design a ceremonial performance
*Train other honor guard members
*Perform basic and advanced manual of arms/colors/guidon
*Execute colors ceremonies afloat and ashore
*Conduct flag ceremonies and presentations
*Perform ceremonial quarterdeck, honor cordon, docent, and escort duties
4. STANDARDS
Student performance will be assessed against standards set forth in USMC Drill and Ceremonies Manual (MCO P5600.20), as adapted for NSCC use.
5. PREREQUISITES
Cadets must be E-3 or above, and age 15 or above. Requires recommendation to attend from Commanding Officer. Send copy of NSCTNG001, copy of ID, and M/O or certified check payable to "NSCC" to COTC at address above.
6. TRAVEL NOTES
The training site is 1-2 hours from the nearest major airports (SFO/OAK). Public ground transportation from the airport to Petaluma is available by the Airporter service to the North Bay area. We can provide courtesy transportation from the Petaluma Airporter stop to the base.
---
RAFFLE TICKETS (Posted 9 DEC 2014)
Raffle tickets are past due, if you still have them please mail the tickets with the money ASAP to:
Gary Lantz
15223 Andover Street
San Leandro, CA 94579-2108
---
2015 RECRUIT TRAINING
Tenitive 2015 start date for Recruit Training at Camp Parks is 28 JUN 2015 and end on 11 JUL 2015.
---
REMINDER
Please keep 24 JAN 2015 open for Officer's Call in Monterey. We have specialized training there that will be required of all to complete so attending will be a way to complete it.
LCDR Steve Nash
---
UNITED STATES NAVAL ACADEMY INFORMATION MEETING SUNDAY 23 NOV
This is an opportunity not to be missed whether you are Naval Academy bound or not. Get all the information that you can while you can. Chart Your Course.
Sunday 23 NOV 14 at 1000 on the USS Hornet, the Grey Ghost Division will be hosting MIDN 1/C John Ruck who will sharing valuable information on life as a cadet at the United States Naval Academy. After the presentation there will be a Q & A session. John will be accompanied by a Blue Gold Officer that coaches prospective USNA candidates on the procedure.
John Ruck is a senior ("first class") Midshipman who will graduate from Annapolis in May of this coming year. He is majoring in aeronautical engineering and plays on Navy's rugby team. He is an Alameda High School graduate.
Basically MIDN Ruck will provide a quick powerpoint presentation to provide a broad overview of academics, athletics, and leadership opportunities within the Brigade of Midshipmen, including summer training. He will then walk through a day in the life of a Midshipman starting with Plebe Year up until senior year. John has many anecdotes that illustrate what it's like at Annapolis which will help his audience fully understand the opportunities and challenges associated with attendance at the Academy. He will, of course, be available for questions as long as needed.
Jon Stanley will plan to also attend and can provide a brief outline of the admissions process. He is a graduate of Annapolis and served in the nuclear submarine service during his active duty. His civilian career was as a nuclear engineer, and is now retired. He has also been associated with the USS Hornet for several years, both as CEO and now as Chairman of the Board of Trustees. Jon is also a "Blue and Gold Officer" for the Naval Academy, which is a volunteer position tasked with mentoring, assisting and interviewing prospective East Bay candidates for an appointment to attend the school.
The session will be held in the Ward Room on the USS Hornet. Check in at the Security Afterbrow (middle gangway) 0930 to 0950
Please send your name, rank, and unit to Paul Norton pnorton@greyghostdivision.org if you plan to attend. You must reserve a spot before Friday 21 NOV.
PaulNorton
LTJG Paul Norton USNSCC
Commanding Officer
Grey Ghost Division / TS Kearsarge
---
POLA 26 DEC 2014
POLA offered 26 DEC to 31 DEC in Alameda.
LCDR Marcia L. Powell
---
NAVY LEAGUE FOUNDATION SCHOLARSHIPS
The Navy League Foundation awards scholarships to high school seniors who will attend college in the fall. Scholarships are awarded for four years and provide an award of $2,500 per year.
**All graduating Sea Cadets who plan to attend college in the fall are eligible to apply for this scholarship.**
To apply, cadets should complete the online application process, which can be initiated here:
https://navyleaguefoundation.starsscholarshipsonline.com/stars/default.aspx
Questions regarding the scholarship and application process should be directed to scholarships@navyleague.org.
Best regards,
Kate
---
https://navyleaguefoundation.starsscholarshipsonline.com/stars/default.aspx
---
See Handouts Folder for Sea Cadet Ball Flyer and sign deadlines.
---
MAGELLAN ACTION REQUIRED
Need the units to log into Magellan and update the cadets and adults records to include correspondence courses, training etc. The records are not updated and it is causing problems along the COC to make promotions. Some are taking weeks and should only take a couple days but because Magellan is not current with training and Courses the promotions keep getting kicked back.
LCDR Steve Nash
---
OPD-101 1 NOV 2014
OPD-101 offered 01 NOV 2014 0800 to 1600 at St. Johns Anglican Church, 316 N El Dorado Street, Stockton, CA cost $15.00.
LCDR Marcia L. Powell
---
**Note 24 Nov 2014 = Magellan repaired, please try to sign up again.
CHANGE IN PROCEDURE - SIGNING UP FOR OPD-301
HQ wants us to use Magellan for the upcoming OPD-301, 15 NOV 2014 at Coast Guard Island, Alameda. The training is active in Magellan under training, please go to Magellan and register even if you have sent me an email saying you are planning on attending.
LCDR Steve Nash
---
OFFICER'S CALL UPDATE
Please pass to units that O Call scheduled for 24 Jan will have a specialized training. Because of the training this will be a special OPD and I have worked with HQ. The active NSCC members will get standard OPD per Diem minus the cost of the lunch. Also our guest speaker will be Rear Admiral Bonnie Potter USN (ret).
Menu requests and further information will be out shortly.
LCDR Steve Nash
OFFICER'S CALL MONTEREY 2015
Officer's Call is set for 24 Jan 2015 at NPS Monterey with a tentative Guest Speaker of Rear Admiral Bonnie Potter USN (ret). We will be getting some funding support from HQ. More to follow. There will be training for everyone this year.
LCDR Steve Nash
---
CHRISTMAS BALL
Christmas Ball planned for 13 December 2013 at Coast Guard Island in Alameda. More news to follow. See Handouts Folder for flyer.
---
OPD 301 OFFERED SATURDAY, 15 NOV 2014
OPD 301 which is scheduled for 15 Nov will be in the Banner Club at Coast Guard Island. 0830 for Registration and 0900 for start.
Uniform of the Day will be alternate.
Please submit your Unit, name and rank to me (paccen12@gmail.com) no latter than 7 Nov so the gate list can be prepared and submitted to the Coast Guard.
LCDR Steve Nash
---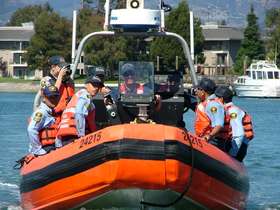 Training with the USCG