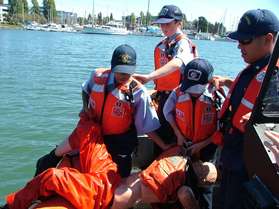 Life Saving Training
Thursday, July 26
---
---
See Handouts Folder for Sea Cadet Ball Flyer and sign deadlines.
---
MAGELLAN ACTION REQUIRED
Need the units to log into Magellan and update the cadets and adults records to include correspondence courses, training etc. The records are not updated and it is causing problems along the COC to make promotions. Some are taking weeks and should only take a couple days but because Magellan is not current with training and Courses the promotions keep getting kicked back.
LCDR Steve Nash
---
OPD-101 1 NOV 2014
OPD-101 offered 01 NOV 2014 0800 to 1600 at St. Johns Anglican Church, 316 N El Dorado Street, Stockton, CA cost $15.00.
LCDR Marcia L. Powell
---
**Note 24 Nov 2014 = Magellan repaired, please try to sign up again.
CHANGE IN PROCEDURE - SIGNING UP FOR OPD-301
HQ wants us to use Magellan for the upcoming OPD-301, 15 NOV 2014 at Coast Guard Island, Alameda. The training is active in Magellan under training, please go to Magellan and register even if you have sent me an email saying you are planning on attending.
LCDR Steve Nash
---
OFFICER'S CALL MONTEREY 2015
Officer's Call is set for 24 Jan 2015 at NPS Monterey with a tentative Guest Speaker of Rear Admiral Bonnie Potter USN (ret). We will be getting some funding support from HQ. More to follow. There will be training for everyone this year.
LCDR Steve Nash
---
CHRISTMAS BALL
Christmas Ball planned for 13 December 2013 at Coast Guard Island in Alameda. More news to follow.
---
OPD 301 OFFERED SATURDAY, 15 NOV 2014
OPD 301 which is scheduled for 15 Nov will be in the Banner Club at Coast Guard Island. 0830 for Registration and 0900 for start.
Uniform of the Day will be alternate.
Please submit your Unit, name and rank to me (paccen12@gmail.com) no latter than 7 Nov so the gate list can be prepared and submitted to the Coast Guard.
LCDR Steve Nash
---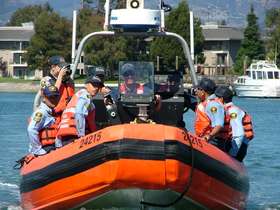 Training with the USCG