Pacific Central Region 12 - LCDR Steve Nash, SRD: Welcome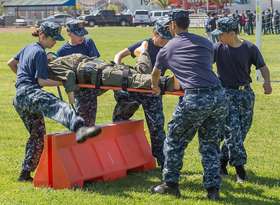 Flagship Stretcher race
Tuesday, April 18
Pacific Central Region -12
Region 12 Sea Cadet Ball - December 1st, 2018
Please save Dec 1, 2018 for the Cadet Christmas Ball. Sacramento Division will be hosting Region 12's NSCC Sea Cadet Ball this year!
The Region will be covering part of the costs so we can keep your costs to $15 again this year.
The theme will be "Around the World". They want to take this opportunity to honor the veterans and active military personnel who volunteer in our Region as well as show the cadets all the different places you can travel to while in the military.
They want to make a visual display of all the places that our veteran and active duty sea cadet officers have traveled. If you could please send pictures of your time in the service and a list of the locations you went and the branch/branches you served in that would be fantastic by October 15th so can put the display together to seacadetball@sacseacadets.com or call Drina Black at (916)534-9911 with questions.
Please register asap for planning purposes. This is the Eventbrite link to register https://www.eventbrite.com/e/region-12-sea-cadet-ball-tickets-49248136502?aff=ebdssbdestsearch
LCDR Steve Nash, NSCC
We just learned that the HQ received $5M plus up today in the omnibus spending bill signed by President Trump. As a result, deposit fees are going to be significantly lower this year than what they normally are, ALL trainings will be funded and we will have OPD funding. More details to follow later today.
Fees are being reduced for this year to $50 for one week, $75 for nine days, and $100 for two weeks.
Please pass this to all your units ASAP so they can plan their summer trainings. LCDR Nash, NSCC
---
PCR-12 LCDR Steve Nash
PacCen12@gmail.com
PCR-12 LCDR Dave Dackins ASRD
mybusybear@yahoo.com
PCR-12-2 LCDR Hank Petersen hank.pedersen@incal.com
PCR-12-3 LCDR Jeff Dao

jeff.dao.nscc@gmail.com
PCR-12-4 LCDR Jack Dempsey darwin.dempsey@gmail.com
PCR-12-6 LCDR John Ferretti jpferretti@aol.com
PCR-12-7 LCDR Richard Reed reed3344@gmail.com
PCR-12-8 LCDR David Dackins myhbusybear@yahoo.com
---
RECRUITING PLAN
This recruiting plan is from Pyro and written by Brad Kaplan and is very useful for all recruiting efforts. See Handouts Folder for the plan.
LCDR Steve Nash
Pacific Central Region 12 - LCDR Steve Nash, SRD Divisions