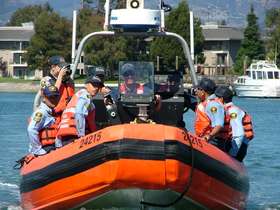 Training with the USCG
Thursday, July 26
---
---
OPD-101 OFFERED SATURDAY 01 MARCH 2014
OPD-101 will be held Saturday 1 March 2014 at the Veteran's Memorial Building at 201 Main Street, Pleasanton. Check in is at 0830, Class 0900 – 1500. Cost is $10.00 which includes lunch and supplies. Bring Locally Arranged Orders (NSCTNG004), Training Code "LO". The room max is 25, contact LCDR Marti Lantz with your reservation.
Parking: Old Bernal Avenue or Pleasanton Library Parking Lot on Old Bernal Avenue. Do not park in the bank parking lot.
LCDR Marti Lantz
501 303-8035
---
OFFICER'S NEEDED FOR AIRMAN TRAINING
I am looking for 1 Female and 1 Male Officer to assist with escort duties at this years Airman training at NAS Lemoore.
LTJG Bryan Mathena,
NSCC COTC Basic/Advanced Airman NAS Lemoore
(530) 575-7782
---
2014 NSCC ISCA INTERNATIONAL AND U.S. HOSTED EXCHANGE PROGRAMS
1. This is NSCC Information Letter 2-14 NSCC International Exchange Programs (IEP) for 2014. It includes exchange guidance for all ISCA and non ISCA sponsored exchanges this year. BUT FIRST
THE NSCC INTERNATIONAL EXCHANGE WEBSITE IS iep.seacadets.org GO HERE FOR THE LIST OF INTERNATIONAL SEA CADET ASSOCIATION (ISCA) MEMBER AND NON MEMBER NATIONS SPONSORING EXCHANGES THIS YEAR. THIS SITE CAN ALSO BE ACCESSED THROUGH HOMEPORT VIA THE IEP LINK. EXCHANGE APPLICATION PROCESS AND DOCUMENTS NEEDED FOR EACH EXHANGE ARE POSTED AT THIS SITE. COUNTRY SPECIFIC EXCHANGE INFORMATION IS ALSO AT THIS SITE. CLICK ON "EXCHANGES", AND THEN CLICK ON THE "INSTRUCTION DOCUMENT" FOR THE SPECIFIC COUNTRY LISTED TO GET EXCHANGE DATES AND DETAILS.
Sequestration and IEP impacts 2013 and 2014 2013 Sequestration resulted in a 60% funding reduction to NSCC's training venue and funding support for the 2013 IEP was suspended.
For 2014 the NSCC is reinstituting partial support for the IEP. Funding reductions still in place preclude full support and opportunity as enjoyed in 2012 and prior years, however, with reduced opportunity and a modest increase in cadet deposit costs, 2014 opportunity, although limited, can still be offered. Posting process for 2014 2014 exchanges are not all yet posted to the IEP website or Homeport although we expect Bermuda, Hong Kong, Canada, Sweden and the UK, will be offered. As the USNSCC is advised of 2014 opportunities, NSCC NHQ will update and post the new 2014 opportunity to Homeport under the IEP website for the particular country. NHQ will at the same time also post that new 2014 opportunity to the 1 MC for all hands notification. Once you see the 2014 posting either on the 1 MC or on HOMEPORT IEP website, then you can apply. Postings will continue from about any time now through February, March, and into April immediately upon notification of exchange opportunities by hosting nations.
• SPECIAL NOTE: Participants must be US citizens and have a passport for all IEP program participation and crossing international borders !!! If you have any questions or concerns here, double and triple check with your SEO. NSCC policy is to ensure each cadet is OK. MAKE SURE YOU HAVE A PASSPORT!!!!!!
2. INTERNATIONAL HOSTED IN NEWPORT opportunities remain essentially unchanged from previous years. Cadets are responsible for their own transportation to and from Newport. Do not purchase airline tickets until approved by the SEO and notified of selection by the SEO. In all cases stay away from non-refundable tickets! A $260 deposit to the SEO with the request for training authority is required, unless otherwise advertised. The $260 deposit goes to the SEO, with the request for training authority.
Pre-requisites are at the iep.seacadets.org website and requests for training are to be forwarded first to the Senior Escort Officer, who will in turn further forward to NHQ for order writing. Go to iep.seacadets.org for additional information.
3. FOR ALL OTHER EXCHANGES, to better serve cadets and Senior Escort Officers (SEO), assist in travel arrangements, and ensure equitability in cadet selection, NSCC LCDR Mike Campbell, Regional Director for Region 1-2, continues as the IEP Director. The IEP Director reports to the NSCC Deputy Director for all IEP matters. Prerequisites for all exchanges recognize more senior cadets; those who have a greater longevity in the NSCC program, have demonstrated a commitment to the goals of the program, matriculated to leadership positions, and who have maintained in their home communities outstanding records of scholarship and citizenship. Selection criteria is also at iep.seacadets.org for your reference.
These exchanges may include (but are not limited to): Bermuda; United Kingdom; Sweden; Hong Kong; and Canada. General notes for these exchanges are as follow:
• COSTS. Generally NSCC NHQ will pay for travel costs from major airports nearest cadet departure home locations to host country international arrival airports. Generally the only costs to cadets will be host country exchange fees/program deposit of $500 for two weeks and personal spending money. Some may be higher due to higher costs to NHQ to facilitate the exchange. A committee has been established to receive and review applications, make selection recommendations to NHQ, and to assist in making international flight arrangements. Selectees and non-selectees will be notified in a most timely manner, and for those selected, travel arrangements will be made for them.
A non-refundable $500 deposit, which will be applied towards host country exchange fees and IEP program costs will be required from each cadet at the time of selection to confirm his or her quota. If a selectee cannot go, this non-refundable deposit will be applied towards costs to cancel and/or reschedule airline fares. Specific guidance regarding deposits will be provided for each exchange following selections. We will need senior escort officers as well, and their applications are to go before the same selection committee.
For those desiring to be Senior Escort Officers, advise LCDR Mike Campbell at mcampbell@seacadets.org of your interest in advance of your application. Senior Escort Officer travel expenses will also be paid for by NHQ.
• POLICY REGARDING REPEAT PARTICIPATION IN THE IEP PROGRAMS. NSCC IEP goals are to afford as many cadets as possible the opportunity to participate in the IEP during their tenure as a cadet in the NSCC. It is also an NSCC goal to recognize and honor (by giving preference) those cadets who have demonstrated commitment to the goals of the program, matriculated to more senior leadership positions, and who have maintained in their home communities outstanding records of scholarship and citizenship as stated above.
For selected cadets, the selection committee is charged to balance these two goals using the following policy guidelines:
• Cadets may apply for repeat participation in successive years.
• All applications will go before the selections committee and all applications will be scored (criteria at iep.seacadets.org).
• Priority in filling quotas will be given to first time applicants who score well.
• First time applicants scoring poorly will compete with high scoring repeat applicants for remaining quotas.
• Selection committee is charged to select those cadets whom they judge to be the most deserving IAW program goals stated above, and those who will be the best NSCC program ambassadors with our ISCA host nations, and those cadets who will best support their SEO for the particular exchange.
• Midshipmen are generally not eligible and will only be entertained for a quota if there are not enough cadets to fill available quotas.
• Cadets desiring to apply for more than one program can indicate second and third choices in their applications. Only one program per cadet will be approved for 2014.
• For all cadets applying for International Exchanges and sending application packages to LCDR Campbell in CT, if using FEDEX, DO NOT CHECK THAT A RECEIPT SIGNATURE IS REQUIRED. This only delays your package.
• And please note that all applications must be received by LCDR Campbell not later than Friday 2 May. Do not delay sending your application because of pending recommendations…..get it submitted soonest. The selection committee meets right after the due date and applications received after that date will not be considered.
• LAST BUT NOT LEAST, A VERY VERY IMPORTANT NOTE: There are always instances of truly outstanding cadets who should get the opportunity, but for some reason don't meet all the pre-requisites or criteria. To that end, prerequisites and participation criteria may be waived for outstanding cadets. Submit waiver requests with applications when you think appropriate. AND FOR ANY OUTSTANDING CADET HAVING HARDSHIP WITH THE $500 DEPOSIT, DO NOT LET THIS HARDSHIP PRECLUDE SUBMITTING AN APPLICATION!!!! Unit CO to advise LCDR Campbell of the hardship at time of application. LCDR Campbell and NHQ will review for determination of action to lessen the hardship if possible. No promises, but we will do our best to support outstanding cadets.
4. For all cadets selected or approved for any International Exchange Program participation, additional guidance and/or information will be as provided either by NHQ with orders, or by the Senior Escort Officer (SEO)/COTC for the exchange. No exchange will take place unless escort requirements are met. Amplifying information will be as provided by Senior Escort Officers (SEO)/COTC, or as published in updates to exchange specific information at iep.seacadets.org.
5. POLICY REGARDING LOCALLY ARRANGED/REQUESTED INTERNATIONAL TRAINING EXCHANGES. Occasionally, instances arise where at the unit level requests are forwarded or received for international exchange support outside of the bounds of the ISCA sponsored exchanges advertised at iep.seacadets.org. In all these cases, the NSCC IEP Director must be informed of the intended or planned visitation to ensure ISCA agreed to exchange protocols do not get violated, and that the best interest of the units and cadets involved are ensured. Contact the NSCC IEP Director, LCDR Mike Campbell, if you have any questions.
---
COAST GUARD ACADEMY AIM PROGRAM
You may also want to remind them of the Coast Guard Academy AIM program. Applications open for high school juniors on 5 Feb 14.
Website: http://www.uscga.edu/aim/
Both AIM and NASS count as an advanced training for Sea Cadets who are accepted into the respective programs by the academy.
---
SUMMER SEMINAR AT THE UNITED STATES NAVAL ACADEMY
Here is information about the USNA Summer Seminar Program. Deadline to register is 31 MAR at 11:59 PM. Note that the dates are early for most southern California school districts….but the experience is worth it.
http://www.usna.edu/Admissions/NASS/index.php
---
Admin Manual Changes have been removed from the site, everyone should check the home port site http://homeport.seacadets.org/dashboard.action for the most recent admin manual for the proper order of forms due to the new application packets and changes to forms.
---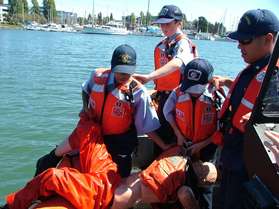 Life Saving Training