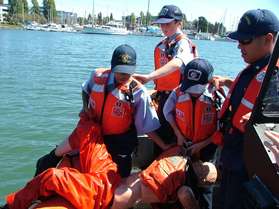 Life Saving Training
Thursday, July 26
---
---
LCDR BARBARA MCCULLOUGH MEMORIAL SERVICE
LCDR Barbara McCullough passed away Monday evening the 9th of February. There will be a Memorial Service next Thursday, l9 February at the Centenary Methodist Church , corner Riber and McHenry Ave. in Modesto, CA at 1:30 p.m., refreshments to follow. Barbara held many positions in the Sea Cadet Corps, from Instructor to Unit CO and Regional Director. TS Crows Landing was First in the Nation two years of the three when she was in command. She wrote the NLCC Training Manual and also the first POLA Training Manual. She participated in many, many Training Duties and earned many Ribbons and was Awarded the Chairman's Medal. I hope many Sea Cadet Officers will be able to attend the Service. Uniforms are optional.
LCDR Steve Nash
---
WINTER HONOR GUARD TRAINING UPDATE
Winter 2014 Honor Guard Training is 12/26 to 1/1 at Two Rock Coast Guard Station.
WINTER 2014 HONOR GUARD TRAINING, USCG TRAINING CENTER PETALUMA, CA
1. AVAILABILITY
10 billets (5M/5F) remain available for the subject training. Registration will close out 14 DEC 2014.
2. COURSE DESCRIPTION
USCG master training specialists and honor guard personnel will provide expert, hands-on, performance-based instruction in key aspects of honor guard operations, including:
*Planning, leadership, and public contact skills
*Basic and ceremonial drill commands and movements
*Honors and ceremonies afloat and ashore
3. BENEFITS TO UNIT/STUDENT
Participants will learn how to:
*Plan for and design a ceremonial performance
*Train other honor guard members
*Perform basic and advanced manual of arms/colors/guidon
*Execute colors ceremonies afloat and ashore
*Conduct flag ceremonies and presentations
*Perform ceremonial quarterdeck, honor cordon, docent, and escort duties
4. STANDARDS
Student performance will be assessed against standards set forth in USMC Drill and Ceremonies Manual (MCO P5600.20), as adapted for NSCC use.
5. PREREQUISITES
Cadets must be E-3 or above, and age 15 or above. Requires recommendation to attend from Commanding Officer. Send copy of NSCTNG001, copy of ID, and M/O or certified check payable to "NSCC" to COTC at address above.
6. TRAVEL NOTES
The training site is 1-2 hours from the nearest major airports (SFO/OAK). Public ground transportation from the airport to Petaluma is available by the Airporter service to the North Bay area. We can provide courtesy transportation from the Petaluma Airporter stop to the base.
---
2015 RECRUIT TRAINING
Tenitive 2015 start date for Recruit Training at Camp Parks is 28 JUN 2015 and end on 11 JUL 2015.
---
REEMINDER
Please keep 24 JAN 2015 open for Officer's Call in Monterey. We have specialized training there that will be required of all to complete so attending will be a way to complete it.
LCDR Steve Nash
---
NAVY LEAGUE FOUNDATION SCHOLARSHIPS
The Navy League Foundation awards scholarships to high school seniors who will attend college in the fall. Scholarships are awarded for four years and provide an award of $2,500 per year.
**All graduating Sea Cadets who plan to attend college in the fall are eligible to apply for this scholarship.**
To apply, cadets should complete the online application process, which can be initiated here:
https://navyleaguefoundation.starsscholarshipsonline.com/stars/default.aspx
Questions regarding the scholarship and application process should be directed to scholarships@navyleague.org.
Best regards,
Kate
---
https://navyleaguefoundation.starsscholarshipsonline.com/stars/default.aspx
---
MAGELLAN ACTION REQUIRED
Need the units to log into Magellan and update the cadets and adults records to include correspondence courses, training etc. The records are not updated and it is causing problems along the COC to make promotions. Some are taking weeks and should only take a couple days but because Magellan is not current with training and Courses the promotions keep getting kicked back.
LCDR Steve Nash
---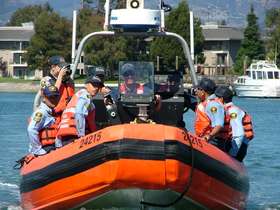 Training with the USCG