PA Striker's Fastpitch Softball: Welcome
Welcome to the Home of the PA Strikers!
MARK YOUR CALENDARS!
THE PA STRIKERS ARE HOSTING PONY NATIONAL QUALIFIERS ON THE FOLLOWING DATES:
PA STRIKERS 12U SPRING THAW: APRIL 18-19TH, 2015
PA STRIKERS 12U SUMMER SIZZLE: JUNE 13-14, 2015
REGISTER YOUR TEAM TODAY AT WWW.PONYEZSOFTBALL.COM
______________________________________________________________________________________
***Multiple teams looking for that right player to round out their rosters.***
12U - Atletic/positional player interested should email Tony at twinvalleypropertymanagement@yahoo.com
16U Catcher interested should email Shawn at netterville@gmail.com
____________________________________________________________________________________
18U Gold Team Tryouts
Call for private tryout
Gregg Kramer-610-750-3883
Are you looking for a competitive team with
a great group of ladies?
Looking for:
one pitcher and one infielder
PA STRIKERS FASTPITCH SOFTBALL is a travel softball organization based out of Southeastern PA. Our teams compete against the very best fastpitch travel softball teams from all over the country. We are proudly associated with and participate in ASA, PONY, and USSSA tournaments.
If you are dedicated and love the sport of Softball - this is the place for you!
Remember The Name by Fort Minor
Wednesday, September 10
Click this link to see our Academy calendar!
Academy Calendar link
Monday, March 10
2014 PA Strikers
Wednesday, June 25
2014 14U ASA "CLASS A" STATE CHAMPIONS!
PA STRIKERS BLACK GOES UNDEFEATED TO WIN 2014 14U ASA "A" STATE CHAMPIONSHIP - NAMED #1 14U TEAM IN THE COUNTRY BASED ON ASA POWER RANKINGS!
Our PA Strikers 14U Black packed their bags early Friday morning and headed to Drifton, PA to play in the highly competitive 2014 ASA Class A 14U State Tournament the weekend of June 20-22nd. After earning the 2014 ASA Class A 14U Central Region Champions title just a few weeks ago, the girls knew they were going to have some tough battles on their hands.
As usual, the Strikers played to impress! They went undefeated (6-0) to win the championship in the double-elimination tournament, knocking off teams from Central PA, NE PA, Pittsburgh and the Philadelphia area! This second ASA Championship earned the Strikers the prestigious honor of being named the #1 14U team in the country based on ASA Power Rankings! Amazing! Congratulations coaches and players! We are so proud of you!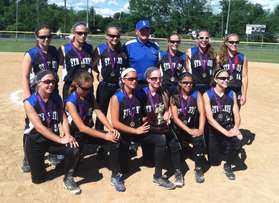 2014 ASA 14U A STATE CHAMPIONS!
Monday, July 28
PA Strikers 16U Tryouts
The 2014-2015 PA Strikers 16U Team is having tryouts.
Tryouts will be held:
Friday Aug 15th and Sunday Aug 17th at 6:00 PM
Twin Valley High School fields, 770 Clymer Hill Rd, Elverson, PA
Thursday, August 28




The Striker webstore is now open!
Get your spirit wear now while it lasts.

https://tuttlemarketing.com/store/products/pa-strikers---2014-499 








Wednesday, June 25
14U Black Named #1 Team In ASA Power Rankings!
Wednesday, June 25
2014 ASA 14UA CENTRAL ATLANTIC REGION CHAMPIONS!
Congratulations to our Strikers 14U Black team for their top place finish in the 2014 ASA 14U Central Atlantic Region National Qualifier held in Dover, Delaware the weekend of June 7-8th! This tournament win sends the Strikers 14U Black packing as they'll be heading to ASA 14U Nationals in San Diego, CA in early August! We are proud of you, yes we are proud of you!
2014 ASA 14U A Central Atlantic Region Champs!
Wednesday, September 17
2015 PONY Tournaments! Register Now To Secure Your Spot!
Monday, October 20
Mount St. Mary's and WCU Skills Training!
Tuesday, October 21
PA Strikers Family Night of Glow Bowling!
SAVE THE DATE AND MAKE PLANS TO JOIN THE FUN!