Eteamz.com/Paseo Verde Little League: Welcome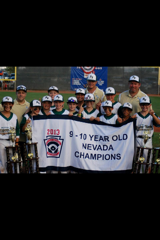 2013 9-10 Year Old District 2 AND Nevada State Champions-All Stars
2013 Nevada State District 2 Champions-TOC Minors
2014 Is Paseo Verde Little League's 15th Anniversary
On behalf of the 2014 Board of Directors, welcome to Paseo Verde Little League's 15th Anniversary Season. On line Registration is closed. If you would still like to play in 2014, please contact us though the tab at your left. We will try to accomadate you through the first week of March, depending on roster availability. In 2013 Paseo Verde Produced a State Champion with the 9-10 year olds, 2 Nevada State District 2 Tournament of Champions...Champions with the AAA Braves and the Rookie Orioles. How many Champions will Paseo Verde produce in 2014? Be part of the Premier Little League in Nevada and don't miss out on the 2014 season. There is still time to register. If you child has never played Little League you could not find a better place to start.
2014 On Line Registration is CLOSED
Rosters have been issued, and you will recieve an e-mail notification. Your team Manager will contact you about your childs selection, practices and other details.
What you will need for player and volunteer registration?
All forms are available in the handouts section on your left.
Player
1. Birth Certificate
2.Proof of Residency (Recent Utility Bill, not a cell phone)
3. Medical Release Form
4. Payment
Volunteer
1. Volunteer Application
2. Copy of Drivers License
Manager/Coach
1. Coaches Application
2. Volunteer Application
3. Copy of your Drivers License
if you would like to volunteer as a team mom or other non coaching position the volunteer application and a copy of your drivers license to:
2014 Opening Night and Opening Days
All Teams will attend in uniform Opening Day Ceremonies Friday March 7 at Dos Esquelas Park. The season will NOT begin Saturday March 8, but the following week beginning Monday March 10. Team pictures will be taken before games throughout the week of March 10, so plan on being 45 minutes early for the first game of the season. Verify picture dates and times with your Team Mom.
Ceck the Forms and Handouts for information on Opening day and Night!
Check back after schedules and rosters are completed for game days and times.
We look forward to an amazing 2014 Season. Don't forget to check the Calendar for important events, dates and times.

Practices will start around February 10th, League Scheduled Practices will begin Tuesday February 18.
Sponsors
Sponsors are needed for each team in the League to help cover PVLL Operating Costs. Additional Information and the Sponsor Form is available in our handouts page. The form also summarizes various financial support levels, and their associated benefits, that help to maintain Paseo Verde as one of the premier Little Leagues in Nevada. PVLL and the kids greatly appreciate your generous contributions and sponsorships which ultimately provide the kids with the best equipment, fields and experiences possible. Sponsorships, donations, information and questions should be directed to John Clayton at vegasclaytons@yahoo.com or call 702.528.8280. Thank you for all you do for our community.
We're pleased to announce a partnership with Dicks Sporting Goods and Blue Sombrero registration and league management system.
Take a short survey on the League just visit the My Site News page
For dates and upcoming events visit the Calendar/Events Page
2014 Team Mom meeting:
The Team Mom Meeting is on February 22nd at 9:30 a.m. at Club Sport Green Valley (
2100 Olympic Ave, Henderson, NV 89014)
. Enter the club, sign in at the front desk, and mention PVLL. The room is around the corner to the left and at the end of the hall on the right. It is after the aerobics room.
Please arrive at 9:15 a.m. to sign in and pick up your folder to ensure we start on time. You must send one representative from your team. No more than that please. If you cannot make it, please send a responsible party in your place to pick up your materials. If you have any questions, feel free to email me.
Stacy Victoravich
PVLL Team Mom Coordinator
Visit the Forms/Handouts page for more Team Mom Information, Q-A, applications and other 2014 information
Coaches, Team Moms and volunteers log into the on line registration site and click the tab for volunteers. Complete the required information. This is MANDATORY.
sports.bluesombrero.com/pvllnv
Boundaries:89052, 89044 and 89012 West of Gibson
Not sure what Little League you are zoned for? Check out the District 2 League finder here: http://www.eteamz.com/nvdistrict2/news/index.cfm?cat=834708
Join on Facebook page at: http://www.facebook.com/home.php#!/pages/Paseo-Verde-Little-League-Henderson-NV/215215198957
PVLL mailing address:
Paseo Verde Little League
PO Box 530117
Henderson, NV 89053-0117
Phone/Fax: 888-232-7879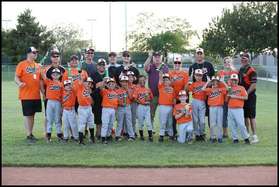 2013 Nevada State District 2 Champions-TOC Rookies
Handout:
Opening Night and Opening Day