Eteamz.com/Paseo Verde Little League: Welcome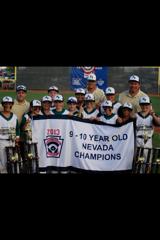 2013 9-10 Year Old District 2 AND Nevada State Champions-All Stars
Monday, December 2
2013 Nevada State District 2 Champions-TOC Rookies
2014 Is Paseo Verde Little League's 15th Anniversary
We're pleased to announce a partnership with Dicks Sporting Goods and Blue Sombrero registration and league management system. We are currently in the process of moving our registration system over to the new site. The new system will be up and running by the end of this week. We will send out a notification when online registration is open.
Take a short survey on the League just visit the My Site News page
For dates and upcoming event visit the Calendar/Events Page
Visit the Handouts page for Q-A, applications and other 2014 information
Boundaries:89052, 89044 and 89012 West of Gibson
Not sure what Little League you are zoned for? Check out the District 2 League finder here: http://www.eteamz.com/nvdistrict2/news/index.cfm?cat=834708
Join on Facebook page at: http://www.facebook.com/home.php#!/pages/Paseo-Verde-Little-League-Henderson-NV/215215198957
PVLL mailing address:
Paseo Verde Little League
PO Box 530117
Henderson, NV 89053-0117
What is my Childs Playing age? Click the handout link below...
Handout:
2014 Player Age Chart