Parkland High School Baseball: Welcome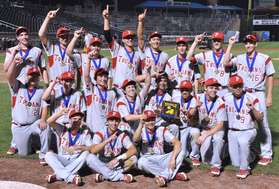 2013 District XI Champion Parkland Trojans
Monday, November 18
Mosser Signs Letter of Intent, Heading to Shippensburg
Gabe Mosser, Parkland's right-handed pitcher, signed a national letter of intent to play baseball at Shippensburg University on athletic scholarship. Gabe plans to major in marketing with a minor in business. Mosser will play his senior year at Parkland this spring and will join the Raiders for the 2014-2015 academic year. The Raiders play in the Division II Pennsylvania State Athletic Conference.
Gabe was also recruited by DeSales, Temple, and Kutztown, but ultimately chose Shippensburg as it was the best overall fit. "The first time I stepped on campus I felt comfortable and knew it was the school I wanted to spend my next four years at. Ship offered me exactly what I was looking for from an academic and baseball standpoint," Mosser said. It was a visit with Coach Jones and Coach Sheibley that solidified Gabe's decision. "Their openness about visiting other schools, how they ran practice, the emphasis they placed on academics and responsibilities outside of baseball, along with the confidence they showed in their program were all the final pieces in making my decision," added Mosser.
Shippensburg Baseball has made an appearance in the Conference, Regional or World Series Tournament 12 of the last 13 years.
Congratulations to Gabe and his family!