Parkland High School Baseball: Welcome
Sunday, June 29
Mosser is the Morning Call's 2014 Baseball Player of the Year; Selected to PA All-State Team
Gabe Mosser, Parkland's senior pitcher, is the 2014 Morning Call Player of the Year. Mosser is the first Parkland ball player to be named player of the year since 2003 when Garrison Rausch earned that honor. Mosser was also named to the Morning Call All-Area 1st Team and to the PA All-State 1st Team by the Pennsylvania High School Baseball Coaches Association. These honors cap off an amazing year for Mosser who led the Trojans to the 2014 LVC & District XI championships.
Mosser's 2014 performance on the mound was arguably the best ever by a high school pitcher in our area and one for the Parkland record books. Mosser collected a record of 9-2 with an incredibly low ERA of 0.69. Four of those wins were complete game shutouts. In 60.2 innings pitched during the season, Gabe only allowed 6 earned runs while recording an astounding 106 strikeouts, shattering the Parkland single season record of 74 strikeouts held by Andrew Kulp from the 2009 season. Mosser now holds Parkland's all-time single season records for most wins (9), most shutouts (4), and most strikeouts (106).
Gabe was on the mound for all the critical games this year. He pitched complete game shutouts twice against rival Whitehall. He quieted the potent Emmaus bats with 13 strikeouts for the shutout victory in the 2014 LVC championship game, and he outpitched Stroudsburg's highly ranked pitcher, Mike Nikorak, to win the 2014 District XI championship game. For his career at Parkland, Mosser pitched 6 shutout games, holds a 0.83 ERA, and had 145 strikeouts; all tops on Parkland's all-time career record list. Gabe will continue his baseball career in college when he attends Shippensburg University starting this fall.
Congratulations to Gabe!
Sunday, June 29
Rabasco Selected to the 2014 Morning Call All-Area 1st Team & PA All-State Team
Chris Rabasco, Parkland's junior shortstop and relief pitcher, was named to the 2014 All-Area 1st Team by The Morning Call and the PA All-State second team by the Pennsylvania High School Baseball Coaches Association. This recognition caps off an outstanding season for the third year varsity player. His performance at the plate contributed to Parkland winning both the LVC and District XI championships this year, earned him LVC All-Conference honors, and Chris also ended his college recruitment this year when he verbally committed to attend and play baseball at the University of Pennsylvania.
As the number three hitter in the batting order, Rabasco was the offensive leader for the Trojan baseball team all season and led the team in most offensive categories. His batting average of .468 was a team high, as well as his on-base percentage of .543. He also led the team in total base hits (37), doubles (13), triples (2), runs scored (22), RBI's (24), and slugging percentage (.683).
Rabasco collected at least one base hit in 23 of Parkland's 26 games this season and had 11 multi-hit games. He had an impressive .529 batting average when at the plate with runners in scoring position. He drove in three runs in the LVC championship win against Emmaus, hit the game winning RBI base hit against Liberty to send the Trojans to the District XI championship game, and he had Parkland's only RBI in their state playoff loss to Spring-Ford.
With his 13 doubles this year, Rabasco is now Parkland's all-time leader for most doubles in a season. With one more year to play, Rabasco is also tied for most doubles in a career by a Parkland player with 21. Chris returns to the team next season for his senior season.
Congratulations to Chris!
Sunday, June 29
2014 Morning Call All-Area Honorable Mention for Higgins, Flynn & Strisovsky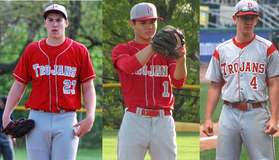 Connor Higgins, Alex Flynn & Jeff Strisovsky (L-R)
Pitcher Connor Higgins, pitcher/infielder Alex Flynn, and outfielder Jeff Strisovsky receive 2014 Morning Call All-Area honorable mention.
Junior southpaw Higgins was a key part of a strong Trojan pitching staff this season. Higgins had a record of 4-1 in 38.1 innings of work and had 59 strikeouts. He allowed only 4 earned runs for an impressive 0.73 ERA. He was on the mound for the LVC semi-final matchup against Whitehall and pitched six strong innings with 8 strikeouts with the Trojans winning that game in extra innings on their way to the LVC championship. Opposing batters only managed a .156 batting average when Higgins was on the mound and he struck out the lead off hitter of an inning 15 times during the season. He threw six innings of shutout baseball in consecutive starts; a victory over Central Catholic where he struck out 10 and a 9 strikeout performance for the win over Pleasant Valley. The Indiana commit returns to the team next year for his senior season.
Junior outfielder Strisovsky was one of the key contributors, both offensively and defensively, to the Trojan's championship season. Strisovsky batted .328 from the second spot in the Trojan batting order this season and with his 19 walks earned a .487 on-base percentage. He hit 5 doubles and scored 18 runs, and led the team with 5 sacrifice bunts/flies. Jeff was even more productive during the second half of the season and during the Trojan's playoff run. He batted .400 with an outstanding .571 on-base percentage during the Trojan post-season, along with 7 runs scored. Jeff was also recognized this season by the LVC receiving All-Conference honorable mention. Jeff returns to the team next year for his senior season.
Flynn was a two-way player earning a record of 6-1 with a 1.46 ERA as a starting pitcher, and he played second base when not on the mound. He hurled two complete game shutouts during the season earning victories against Northampton and Easton. He earned two playoff wins during postseason play. He pitched three innings of shutout baseball in relief for the extra innings win against Whitehall in the LVC semi-final, and he was on the mound for the District XI playoff win against Liberty working 6 strong innings. Flynn had 36 strikeouts in his 38.1 innings of total work on the mound this season. For his career at Parkland, Alex earned a spot on Parkland's all-time record lists. With 12 career wins on the mound he is fourth on the list for most career wins, and he is third on the all-time list for most career shutouts with four.
At the plate, Flynn batted .291 with four doubles and a triple. He led all Trojans with 21 walks and had an outstanding .500 on-base percentage, which earned him the lead off spot in the batting order for the second half of the season. More impressively, Alex came on strong at the end of the season and during the postseason helping Parkland win both the 2014 LVC and District XI championships. He collected at least one base hit in 8 out of the last 9 games of the season, batting .500 with 9 walks and 8 runs scored during that span. In the post-season, he had a batting average of .400 with 6 walks and 6 runs scored. Alex will be attending Temple University in the fall.
Congratulations to Connor, Alex and Jeff!
Monday, June 2
Trojans Lose 2-1 to Spring-Ford in Opening Round of PIAA State Playoffs
Alex Flynn was 1-2 with a triple, two walks, run scored
The formula for how the 2014 Parkland Trojans became the LVC & District XI champions involved dominant pitching and an offense that found ways to get on base and get that key hit at the right time. For the season, the Trojan pitching staff had a team ERA of 1.31 and 10 shutout victories. Although the team batting average of .285 is not one you expect from champions, the team batting average with runners in scoring position was .324, their on-base percentage was over .400, and the Trojans regularly found ways to manufacture runs, get that clutch hit when needed, and make opponents pay for their errors. In today's opening round of the 2014 PIAA State Playoffs, pieces of that formula were missing and five Parkland errors were too much to overcome as the Trojans lost to Spring-Ford by a score of 2-1.
Starting pitcher Gabe Mosser and reliever Rhett Jacoby provided the good pitching. Mosser went 4+ innings allowing two runs (one earned) on two base hits with two walks. Mosser also had 9 strikeouts. Spring-Ford's one earned run came in the 2nd inning on a walk followed by a double. Jacoby pitched three scoreless innings striking out two while allowing two hits and one walk. Jacoby came on in the 5th with the Trojans down by a score of 2-0 after Parkland had committed three errors in the inning, leading to a Spring-Ford run. Jacoby got the Trojans out of that jam and limited the damage.
Spring-Ford's lead off hitter in the 5th inning singled and advanced to second base when the ball got by the outfielder. The next two Spring-Ford batters both bunted and both times the bunts were misplayed. The second bunt was a squeeze play that plated Spring-Ford's second run. After those three errors and with no outs in the inning and runners on first and second base, Jacoby took the mound in relief. Jacoby got Parkland out of the inning without any further damage by striking out one and getting an inning ending double play. A traditional double play was attempted when a ground ball to second baseman Alex Flynn was flipped to shortstop Chris Rabasco for the force out, but the batter beat the throw to first base. At the same time, the runner that was on second base rounded third during the play attempting to score. The throw from first baseman Mosser to the plate was in time as catcher Zach Merkle tagged out the runner for the final out of the 5th inning.
Getting out of that 5th inning gave the Trojans some life in the bottom of the 5th inning even though the first two batters of the inning made outs. With two outs and no one on base in the 5th, Flynn (1-for-2, triple, 2 BB, run) and Jeff Strisovskly earned back-to-back base-on-balls. Rabasco (1-for-3, RBI) then hit a line drive over the second baseman's head for an RBI single to score Flynn and put Parkland on the scoreboard. Zach Miiller was then awarded first base due to catcher's obstruction to load the bases. With Spring-Ford's pitcher struggling to throw strikes, Parkland came close to forcing in the tying run with another walk with Merkle (1-for-2, BB) at the plate, but the close call did not go Parkland's way and a ground out eventually ended the Trojan threat.
The 5th inning was not the first time the Trojans had an opportunity to score. In the 1st inning, Flynn reached base on a walk and advanced to third base, but was stranded there. A lead off single by Merkle in the 2nd inning was quickly erased with a flyout and an inning-ending double play. In the 3rd inning, Flynn hit a two-out triple to deep centerfield, but Flynn would be stranded at third base for the second time in the game. Parkland had runners on first and second base in the 4th inning with one out, but the key hits were missing from today's game. The Trojans could not get anything going in the 6th inning and were retired in order in the 7th inning to end the game and end what was a terrific season for the 2014 Parkland Trojans.
2014 District XI Championship Game - Final Out Video
2014 District XI Game - Final Out Video
Wednesday, May 28
HISTORY! PARKLAND BASEBALL REPEATS AS DISTRICT XI CHAMPIONS
Winning championships are not easy, especially in high school baseball where the single elimination format leaves no margin for mistakes. In their 60+ year history, Parkland High School baseball has won their share of division and conference championships, but they have never won back-to-back District titles in consecutive seasons. All of that changed tonight at Coca-Cola Park in front of a great crowd of fans as Parkland downed Stroudsburg by a score of 3-0 to win the 2014 District XI Championship for the second year in a row. The challenge of repeating as District XI champions was particularly daunting as Parkland not only faced an unfamiliar foe in Stroudsburg High School, but also had to go up against arguably the best pitcher they have faced all season in Alabama recruit Mike Nikorak.
Parkland countered with their ace, senior Gabe Mosser. Mosser was in command the entire game despite a couple of Stroudsburg base runners in the early innings. A lead off single in the 1st inning was not a problem as Mosser retired the next three batters in a row. In the 2nd inning, two singles put Stroudsburg runners on first and third base with one out, but Mosser proceeded to strike out the next two batters to end the inning. For the next five innings, Mosser did not allow a Stroudsburg base runner beyond first base as he turned in a complete game shutout for the 3-0 victory. Mosser scattered five hits with two walks and had 11 strikeouts.
Parkland hitters were unfazed by the mix of 92+ mph fastballs and good curveballs being thrown at them by Nikorak. Parkland hitters came out swinging starting with a 1st inning single by Jeff Strisovsky (1-for-1, 2 BB, run). Mosser (2-for-2, BB) also swung a good bat tonight. He led off the 3rd inning with a single and gave way to courtesy runner Andrew Roth. After Roth stole second base, Justin Afflerbach (1-for-3) singled to move Roth to third base, but Afflerbach was tagged out trying to advance to second base. Alex Flynn (1-for-2, sac fly, RBI, run) then drove a ball to right field to score Roth on a sacrifice fly and give Parkland a 1-0 lead.
In the 5th inning, Flynn singled and Strisovsky walked to start the inning. Zach Miiller (1-for-3, RBI) then hit a chopper for an infield single that plated Flynn. A throwing error on the same play allowed Strisovsky to score to give Parkland the 3-0 lead. Three runs were more than enough for Mosser as he collected his fourth shutout victory of the season to send Parkland to the PIAA State playoffs slated to start next Monday.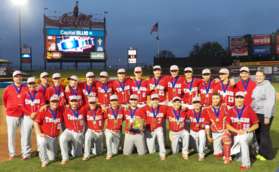 2014 District XI Champion Parkland Trojans
Upcoming Events
Date
Event
Time
Location
Mon 11/17
Booster Club Meeting
7:00 PM
Parkland High School