Palm Bay East Little League: PBELL News
Tuesday, April 22
Weather Update
2:30pm Tuesday, Games ON.
Friday, May 2
Palm Bay East night with the Brevard Manatees
Join us on Friday night, May 2, at Space Coast Stadium when the Manatees play the Tampa Yankees.
Tickets are $6 and a portion of ticket sales goes directly to support Palm Bay East. Let your coach or team mom know how many tickets you need.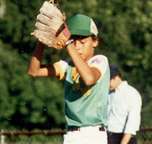 Click the Picture to Get Answer
Can you identify this former Little League player?
Clue #1: He played Little League in Michigan.
Clue #2: He was drafted to the majors out of high school, was the 6th overall pick.
Clue #3: He was Rookie of the Year.
Clue #4: He has played in 7 World Series, winner 5 times.
Lightning Procedures
When lightning appears evident, a League Official will monitor the Lightning Detector located in the concession stand.
When a lightning strike has been detected in the 8-20 mile range, the official will immediately notify the chief umpire. The umpire will then notify the team managers that there is a lightning alert.
When a lightning strike is detected in the 3-8 mile range, the umpire will be notified to clear the fields immediately. Players may seek shelter in the dugouts, at the detection of this first strike only. They should be cleaning up and packing their equipment at this point.
If a second strike occurs at this range or closer, within 15 minutes, all players and parents will take shelter in their vehicles, or an enclosed structure, until the all clear signal is given.
Pavilions, dugouts, and trees DO NOT protect you from lightning.
The all clear signal may be given if no additional strikes in the 3-8 mile range are detected for a period of 20 minutes.