Poway American Little League: Field Locations
.Field Diagram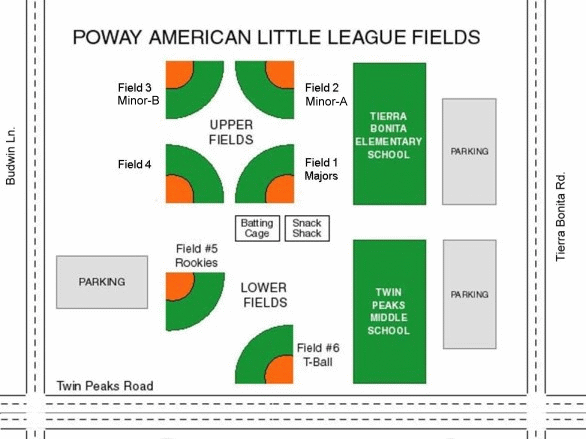 PALL Field Diagram
14678 Tierra Bonita Rd
Poway, California 92064

.Field Diagram PNLL
13231 9th St
Poway, California 92064

CMR Majors Sabre Springs Park
sabre springs park
San Diego, California 92128

Escondido National
Hidden Valley Middle School
2700 Reed Road
Escondido, California 92027

Field #1
Majors Field
Field #2
Minor A
Field #3
Minor B
Field #4
Intermediate 50/70
Field #5
Rookies
Field #6
Tee Ball
PNLL Majors Field
12321 9th St
Poway, California 92064

PNLL Minor A Field
12321 9th St
Poway, California 92064

PNLL Minor B Field
12321 9th St
Poway, California 92064

Poway Community Center
Bill Bonds Room #2
13094 Civic Center Drive
Poway, California 92064

Poway PCC East (Juniors) & West (Seniors)
13094 Civic Center Drive Poway
Poway, California 92064

Rancho Bernardo Majors Field
NW corner of Rancho Bernardo Rd and Pomerado
16955 Bernardo Oaks Dr
San Diego, California 92128

Tierra Bonita Elementary
All games are held at either Tierra Bonita Elementary or Twin Peaks Middle School sport fields. The two schools are adjacent to each other. The fields are divided into upper and lower.
Fields #1-#4 are on the upper (Tierra Bonita) grounds.
Fields #5 and #6 are on located on the lower (Twin Peaks) grounds.
14678 Tierra Bonita Rd
Poway, California 92064

4S Ranch Community Park
16118D 4S Ranch Parkway
San Diego, California 92127

Carmel Mountain Ranch
Highland Ranch Elementary School
(Juniors Field)
14840 Waverly Downs Way
San Diego, California 92128

Carmel Mtn. Ranch - Fall Ball 2011
Parking for Sabre Springs Fields and adjacent fields at Morning Creek Elementary
Sabre Springs Park
Poway, California 92128

Escondido American
Escondido American fields are at Escondido High School
1535 North Broadway
Escondido, California 92026-2099

Poway National Little League
12321 9th St
Poway, California 92064

Rancho Bernardo Community Park
Field # 7
18448 W.Bernardo Dr.
Rancho Bernardo, California 92127

Valley Center Little League
28246 Lilac Road
Valley Center, California 92082