Pa Hockey History : Welcome
Visit the Pa Hockey Website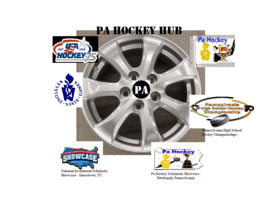 Pa Hockey Hub
Thursday, February 14
The Hub
Pa Hockey History Hub
To celebrate 40 Years of Interscholastic Hockey......Pa Hockey has embarked on a mission to bring history alive........The Pa Hockey History Hub will bring back the memories of Pennsylvania High School Hockey's Championships with Pictures, Articles, Game Footage and Stories of the storied history of Pennsylvania Hockey.
If you are looking for information on Pa State Champions, Flyers Cup Champions, Penguins Cup Champions and League and Division Titles, you will find it right here.
We will also bring to you chronicles on some of the great players and coaches, who have been a relevant part of the sport of Interscholastic Hockey along with our tribute to some great championship dynasty programs of the first 40 years.
The Archives that Pa Hockey will bring to you will be unprecented in High School Sports. If you have some archives to add to the collection, just drop us an e-mail at
Pennsylvania Cup
Pennsylvania High School Hockey
Championships
The first Pennsylvania Cup was played in 1975 in Erie, Pennsylvania at the Glenwood Zoo Arena. The Penguins Cup Champions meet the Flyers Cup Champions
each year to determine the Champions of the State of Pennsylvania.
CLICK HERE FOR THE FOLLOWING
- Pennsylvania State Champions
> Class AAA - Class AA - Class A
- Penguins Cup Champions (1975- Present)
- Flyers Cup Champions (1980 - Present)

Visit the Pennsylvania Cup AAA Champions
Pennsylvania Cup ~ 'Wall of Champions'
The Pennsylvania High School Hockey Championships are played each spring in order to crown the 'Pennsylvania Cup' Champions. Since 1975, the state of Pennsylvania has crowned championship teams which has now been formalized into the Penguins Cup Champions of Western Pennsylvania versus the Flyers Cup Champions of Eastern Pennsylvania.
The names of the players of each of those championship teams can be found in two places. On the trophies themselves, which are displayed once a year at the Pennsylvania High School Hockey Championships and of course here on Pa Hockey History.......which is available 24/7/365. So if your looking for those players or coaches, who have won it..........you should find them here ! We are still looking to complete the Pa Hockey 'Wall of Champions' and will do so in a short period of time.
Congratulations to all those who have enshrined their names on Pa hockey History's 'Wall of Champions' !
Pa League Results and Championships
Pa Hockey History is proud to bring you the only place yo can find the Championship results and Standings of Leagues in Pennsylvania from 1971 through today
In Western Pennsylvania the results of the Western Pennsylvania Interscholastic Hockey League [WPIHL] from 1971 through 1999, the results of the Lake Shore Hockey League from 1974 through 1999 and the South Hills Interscholastic Hockey League from 1979 through 1999.
In 1999-2000, the merger into the Pennslvania Interscholastic Hockey League took place and the results of each season are posted along wit the division championships at Class A, AA and AAA.
The Eastern Pennsylvania Leagues are still in progress and will include the Inter-County Scholastic Hockey League [founded in 1969], Suburban High School Hockey League [founded in 1974], Lower Bucks County Scholastic Hockey League [founded in 1975], Central Pennsylvania Interscholastic Hockey League and the Lehigh Valey Interscholastic Hockey League.