Pacific Pride: Welcome
Aloha!
Ultimately, the goals of the Pacific Pride are to promote and operate fastpitch softball programs for girls of all ages, regardless of ethnicity, creed, economic status, religion, national origin, or ancestry. To teach and instill fundamentals of fastpitch softball, the importance of hard work, sacrifice, teamwork, team chemistry, accountability, responsibility and fair play, while building self-esteem and confidence. To help our girls achieve and reach for their highest competitive level of fastpitch softball, so that they might better succeed at higher levels in college, and life. The following is the mission statement of the Pacific Pride Organization:
"Our goals as coaches are to build character and bring out the best in each individual, while providing a fun environment as they learn the game of fastpitch softball. Our coaches emphasize teamwork, good sportsmanship, sacrifice, pride, integrity, respect,good work ethic, and encourage all athletes to do well in school, with the hope that one day these ladies will realize their dreams of becoming good college student athletes in the game of women's fastpitch softball and more importantly become productive people in our communities"
Iz Over the Rainbow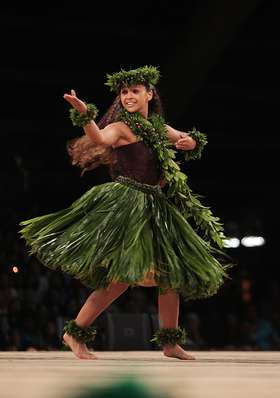 2013 Miss Aloha Hula
Friday, April 5
2013 Miss Aloha Hula Manalani English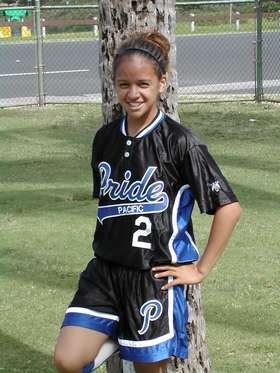 2004 Pacific Pride
Congratulations to Manalani English for a beautiful performance in capturing 2013 Miss Aloha Hula. We were proud of her when she was playing fastpitch softball and equally proud today as she captured the hula crown at the Merrie Monarch Festival.
Pacific Pride is now linked to softballshowcase.com
This website enables others (coaches) to track your accomplishments and abilities as you progress throughout your fastpitch softball career and experience. We have started the profile for the 16U. It is up to each individual player to provide as much information about themselves.
Pacific Pride Organization Facebook Page
Pacific Pride Facebook page is up and running!
2013 SAT/ACT Testing
It is never too early to be ahead of the game. In addition to excelling at your present schools, there are certain testing entrance requirements established by colleges and universities that must be attained before a student/player can be allowed to attend. This is in addition to their academic, extracurricular and sports activities. There will be ongoing testing for SAT/ACT. Please check back frequently to get latest updates and schedules. Go to
collegeboard.org
for more information and registration. Go to
act.org
for more information and registration.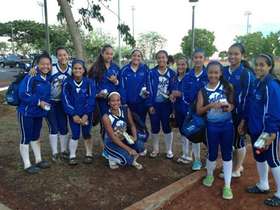 Great Job Ladies!
Tuesday, July 24
14U Advance to the Championship Game at the Kaikamahine Tournament
Congratulations to our 14U girls for advancing to the Championship game against Minors Gold from Southern California. The girls played well in the tournament and faced many obstacles to get there. With a big rainout on Saturday, all the games were delayed for continued play on Sunday. Pacific Pride had to play 3 games on Sunday with the first game to start at 12:30pm. Many game delays due to nature and injuries caused the Championship game to be played late in the afternoon. After 5 innings it was realized that the game was not to finish in a timely manner in which the staff had decided to head to the airport in order to make their team flight by 8pm. It was very hard for the girls as they have worked hard all season to put themselves in such a position. But I say keep your heads up girls because all of you put your best efforts forward and showed that you belong. We may have taken 2nd place on paper but in our coaches eyes you are CHAMPIONS in our hearts. Congratulations Ladies! Tiana Sakumoto, Heaven Wong, Tobi Bonafacio, Mayumi Kamau, Lilyan Bermudez, Kawena Cabrera, Sanae Nakoa, Kalawena Kalehuawehe, Kaylee Harmon, Courtney Lau Hee, Lyana Bermudez, and Kauilani Lonzaga.
Tuesday, June 12
12U and 14U Does Well at Colorado Sparklers Junior Tournament
The 12U and 14U show well at tournament in 100+ degree heat. Brackets are ready for viewing. Click on headline above to link to the site.
12U place 3rd and 14U place 4th at Colorado Classic Tournament
The 12U take 3rd place and 14U 4th place. Click on headline above to link to the site.
Wednesday, June 13
Pacific Pride 12U take 1st Place at Maui Invitational Tournament
The girls fought and worked hard to win the Maui Invitational Tournament. It was a great experience as teams from the outer islands traveled to Maui. 12U Roster: Talor Asio, Angelina Bermudez, Kiani Motooka, Kaycee Arase, Chelsea Silva, Elikapeka Garcia, Jade Vila, Talor Panlasigui, Kyana Nagasako, Kylee Yagi, Giovanna Johnson, Jessasha Kekona and Jolie Fujita. Coaches are Lance Morikawa, Richard Arase, Mark Silva, and Mark Lau Hee.
10U Pacific Pride Come to Play!
Our 10U girls put on a great performance and take 2nd Place at the Maui Invitational Tournament with a hard fought battle in the Championship game against Aiea.
12U place 4th at Hawaii State Tournament!
Congratulations to our 12U for placing 4th in the "A" Division Hawaii State Fastpitch Softball Tournament. It was a great experience for the girls and staff.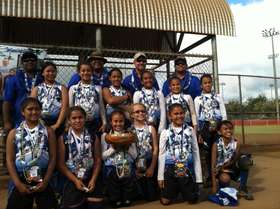 Great Job Girls!
Sunday, May 27
10U Pacific Pride Place 2nd at States!
Congratulations goes out to our 10U Pacific Pride Fastpitch Softball girls placing 2nd place at the Hawaii State Tournament. Daisha Dagdag, Talia Filikitonga-Lukela, Aliya Harmon, Destiny Rey Kama-Cornelio, Saree-Ann Kekahuna, Tanisha Valdez, Lauren Almeida, Teani Buencosejo, Luretta Elam-Fonohema, Ihilani Garcia, Renae Lallo and Jerriah Solomon. Great job girls!
Practice, Game Schedule and Tournament Activities
Aloha,

Pacific Pride practices will be held at Kahului Field #1. Schedules will be posted on our Activity Calendar. Practice schedules can be viewed on our members Activity Calendar. For a direct link to the Activity Calendar, click the headline above. To see the scheduled practice days for your daughters age group, check the correct box specified by color.
2005 Pacific Pride Japan Tour
2004 Pacific Pride
2003 Pacific Pride
"Honestly, we don't have time to hate people who hate us, because we are too busy loving people who love us."