Orcutt Youth Football Website: Welcome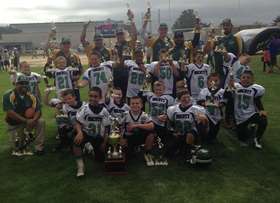 The Warriors came out to PLAY!
CONGRATULATIONS TO THE BANTAM WARRIORS AND THE SENIOR PANTHERS
2014 SUPERBOWL CHAMPIONS!!
2015 Registration Dates
May 27 from 6-8pm at Joe Nightingale
June 9th & 10th 6-8pm at Joe Nightingale
OYFL Next Board meeting will be held on June 4th at Giavanni's. Start time is 6pm
Visit us on Facebook
http://www.facebook.com/orcuttyfl
Also, visit the Central Coast Youth Football League (CCYFL) for more information on all chapters in the CCYFL

http://www.eteamz.com/ccyflslo

2,400 youth on the Central Coast, to include over 300 from Orcutt, participate in our youth football and cheer programs every year. Each participant is writing a unique success story. Our responsibility is to provide them a safe place to play.
The cost of running a youth program grow every year, while the revenue opportunities seem to get smaller. Central Coast Youth Football supports 11 local chapters. Together we incur expenses for field usage, equipment, training, EMTs, referees, player scholarships and so much more. It is the goal of CCYFL to raise funds which will cover safety related expenses for every chapter. Volunteer background checks, first aid training, concussion awareness/response training and proper wearing of equipment are all considered safety expenses.
The more funds we raise, the more safety we can provide. Providing the highest level of safety for our youth is vitally important, but not free. Our youth need everyone's support.
Please help us properly provide for the safety of these boys and girls.
http://www.gofundme.com/CCYFCL
If you have any questions or concerns please contact our President Mr. Dave Garren @ djgarren@yahoo.com or 805-423-0762