Orcutt Youth Football Website: Welcome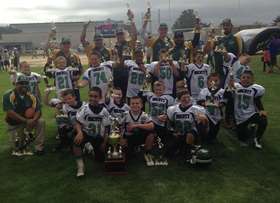 The Warriors came out to PLAY!
CONGRATULATIONS TO THE BANTAM WARRIORS AND THE SENIOR PANTHERS
2014 SUPERBOWL CHAMPIONS!!
IMPORTANT!!
*********Mandatory*********
Certification at St Joe's Aug 1
Time 10:00 sharp
Condtioning Week 3-7 Aug @ Rice Ranch Park 5-7pm
More information soon to follow so please keep looking and follow us on facebook.
Next Board meeting - Aug 5th at Giavanni's @ 7:30pm
Visit us on Facebook for more information
http://www.facebook.com/orcuttyfl
Also, visit the Central Coast Youth Football League (CCYFL) for more information on all chapters in the CCYFL

http://www.eteamz.com/ccyflslo
Questions or concerns please contact our President Mr. Dave Garren @
djgarren@yahoo.com
or 805-423-0762