Home of the 2011 Little League World Series Champions: OVLL News
Saturday, July 12
Volunteers for All Star Sectionals at OVLL Needed 7/12-7/15
OVLL families, we are in need of volunteers to support the Section 10 All Star games that will be played at our OVLL fields Saturday, July 12 - Tuesday, July 15. These positions include field preparation teams, snack bar servers, scorekeepers and pitch counters. So if you are in town, we hope you will help out our league and our teams that will be playing in Sectionals.
To sign up for a position, please go to the Section 10 All Star games Sign Up Sheet.
Thank you for your volunteerism!!!
2015 Sponsorship/Fundraising
OVLL has opportunities for local merchants, businesses and individuals to sponsor our league. Thanks to all our sponsors for your generous support! For more info on how to contribute to our league, go to the
Sponsors
page of our Website.
Thursday, July 3
Big Day At District Championships For OVLL
It was a big day for OVLL at the District 62 Championships at Mile Square Park. All four fields featured OVLL battling HVLL for their respective District Championship banners. Fans were rotating between fields, text updates were popping left and right. There was just something in the air. All four OVLL teams took leads in their games. Then it happened...the 11/12 team won their game 10-0 and a roar erupted. They completed Districts yielding a single run. The first banner of the night was secured. Then it was the 10/11 team's turn, a 15-2 victory and another roar erupted. They completed their Districts with an astounding 76 runs scored in four games. The second banner of the night had been secured. With two games complete and two still battling, the fans began to pack in the other two fields. The 9/10 team took the spotlight as they continued to battle into the bottom of the 6th inning. One out, two outs, three outs a 9-4 victory...the crowd erupted into an even louder roar. The third banner of the night had been secured. The electricity was growing larger as the OVLL fans ,and players, began to encircle the 8/9 game. With two outs in the bottom of 6th...ground ball and the throw to first...victory...13-7. The crowd went wild, the 9/10, 10/11, 11/12 teams stormed the field. The 8/9 team had secured the fourth banner of the night and completed the OVLL SWEEP!
Our teams: 8/9, 9/10, 10/11, 11/12 & 50/70; went a combined perfect 18-0 in games & went 5 for 5 in D62 Championship Banners. WAY TO GO OVLL!
Storm the field!!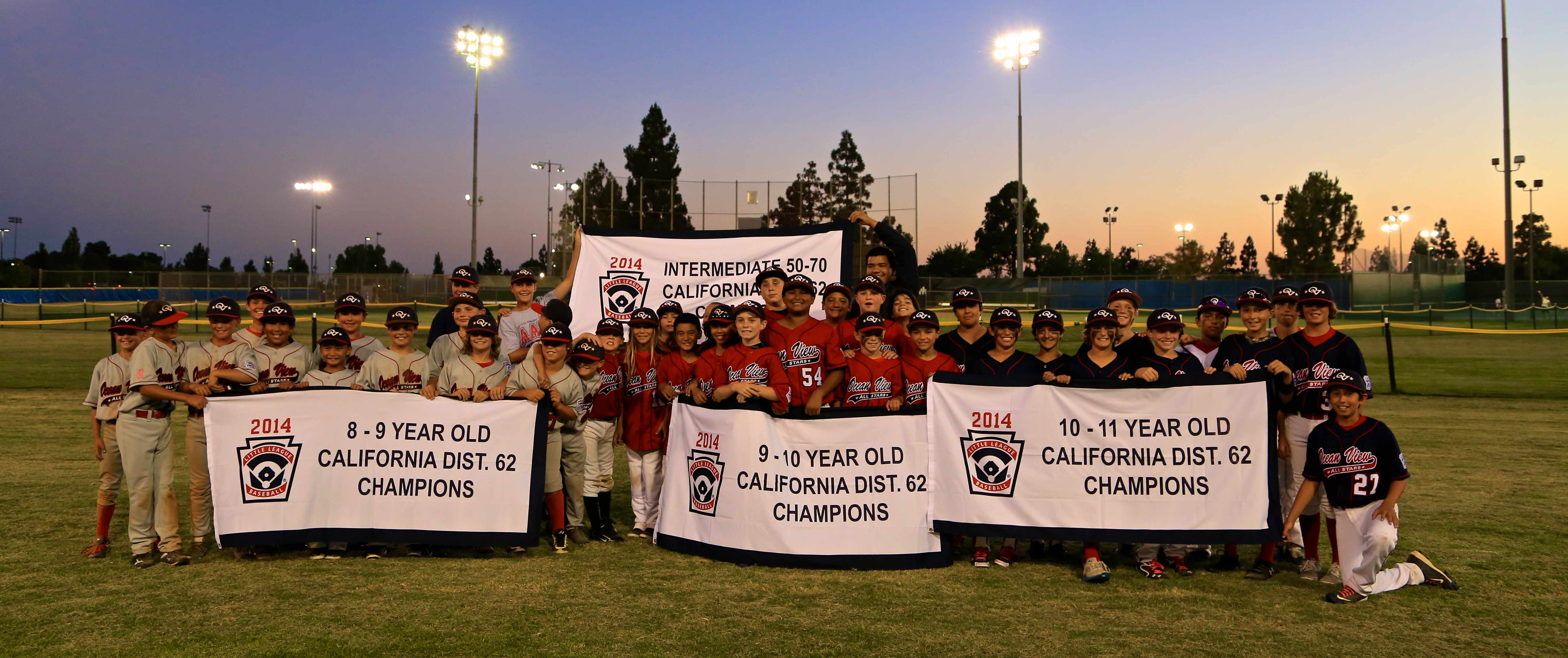 Wednesday, July 2
OVLL Drive For Five
All five OVLL Tournament teams will be in their respective Championship game this week. We will have teams competing in all four D62 Championship Games at Miles Square park Tonight (Wed. 7/2) @ 6pm on Fields #12, 13, 14 & 15. On Thurs. 7/3 @ 4:30pm, our Int. 50/70 Tournament team will be at Heroes Park in Lake Forest competing for the Section 10 Championship. Please come out and support our teams tonight and tomorrow. GO OVLL!!!
Thursday, April 10
LLBB Passes League Age Rule with Three-Year Implementation Period
"Your letters to Little League were heard" were the words from our District Administrator who attended the Little League Baseball International Congress that convened this past weekend in Minneapolis. "Item 2" on the Congress agenda involved a rule change to the league age determination date, extending the date to Dec. 31. The proposed rule change was passed.
Prior to the vote, the Congress was overwhelmed by letters, emails and phone calls from parents across the country, especially from our own West Region District 62, urging the delegates to vote against the rule change. Little League President and CEO Stephen Keener acknowledged the amount of concern expressed from parents regarding the rule change. As a result, the delegates voted on and passed an amendment to the rule change that it would not go into effect until after a three-year transition period.
Recap:
• The new league age rule goes into effect in 2018
• League age is the age that your child is at any time in the calendar year regardless if it falls in the spring season or not
• In other words, if your child's birthday is after May 1, that is the "league age" of your child for the spring season that same year
• So 11 year olds who turn 12 after May 1, are now league age 12 for that spring season, playing their 12 year old year as an 11 year old
• International countries have been playing under this rule. The rule change brings the US into conformity with other countries
"I'd like to thank all of our families who wrote to Little League Baseball to express your concerns about the rule change," said Toby Reece, Ocean View Little League president. "Your voices made a tremendous impact on the decision by the Congress to, at least, amend the rule with a three-year period before the change goes into effect. Though we are very disappointed with the rule change, we are already working on a solution that will enable our league age 13 year olds to continue playing at Ocean View."
For more info, go to the Little League Baseball Website: http://www.littleleague.org/media/llnewsarchive/2014/January-April/2014CongressVotingResults.htm
Tuesday, February 25
Opening Day Celebration Kicks Off 2014 Spring Season
HBHS Summer Baseball Camp
TWO SESSIONS
JULY 8th-11th
JULY 14th- 17th

9:30-12:30

$120 FOR ONE SESSION
$220 FOR BOTH
Ages 8-14
Instruction given by Huntington Beach Varsity Coaches.
Learn the essentials to be a future HB Baseball Player!

Call Benji Medure for camp information.
(951) 764-9411 or benji172001@yahoo.com
Thursday, July 18
2013 Section 10 Champions