Home of the 2011 Little League World Series Champions: OVLL News
2015 Sponsorship/Fundraising
OVLL has opportunities for local merchants, businesses and individuals to sponsor our league. Thanks to all our sponsors for your generous support! For more info on how to contribute to our league, go to the
Sponsors
page of our Website.
Saturday, July 12
Volunteers for All Star Sectionals at OVLL Needed 7/12-7/15
OVLL families, we are in need of volunteers to support the Section 10 All Star games that will be played at our OVLL fields Saturday, July 12 - Tuesday, July 15. These positions include field preparation teams, snack bar servers, scorekeepers and pitch counters. So if you are in town, we hope you will help out our league and our teams that will be playing in Sectionals.
To sign up for a position, please go to the Section 10 All Star games Sign Up Sheet.
Thank you for your volunteerism!!!
Thursday, July 3
Big Day At District Championships For OVLL
It was a big day for OVLL at the District 62 Championships at Mile Square Park. All four fields featured OVLL battling HVLL for their respective District Championship banners. Fans were rotating between fields, text updates were popping left and right. There was just something in the air. All four OVLL teams took leads in their games. Then it happened...the 11/12 team won their game 10-0 and a roar erupted. They completed Districts yielding a single run. The first banner of the night was secured. Then it was the 10/11 team's turn, a 15-2 victory and another roar erupted. They completed their Districts with an astounding 76 runs scored in four games. The second banner of the night had been secured. With two games complete and two still battling, the fans began to pack in the other two fields. The 9/10 team took the spotlight as they continued to battle into the bottom of the 6th inning. One out, two outs, three outs a 9-4 victory...the crowd erupted into an even louder roar. The third banner of the night had been secured. The electricity was growing larger as the OVLL fans ,and players, began to encircle the 8/9 game. With two outs in the bottom of 6th...ground ball and the throw to first...victory...13-7. The crowd went wild, the 9/10, 10/11, 11/12 teams stormed the field. The 8/9 team had secured the fourth banner of the night and completed the OVLL SWEEP!
Our teams: 8/9, 9/10, 10/11, 11/12 & 50/70; went a combined perfect 18-0 in games & went 5 for 5 in D62 Championship Banners. WAY TO GO OVLL!
Storm the field!!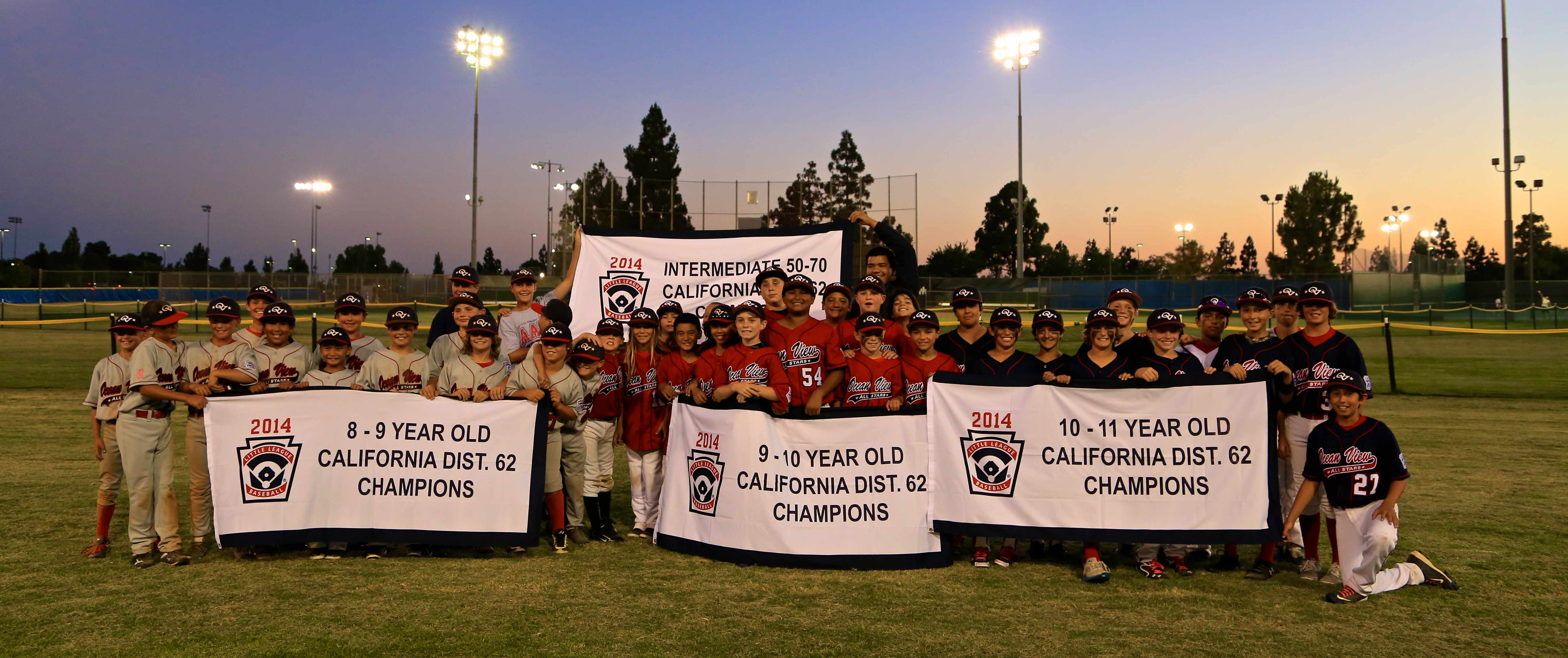 Wednesday, July 2
OVLL Drive For Five
All five OVLL Tournament teams will be in their respective Championship game this week. We will have teams competing in all four D62 Championship Games at Miles Square park Tonight (Wed. 7/2) @ 6pm on Fields #12, 13, 14 & 15. On Thurs. 7/3 @ 4:30pm, our Int. 50/70 Tournament team will be at Heroes Park in Lake Forest competing for the Section 10 Championship. Please come out and support our teams tonight and tomorrow. GO OVLL!!!