Home of the 2011 Little League World Series Champions: Welcome
OVLL Spring Season
Friday, March 7
2014 Spring Season is Underway!
We are underway with the 2014 Spring Season! So come on out and watch some great baseball action! We have a full schedule of games this weekend, so we'll see you out at the fields!
OVLL Weekend Weather Forecast
Friday Mar 7 67 Partly Cloudy
Saturday Mar 8 76 Sunny
Sunday Mar 9 75 Mostly Cloudy
Source: National Weather Service
Monday, March 3
Rescheduled Games
Upper Division
Date
Time
Field
Home
Away
Tues Mar 04 4:00PM Major Orioles Angels
Wed Mar 05 4:00PM Major Giants Pirates
Minor A Rivercats Muckdogs
Minor B Naturals Mets
Thur Mar 06 4:00PM Major Marlins Dodgers
Minor A Bats Bulls
Minor B Hooks Blue Wahoos
Fri Mar 07 4:00PM Major Pirates Cardinals
Minor A Nuts Red Wings
Minor B Rockhounds Dragons
Sun Mar 09 10:30AM Major Yankees RedSox
Minor A Stars Express
Minor B Seadogs Naturals
3:30PM Minor A Knights IronPigs
Minor B Mudcats Thunder
***1:00PM Major Pirates Marlins
Minor A Bats HotRods
Minor B Mets Blue Wahoos
***These are the regularly scheduled 3/9 games.
Lower Division
Date Time Field Home Away
Sun Mar 09 9:00 AM MinC Lugnuts Grasshoppers 9:00 AM Farm Huskies Trojans 9:00 AM Tball Tar heels LSU Tigers 10:30 AM Tball Barons Lions 11:30 AM MinC Riverdogs IronBirds 11:00 AM Farm Anteaters Titans 11:45 AM Tball Chargers Oilers 1:00 PM Farm Hurricanes Bruins 1:00 PM Tball Vikings Seahawks 2:00 PM MinC Bees TinCaps 2:30 PM Tball Wolverines Fighting Irish 3:00 PM Farm Dirtbags Waves 4:00 PM Tball Jayhawks Crimson Tide
Tuesday, March 4
This Week's Food Vendors
We're looking forward to seeing you at the fields this weekend! Our featured vendors are "The Burnt Truck" featuring their delicious gourmet sliders, and "Hula Girls" with their cool shaved ices. And as always, our snack bar team will be serving up your favorite snacks and beverages. So bring your appetites and we'll see you at the fields for some great food, fun and baseball!
2014 Sponsorship/Fundraising
OVLL has opportunities for local merchants, businesses and individuals to sponsor our league. Thanks to all our sponsors for your generous support! For more info on how to contribute to our league, go to the
Sponsors
page of our Website.
Lifeletics Spring Skills Clinics
Join Lifeletics' professional staff for fun and exciting skill clinics on pitching, hitting, catching and beginning baseball. Each series consists of four instructional sessions for one low price of $99.
Beginning Baseball (Wednesdays)
Session 1: Feb 26-Mar 19
Session 2: Apr 2-Apr 30
Hitting Clinic (Tuesdays)
Session 1: Feb 25-Mar 18
Session 2: Apr 1-Apr 29
Pitching Clinic (Thursdays)
Session 1: Feb 27-Mar 20
Session 2: Apr 3-May 1
Catching Clinic (Mondays)
Session 1: Feb 24-Mar 17
Session 2: Mar 31-Apr 28
To register, go to: http://lifeletics.com/registration/
For more info, contact Lifeletics at: team@lifeletics.com, 714-843-1989 or www.lifeletics.com
Lifeletics Annual Baseball Camps
Lifeletics is once again offering OVLL families their annual spring and summer baseball clinics. These clinics offer players fundamentals instruction in all aspects of baseball, taught by Lifeletics' professional coaching and training staff. Lifeletics' philosophy and approach to teaching baseball goes beyond the field to teach kids about sportsmanship while having fun.
Spring Camp - April 14-17
$169 for one; $299 for siblings
Summer Camp - Weeks of July 28, August 4, and August 11
$199 for one week; Buy two weeks and get the third week free
For more info, go to www.lifeletics.com
New Volunteer Program
We are pleased to announce our new "Golden Gloves" Volunteer Program. This program offers part-time volunteer opportunities for those unable to volunteer full-time. There are various roles to choose from - all that make a tremendous impact on our league. For more info, go to Golden Gloves Volunteer Program.
2011 Little League World Series Champions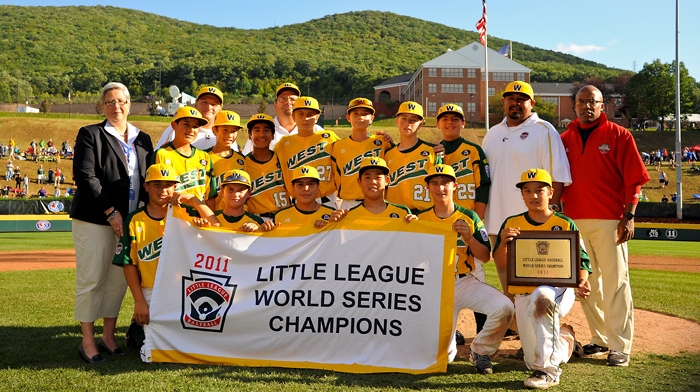 ---



Click

HERE

to sign our Guestbook
---
Little League and OVLL are non-profit organizations