Home of the 2011 Little League World Series Champions: Welcome
Click the button for Registration Information and Application!
Spring 2016 Registration - Now Open!
Click this link to START registration process
online
.
Please carefully read ALL steps.
Step #3 will link you to our new Online Pre-Registration site.
In-Person Registration Dates are:
Oct. 24th 9am-12pm @ OVLL Snack Bar
Nov. 14th 9am-12pm @ OVLL Snack Bar
Dec. 8th @ 6pm-8pm @ Hope View Elementary School MPR
---
HUNTINGTON BEACH HIGH SCHOOL THANKSGIVING INFIELD CLINIC
Friday, November 27th
$30
9:30-12:30
Ages 10-16
Due to construction on the varsity field, camp is planned to be in the football stadium on the turf. Camp instruction will be given by Coach Medure. The clinic will emphasize the fundamentals of infield play, starting and turning the double play, first step quickness and proper fielding technique. Players will be grouped by age/skill level.
Please RSVP by emailing Coach Medure at benji172001@yahoo.com or call 951-764-9411
Thursday, July 23
OVLL Captures Three Section 10 Titles for Second Year in a Row
Great week for OVLL!!! This week OVLL collected three Section 10 Titles. It began with the 9-10 All Stars capturing the first on Monday with a 9-0 victory over D68 (Trabuco Canyon LL). Then on Wednesday, the 11-12 All Stars defeated D55 (Aliso Viejo LL) by a score of 10-0 in Ladera Ranch to collect the second. Moments later on Wednesday, on OVLL home soil, the 8-9 Super Stars closed out their season with a 11-8 victory over D55 (Aliso Viejo LL) to collect the third.
The 9-10 All Stars will now move on to the 9-10 Sub-Division Tournament at El Cerrito Sports Park in Corona. The 11-12 All Stars next tournament, the Little League Sub-Division Tournament, will again take place at Cox Sports Park in Ladera Ranch. Keep up the fantastic baseball OV!!!
2011 Little League World Series Champions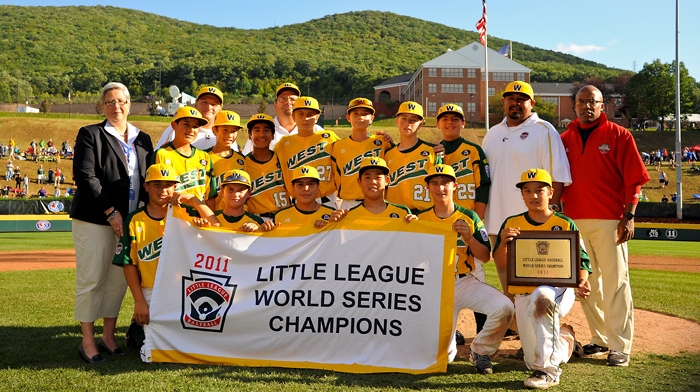 ---



Click

HERE

to sign our Guestbook
---
Little League and OVLL are non-profit organizations