Home of the 2011 Little League World Series Champions: Welcome
Message from our President

Baseball season is here!!
Bring the family to the field this weekend and enjoy the great games, food & fun!!
We have great food vendors coming to the field this weekend: Sweet Lou's BBQ with his incredible BBQ sandwiches & Mustache Mikes with their super delicious Italian ices.
Come and enjoy their treats and with each food item purchased they are donating back to OVLL!!
See you on Saturday and come HUNGRY!!
Opening Day a Huge Success!


6th Annual OVLL Golf Tournament
Monday, March 23 at Seacliff Country Club
Register now, this event will sell out! Foursome - only $600, Individual golfer - $160

Email us your registration request at: golf@ovllbaseball.com
Sunday, July 27
OVLL WINS 9/10 DIVISION III TITLE!!!!
The OVLL 9/10 All Star Team completed its PERFECT Post-Season run with the Division III Title in Lompoc, CA. The team battled with Moorpark LL in a best 2 out of 3 series. OVLL took the first game with a walk-off victory and the second one with a hard fought 9-2 victory to capture the Division III Title (aka State Title). Along the way the team collected the District62 Title, the Section10 Title, the Sub-Division Title and the Division III Title! We are so proud of you all, players and coaches too!
Your Undefeated Champions are: Samuel Cohn, Cade Hart, Matt Hernandez, AJ Hurtado, Evan Knipe, Daniel Kotkosky, Jimmy Legg, Chad Lux, Kai Mullens, Riley Reece, Jack Rockefeller, Jack Smith, Antonio Ventimiglia.
Your Coaches: Manager Dana Lux, Andy Hurtado and Art Hernandez.
Congratulations Division Champions!!!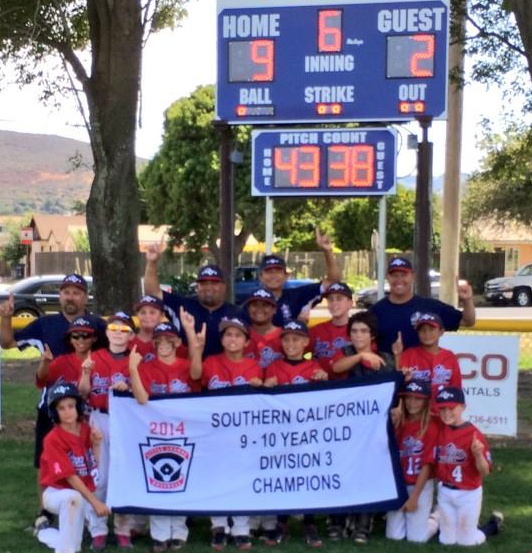 Sunday, July 27
2014 9/10 Division III Tournament Schedule/Results from Lompoc, CA
Saturday 7/26
OVLL 9/10 All Stars defeated Moorpark LL; 11-10 (Walk-off)
OVLL takes a 1-0 lead in the best of three series!
Sunday 7/27 @ 1pm
OVLL 9/10 All Stars defeat Moorpark LL; 9-2
OVLL WINS 9/10 DIVISION III TITLE!!!!
Monday 7/28 @ 6pm (if Necessary)
OVLL 9/10 v. Moorpark LL
2014 All Star Banners
2011 Little League World Series Champions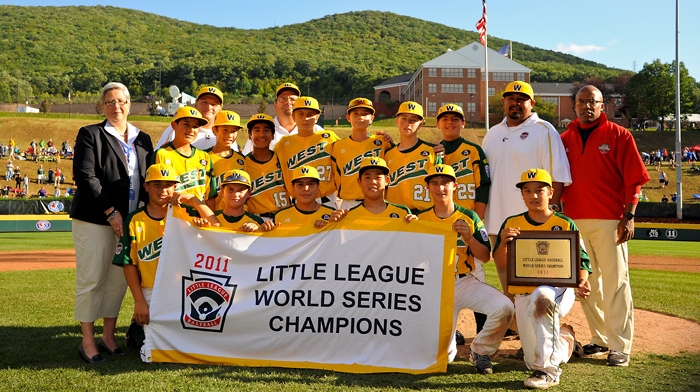 ---



Click

HERE

to sign our Guestbook
---
Little League and OVLL are non-profit organizations