Home of the 2011 Little League World Series Champions: Welcome
OVLL Spring Season
Welcome back OVLL family! We hope you had a fun and relaxing spring break. Now it's back to baseball!
In Majors action it was Jake Vogel of the Red Sox who knocked out his second home run on Monday.
And our boys of our 50/70 teams filled the skies with their bombs. Eli Duval and Danny Duarte of the "Rednecks" hit their first home run bombs of the season, and Aidan Knipe of the "Blue Bombers" hit his third home run bomb of the season.
And in Minor A action, Jordan Cole of the Iron Pigs hit his first home run bomb of the season.
Nice hittin' guys! Congratulations!
Sportsmanship Awards Day is this Saturday, April 26. Click on the Sportsmanship Awards Day schedule for your team's time. We ask each team to arrive 10 minutes before their scheduled time. Your team parent will issue your Carl's Jr. food tickets this week.
OVLL Weekly Weather Forecast
Mon Apr 21 66 Partly Cloudy
Tue Apr 22 64 Partly Cloudy
Wed Apr 23 65 Mostly Sunny
Thur Apr 24 65 Mostly Sunny
Source: National Weather Service
Thursday, April 10
2014 Sportsmanship Awards
Managers, it's time to select your 2014 Sportsmanship Award recipients! This year's event will be held on Saturday, April 26.
Please read the following guidelines to assist you in making your decision; and take time to reflect on the words you will write to describe your player, as your words will be read out loud to everyone in attendance. You will be giving our kids a treasured memory for the rest of their lives.
Little League coaches make a tremendous impact on the lives of their players and have the ability to instill self-worth, confidence and life skills that players carry for years to follow. Here are a few guidelines to consider:
- Sportsmanship is not defined by talent or skill sets but character, attitude, and hustle.
- Who gives encouragement through failures?
- Who is coachable, bringing a positive energy to practices and games?
- Who is dedicated to the team?
Please provide your player's name and completed OVLL Sportsmanship Nomination Form to Joy Madole by April 21. You may email Joy at joymadole.hw@gmail.com or you may print and place the form in Joy's folder in the snack bar. For questions, contact Joy at 714-402-6222.
As we celebrate the true spirit of sports and competition, please join us on April 26 to honor our kids as they receive their award.
Thursday, April 10
LLBB Passes League Age Rule with Three-Year Implementation Period
"Your letters to Little League were heard" were the words from our District Administrator who attended the Little League Baseball International Congress that convened this past weekend in Minneapolis. "Item 2" on the Congress agenda involved a rule change to the league age determination date, extending the date to Dec. 31. The proposed rule change was passed.
Prior to the vote, the Congress was overwhelmed by letters, emails and phone calls from parents across the country, especially from our own West Region District 62, urging the delegates to vote against the rule change. Little League President and CEO Stephen Keener acknowledged the amount of concern expressed from parents regarding the rule change. As a result, the delegates voted on and passed an amendment to the rule change that it would not go into effect until after a three-year transition period.
Recap:
• The new league age rule goes into effect in 2018
• League age is the age that your child is at any time in the calendar year regardless if it falls in the spring season or not
• In other words, if your child's birthday is after May 1, that is the "league age" of your child for the spring season that same year
• So 11 year olds who turn 12 after May 1, are now league age 12 for that spring season, playing their 12 year old year as an 11 year old
• International countries have been playing under this rule. The rule change brings the US into conformity with other countries
"I'd like to thank all of our families who wrote to Little League Baseball to express your concerns about the rule change," said Toby Reece, Ocean View Little League president. "Your voices made a tremendous impact on the decision by the Congress to, at least, amend the rule with a three-year period before the change goes into effect. Though we are very disappointed with the rule change, we are already working on a solution that will enable our league age 13 year olds to continue playing at Ocean View."
For more info, go to the Little League Baseball Website: http://www.littleleague.org/media/llnewsarchive/2014/January-April/2014CongressVotingResults.htm
Wednesday, April 16
Cardiac Screenings April 26 at OVHS
You've read the headlines: a young athlete dies from a sudden cardiac arrest while playing a sport. But did you know that a young athlete dies every three days in the US from sudden cardiac arrest? A tragedy that, for the most part, is preventable through early detection.
OVLL is supporting non-profit organization Heartfelt Cardiac Projects that will offer cardiac screenings for kids and their families. On April 26, at Ocean View High School, for only $85 (a value of $1,500 of professional diagnostic services) individuals ages five and up will receive a comprehensive cardiac evaluation to pre-screen for this life-threatening condition.
For more info or to sign up for an appointment, view the Cardiac Screening Flyer
2011 Little League World Series Champions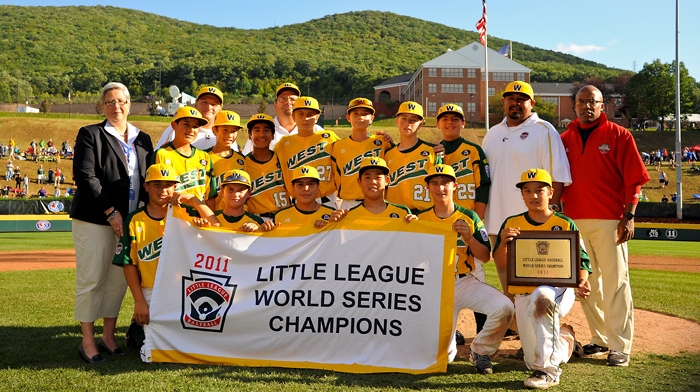 ---



Click

HERE

to sign our Guestbook
---
Little League and OVLL are non-profit organizations