Home of the 2011 Little League World Series Champions: Welcome
OVLL Winter Ball Season
Our 2014 OVLL Winter Ball season is in full swing and our kids look great out there. We'd like to welcome our new OVLL families and welcome back our returning families. We'd also like to give a special OVLL welcome to our visiting teams and families from our fellow District 62 leagues.
And a big "thank you" to all of our wonderful volunteers for supporting our Winter Ball season who are serving as managers, coaches, umpires, team parents, field maintenence teams, snack bar servers, officers of the day, and other important roles that enable OVLL to continue providing the best possible Little League experience to our kids and their families. THANK YOU EVERYONE!
We look forward to seeing you out at the fields on Sundays for games at Noon and 2:30 p.m.
Lifeletics Fall Clinics
Lifeletics is again offering its $99 Fall Skill Clinics. These highly-acclaimed clinics feature training in hitting, pitching, catching and beginning baseball (for players just getting started in skill development). Each series is comprised of four, one-hour workouts with Lifeletics' staff of professional instructors who teach sportsmanship and baseball in a fun, positive and fundamentals approach.
Catching Clinic
Mondays 4:15-5:25 p.m.
Session 1: 10/13-11/3
Session 2: 11/10-12/1
Hitting Clinic
Tuesdays 4:15-5:25 p.m.
Session 1: 10/14-11/4
Session 2: 11/11-12/2
Beginning Baseball (4-7 yrs.)
Wednesdays 4:15-5:25 p.m.
Session 1: 10/15-11/5
Session 2: 11/12-12/3
Pitching Clinic
Fridays 4:15-5:25 p.m.
Session 1: 10/17-11/7
Session 2: 11/14-12/12 (Off 11/28 Thanksgiving Holiday)
Registration: https://lifeletics.com/registration/fall-skill-clinics-registration/
More information: http://lifeletics.com/
Flyer Link: https://lifeletics.com/wp-content/uploads/2012/09/Fall-Clinics-2014.pdf
Contact Lifeletics at:
714-843-1989; team@lifeletics.com
16702 Burke Lane, Huntington Beach CA 92647
Sunday, July 27
OVLL WINS 9/10 DIVISION III TITLE!!!!
The OVLL 9/10 All Star Team completed its PERFECT Post-Season run with the Division III Title in Lompoc, CA. The team battled with Moorpark LL in a best 2 out of 3 series. OVLL took the first game with a walk-off victory and the second one with a hard fought 9-2 victory to capture the Division III Title (aka State Title). Along the way the team collected the District62 Title, the Section10 Title, the Sub-Division Title and the Division III Title! We are so proud of you all, players and coaches too!
Your Undefeated Champions are: Samuel Cohn, Cade Hart, Matt Hernandez, AJ Hurtado, Evan Knipe, Daniel Kotkosky, Jimmy Legg, Chad Lux, Kai Mullens, Riley Reece, Jack Rockefeller, Jack Smith, Antonio Ventimiglia.
Your Coaches: Manager Dana Lux, Andy Hurtado and Art Hernandez.
Congratulations Division Champions!!!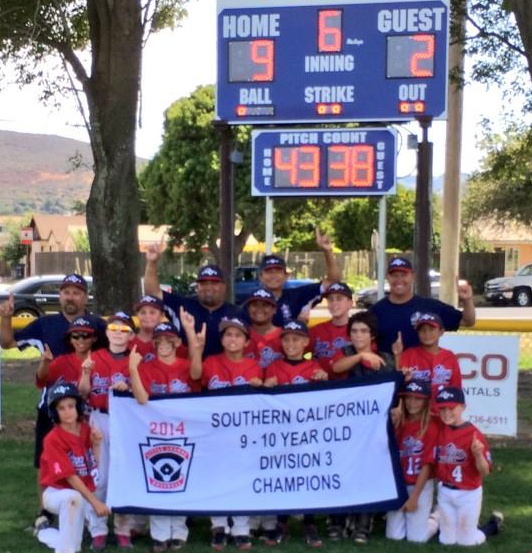 Sunday, July 27
2014 9/10 Division III Tournament Schedule/Results from Lompoc, CA
Saturday 7/26
OVLL 9/10 All Stars defeated Moorpark LL; 11-10 (Walk-off)
OVLL takes a 1-0 lead in the best of three series!
Sunday 7/27 @ 1pm
OVLL 9/10 All Stars defeat Moorpark LL; 9-2
OVLL WINS 9/10 DIVISION III TITLE!!!!
Monday 7/28 @ 6pm (if Necessary)
OVLL 9/10 v. Moorpark LL
2014 All Star Banners
Thursday, July 24
OVLL 9/10 All Stars Capture Sub-division Banner
The OVLL 9/10 All Stars team keeps rolling. On Wed. night, they captured the Sub-division banner by defeating Encinitas LL by the score of 12-0 in 4 innings. With the victory, the team punched its ticket to the Division Championship Series in Lompoc this weekend (7/26-28). Way to go OV!!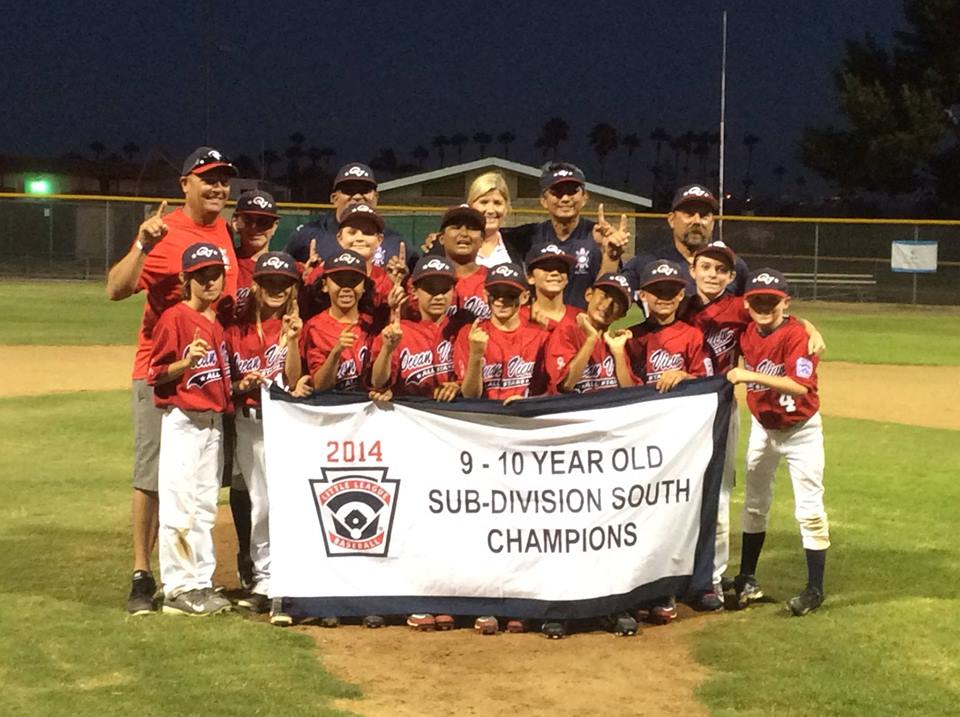 Thursday, July 24
2014 All Stars Sub-Division Schedule/Results from San Diego
Thursday 7/24 Games
OVLL 11/12 All Stars eliminated by Encinitas LL (Sect.6); 9-4
Great season boys, State semi-finalists! We are proud of the run you made!

Wednesday 7/23 Games
OVLL 11/12 All Stars defeated Encinitas LL (Sect.6); 6-4
OVLL 9/10 All Stars defeated Encinitas LL (Sect.6); 12-0 (4 inn)
OVLL wins 9/10 Sub-Division Championship; advance to play for 9/10 Division/State Title!!!
Tuesday 7/22 Games
OVLL 11/12 All Stars eliminated Sweetwater Valley LL (Sect.7); 6-3
Monday 7/21 Games
OVLL 11/12 All Stars eliminated Vineyard LL (Sect.8); 15-4 (4 inn)
Sunday 7/20 Games
OVLL 11/12 All Stars lost to Sweetwater Valley LL (Sect.7); 11-8
OVLL 9/10 All Stars defeated Encinitas LL (Sect.6); 5-1
Saturday 7/19 Games
OVLL 11/12 All Stars defeated Canyon Lake LL (Sect.9); 7-4
OVLL 9/10 All Stars defeated Chula Vista LL (Sect.7); 7-4
Friday 7/18 Results
OVLL 9/10 All Stars defeat Vineyard LL (Sect.8); 13-3 (5 inn)
2011 Little League World Series Champions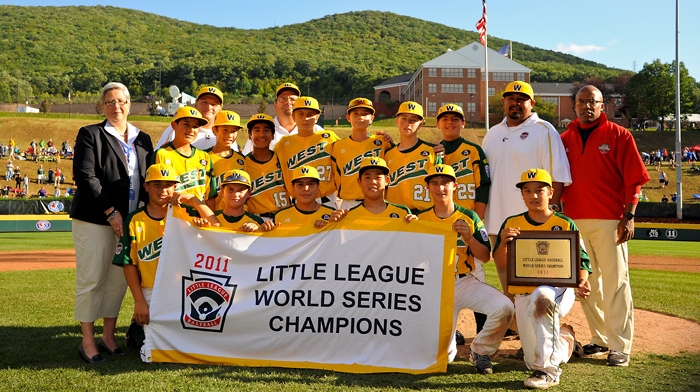 ---



Click

HERE

to sign our Guestbook
---
Little League and OVLL are non-profit organizations