Home of the 2011 Little League World Series Champions: Welcome
Click the button for Registration Information and Application!
2015 Spring Season Tryouts

Saturday, Jan. 10 and Sunday, Jan. 11 at OVLL Majors and Minor A Fields
For all players who will be League Age 8 or older.
2015 Spring Season Opening Day
Saturday, Feb. 28 at OVLL Fields
OVLL Fields Closed
The OVLL fields are now closed in preparation for the spring season.
Lifeletics December Training Camp at OVLL
Lifeletics is once again holding their winter baseball training camp at OVLL. Join their professional instructors for five days of training to prepare for the spring season. This popular and highly acclaimed camp is taught in a fun and positive small-group environment where the ratio of "players to instructor" is kept to 6 to 1.
When: Dec. 27 - 31
Where: OVLL Fields
Time: 9 am - 12:30 p.m.
Price: $199 per player
*Early Bird Discount – Sign up before Dec. 1 and receive $15 off the registration
*Special pricing for groups of five or more, click here
Click here to Register Online
Click here for More Information
Or contact Lifeletics at: (714) 843-1989, team@lifeletics.com
Meet the Lifeletics Coaching Team
Ruben Corral – President of Lifeletics; five years Toronto Blue Jays
Chris Malec – Six years New York Yankees; coach at Saddleback College
Bryan Nicholson – Three years San Francisco Giants; coach at Concordia University
Richard Mercado – 10 years professional, five years Arizona Diamondbacks
Mike Thompson – Eight years Houston Astros
John Sothern – Head coach La Habra High School
Brandon Cox – 11 years Lifeletics coach
Nick Cappucilli – Assistant coach Santa Margarita High School
Tommy Palica – Five years Atlanta Braves
Brian Rauh - Washington Nationals minor league pitcher
Jeff Rauh – St. Louis Cardinals minor league pitcher
Josh Fuentes - Colorado Rockies minor league infielder
Sunday, July 27
OVLL WINS 9/10 DIVISION III TITLE!!!!
The OVLL 9/10 All Star Team completed its PERFECT Post-Season run with the Division III Title in Lompoc, CA. The team battled with Moorpark LL in a best 2 out of 3 series. OVLL took the first game with a walk-off victory and the second one with a hard fought 9-2 victory to capture the Division III Title (aka State Title). Along the way the team collected the District62 Title, the Section10 Title, the Sub-Division Title and the Division III Title! We are so proud of you all, players and coaches too!
Your Undefeated Champions are: Samuel Cohn, Cade Hart, Matt Hernandez, AJ Hurtado, Evan Knipe, Daniel Kotkosky, Jimmy Legg, Chad Lux, Kai Mullens, Riley Reece, Jack Rockefeller, Jack Smith, Antonio Ventimiglia.
Your Coaches: Manager Dana Lux, Andy Hurtado and Art Hernandez.
Congratulations Division Champions!!!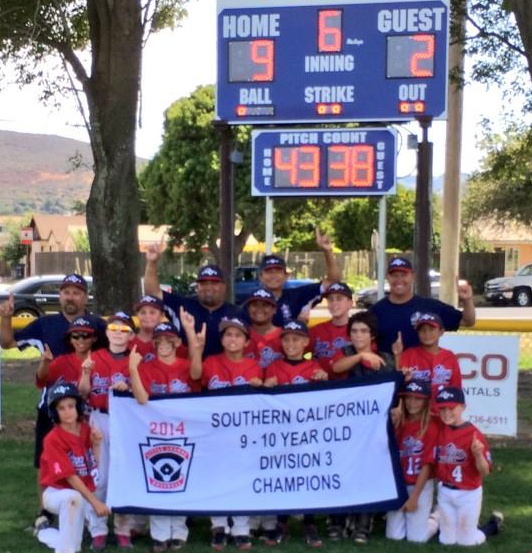 Sunday, July 27
2014 9/10 Division III Tournament Schedule/Results from Lompoc, CA
Saturday 7/26
OVLL 9/10 All Stars defeated Moorpark LL; 11-10 (Walk-off)
OVLL takes a 1-0 lead in the best of three series!
Sunday 7/27 @ 1pm
OVLL 9/10 All Stars defeat Moorpark LL; 9-2
OVLL WINS 9/10 DIVISION III TITLE!!!!
Monday 7/28 @ 6pm (if Necessary)
OVLL 9/10 v. Moorpark LL
2014 All Star Banners
Thursday, July 24
OVLL 9/10 All Stars Capture Sub-division Banner
The OVLL 9/10 All Stars team keeps rolling. On Wed. night, they captured the Sub-division banner by defeating Encinitas LL by the score of 12-0 in 4 innings. With the victory, the team punched its ticket to the Division Championship Series in Lompoc this weekend (7/26-28). Way to go OV!!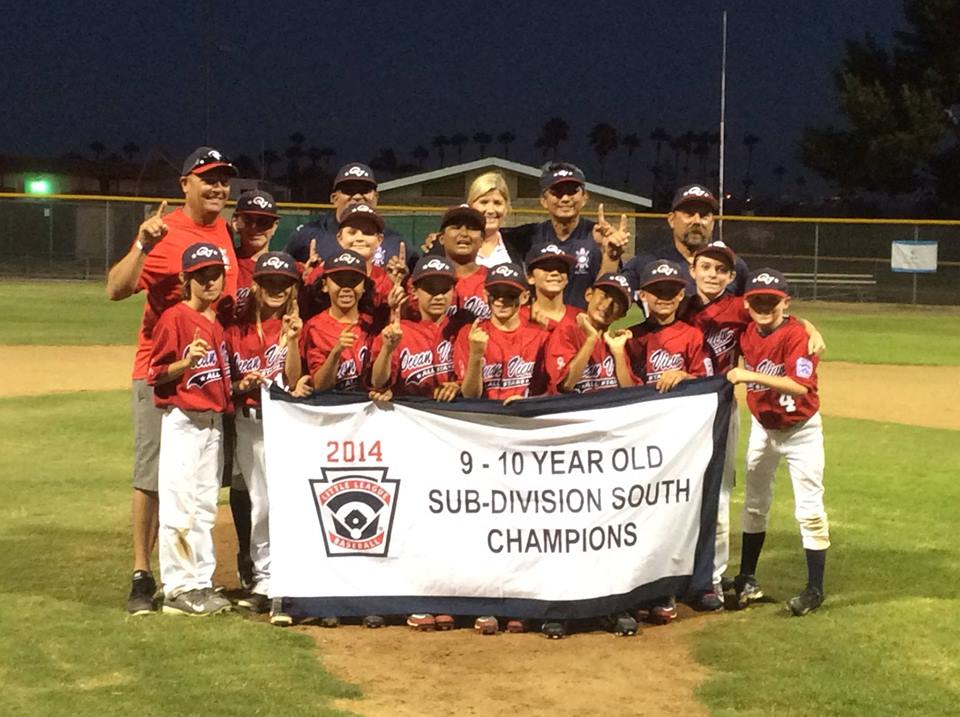 Thursday, July 24
2014 All Stars Sub-Division Schedule/Results from San Diego
Thursday 7/24 Games
OVLL 11/12 All Stars eliminated by Encinitas LL (Sect.6); 9-4
Great season boys, State semi-finalists! We are proud of the run you made!

Wednesday 7/23 Games
OVLL 11/12 All Stars defeated Encinitas LL (Sect.6); 6-4
OVLL 9/10 All Stars defeated Encinitas LL (Sect.6); 12-0 (4 inn)
OVLL wins 9/10 Sub-Division Championship; advance to play for 9/10 Division/State Title!!!
Tuesday 7/22 Games
OVLL 11/12 All Stars eliminated Sweetwater Valley LL (Sect.7); 6-3
Monday 7/21 Games
OVLL 11/12 All Stars eliminated Vineyard LL (Sect.8); 15-4 (4 inn)
Sunday 7/20 Games
OVLL 11/12 All Stars lost to Sweetwater Valley LL (Sect.7); 11-8
OVLL 9/10 All Stars defeated Encinitas LL (Sect.6); 5-1
Saturday 7/19 Games
OVLL 11/12 All Stars defeated Canyon Lake LL (Sect.9); 7-4
OVLL 9/10 All Stars defeated Chula Vista LL (Sect.7); 7-4
Friday 7/18 Results
OVLL 9/10 All Stars defeat Vineyard LL (Sect.8); 13-3 (5 inn)
2011 Little League World Series Champions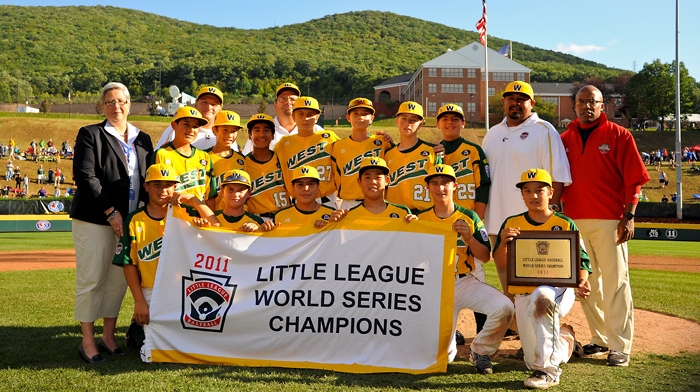 ---



Click

HERE

to sign our Guestbook
---
Little League and OVLL are non-profit organizations