Home of the 2011 Little League World Series Champions: Welcome
Click the button for Registration Information and Application!
HBHS Player Clinic a Success!
We'd like to thank the HBHS baseball team for coming out this weekend to help get our kids ready for the spring season. Our kids and families had such a great time! We wish our Oilers the best of luck in the national high school tournament in South Carolina! GO HBHS Oilers!!!
Sporting Good Stores Discount Days
OVLL partners Sports Authority and Dick's Sporting Goods are once again holding their annual OVLL family discount days. Refer to the links above to download their coupons. We'd like to thank Sports Authority and Dick's for their continued support to our league and our families. THANKS GUYS!
Lifeletics Annual Coaches/Players Clinic Feb. 7
We are fortunate to, once again, have the professional staff from Lifeletics come out to OVLL to hold their annual "Coaches/Players Clinic" on Saturday, Feb. 7, from 9 am - 11:30 am. Coaches learn how to develop practice plans and teach kids the fundamentals of baseball mechanics. Kids learn the fundamentals of fielding, throwing, batting, base running and other aspects of the game.
The coaches training is free. The cost for players is $30 per player by Feb. 4 ($40 after Feb. 4)
Download the clinic flyer to sign up.
Field Maintenance Day Feb. 14
Our annual "Field Maintenance Day" is scheduled for Saturday, Feb. 14, from 9 am to Noon. This is where all available parents can come out to restore and groom our fields. Kids are also invited to pick up trash around the fields. Kids who come out will receive an "OVLL Community Service" certificate that they can use for school credit or college applications. Our fields need a lot of love, so come out on Valentines Day and give some love back to our fields that have given us much love over the years!
2015 Spring Season Opening Day
Saturday, Feb. 28 at OVLL
Sunday, July 27
OVLL WINS 9/10 DIVISION III TITLE!!!!
The OVLL 9/10 All Star Team completed its PERFECT Post-Season run with the Division III Title in Lompoc, CA. The team battled with Moorpark LL in a best 2 out of 3 series. OVLL took the first game with a walk-off victory and the second one with a hard fought 9-2 victory to capture the Division III Title (aka State Title). Along the way the team collected the District62 Title, the Section10 Title, the Sub-Division Title and the Division III Title! We are so proud of you all, players and coaches too!
Your Undefeated Champions are: Samuel Cohn, Cade Hart, Matt Hernandez, AJ Hurtado, Evan Knipe, Daniel Kotkosky, Jimmy Legg, Chad Lux, Kai Mullens, Riley Reece, Jack Rockefeller, Jack Smith, Antonio Ventimiglia.
Your Coaches: Manager Dana Lux, Andy Hurtado and Art Hernandez.
Congratulations Division Champions!!!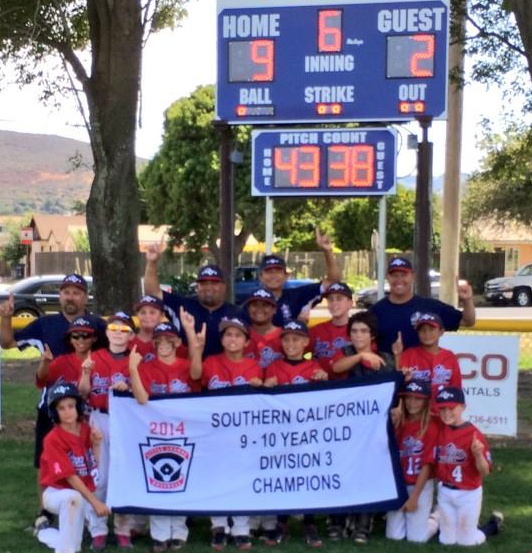 2014 All Star Banners
Sunday, July 27
2014 9/10 Division III Tournament Schedule/Results from Lompoc, CA
Saturday 7/26
OVLL 9/10 All Stars defeated Moorpark LL; 11-10 (Walk-off)
OVLL takes a 1-0 lead in the best of three series!
Sunday 7/27 @ 1pm
OVLL 9/10 All Stars defeat Moorpark LL; 9-2
OVLL WINS 9/10 DIVISION III TITLE!!!!
Monday 7/28 @ 6pm (if Necessary)
OVLL 9/10 v. Moorpark LL
2011 Little League World Series Champions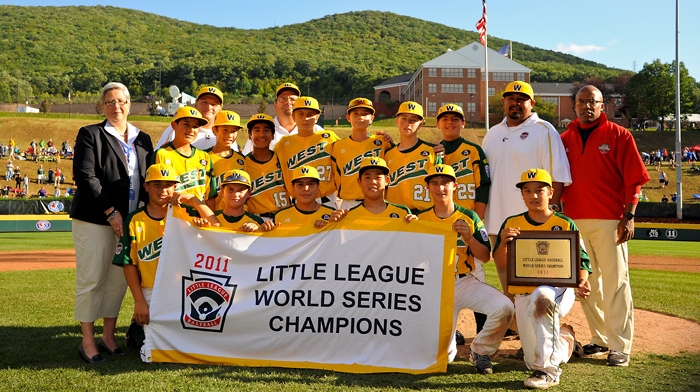 ---



Click

HERE

to sign our Guestbook
---
Little League and OVLL are non-profit organizations