Ouzo F.C: Ouzo News

From on the pitch, to sanctioned Ouzo events, Ouzo are always in the News.
Friday, January 15
OUZO FC win first double at the OSC
In case you were under a rock (that Steve may have thrown at some point) the world of OUZO FC started 2016 with a bang. Penalty shoot out winners(twice), double champions, t shirt wearers, shot sluggers, Pitchers swiggers, wing munchers and ultimately shirts off! It is now a fact.......someone get the tank! All in days work for Ouzo FC but it has to be said, It was in doubt through most of this topsy turvey final.
On the sidelines were a formidable support cast with alumni member Dodi, Gus 'I got a scan in the morning', JJ '2015 ouzo supporter of the year' and Mrs Behn 'I only do finals in my hooker boots' all in attendance.
With a late call off by Adam 'my wife is partying harder than me tonight', coach Wurthman 'being injured sucks' had to make some tough decisions before kick off. Ex defender Steve 'I have gone ouzo old school with a shot of rye before kick off' came back into the D to be in rotation with gay partner Andy 'any slide tackle will do' and stay at home defender ceca 'lets bomb on really'. Nesa 'the particulary angry serb who had forgot his ouzo white' was partnered by Jesse 'defend from the front by taking theirs ankles' up front. The rotation of Matt ' this is payback for last years final' and Stu' 12 years and still winning' gave the mid its steel and Brennan' goals is my middle name' and Jordan 'this is my first ouzo final win' providing the creative flair.
All seemed balanced and going well with Ouzo taking first blood. The ball was put down the right for Nesa to cross with a slight deflection Brennan was there to roof top corner. After a number of chances and many quality saves from their keeper, Ouzo would loose their concentration, positions and heads. In a crazy 10 min spell would squander the lead and ship 3 more goals. 4-1 and half time looming. With general anger, water bottles were kicked, fingers pointed and voices raised. Time to refocus.
The message was clear, we needed old time ouzo football. Give nothing up at the back, boss the mid and create havoc up top and give them no time. The next goal will change the game. And it did. Jesse' winning is better than losing' would lead from the front. With constant pressure on their back line and a couple of good hacks, CSC knew we would not give in.
Game changer. After a string of great saves by both keepers Ouzo would pop one in thanks to service once again from the right and Brennan knocking in low at the far post. Up stepped Matt to toe poke from the box. 4-3. Nerves jangling we pushed on and with 5 mins to go Nesa and Brennan would finally get on the same page to score. 4-4 and momentum with Ouzo FC. More of the same gets the win.
Unfortunately for Ouzo this was not the case and with 3 mins to go a mis-hit shot would deflect off the CSC player and into the net. 5-4. They think its all over....but wait. In the last minute, Nesa would finally solve the keeper from close range and put through his legs and score the tying goal and take us to penalties.
Stop. Neptune time! With Brennan and Nesa converting it was up to Mike to stop CSC. You could hear the boom as the CSC striker piled driver one at Mike only for the burly goalkeeper to take the full force off his chest and deflect back from the goal. Stu would step up for the final pen and the win. With tension at an all time high, he put it away like it was an ouzo shot. 3-1 and let the HIGH 5'S begin!!!
All that was left was the photos and the bar. Both of which were trending and well documented on email, text, twitter, FB etc during the night....including the $460 bar bill!
Jesse's MOM: Jesse ' that one has to hurt them' for his old school Ouzo work rate.
Its been a pleasure guys... Ouzo Gear and Double double???
ouzo4Life #9
Wednesday, January 6
OUZO FC win first ever penalty shoot out to go through to Final?
Ouzo FC finished 2015 as the Open Age OSC West (or 1st) Div Champions. This was something to be proud of, having been put in the 3rd div for the spring of 2015 and blooded in several new ouzo members this year.
So to the first days of 2016 and a push to the playoff final and a potential double. In our way were Windermere FC, who had lead the league most of the season and had beat us 2-0 last time out. This would be a tough game and only a team effort would give us a chance. Not only were wise words passed down from the 'Anderson think tank' but also back up support of Gus 'the Dr's still cant work out whats wrong' , Ruz 'waiting in the wings' and Nesa 'i will only play if you really, really really want me too' who were on the sidelines before kick off. The later, deciding half way though to get changed and play. This may have been because he was so excited to be involved and wear his Ouzo England white or it maybe due to the fact we went 2-0 down in 5 mins. Ouzo were not on their toes from the start and the team D let us down.
However, now we were warmed up and had nothing to lose. We starting pressing harder and turned the tide. With a corner won, the gap would appear on the top of the box for Ceca 'I love to play' to slot in a pile driver. 2-1. Tails up lets do this!! More pressure at the back and a quick pass to Matt' I am ouzo match fit again' who released Brennan 'the silent assassin' down the right and with a quick step not even seen on DWTS he'd pass the defender and square for Delaney 'i want this goal, i want this win, I WANT AN OUZO FINAL AND A T-SHIRT' to poke in. 2-2 half time.
Half time team talk would have been different without that goal but ultimately with Behn 'i need a ***e' in the stalls Delaney would come the fore and give out a plan.... go for the win!! Nesa slotting in up top with Jesse and Steve and keep the subs rolling. This plan seemed simple enough but half way through we would leave the back door open and with Mike screaming for cover the overlap was there and so was the goal. 3-2 down
Gut check time. In bizarre circustances, Behn would pull up injured after attempting his best Steven Gerrard impression and this would prove the TSN turning point. With Stu '1 pint slimmers delight' slotting back to D and Jesse 'MOM in tow' in the mid it allowed for a little more 'Nesa time' (not to be confused with fergie time) and serb would swivel and shoot with the only option for a defender to handball on the line. Red card, 5 min pen and penalty shot. Brennan would step up and dispatch. 3-3.
5 on 4 gave us the overlap on the right side for Stu to cross and nesa to finish. 4-3 and nose in front! But with a penalty of our own we gave back the advantage and the lead 4-4...straight to Pens. Time for keepers to step up and with Mike' get that monkey of my back' making 3 huge saves ...Ouzo would prevail 2-1 and take their place in the final and the pub for beers, wings and the end of the NFL reg season in which Rusnov won ... again!!
Jesse MOM: TBA
The final will be next week at 9pm. Assuming all are in, management will be looking at the team plan for our first double at the OSC!!!!
ouzo4life #9
Sunday, December 11
Ouzo come from behind to pull off another win
Ouzo (4) vs. Mississauga United (3)
SOCCER CITY: ETOBICOKE - Ouzo FC kept their unblemished season going with a tenacious come from behind victory over a physical Mississauga United squad by a score of 4-3. Despite being down 2-0 at halftime, Ouzo did not panic and scored a quick goal to start the half which made it 2-1. Ouzo would pull even before United responded to take a 3-2 lead. Then with Ouzo staring a possible defeat in the eyes, the boys in blue re-focused and scored a pair of goals in the final 8 minutes to claim victory. Man of the Match went to the Tango 12 which recorded its first victory representing Ouzo FC.
Next match action is Sunday at 1045pm versus Ukraine United. This promises to be a tough match as the Ukraine sit in second place and still harbor thoughts of catching Ouzo FC for first place and the much fancied banquet. A victory by Ouzo essentially sews up the league.
Monday, November 21
The Ouzo Report
Ouzo (4) vs Ukraine United (3)
Soccer City: Etobicoke - In a match that hearkened back to the early years of Ouzo FC, the boys in blue prevailed over a passionate Ukraine side by a "nose" in an action packed match with a final score of 4-3. It was a battle that was not decided until the final minute when Jesse "SchnitzelHawk" Geisel swooped in to cause a turnover that landed on the foot of Nesa "MCM MVP" Stefanovich who in turned poked the ball to a wide open Geisel who calmly placed it in the onion bag with a scant 40 seconds remaining.
Next match is Sunday at 730pm versus Big Hearts who have a halter-top wearing Paul Murray returning to the fold. See ya then!
Sunday, October 16
Ouzo start the season off strong
Ouzo (9) vs. Big Hearts (4)
SOCCER CITY: ETOBICOKE - Smiling faces, tall tales and laughter could mean only one thing --- The Boys of Autumn & Winter are back! Ouzo FC began defense of their league championship with a thorough beat down of Les' Lackey's by a score of 9-4 in the season opener at historic Soccer ***ty.
Led by 5 goals from the "3 boys in the back-end" (not nearly as gay sounding as the way one player was looking wearing pastel's in the prelim pick-up match before the cabbies.) Ouzo was able to get off to a solid start to the season. Despite a couple of defensive lapses, Ouzo was by far the superior side.
Special recognition to Mike Mic-a-ladies-man, who scored his first Ouzo goal as a proud papa!
Post-match is up to Wingers for a few pints. Entertainment was provided by Christian and Alexa Anderson as they wrestled each other from pillar to post. The Guinness was going down well, and then the theme music came on for the season debut of Nesa's Corner. This particular Corner was titled: Ma Vida Loca. The Life and Times of Mario Ruiz.
Monday, October 24
Rookie leads Ouzo FC with a hat-trick in agme 2 of the session
Ouzo FC (5) vs Ilenden (3)
SOCCER CITY - ETOBICOKE: Just like being at a bar at closing time, it wasn't pretty but the job got done. Ouzo FC kept their winning ways going to start the 2011 Fall Session with a 5 3 victory over division 1 newcomer Ilenden. Spurred on by the debut hat-trick of newly signed Deni O'Rielly, Ouzo managed to put away a stubborn Ilenden squad. Other tally's went to Miro and Gus.
It was a frantically paced match which was reminiscent of the old school Ouzo days. In the end Ouzo just had a little too much for the opposition. Going forward though Ouzo needs to play a more ball possession style in order to put away inferior opposition. Work for and with each other and the results will be there.
Next match action is on Sunday October 30th at 820pm vs. The United Serbs. This is another newcomer to division 1, but will give the Ouzo squad a real test.
Regards.
Robby Ruz
Sunday, March 7
Ouzo enter US Indoor Nationals
US Indoor National Roster - 2010
CANTON: MICHIGAN: Ouzo F.C took their show on the road this year by entering the US Indoor Nationals (Over 30 Division). The event was in Canton, Michigan at High Velocity Sports, a mega Indoor Soccer Facility with 3 full sized pitches and two practices pitches. It was a 2-Day tournament that featured some top teams in various age divisions.
Ouzo assembled a team that could not only do well on the field, but create havoc of the field as well. It all started with a 12pm gathering at the carpool lot in Milton. It was their the boyz got their first taste of "Late Nate". Their star striker, previously known for his goal scoring abilities, became known as "Late Nate". The team set off with a mini-van and Delaney's car off to their first "out-of-country" tournament.
With the tournament not starting until Saturday afternoon, the team picked up tickets to a Detroit Red Wing game on the Friday night. The Red Wings faced a Nashville Predator team and finished victorious, beating them 5-2. The event night featured the first ever "Ouzo Celebrity" picture (Ouzo player wearing Ouzo gear with a celebrity)when Behn and Stu got their picture taken with recent Canadian figure skating Gold Medalists "Tessa Virtue and Scott Moir". The game was a great way to kick start the weekend.
Quote by PK:
"Coming back up to our seats at redwings with beers I got held up until a break in the play and Detroit scored. As I turn to head up to our seats I see stuey, arms up in the air, head tilted to the side with his eyes closed in celebration far to passionate for a redwings game. It was a wonderful sight to see."
Later that night, the boys continued to drink and prove "Our drinking team has a soccer problem" ©. With a late game in the afternoon, the boys took advantage and enjoyed their time away. Happy Spence, "The green Buffett" and "Angry Delaney" led the charge that night putting together a solid off-field performance. Delaney leading the charge, somehow got his hands on a "cargo Van" to grab a few teammates to really get things going. The night finished with a classic video of Rusnov doing his daily sit ups at 3AM…not a pretty sight (Video to prove it)…Chocolat
The next morning the team set out for breakfast without a few players. "Gotta take advantage of this time away from the kids to sleep in" said PK. Funny coming from one of the few players who doesn't have to wake up for any rug ratz at home. The team made their way to the facility around 2:30pm for a first game at 4pm. The place was packed! Various vendors were spread out around the place: selling jersey's, boots, professional photography booth, etc. After getting settled, Management unveiled Ouzo's new Tournament jersey's – A White England kit with a Canadian flag on the sleeve to show the Americans where the top (smelling like booze) came from. The first game was against Dale's Bar and Grill. Final Score: Ouzo F.C (6) vs. Dales's Bar and Grill (3). Up next was against AAFC Elite, a team that just came off a 11-1 Victory in their first game. The boys knew they were in for a test. In a fast paced game, with many fans and players from other teams watching, Ouzo lost their first game of the tournament. Final Score: AAFC Elite (7) vs. Ouzo F.C (5). Of note, Stu Fletch scored the goal of the Tournament by chipping the keeper from his own half. Very similar to Beckham's goal when he was with Man. United, but indoor. Pure class!
After digesting the game, the players decided to head back to the hotel for a few beers and food. First up however, was a much needed hot tub. There were several people in the hot tub, but slowly player by player, Ouzo completely took over the hot tub. With beer in hands, the full team relaxed in a nice post game tub. Still disappointed with the result in the previous game, the boys were reminded that "win or lose, we still have our booze". The night ended after some food and a few "quiet ones" as the boyz were too tired after playing 2 X 40 Minute games (with no half time). Doesn't sound like a lot, but with boards, the game never stops. And that second game was about as fast as you could play.
It was day 3 in Michigan and the boys were well rested and ready to take home some hardware. Knowing they would likely face AAFC Elite in the final, they set out to win their 3rd game, while saving their legs for the final. Saving their legs is not "Ouzo Style". The team trounced an older team from Ohio (Internationals) Final Score: Ouzo F.C (9) vs. Internationals (1).
That set up a rematch of yesterday's game in the Final. Both teams looked ready, however AAFC brought out a new goalie and two new players that did not play the day before. One of which was a current Indoor Professional with over 10 years of pro indoor experience in the US. Ouzo had their work cut out for them. The game started fast and Ouzo jumped out to a 1-0 lead with a goal from Ouzo's only American, Mike Graston. The gritty midfielder saved his best game for last. That didn't stop the opposing team from Ann Arbour, Michigan. They fought back to tie it up. The game went back and forth and after forty minutes, AAFC Elite won 7-5 and grabbed the National title from Ouzo F.C. While the boys were disappointed, it was a hard fought match that could have gone either way. "if it wasn't for those new guys, we would have won" said Mike Pesic after the game. It was back to the hotel for some showers and then back home.
A few beers in the hotel after the game was a nice way to finish the weekend. On the way home PK reminisced by saying "I enjoyed it at the hotel after the final, it was rusnov's turn for the shower and big mike, after a night of violating his little Croatian friend in their tiny double bed and now standing bear chested in his underpants, says 'I'll join you in a minute rob'. you could see the fear in rusnov's eyes."
Overall a successful weekend for Ouzo's first "International" tournament. US Indoor Nationals Finalists! Not a bad way to finish.
Ouzo4Life
Saturday, April 4
3rd Annual OUZO - TFC DAY
BMO Field - Toronto: The word out of the Ouzo camp is that the Team will be having their 3rd Annual Ouzo - TFC Day on Saturday, April 4th 2009. This will be the first Home Game for Toronto FC in 2009. Management from Ouzo FC was unavailable for comment.
TFC - OUZO Events are known to be legendary.
More details to follow.
"We have been training our staff all winter for this" said Lee, the Head of security at the Brazenhead Pub. "This Ouzo thing has really caught on fire during the TFC games".
We don't know what this "Ouzo thing" is, but the lads will all be out supporting their team (along with supporting Carlsberg in the infamous Beer Garden)
Before this Huge event, Ouzo will be crowned Division 1 Champions of the Fall Session on Friday, March 6th at Wingers. Stay tuned for pictures.
Ouzo4Life
Tuesday, February 24
Another Canadian signing for TFC
Toronto FC announced Tuesday that they have acquired defender Adrian Serioux from FC Dallas in exchange for Toronto's natural first round 2010 MLS SuperDraft pick and allocation money. Per league and team policy financial details were not announced.
"This is another great signing for our team," said manager, director of soccer Mo Johnston. "Adrian is a very strong defender plus we're adding another quality Canadian player to our roster. We're excited to get him in here and have him start working out with the rest of the team."
Serioux, 29, was originally selected by Toronto FC in the MLS Expansion Draft on November 17, 2006. He was traded later that same day to FC Dallas in the deal that brought midfielder Ronnie O'Brien to Toronto. Serioux is entering his fourth season in Major League Soccer after playing two in Dallas, and his rookie season in Houston with the Dynamo.
Used both in central defense and the center of the midfield with Dallas he started all 34 games he appeared in during his two seasons in Texas. His career-high four assists in 2008 were good for second on the team behind Andre Rocha's eight. In 2006 with Houston, he appeared in 20 games, making 15 starts and scored one goal during the regular season. He also appeared in all four of the Dynamo's postseason games, helping lead the club to their first MLS Cup Championship.
The Canadian started his career with the Toronto Lynx of the A League in 2001, was named the Defensive Player of the Year that season, and earned a spot on the League's All-Star team. In 2004 he signed a two year contract with Millwall of the English League Championship.
A member of the Canadian National team, he made his debut for the squad as a substitute against Guatemala in the semi-final round of FIFA World Cup Qualifying on August 18, 2004. He currently sits with 19 caps for the Senior team.
The Scarborough native attended Pope John Paul II high school in Toronto where he also played basketball, volleyball and ran track. He was a member of Malvern Soccer Club while growing up and led them to five Provincial Cups and one National Championship. After graduation he played one year at the University of New Haven in Connecticut.
Adrian Serioux #15
Position: Defender
Height: 6-0
Weight: 190
Birthdate: May 12, 1979
Hometown: Scarborough, ON
Nationality: Canadian
Friday, December 12
De Ro Comes home...
Dwayne De Rosario is going home.
The dynamic Canadian international midfielder was dealt to Toronto FC for defender Julius James and an allocation in a blockbuster deal with the Houston Dynamo on Friday afternoon.
"Dwayne is a player we've admired for quite some time. When the chance came to work with Houston to get this deal, we were obviously very happy," TFC director of soccer Mo Johnston said in a team-released statement. "He's a wonderful talent and I hope all of our supporters are as excited as we are that Dwayne is now a member of Toronto FC."
De Rosario, who hails from nearby Scarborough, Ont., began his professional career with the Toronto Lynx and spent three seasons with the Dynamo, winning back-to-back MLS Cups. He was named the MVP of the 2007 MLS Cup for the second time in his career after scoring the winning goal in the 74th minute.
De Rosario also won MLS Cup titles with the San Jose Earthquakes in 2001, scoring the golden goal, and in 2003.
"2001 was very special to me because it was my first year in the league," De Rosario said. "Frank Yallop gave me the opportunity to be involved in this league and I went on to score the winning goal for San Jose to win the MLS Cup for the first time in their history. That really marked my name in the league and it is a moment I will never forget."
De Rosario, who has scored 15 goals in 49 appearances for the Canadian National Team, has never hidden his admiration for Toronto or his desire to play there - one day. That day has come.
"Being born in Scarborough and growing up in the Toronto area, it is great to have professional soccer here," De Rosario said. "The support that Toronto FC gets is amazing. The fan base is tremendous and they are passionate, knowledgeable fans."
The 30-year-old had that chance in July when the MLS All-Stars took on West Ham United of the English Premier League. De Rosario came on in the second half to score what proved to be the game-winning goal in a 3-2 win for the MLS All-Stars.
"It's definitely a dream come true, scoring in a game of this magnitude," De Rosario said after the game. "This game is huge. People don't realize how big this is because this is an opportunity to showcase our talent throughout the world and show them how good this league is."
While Toronto FC gains a marquee name and one of the best attacking midfielders in MLS, Houston welcomes a solid center back in Julius James, a 24-year-old from Trinidad and Tobago who played 13 games for TFC, scoring one goal this year, and a sizeable allocation.
James is expected to replace Bobby Boswell, who is out of contract and reportedly interested in a European move.
"This move is in the best interest of everybody and now gives the Dynamo real opportunity to address a number of its off-season goals," Dynamo coach Dom Kinnear said. "We are receiving a bright young talent in Julius James, and now have great salary cap flexibility to bring in players that can add to our strong base."
Monday, December 8
Tough D shuts Down the Shooters
Ouzo (4) vs Icon Shooter (2)
SOCCER CITY - ETOBICOKE: All eyes upstairs at the Wingers Lounge were focused on the match between the skilled Icon Shooters and Fan favourites OUZO F.C. After about 12 minutes of hard fought action the Shooters Number 9 made a sneaky play along the boards to flick home the first Goal of the contest. Minutes later OUZO equalized with and outside shot from "Ears and Beers" Ouzo F.C. Number 5 Steve Delaney. The soccer gods were smiling as Delaney's shot bounced off two Icon Shooter before hitting the back of the net. 2 penalty kills later Ouzo stormed into the second half with a quick goal by Matt Geary from Stu Fletcher!. After another penalty kill Ouzo's fearless leader Rob Anderson blasted home a volley from Gus Polyemeros that saw the shooters back break as Ouzo went up 3 to 1.
After some more hard tackles the Shooters had no answer up top for the Sac attack as they became more frustrated with the physical play of Ouzo's defensive core and the stellar play of their veteran keeper Andrew Spencer! Spencer had his best outing of the season so far and kept Ouzo in the game by turing away blasts from point blank range to complete a truly inspiring performance. To Stick the final nail in the coffin, Ouzos top striker Gus " Holy *** I am engaged and I can't wait to have my big fat greek wedding" Polymeros blasted home a well timed ball from Behn Wurthmen. Wurthmen powered in with the ball all the way from the back capping off a 2 point night for the flashy defensemen!!!
After what else - another penalty, The Shooters were able to notch another goal, but that would be it, as Ouzo had to much class this day for them. The League should be looking into point shaving allegations and unfair calls from the Official, who seemed to throw every call the Shooters way.
Up stairs in Wingers beers flowed but there seems to be an issue with the missing bottle of OUZO and their number one fan " I have Already seen Sac's main vein" Jane, who was also missing. Maybe she is off somewhere with a bottle of Ouzo and a throw back Sachitiello jersey with finger cramps from all the diddling!!!!


Truley a pleasure to be part of such a night lads, thank you!!!!!
Delaney OUZO #5
Monday, December 1
Ouzo stay undefeated after a WIN versus Team Korea
Ouzo (12) vs Team Korea (4)
SOCCER CITY - ETOBICOKE: It was another great performance for Ouzo FC this past Sunday, as they disposed of Team Korea to run their Unbeaten streak to 6! Ouzo scored 12 goals tying a team record, en route to their 4th win of the season, and sole possession of first place a-top Division 1, following a Raging bulls win over the Icon Shooters. Gus Polymeros continued his fantastic season form scoring a hat trick, and Phil Kennedy came within inches of netting his first Ouzo hat trick, only to see the Korean International tip his shot just wide of the post. Another strong performance for the GAA league leader Andrew Spencer in the goal, handling 26 of 30 shots and was only beaten by a few defensive mental lapses as the game opened up.
Ouzo now face the Icon Shooters this coming Sunday, in a monumental game in the season. A win, sees Ouzo strong and confident heading into the remaining 3 games of the season on top the league. A loss and Ouzo will need help and some gritty performances to gain their first league Championship in over 5 years.
I would have some fantastic Wingers stories to add to the write up, but I was DD this week, which means that all the fun the lads were having was multiplied to my soberness. Somehow the only week I'm sober, we managed Free Ouzo shots!! Way to go Sac.
Next game time: 10pm.
Sunday, November 23
Big Win for Ouzo vs SCL
SOCCER CITY - ETOBICOKE: Ouzo FC remained undefeated after a rather lacklustre but ultimately comfortable 8-3 win over cellar dwellers SCL. The mood was jovial in the change room pregame with two unnamed players (Sac and Delaney) admitting to breaking the '12 Hour' rule thanks to the discovery of an afterhours bar ( Jet Fuel?) and post volleyball tourney shenanigans respectively. If only two Ouzonians actually admitted to late nights, the look and breath of others indicated that most of the lads had been training hard on the last part of the 'blood, sweat and beers' ethos. Despite this typical Ouzo overindulgence the team started strongly with two quick goals on tidy finishes by Anderson and the newly engaged Polymerus. Rather than kill the game with a third, Ouzo preceded to concede three all too easy goals to go into the half trailing and in danger of dropping points to the as yet winless youngsters of SCL. But Ouzo is not just about beers.
A little blood, a little sweat, a half time team talk, and the fact that most of the booze and smoke had worked its way out of their systems, propelled Ouzo to a quick start to the second half with Rusnov equalling the score with a deft outside of the new Spence donated boot (why didn't we have a raffle for them?) finish . Anderson then set up PK for a cracker of a goal (there was talk of it being an own goal but that seems harsh) followed by a rocket of a finish by Delaney. Before SCL knew what hit them they had been Ouzanized and the game was essentially over but for seconds goals from Anderson and Polymerus and a clinical finish from Wurthman to wrap up the victory. Post game at wingers, Sac rekindled his blossoming romance with Jane and at the same time won the Spence donated Adidas training top Raffle.
In other news, plans for a Saturday Day/Night in Ouzoland Hockey tournament were postponed until the New Year as scheduling issues meant that Ouzo would have to play at Soccer City the following day. It was decided that this would be detrimental to on field performance as Ouzo captain, Rob Anderson, made clear when he explained that 'We have a problem, it is called Alcoholism'.
Next up for Ouzo is Team Korea Sunday, November 30th at 10:45pm.
pk
Sunday, November 16
Ouzo Share the Points with a New Look Raging Bulls
Ouzo (2) vs Raging Bulls (2)
SOCCER CITY - ETOBICOKE: Ouzo welcomed back midfielder Rob Anderson and defender Steve Delaney for there match against long time rivals Raging Bulls. In addition to new kits, the Bulls also added some new players from the ex 1st division side Mirage.
It was Ouzo who got on the scoreboard first with a nice bit of play that saw new boy Anthony Shaw set up defender Behn Wurthman for the fine finish. Still in the first half, Ouzo got their marking mixed up on several occasions. This led to 2 relatively easy opportunities for the Bulls which they had no problem finishing.
The first half ended with Ouzo down 2 goals to 1. A quick half time chat on the bench and Ouzo was ready to show the fans at SoccerCity that they are serious about winning the league this session.
The second half resumed with both teams coming out gangbusters. The match was quickly getter more physical as both teams were fighting to win every ball. This led to a 2 minute penalty for a player from each team. This was quickly followed by another penalty to the Bulls. Ouzo did not take long to take advantage of the numbers up situation. It was striker Anthony Shaw setting up his second of the night for Johnny Krilis who finished with a sweet left footed strike.
Down the stretch both sides had some very good opportunities to score but it was Ouzo who looked most likely to get the winner. Several fine counter attacks and quick passing sequences by Ouzo, created some great chances to take all 3 points. It was only the fine goalkeeping of the Bulls keeper Les that kept Ouzo from stealing the all the points at the end.
This will definitely make for an exciting return match in January 09.
After the match the Ouzo boys enjoyed some pitchers and wings upstairs at Wingers while they were entertained by Rob, Steve and Jessie's stories of fun in the sun.
Ouzo4Life
Thursday, March 20
5:05. A barrier has been broken.
Ouzo (11) Real Meadowvale (1)
SOCCER CITY - ETOBICOKE: Ouzo FC had not played well their last three games, losing twice to Mirage and to the Raging Bulls. Last night Ouzo took out their frustrations on FBC Meadovale, beating them 11-1. Led by Rob Anderson's 5 goals, Ouzo dominated the game and let it be known that they are now focusing on the playoffs. Rob Rusnov with 2, Steve Delaney with 2 (both left-footed), Stu Fletcher, & Johnny Krillis were the other Ouzo scorers.
After the match it was time to head to Ouzo's favourite post-game watering hole. Fueled by 7 free pitchers and a few pounds of wings, rings and fries, Ouzo went higher and further than ever imaginable, especially considering it was a Wednesdaynight/Thursday morning. This is where Ouzo joined such names as Roger Bannister for his sub 4 minute mile, Javier Sotomayor for his 8 foot high jump, and Bob Beamon for his 29 foot long jump. All these events were thought not to be possibe, that is until they happened. Led by a strong start from Spence, Stu, Jesse, Behn, and a rare final 3 apperance from Delaney, Ouzo was brought home by Anderson and Rusnov at 5:05AM to establish a new longevity record.
The years of training are paying off as Ouzo's brand of footy and saloon skills are looking like they are peaking as the squad heads to Welland for their annual Spring tournament.
Ouzo4Life
Monday, March 17
Raging Bulls (with The Croatian Assassin) beat Ouzo
Raging Bulls (5) vs Ouzo (2)
SOCCER CITY - ETOBICOKE: After coming off 2 heartbreaking losses to Mirage, Ouzo faced a surging Bulls squad who only had one loss going into the match.Ouzo showed up missing 5 regulars for the 3rd straight week, but were still confident. Especially after a 7-1 win versus the Bulls earlier in the season.
The game started well for the Bulls - going up 3-0 after 10 minutes of play. Being down early is something Ouzo has gotten used to and within minutes Ouzo got back into the game with goals from Anderson and Krilis. Ouzo's 2nd goal by Krilis came from an excellent individual effort from Ouzo's Stu Fletcher. The boys were starting to show signs of confidence and the Bulls were back on their heals. This momentum lasted into the second half until the ref took the game into his own hands. The Croatian Assassin (who has refereed in the league for several years) decided to pull his weight and fire out some undeserved cards. As a result, Ouzo finished the game with 3 yellows and a red card, all of which in the second half. Being down a man for most of the second half didn't bode well for Ouzo. And as a result, they lost 5-2.
After the game was a different story. The undermanned Ouzo squad ventured upstairs to enjoy a few pitchers and what has now been classified as "The BEST nachos in the City". Big thanks go out to the cook, who is the MVP upstairs at Wingers.
Up next is Real Meadovale. The newly promoted team managed by former Bulls player "Pete" may feel the wrath of Ouzo after losing to his former team. Game time: Wednesday night at 11:30pm. It's a must win situation to get back on track for the Ouzo Boys.
Ouzo4Life
Monday, March 10
Back-to-back loses to Mirage leave Ouzo in 2nd place
SOCCER CITY - ETOBICOKE: Ouzo FC currently sit in 2nd place after back-to-back loses to Mirage. After losing 2-1 in last weeks "Game of the week", Ouzo fall 3-2 in another nail biter.
Goals by Rob Rusnov and Johnny Krilis weren't enough to stop a surging Mirage, who are now the only undefeated team in Sunday's 1st division. Labeled as the most important game of the year, Ouzo jumped out to a 1-0 lead after a pretty passing play between Anderson, Alex and Rusnov. It was Rusnov's team leading 10th goal of the session. After reviewing the Ouzo archives, it has been confirmed that was a record for "fasting goal scored". The official time was 28 seconds into the game. "They didn't even touch the ball!" said midfielder Matt Geary after the game. It was a great start indeed, but Mirage kept the pressure on, which once again proved to be too much. Krilis notched his 1st goal of the season late in the 2nd half from a nice ball from Geary. The boys pushed hard for the final minutes, but just couldn't beat Mirage's keeper.
Ouzo face long time rivals - Raging Bulls next week, which should be another dog fight. Ouzo gave the Bulls their worst defeat of the year "7-1" earlier in the year. It is certain they will come out looking for revenge. Game time is set for 6:55pm at Soccer City.
Ouzo4Life
Monday, March 3
Ouzo FC fail to remain undefeated
Mirage (2) vs Ouzo FC (1)
SOCCER CITY - ETOBICOKE: On Friday the Ouzo squad easily defeated FC FREEDOM by the score of 10-1. An early goal by Freedom only angered OUZO as they stormed back with 10 unanswered goals!! Only two ouzo players missed the score sheet. The after match festivities continued upstairs to wingers as the team went late into the night.
A note must be made to the sad performance by defensemen Steve Delaney who only made the final 9, a season worst for him. "That's what happens when you bring a bowling ball out for the night, you get tired of carrying it" Delaney said as he left the bar!

Sunday however, was a different story on all counts. Ouzo clashed with the other undefeated team Mirage. An early goal put Ouzo on their heals for the first half. Great effort by Ouzo's keeper kept them alive until an unmarked man was able to get deep into ouzo territory and place the ball behind the goalie. Ouzo was able to score half way through the second period but was not able to draw even. Misery loves company as Ouzo remained strong at Wingers until 3:42am - A new Soccer City record. Lord only knows how the Work day went on Monday!
Saturday, March 1
Goals flow as Ouzo goes 4 and 0!!!
SOCCER CITY - ETOBICOKE: Entering our next game Ouzo brought in a respectable unbeaten record and a strong goal difference with all facets of the team contributing equally. A little apprehensive to begin, Ouzo wanted to continue the high level of football they have been accustom to. Having controlled the game for the first ten minutes without really putting Freedom under pressure, Ouzo went a goal down due to our soft play.

I can only put this down to the Friday night scheduling of the game. A fact the team only realized later in the bar after few pints with Anderson's stunning realization that "it was Friday but felt like Sunday'. Why it took us this long to work out, I am unsure!

However, this was to be the turning point. With our mantra of 'beers and wings' being repeated on the sidelines Ouzo confidently stepped up the pace. Stronger tackling in the D, better possession in the middle and a cool finishing touch up front with Rusnov, our new resident goal poacher/hog, even pulling out a schinitzelhawkesque toe-poke. By half time we were in a convincing position and ended up running out 10-1 come from behind winners. 3 pint (sorry point) nights for Di-laney, Rusnov and Behn.

Special mentions goes to Sac for his second goal in 3 weeks and 3rd in 5 years after a classic wing back run straight into the post where the ball would hit him and go in and Di-laney phantom assisted goal who everyone would claim but no-one could/would confirm!!!!

All that was left was to go celebrate our victory at Wingers. Our mantra had seen us through but it was soon noted that we were two shy!! Had Stu and Phil defected to the bulls? As painful as it was to watch and no matter how bad the shirt they wore, we still supported them.........and management accordingly fined them penalty pitchers!!! That just Proves we are Ouzo for life (TM)

The bar was closed down with final 4 of Rob, Rusnov, Spence and some guy called Pete Tong.

We now go on to a top of the table clash with Mirage on Sunday....
Monday, February 25
The Bulls meet their match against a surging Ouzo FC
Ouzo FC (7) vs Raging Bulls (1)
SOCCER CITY - ETOBICOKE: Match day 3 of the winter session at Soccercity saw Ouzo taking on their age old rivals Raging Bulls. This match had the makings a real competitive encounter with both sides coming in with 2 and 0 records. A very close first half ended with Ouzo leading 1 to nil. The second half started with Ouzo continuing the patient play that saw them possess the ball for long spells and create numerous scoring opportunities which they were able to take full advantage of.
The Raging Bulls were not without their chances, unfortunately for them, Ouzo was equally poised defensively to thwart their opponents best efforts. The affair ended 7 to 1 in favour of the Ouzo boys. Post game celebrations ensued upstairs at Wingers with all the lads getting stuck into some pitchers, grub and lots of laughs.
Ouzo's next match is this coming Friday against the newly promoted side Freedom. The Ouzo squad can hardly wait to continue their winning ways.
Monday, January 21
Blood, Sweat and Tears
SOCCER CITY – ETOBICOKE: Ouzo FC were back in the finals for the first time since 2004. The team was coming off an excellent season, finishing with 14 points and tied for first place.
After a dominating performance in the Semis against Raging Bulls, Ouzo were feeling confident going in to the Big Game. The Final started off intense with both teams battling at both ends of the field. There was little space out there and both teams wanted it bad. West Way jumped out to a 1-0 lead in the first half on a rebound gola that came off the boards. Ouzo tied it up a few minutes later after Behn Wurthman played a nice ball into Wojciech, who put away his team leading 6th goal in 5 games.
The game stayed that way well into the second half, with both teams having some excellent chances. Andrew Spencer playted his best game of the season and kept Ouzo in the hunt for the title with some key saves down the stretch. The last 10 minutes Ouzo seemed to run out of steam and as a result conceded 2 goals that deflated the boys. Being 3-1 down, Ouzo pushed forward looking to crack West Way's defense, but came up short and conceded a late goal to lose 4-1.
A disappointing finish, but the game was much closer than the scoreline showed. The team closed the bar down again after feasting on 10+ lbs of wings and plenty of pitchers.
"Win or lose, we still have our booze"
Monday, January 7
OUZO FINISH IN 2ND PLACE!!!
Ouzo finish in 2nd Place!!
Soccer City - Etobicoke: Ouzo F.C finish the Fall Session in 2nd place after a default victory over bottom feeders - BBP. "A classless way to finish the session" said veteren midfielder ROb Anderson last night after finding out about the "no show" an hour before kickoff. "Screw them, let's go upstairs and drink" said injured Defender Steve Delaney.
The team chose to make the most of it by challenging a 3rd division side to a scrimmage last night. Balkins United, who make there living in the 3rd division, finished the sesson in 4th place. With drinking on their minds, Ouzo came out strong a proved to be too much for the lower division side. The pace of the game seemed to be a little much for them. The team looked really sharp and primed for a successful playoff run.
Ouzo F.C face long time rivals "Raging Beer Bellies" in what could be a decisive game in the two team's rivalry. After two tight games which ended 2-2 and 3-3 earlier in the year, this game will be one for the fans. "Both teams know each others strengths, but I think we want it more this year" said Ouzo's Andrew Spencer "Spence" after the game last night.
Free beer and wings is enough motivation for Soccer City's infamous drinking team.
Ouzo4Life
Sunday, December 14
Bah Bah...Ouzo Wins!!
SOCCER CITY - ETOBICOKE: The build up to this game was big- Ouzo versus Westside- I mean Westway. If Ouzo won it would mean they would be tied for second with the Raging Bulls.
Prior to the game media sources say Westway was heard taunting Ouzo by yelling bah, bah, bah when walking by their dressing room.
Ouzo came out of the gates dominating and possessing the ball. There were many chances in the first half to score, but Ouzo could not take advantage. Westway seemed to physically stronger and faster than Ouzo, but not as skilled or technical on the ball.
Finally in the second half our newly recruited Kitchener Polish Eagle- Wojciech Cwik (Cwikster) blasted a right footed shot low into the corner to give Ouzo the lead. Ouzo continued to gain momentum with this goal and soon after Matt Geary blasted a shot off the wall that found it's way to Mike Michaelides foot and in the back of the goal to make it 2-0 for Ouzo.
It seems these 2 goals for Ouzo were enough to wake Westway and they finally managed to score a goal late in the second half. This however, was not enough and Ouzo would hold onto win the game 2-1.
The Cwikster was quoted after the game while enjoying some Polish beer- "it felt so good beating that team" and later repeated it over and over again during the ride home.
After game celebrations took part upstairs at Wingers until 2am for Sacchitiello, Delaney and Wurtmen. Shirts came off shortly after 1am which can be confirmed by the text messages to Anderson's cell phone and the bartender who has no comment at this point. Excessive drinking continued at Delaney's house with Wurtmen until 4am. Nothing beats winning!!
Stay tuned for the next 2 weeks to see who wins it all!!
The Schnitz
Monday, December 3
BACK TO BACK WINS FOR OUZO FC
Ouzo F.C (4) vs. Lakeshore United (3)
SOCCER CITY - ETOBICOKE: They say that history repeats itself. Falling behind 2-0 to Lakeshore United it looked like Ouzo was reverting back to their fall 2006 form when the hit a long winless streak. Playing you take, no you take, ah let's give it to the other team, Ouzo found themselves down 2-0 in the first seven minutes. The difference was that Ouzo did not panic this time and stuck to their game plan.

With about 12 minutes gone in the first half Rob Rusnov (looking tanned and relaxed from vacation down in Mexico) took a pass from Stu Fletcher just inside the Lakeshore defensive zone and a couple of dribbles later with a Jesse Geisel-like toe poke, hit the ball into the bottom corner to bring Ouzo to within 1 goal. Just before half-time Rob Anderson did some fine work around the net after taking a pass from Behn Wurtman and with the injured Scnitzel looking on like a proud papa from the bench toe-poked the ball past the Lakeshore United 'keeper to even the game at 2-2 going into the 2nd half.

In the 2nd half ex-Ouzo Wojcieck Cwik (on loan from Kitchener) continued his hot streak by taking a pass from Anderson and slamming the ball by an exasperated Lakeshore 'keeper to make it 3-2 Ouzo. Unfortunatly another defensive lapse led to Lakeshore United converting to make the score 3-3 with about 10 minutes to go. Cue Cwik once again. Taking a pass from Vic Santos, Cwik did some fine individual work to free himself for a scorching shot that the 'keeper could do nothing about to put the boys in blue up 4-3. This was Cwik's 3rd goal in just two games for Ouzo.

In the waning minutes of the game Lakeshore United put the heat on, but Ouzo 'keeper Andrew Spencer (back from "work" in Montreal) made 2 back-to-back stupendous saves to preserve the Ouzo lead. Those turned out to be the last chances Lakeshore would have and Ouzo would hang on to win 4-3 to all but secure a playoff spot.

After the victory Ouzo proceeded upstairs to Winger's lounge for some beer and wings. Unfortunately there were no wings. Thus the new name of the lounge is 'ger's because you can't be called Winger's if you don't have any wings!!!!

Ouzo will face first place West Side next Sunday at 9:15PM.
Thursday, November 29
Toronto FC season in review
Ouzo F.C - TFC Day in June 2007
The history books will show that Toronto FC was conceived in October 2005 when Toronto was awarded an expansion club by Major League Soccer and delivered on April 7, 2007 in the club's first-ever regular season MLS game. But it can be argued that TFC didn't truly come to life until the team first stepped onto the BMO Field pitch.
On April 28, as the Reds prepared to host the Kansas City Wizards, the home side was greeted with an overwhelming response from the capacity crowd of 20,148 fans. It was an ovation that might echo for years in both the Canadian sports scene and league history.
"The highlight for me was the first game, walking out of the tunnel and seeing 20,000 fans [with] their scarves in the air singing the national anthem," said TFC team captain and Canadian international Jim Brennan. "It was unbelievable ... that will stick with me for a long time." Brennan was one of several Reds who selected the home opener as one of the season's top moments, which underscored the dichotomy of Toronto FC's inaugural campaign. That game, a 1-0 loss to the Wizards, provided a glimpse into the themes of 2007 for the Reds --- great home support, but a lack of goals and positive results.
The calendar year began in notable fashion as the Reds held the first overall selection in the 2007 MLS SuperDraft held on January 12. Maurice Edu, then 20 years old and a first-team NCAA All-American from the University of Maryland, lived up to his high billing. The rookie started 25 games for the Reds and ended up third on the club in minutes (2180) and second in goals with four. "There's things I can improve on, but I think I did pretty well this season," Edu said. "I scored a few goals, but I could've had four or five more. I've grown since I've come here and that's due to the coaching staff and the players around me. Every day you're competing for your spot and that's a positive. Playing with guys like Ronnie [O'Brien] and Carl [Robinson] has forced me to play a lot quicker and it's going to help me down the line." New Zealander Andrew Boyens, selected 10th overall in the 2007 SuperDraft, made 21 starts on the back line and turned in a solid rookie campaign. The fact that two first-round picks made an impact for TFC was not lost on Johnston. The coach traded his way to two first-round picks in the 2008 MLS SuperDraft, thus ensuring that TFC will again get twice the opportunity at adding young talent to the roster.
There have been a few other games where everyone was fit and it was a glimpse of how good we could be." Unfortunately for TFC, however, the rigors of the soccer world's summer competitions began to have an effect. The CONCACAF Gold Cup hit the club especially hard, as Sutton, Braz, Reda and Pozniak were named to the Canadian roster. The tournament proved particularly costly when Sutton suffered a severe concussion during Team Canada's training that ended the goalkeeper's season. Wynne, Robinson and Boyens also missed time due to international commitments, and then the entire Toronto squad found itself displaced in late June. The 2007 FIFA Under-20 World Cup was hosted by Canada, and BMO Field was the centerpiece venue as the site of 12 games, including the final. This meant that TFC would be on the road for six consecutive games, and since FIFA had exclusive rights to BMO Field, the Reds were forced to train at a different field 30 minutes outside of Toronto. If that wasn't enough, the club's depth was stretched even further when five members of the reserve squad were named to Canada's U-20 roster. The Reds managed to survive the road trip somewhat intact (a 1-2-3 record), and picked up their first-ever away win on July 4 in Salt Lake City.
Another trip highlight was a come-from-behind 1-1 result on July 7 in Chicago when Edu scored in the 78th minute to salvage a draw. Little did Toronto FC know how important that goal from Edu would be to their season. That was the last time the club would score until Sept. 22 -- a drought that spanned 10 matches, 2-1/2 months and an MLS-record 824 consecutive minutes. The central reason behind the lack of scoring was that few healthy bodies were available to put the ball in the net. Cunningham first felt the effects of a sports hernia on July 4 that kept the striker out of action for seven games and nearly ended his season. Dichio was also seeing his time limited by a hip flexor and a recurring back problem caused by the stress of playing non-stop soccer since September 2006.
It was during an exhibition game that the fitness situation became critical. The Reds welcomed English Premiership side Aston Villa to Toronto on July 25 for TFC's first match at BMO Field since the U-20 Cup, but the result was anything but friendly for the home side. The match was TFC's sixth in 25 days, and the club was drained. "That was a bad game for us, really," Dichio said. "We had a game on the Sunday before and then [Villa] on the Wednesday. If you asked most of the boys, we wanted to play Premiership opposition. Our bodies might have been telling us differently but we wanted to be out there. We picked up some nagging injuries there and some long-term injuries. That's when we went on our little sink of a run." This match effectively marked the end of Toronto's run of quality soccer. Johnston said he regretted his decision to play so many key players in a friendly. "I felt we turned the corner, and then came the Aston Villa game," Johnston said. "I thought we played very well [against Villa] and then it spiraled from there. Dichio, O'Brien, Marvell Wynne all went down in that game." The injury-riddled Reds hadn't won in three league games before the Villa match, and the winless streak extended for nine matches afterwards for a record of 0-8-4 from July 7 to Oct. 4.
The goalkeeping situation had finally been stabilized with the signing of Canadian 'keeper Kenny Stamatopoulos from Finnish side Tromso, but TFC found themselves struggling to even fill a full lineup, let alone score a goal or record a victory. "It's hard to win games when you're missing key guys," Edu said. "Injuries are part of the game, so you've got to just learn to play through it and deal with it. So we have to build depth [for next year]. It doesn't matter who's on the field, you've got to go into that game confident and looking for a positive result." The most frustrating aspect of the goalless and winless droughts for Toronto was that the team, at times, played excellent soccer. The Reds dominated the Galaxy on August 5 in what was supposed to be David Beckham's first MLS game (he sat out due to an ankle injury), but the result was a scoreless draw.
The injuries created a lot of playing time for 20-year-old striker Andrea Lombardo, and the Toronto native showed some potential as a future contributor in the league. Cunningham returned to the field after the team was able to get his hernia surgery pushed up to early September. The release of ineffective Andy Welsh in early September led to more starts for Pozniak, who did his best to fill O'Brien's playmaking void in the midfield.
One positive figure throughout the entire year was Brennan. The captain had shown his commitment by playing out of position nearly all season playing on the back line instead of his preferred left midfield spot. Brennan was also gritting through injuries of his own, including fractured ribs and a broken left wrist. Still, didn't miss a minute of action until a knee injury finally ended his season with three games left on the schedule. It was a redemptive season for Brennan, who had been plagued with injuries the previous several years while playing for Southampton and Norwich City of the English Football League. The captain was ecstatic at the chance to play high-level soccer in his homeland, and to be part of a process that he hoped would grow the sport in Canada. "It's past time we did have a professional team here," Brennan said. "It will be more beneficial for young kids playing in the country, and to give them something to shoot for playing here in the country. Hopefully if Montreal and Vancouver get MLS teams it's just going to be better for Canadian soccer." One negative streak came to an end on Sept. 22, when TFC finally ended its goal drought on a second-minute strike from backup midfielder Miguel Canizalez.
The Reds saw their quick lead vanish in the second half of an eventual 2-1 loss to Columbus, and then had another half-time lead wasted a week later in a 4-1 loss to D.C. United. With the winless streak at 12 games, the Reds were underdogs headed into their match with the playoff-bound New York Red Bulls on Oct. 4 at BMO Field. This time, however, TFC held onto an early lead and notched their first win in three months by beating New York 2-1. The Reds had one last highlight for their home fans in the final match of the season. The New England Revolution had been Toronto's bogey team, handing the Reds 4-0 and 3-0 losses in their previous two matches, and once the Revs jumped out to a 2-0 lead after 58 minutes on October 20, it looked like another rout was on the way. But Samuel scored in the 59th minute to cut the lead in half, and Toronto poured on the pressure in search of the tying goal. Two minutes into stoppage time, it looked as if the TFC comeback would come up short, but (who else?) Dichio stepped up with a side volley from outside the penalty area that found the back of the net. The man who had scored Toronto FC's first goal of 2007 had returned from a seven-game absence due to a foot injury to score their last goal of 2007, which ended as one of the finalists for MLS Goal of the Year honors. "We were down 2-0 and fought back," Marshall said. "Just like we've been doing all year -- scrapping and scraping and doing whatever it takes to get a result. That was indicative of our whole year summed up in one game. Never give up, always fight to the end." The draw allowed the Reds to end the season on a high, and it also gave the Toronto fans one last chance to salute their team.
The 15th of 15 sellout crowds at BMO Field stayed until well after the final whistle to cheer the Reds, and some players even took a victory lap of the field. For Mo Johnston -- a man used to high-pressure situations in Scotland with Rangers and Celtic, and in the MLS Cup with Kansas City -- the response was incredible considering TFC ended up at the bottom of the league table with 25 points. "At the end of the [New England] game here, the standing ovation that the fans gave this team was unbelievable," Johnston said. "I'd love to see it in a playoff situation because I think this place would be so vibrant it would be unbelievable. I think we need to start giving them better players and more consistency in our play. What [the fans] showed me when we finished last was incredible." This desire to give the Toronto fans a winner is fueling Johnston's preparation for 2008.
The coach has a number of plans in mind for preseason training (including friendlies everywhere from Charleston to possibly Dubai or China), new acquisitions (Johnston predicted "six or seven" additions to the roster), hiring a full-time conditioning coach to help keep the team fit, starting up Toronto FC's own youth academy, and a scouting mission to South America. Though he will be keeping busy this winter, Johnston's offseason will be less hectic than his last, when he had to form an entire roster from scratch. The coach will have one more powerful weapon in his arsenal as well. When Johnston is trying to attract players to Toronto, he can lure them with the promise of playing for what are already the most energetic fans in MLS. And more supporters are expected in 2008. Ninety-five percent of last season's 14,000 season ticket orders were renewed, and thus the team announced that 2,000 more season tickets will be made available for the upcoming year. BMO Field might even be expanded in the coming years to accommodate even more fans. Toronto FC's total attendance of 301,947 and average crowd of 20,130 were good for third in MLS, behind D.C. United and the L.A. Galaxy, both of whom play in larger stadiums. "Off the field we've broke all sorts of records and attracted new fans to the game of soccer," Dichio said. "It's been a total whirlwind of attracting Torontonians ... and people from outside the Toronto area. I've had letters from as far away as Winnipeg and places like that where they watch us on CBC. It's good we're extending the knowledge of the game out to those areas all around the country." It is clear that a special relationship has developed between the city and its soccer club. Toronto has proved itself to be more than ready for Major League Soccer, and as 2008 approaches, other MLS clubs may need to ask themselves if they are ready for Toronto.
With a fully-fit roster, added depth to ward off injuries and a lack of distractions like the Gold Cup or U-20 World Cup, TFC could be a dark horse to watch for next season. "If you look at the season overall we feel it's been a success," Brennan said. "I've been fortunate to be the first one here before the rest of the guys and before the stadium was even built, so I've seen it all come together.
"It's been fantastic."
Monday, November 26
Our Drinking Team has a soccer problem...
SOCCER CITY - ETOBICOKE: In the past few weeks, Ouzo have lost a close one 3-2 (to BBP) and then bounced back with a 4-1 victory over WE WIN.

Ouzo's past two games have been Jackal and Hyde type performances. After dominating BBP for the majority of the match Ouzo let two late goals in to lose 3-2. A defeat that had 8 Ouzo members strong closing down the bar upstairs at 3am that Sunday night. This is becoming a common trend for Soccer City's # 1 drinking team.
"Final 8" stats: Delaney, Phil, Sac, Matt, Rusnov, Rob, Spence & Behn

A late night pitcher session proved to be just what the doctor ordered as Ouzo bounced back with a 4-1 victory over We Win! The victory was celebrated again with a late night sucking back Soccer City's finest Ale's. Another late night with a familiar sight of some members of Ouzo F.C closing down the bar...yet again!
"Final 4" stats: Sac, Phil, Rob & Behn

This Sunday Ouzo has the Lakeshore United who is coming off of a big win against the leagues Number 1 squad! This could prove to be a pivital game in Ouzo F.C's season.
Stay tuned...
Ouzo4Life
Thursday, November 8
Maurice Edu named Gatorade Rookie of the Year
Ouzo supports TFC and the BMO Beer Garden
Ouzo FC is proud to announce that TFC midfielder Maurice Edu has been voted the 2007 Gatorade Rookie of the Year. Edu finished ahead of other nominees Adam Cristman of the New England Revolution, and Dane Richards of the New York Red Bulls in voting by MLS general managers, coaches, players, referees and members of the media.
"There were 3 or 4 guys out there that were obviously challenging (for the rookie award) as there is every year," said Head Coach Mo Johnston. "But Maurice held his own throughout the season, established himself, scoring goals from midfield, broke into the National team - and now, the hard part comes because the second year is always the hardest, and hopefully he can sustain it." "He's a wonderful kid to work with, he was always first on the field, and you can see the tools he has to work with, he's strong, he's quick, he's aggressive."
Edu, 21 finished his rookie season with Toronto FC with 4 goals, 1 assist, and recorded 24 shots in 25 games - all as a starter. His 2180 minutes ranked third best on the team, only behind co-captains Jim Brennan and Carl Robinson. It was a tremendous rookie season for Edu after he spent the entire pre-season rehabbing a pelvis injury, for which he missed the first 2 games of the season. The midfielder was selected 1st overall in the 2007 MLS SuperDraft after enjoying a stellar college career at the University of Maryland where he was a first team NSCAA All-American and Hermann Trophy semifinalist in 2006. He now holds the distinction of becoming the first No.1 pick overall in the MLS SuperDraft to win Rookie of the Year honours. His tenacious and attacking play in the midfield endeared him to Toronto FC fans where he quickly became a fan favourite.
His play this season also earned this promising midfielder the attention of U.S. Men's National Team Head Coach Bob Bradley who selected Edu to play in the U.S. Friendly with Switzerland this past October. He earned his first cap with the National Team, playing the full 90 minutes in what was a first-class debut for the California native.
All first-year players in MLS without previous professional experience or who had completed their college eligibility were considered for the Gatorade Rookie of the Year award.
The 2007 awards announcements culminate on Saturday November 17 with the unveiling of the Best XI and MLS Newcomer of the Year, which will both be announced at the MLS Awards Gala which are being held at MLS Cup in Washington D.C.
Sunday, October 28
Ouzo come back to tie the Bulls 2-2
Ouzo F.C (2) vs. Raging Bulls (2)
SOCCER CITY - ETOBICOKE:
In the first of 2 Derby matches against the Bulls, Ouzo came back to tie the game after tailing 2-0 at half. The boys just couldn't match the intensity of the Bulls in the first 20 minutes, and that resulted in 2 sub-par goals from 2 unknown Bulls players. "We came out flat, but got a result in the end" said Midfielder Matt Geary after the game. "We'll need a better performance next week against the rough and rugged WestWay" said interim head Coach Jesse "Schnitzel" Giesel.
After a half time speech from Schnitel, the boys came out hard. Gus Polymerus scored his team leading 3rd goal of the campaign and Stu fired a cracker from 20 yards to tie the game with just over 8 minutes to go. With some intense pressure in the attacking 3rd, Ouzo just weren't able to capitalize on their chances to take the lead. The game finished at 2-2, which keeps the unbeaten streak alive.
After the game PK was overheard saying "My apologies lads, I took the "beers" of "blood, sweat and beers" a little too seriously on Friday night". And that's why Ouzo signed him to a lifetime contract back in 2004.
While closing the bar down after a 1:30pm game seemed impossible, Ouzo gave it their all and stumbled out at 7pm after a day of enjoying Soccer City's finest Ale's.
Ouzo4Life
Sunday, October 21
OUZO START SEASON 2-0!!
Ouzo F.C (4) vs. Lakeshore United (0)
SOCCER CITY: ETOBICOKE - Ouzo F.C. has started off the fall session with an undefeated record in its first two games, something the team has not done for quite some time. This past week-end Ouzo out gunned Lakshore United, the team that knocked Ouzo out of the playoffs of last winter session. Revenge was sweet as Ouzo out possessed their opponents for the entire first half. With a timed play from defender Rob Resnov to the foot of Ouzo's number 8 Rob Anderson Ouzo was able to take a 1-0 lead into the half. The first 5 Minutes of the second half were fierce, but great defensive play and blocked shots kept the Ouzo one goal margin intact.
Then Late in the second half Anderson received a skilled ball from hard working midfielder Stu Fletcher which Anderson played with before placing it in the back of the net. Minutes later Ouzo rushed into the counter attack with an overlapping run from Ben " Steven Gerard" Wurtmen, who buried a nice cross from Mike Michaelides and putting Ouzo up three nil. To Ice the deal Ouzo's Matt "Fbomb" Geary placed a nice through ball to Gus Polymeros who made no mistake beating the goalie to place the fork in Lakeshore United.
Back Up Goalie Steve Sacchitiello had his first shut out of his career. His strong play when clearing the ball was key in Ouzo's defencive effort. With the strong defensive play and the Return of Ouzo's Rob Anderson management has its eye on big things for the club this session. Next up for Ouzo is Murray and company with the Raging Bulls this upcoming Saturday!!
Ouzo4Life
Sunday, October 14
OUZO FC Vs We Loose!!
Ouzo F.C (2) vs. We Win (0)
SOCCER CITY - ETOBICOKE: With the jerseys freshly washed and folded, the boots polished and tied, and the Kegs tapped and ready, Ouzo FC took to the field this past Sunday to kick start their 2007/08 campaign. All the familiar faces were back in the change room eager to greet the league newcomers, 'We Win'. On this day though, they did anything but that.
It was a grande return for Andrew Spencer to the Ouzo line up, after being on Loan to the UFC for 2 years. Looking fitter, stronger, and remarkably sober, it would be Spencer who would lead the charge…… The whole night. The return of key player/manager Rob Anderson, along side a fitter stronger Gus Polymerous, and returney Victor Santos up front added a new dimension to the ouzo team as they took to the field. It wasn't before long that Ouzo generated their first attempt; a close range shot by Santos just minutes into the game. After several shifts of sustained attack, and sharp precise passing throughout the team, it was Polymerous who would net the first goal of the game. Controlled passing at the back between Rob Rusnov, and Steve Sacchitello allowed Polymerous to pick his run and catch a break behind the opponent's back two. Having had his first shot blocked by a sprawling goalie, Polymerous would follow up his shot with a firm header that evaded the goalie and put Ouzo FC on top 1-0 with just under 7 minutes played.
After a controlled and pressured opening 10 minutes, it would be a sharp counter attack that would lead to Ouzo FC doubling their lead. A well timed tackle by Ouzo Big man Steve Delnaey, and quick distribution to midfielder Stuart Fletcher, allowed 3 Ouzo players to break. A quick 1-2 ball through Fletcher-Polymerous broke down the "We Win's" defence and sent Fletcher in on goal with only the goalie to beet. A low driven shot into the bottom right corner, and Ouzo FC were two nil up going into the break.
The second half wouldn't be so pretty for the men in white. High pressure by the 'We Win' players kept constant pressure on Ouzo's defence and midfield. Hard tracking and tackling off midfielder's Behn wurthman and Mikey Micchilades, along with several blocked shots by Phil Kennedy kept the lead at 2-0, when an injury occurred in the game that would almost deflate the Ouzo team. After a lengthy break in the game, Ouzo found themselves on their heels and a man down after a sloppy penalty by Fletcher. 2nd year player Matt Gerry worked tantalizingly to try and regain control of the midfield, but the pressure from the "We Win" players was relentless. Despite several chances and close calls, We Win could not find a way past Spencer as Ouzo FC cruised to an opening season victory 2-0.
A fitting start to a new season both on and off the field, as Ouzo members were seen leaving Wingers lounge at the wee hours of the morning. After celebrating their victory with Beers, Ouzo, Ciggi's and The Spencer Crusher, dispappontingly their would only be One puking in car story by the end of the night….. lets go for 2 next week!
Ouzo4Life
Saturday, May 12
Offense finally clicks as TFC explode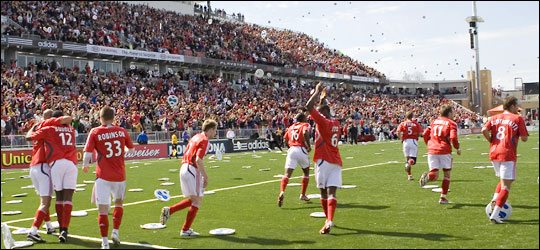 TFC's First MLS Goal
Offense finally clicks as TFC explode

By Mark Polishuk / MLSnet.com Staff TORONTO -- After waiting 383 minutes for the first goal in club history, Toronto FC didn't waste any time in getting back on the scoreboard. TFC followed up Danny Dichio's historic strike with two second-half goals that cemented a 3-1 win against Chicago on Saturday at BMO Field.

The win ends Toronto's four-game losing streak that began its MLS tenure. Three different players scored for Toronto, and virtually every player on the field contributed with a good pass or scoring opportunity at some point during the game. Forward Edson Buddle cited a number of different reasons as to why TFC, who were scoreless in their first four games, looked like a different team on Saturday. "I think preparation," Buddle said. "We worked really hard this week in training, we were pushing it and getting after it, we were anxious and all of the above. For us to get a win at home, I think we got the monkey off our back a little bit." Buddle could have cited his own passing as another reason for TFC's scores, as the forward picked up the first two assists in Toronto team history. The breakthrough goal came in the 24th minute, after a scramble in front of the Chicago net left Buddle with the ball to the right of the net. The striker pulled back a low centering pass into the box, where it found the outstretched leg of fellow forward Dichio to put Toronto on the board in Major League Soccer.

In the 51st minute, Buddle delivered the last touch on a three-man passing play that put the ball on the foot of a charging Kevin Goldthwaite coming up the right side. "I made a long run and it kind of got knocked around a couple of times and it fell to Edson," Goldthwaite said. "I just happened to be in the corner of the box. Edson was able to put his toe out and get it to me. (I) took a touch and hit it as hard as I could." The goal gave Toronto a lead it wouldn't relinquish, and also represented a personal milestone for Goldthwaite. It was the defender's first goal in 27 career MLS games. "It feels great to be the guy to get the game-winner today," Goldthwaite said. "And for it to be my first goal in that situation, it couldn't have come at a better time."

Toronto coach Mo Johnston was generous with his praise when asked which of his players was his personal man of the match. "Every single one of our players, plus the fans," Johnston said. "I don't like to single anyone in particular out. We have a deep group of guys." Johnston, however, didn't want to "go overboard" after one game, and pointed out that his defense allowed a number of early turnovers that led to Chicago outshooting TFC 7-4 in the first half.

The coach was also displeased with a scuffle in the Fire goal near the end of the half that resulted in Dichio and Chicago defender Diego Gutierrez being sent off. The loss of Dichio and Gutierrez, however, seemed to turn things in TFC's favor in the second half. Toronto outshot Chicago 5-2 in the half and produced the go-ahead goal from Goldthwaite and an insurance marker from Maurice Edu.

Buddle thought his team's reaction to the twin red cards was the key to the game. "It was down to 10 men on each side and it's a big field," Buddle said. "[The two fewer players] opened it up and I think we were the fitter team today playing at home. We were able to stretch them out and open up the game for us."

Now that Toronto has erased the zeroes in both the goals and win columns, the next step is a matchup with MLS Cup champion Houston Dynamo on Wednesday. Johnston's hope is that his team can match or better its effort on Saturday. "Everybody left everything on the field," Johnston said. "It's a work in progress. We're working hard everyday." Mark Polishuk is a contributor to MLSnet.com. This story was not subject to the approval of Major League Soccer or its clubs.
Tuesday, May 8
Toronto FC announces Benfica and Aston Villa to play at BMO Field

Ouzo FC is a proud supporter of Toronto FC


Toronto FC announced Monday, that two world-renowned football clubs will be making their debut at BMO Field playing in two different International Friendlies against Toronto FC. Wednesday May 23, Benfica will kick off against TFC.

The Portuguese club based in Lisbon was founded in 1908 and remains one of the big three clubs in Portugal. Benfica has the biggest fan base and the largest number of registered associates among Portuguese clubs, also having the largest number of supporters outside of its own country numbering 12 million worldwide.

Currently sitting third in the SuperLiga, they are managed by Fernando Santos and boast big name players such as Nuno Gomes, Rui Costa and Simao. "We are ecstatic to bring one of the most recognizable clubs in Portugal to Toronto", said Toronto FC Director of Team Operations Paul Beirne. "We are aware of the number of supporters Benfica has outside of Portugal, and we know a lot of them are right here in our city, making this a perfect fit for Toronto FC."

On Wednesday July 25, Aston Villa will visit BMO Field. Villa is one of the most oldest and storied football clubs in England. Founding members of the Football League in 1888 and a member of the Premier League since 1992, Aston Villa will prepare for their 2007-08 Premiership season with a stop in Toronto. "Obviously, anytime you can bring a Premiership team to North America, it is a major event. We couldn't be happier to host Aston Villa and we hope our fans will be just as pleased," said Beirne. "Toronto FC is committed to bringing in quality international teams, and we know both Villa, and Benfica fit that bill."

Lead by Manager Martin O'Neill, Aston Villa currently sits 11th in the Premiership and have numerous honours to their credit. European Cup Winners in 1982, European Super Cup Winners in 1982-83, InterToto Cup Winners in 2001, and they boast seven FA Cup titles.

Villa features international talent such as Thomas Sorensen, Gareth Barry, and Olof Mellberg.

Tickets will go on sale to the general public on Saturday May 12, when the BMO Field Box Office will open at 9 am. Following that, tickets can be purchased on-line at www.ticketmaster.ca beginning at noon.
Friday, May 4
Ouzo Win FOUR in a row
Ouzo FC in the Playoffs!!
SOCCER CITY, ETOBICOKE - Ouzo has been on top form over the past month, winning their fourth in a row.  Ouzo jumped out to a 5-0 lead against Raging Bulls on Wednesday, only to finish 5-2.  With this win, Ouzo has clinched a play-off birth in a very competitive Sunday 1st Division.  "The team is playing with a lot of confidence during this winning streak" said newly acquired Midfielder Matt Geary.  Matt's two goals on Wednesday gives him 4 points in his last 2 games.

During this winning steak we have seen the emergence of some of Ouzo's veteran players.  Defender Rob Rusnov and forward Vic Santos have been playing at a high level.  Rusnov scored a BIG goal last week against first place AC Diavoli in the dying seconds of the game.  Steve "Sac in the attack" Sacchitiello made his first appearance of the season and notched an assist.  With stats like that, Management might be forced to push him into the attack on a more permanent basis.

With Ouzo on top form on the field, they have really stepped out their games in the bar.  Closing the bar down at 2:30am on Wednesday and several 3-4 hour sessions in the games prior, Ouzo is setting the standards at Soccer City.  No team has been able to compete with the team up at Wingers and during this 4 games winning streak.  Most would agree that no team has ever been able to compete with Ouzo FC upstairs at Wingers Bar. 

Ouzo finish the regular season this Saturday against Mirage/Asquad/Eur-A-sia or whatever you want to call them?!?  The self proclaimed superstars on Toronto's Recreation leagues have struggled this year with an unimpressive 3-6 record.  Ouzo will be without there top player Stu Fletcher who separated his shoulder in the win against Raging Bulls.  The gritty midfielder injured his shoulder going hard to the net, but fell awkwardly and as a result will be out for the remainder of the season.  Ouzo will definitely miss his creative ability.  Ouzo will call up Andrew Gaoncalves to replace Fletcher in this weekend's games.

On a side note, Ouzo would like to challenge any team this summer to out-drink us at BMO field's infamous "Carlsberg" Beer Garden.  We will be their proudly supporting our team, while proving to Toronto that "Our drinking team definitely has a soccer problem"TM

OUZO4LIFE
Wednesday, April 4
Welland 2007
Welland Soccer Club, Welland, ON - Ouzo apparently didn't learn anything from previous years going to the Welland Spring Classic.  With an impressive first day in the Tournament, Ouzo finished with a record of 2-1-0.  Clearly one of the front runners of the tournament on Saturday, Ouzo proved that they are still a better drinking team than soccer team.  With a late night of boozing, the boys came out flat and lost 3-1 to INSOC in the first game on Sunday.  INSOC went on to reach the finals only to lose 3-1 to the Serbian White Eagles.

"We really blew it this year" said Rob Rusnov.  "I can't believe we did it again to ourselves" said a dejected Schnitzel on the way back to KW.  This really could have been the year on the Ouzo.

Ouzo FC have vowed to not make this mistake for the fourth year in a row next year.  A strict curfew of 4am may have to be placed on the team, with some players not allowed to leave the hotel.  These are among several topics to be discussed by Management over the off-season.

Special thanks go out to the four players we called up from Livno in the OSL. 


OUZO4LIFE



Wednesday, March 14
2007 World League Volleyball Series Tickets Now On Sale For All Three Canadian Events
Here training for Team Canada


Support Ouzo's own, Dan Lewis as he represents Canada in the World League Volleyball. An honorary member of Ouzo F.C for 3 years now with guest appearances at least once a year, Dan is ready to prove to the World that Canada Volleyball is here to stay.

The Team Canada Volleyball Centre is excited to announce that series tickets have now gone on sale for World League Volleyball in all three Canadian cities. On May 25 and 26 Team Canada will play Finland to kick off the 2007 World League campaign and it will be see them begin on Canadian soil at the John Labatt Centre in London, home of 15-year Canuck veteran and international superstar Paul Duerden. After a three-week stint through Korea, Finland and Brazil respectively, the men's national team will return to Canada to face 2004 Olympic gold medalist Brazil at the Hershey Centre in Mississauga on June 22 and 23. Brazil, the number one ranked team in the world, has been crowned World League champions the last four consecutive years, and five of the last six. On June 29 and 30 Canada's Senior Men's Volleyball Team will be at home in Winnipeg to face off against Korea at the MTS Centre. This series will complete Team Canada's preliminary round at the 2007 FIVB World League Volleyball competition and may prove to be the determining factor on who will advance to the final round in Italy! By purchasing a series ticket you receive one ticket to each of the two matches and it gives you the first opportunity to take advantage of the best seats to catch all of the high-flying, elite level volleyball action!

Prices for Series Tickets are as follows: CANADA vs. BRAZIL

Hershey Centre - Mississaugua Friday, June 22 – 7:30pm Saturday, June 23 – 2:00pm Series Tickets Adult: $29.00 Student/Senior: $19.50 12 & Under: $11.00
All ticket prices are subject to applicable taxes and convenience charges TICKETS: Ticketmaster or by calling 416-872-5000

Group Sales: 905-615-3903 (Lorraine Evans)
Thursday, December 21
Toronto F.C and Ouzo F.C come to terms
Ouzo's Ruben Flores interviewed by the Score
SOCCER CENTRE, VAUGHAN - Toronto's new MLS franchise, Toronto F.C has agreed to Ouzo F.C's terms to bring  Ruben Flores to the Open try-outs as a Coach/Scout.   Toronto F.C's Management felt that his experience in the Mexican 1st division combined with Ouzo F.C was a deadly combination and just couldn't resist.  The 4 day contract is the first between the two clubs and said to be rather prosperous for Ouzo.  No one from Toronto F.C was available for comment, but rumour has it Ouzo will be looking to bring in a big name striker with the surplus of cash.  The transfer market doesn't open until January, so the fans will have to wait until then.
Ouzo was also represented well at the try-out with Steve Sacchitiello and Matthew Smith both in attendance.  Their life-time contracts with Ouzo F.C may prevent Toronto F.C from making a bid for the players.
OUZO 4 LIFE
Monday, December 18
Ref costs Ouzo the game...again!
Ouzo (2) vs. Raging Bulls (3)

SOCCER CITY, ETOBICOKE -  Ouzo F.C lost another game by one goal, which ties a single season record.  Ouzo tied there 2002 mark with there 3rd loss by one goal in one season.  Something the boys are not happy about.  "Another game that slipped out of our hands" said veteran Rob Rusnov.  "We could have easily one any of those 3 games"

Ouzo lost their 3rd game in a row, despite goals from Wurthman and Schnitzel.  Schnitzel is tied for second on the team with 4 goals this season.

With the game going back and forth, the scored was tied at 2 with just over 3 minutes left in the game.  Ouzo were pressing and taking control of the match when Wurthman blasted a rocket of the crossbar and just over the goal line.  The ref blew his whistle to signal a goal a the fans erupted.  Then just as the boys were making a line change, the ref changed his mind and waved "play on".  This after he had blown his whistle and pointed to the midline to signal a goal.  "This guy is not a division one ref.  He was just filling in" said a Soccer CIty official after the game.  Too little too late though.  A loss is a loss and all protests have to be handed in before the game.

This puts Ouzo is a tough spot and on the outside looking in for the 4th play-off spot.  The team sits at 1-5-2, with 4 points going into the final 2 games.  "Anything is possible, especially with our goal difference" Sac was heard saying after the game.

OUZO4LIFE
Monday, December 11
Extra kegs on the way for the Boxing Day Tournament at Wingers
Ouzo International star "Graham Fletcher"
SOCCER CITY, ETOBICOKE  - The order form has just been put in to Wingers at the request of Ouzo FC to entice current Ouzo Internationale player Graham Fletcher to put his outdoor career on hold. Ouzo Boosters Jackie and John Fletcher and parents of both Graham and Stu "Iron Foot" Fletcher, have reportedly offered to sponsor Fletcher and his family to travel from Georgia in an attempt to get the former OFC defensive rock to join up with the lads for the Boxing Day Tourney.

Jackie Fletcher is quoted in saying "We'll pay for his family's flight along with room and board just as long as it's what management wants. We have spoken to Graham and he is definitely interested. However, his only concern at this time is babysitting and running out of beer at the pub!"

Fletcher will be a great addition to Ouzo's defense. It is his proven dedication of slamming beers in the belly and opposing players in the boards that has made Fletcher a fan favorite.

Fletcher has yet to sign the 1 day contract and is waiting until Wingers confirms that Keg has been order. It is once Fletcher's agent receives the official purchase order that the deal will be finalized.


O4L
Monday, December 4
Ouzo's Johnny Krilis takes home an award at the OSL banquet
Johnny Krilis - " OSL Rookie of the Year"

SOCCER CENTRE, VAUGHAN - The "Ouzo youth movement" proved that they are heading in the right direction when the 2006 Ontario Soocer League Awards came out this week.  Ouzo member, Johnny Krilis won the OSL "Rookie of the Year" award while on loan with Livno.  He led the team to a 2nd place finish in Ontario's top amateur league.

Krilis has been a member of Ouzo since 2005.  While he is still currently in University at McMaster in Hamilton, he is still a major part of Ouzo's success.


While Ouzo is not a member of the OSL, they use it as a recruiting source and as a loan option in the off-season.  It has proved to be a valuable tool in the development of their young stars.

Ouzo4Life
Monday, November 20
Ouzo unbeaten in 2 games wearing the new white jerseys
Ouzo F.C (2) vs. Raging Bulls (2)

SOCCER CITY - ETOBICOKE:  Ouzo F.C extend their unbeaten streak to 2 games while wearing their new "all white" kit.  While it wasn't pretty at times, they came away with a 2-2 tie against long time rivals Raging Bulls.  The Penguin and company have yet to win a game this session and sit comfortably in last place.

Despite the late game time (11:30pm), Ouzo opened the scoring first on an excellent finish by Stu "Iron foot" Fletcher.  Ouzo's go-to-player casually slotted home his 3rd goal of the season to put the boys up by 1.  With the score 1-0 at half, Ouzo were pleased to head to the break up a goal. 


With some excellent movement off the ball in the second half, the Bulls were able to get 2 quick goals and put Ouzo down by one.  "The marking off the ball was horrible tonight" said Colin Wright after the game.  And it wasn't the Guinness talking either.  Both goals were the result of some casual defending and too much ball watching.

Credit to Ouzo for the comeback though.  They fought hard knowing that the beers always taste better with a good result - and taste better they did.  After some gritty end-to-end play, midfielder  Behn Wurthman brought the ball down with a solid individual effort and played the ball beautifully off the boards to a wide open Vic Santos.  Vic slotted home his 2nd of the season and proved to be the game saver.  "We've been working on that play for a few games now.  I'm glad it's starting to come off"  said Santos after the game.

The late game didn't stop Ouzo from throwing back a few pitchers.  2:30am and the boys were just making there way out of the building.  What would Wingers Lounge do without the drinking habits of Ouzo F.C?

Ouzo now sit at 1-2-2 for the season with a +1 goal differential.  Up next is AC Attack, which should be an exciting game for the fans.  Game time at 11:15am.

Ouzo4Life
Monday, November 6
Ouzo Gets a Win and Tie After Back to Back Games with Olympia

Nov. 4/06. SOCCER CITY, ETOBICOKE -  Ouzo came out of the gates hard against Olympia this past Saturday with a 5-1 win. This was Ouzo's first win of the season to win back the fans of Soccer City. The new acquired Matt Geary opened the scoring with a drive to the far corner from a nice pass from Gus "1st Class" Polymerus. The second goal came from a pretty play that Vic Santos set up with Jesse the "Schnitz" Geisel waiting out the goalie to place it in the empty net. Ouzo played one of their all time best matches scoring a third goal before half, Gus Polymerus scored an unassisted goal to put Ouzo up 3-0 at half. It was unclear whether Ouzo was really playing the best soccer ever or if Olympia was drunk from the 3 pints of Zywiec they had before the game. At any rate Ouzo, maintained their momentum going into the second half with another great goal from Vic Santos on a pass from Steve Saccatello. Ouzo was up 4-0 before Olympia scored their first goal. AKA the "Big Man"- cause he really is a big man scored a near post goal with just under 10 minutes left in the game. Ouzo put the game well out of reach when Stu "iron foot" Fletcher burried a pass from Phil Kennedy to make it 5-1.
 
Ouzo walked away with their first win of year and realized the beer does taste better when you win.


Nov. 5/06. SOCCER CITY, ETOBICOKE - Ouzo played their second game of the weeked against Olympia this time with a different result and a different Olympia. Olympia opened the scoring of this game with the "Big Man" scoring on the short side of the Ouzo Keeper Colin Wright to make it 1-0 early in the first half. Ouzo did not seem to be on their game as they were 24 hrs ago. Ouzo went into half time being down 1-0. Ouzo would go down 2-0 when "Big Man" would score his second goal on a similar turn and short side shot in the corner. Ouzo would go down 3-0 when the "Big Man" would get his natural hat trick and score his third of the game. Ouzo's fan base was not impressed, as their defense seemed to be sleeping (see picture below). 

Ouzo would battle back though  when Gus "1st Class" Polymerus would bury a pass from Phil Kennedy with just over 10 minutes remaining. Polymerus would add his second of the night to make it 3-2 when he finished a pass across the goal from Matt Geary. With just over a minute remaining Mike "Yell at the Ref" Michaelides would finish a pass from Stu Fletcher to tie the game at 3 all. Not much later Mike Michaelides would receive a pass in front of the Olympia goal to turn and shoot, but only have it saved by the Olympia goalie. The "Big Man" would have 1 last chance with only a second on the clock, however, this time Colin Wright would get a finger and push the ball over the goal. The game would end in a 3-3 tie which turned out to be a real barn burner for the fans.
 
Ouzo would retire to Wingers for beer and wings to celebrate their first class come from behind battle. Stay tuned Nov.19 when Ouzo will play a Late Night 11:30pm game against the Raging Bulls. Hope to see all of you there.

The Schnitz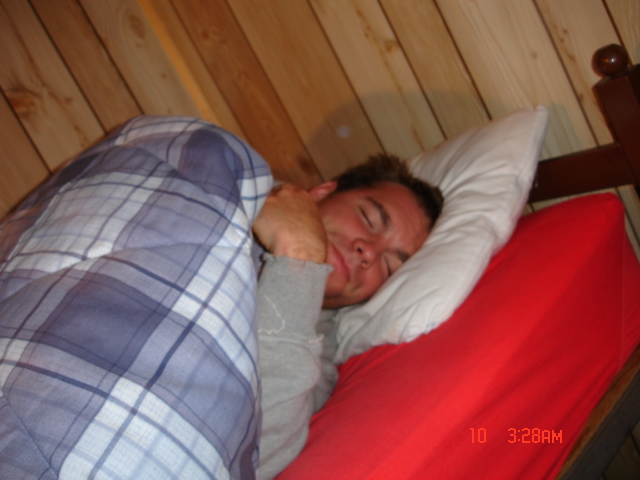 Behn Sleeping
Monday, October 30
Last minute goal costs Ouzo precious points against Lakeshore United
Ouzo F.C (3) vs. Lakeshore Utd (4)


SOCCER CITY, ETOBICOKE - Match day number 2 saw your beloved Ouzo boys take on the supposedly improved Lakeshore United. This match had all the makings of a great one as both teams were unable to get a win in their first match of the season.

Ouzo opened the scoring in the first half with some nice team work completed by a fine finish from in form striker Gus "1st Class" Polymeros (2G). Unfortunately Ouzo's lead did not last long as the quick counter attacking style of Lakeshore United led to an equalizer. Lakeshore United would tally 2 more before the half ended, leaving Ouzo with some catching up to do in the second half.

In typical Ouzo fashion, the boys proved they were equal to the challenge in the second half. A combination of heart and skill led to some wonderfully crafted opportunities, 2 of which found their way into the Lakeshore United net with great finishes by Stu "iron foot" Fletcher (1G, 1A) and a second for Mr. "1st Class" Polymeros. Unfortunately, the Ouzo come back was dealt a deadly blow by another Lakeshore United open net finish, with less than 30 seconds left on the clock.  4-3 was the final result.

Ouzo's post match disappointment could be felt in the locker room, however, a few hours upstairs in Wingers Lounge was exactly what the Doctor ordered.

The boys will be looking for no less than full points this upcoming Saturday and Sunday, in a rare, double "Super Classico" against the newly named Olimpia (formerly Arnold & Bart).
BARTHEZ
Monday, October 16
Shnitzel Hawk Soars But Ouzo Falls in Season Opener


SOCCER CITY, ETOBICOKE - Two top class finishes from Jesse Geisel were not enough as Ouzo FC were handed their first defeat of the season at the hands of newly named Mirage.

It was a season opener filled with excitement, new faces, old faces, and room for improvement as Ouzo look to rebound in two weeks time. Player Manager Rob Anderson took his perch behind the Ouzo bench for the first time and seemed disappointed, yet ambitious as he saw his player's early one goal lead drift away in the second half.

After starting the game at a fairly subdued pace, it was Ouzo FC who broke the nil –nil deadlock. A Jesse Geisel patented toe poke from just inside the white line seemed to catch the Mirage goalie off guard as it flew into the bottom corner. After the opening goal the pace of the game seemed to intensify, and Ouzo's confidence looked to rise as the first half came to close. But it was Mirage who would find the back of the net 5 minutes before the end of the half putting the two teams on equal terms going into the second half.

Mirage would ride their momentum as the 2nd half began and managed to find a second goal just 4 minutes into the half, giving them their first lead of the game. Colin Wright, Ouzo's first team goalie, unable to catch up the fierce power of the opponent's shot. Wright would find his game though, making several very difficult saves keeping the game at just a one goal deficit. The Ouzo players would build on this, and it was the savvy play of 3rd year player Mike Michaelides that would see Ouzo equalize mid way through the half. An intelligent play along the boards by Michaelides saw him maneuver his way up the field with a sequence of one-two balls before slotting home a rebound to open his account for the season. It would be all Mirage after that, as a break down in the Ouzo defense allowed Mirage to take their second lead of the night. Shortly after, continual questionable calls against Ouzo Big Man Steve Delaney allowed Mirage to capitalize off an ensuing free Kick. The goal brought Delaney into an uproar as he and the Ouzo players argued their case about the inconsistent calls. But it was Delaney who would be singled out, yellow carded and then subsequently red carded for repeatedly arguing his case. A 5 minute penalty would put Ouzo on the back foot for the majority of the game, but as usual, Ouzo's heads would not drop and with 4 minutes remaining a clever wall pass from Stuart Fletcher would find the feet of Geisel camped out front of the goal. Cool and calm, Geisel would slot it past the goalie to give him his second of the night.

A late goal from Mirage cancelled out any hopes of a come back, as Ouzo FC would fall 5-3 in game that showed signs of potential but just missing those little things. With several players missing out of the line up, Ouzo is looking to gain from their loss and build as they play Lakeshore United in 2 weeks time.

Other notables, Victor Santos made his Ouzo return after a 4 year lay off due to a knee injury. The quick footed Midfielder was once the Ouzo go-to man up front with Gus Polymerus and player/coach Anderson hopes he can bring back the same spark that he once brought.
#3
Monday, October 9
Ouzo F.C look to MCM for there latest signing


SOCCER CITY, ETOBICOKE - Ouzo F.C finalize there roster with the signing of Matt Geary right before the transfer deadline.  Management finally agreed to a loan deal with Oakville MCM and recently came to terms with the players needs.  Terms of the agreement were not disclosed, but sources close to the team have said it has to do with the teams drinking habits. 

"We are happy to have Matt apart of the squad"  Management said Monday after he was revealed to the public.  "He is well-rounded midfielder, that will help us with our finishing (pitchers) upstairs at wingers lounge"

OUZO4LIFE
Saturday, October 7
Soccer City - Thanksgiving Tournament
9:50am      Ouzo F.C vs. SLR 2006 (WIN 2-0)
1:10pm      Ouzo F.C vs. Super Eagles (LOSS 0-1)
4:30pm      Ouzo F.C vs. Cataplana (Benfica - OSL) (WIN 2-1)
Quater Finals:
Ouzo F.C vs. Bosna (LOSS 1-2)
Wednesday, September 13
Preseason News
With the regular season just around the corner, there have been some rumblings around the Ouzo Camp. 

Breaking news from ESPN says that Ouzo will be sporting a new look  this upcoming season.  It appears they have agreed to terms with Nike and the Dutch National Team to use their away kit this season.  Terms were not disclosed, but appear to include alcohol.

Rumour has it veteran midfielder Rob Anderson is still recovering from an ankle injury that forced him to miss the entire outdoor season.  He is doubtful for the 1st session after being casted and on crutches for most of the summer.  Rumour also has it there will be several top players looking to fill his spot, most notably Vic Santos, who played with the team for several seasons and a member of their Alumni.  Look for Vic to play an important role in Ouzo's quest for the title.

On a positive note, Mike Michaelides has recovered from a knee injury that kept him out of the final few games last year.  He has been seen with the Polish Eagles in the KDSL along with fan favourite "The Schnitzel".

Reports out of Peel Halton have stated that key Ouzo players Rob Rusnov, Phil Kennedy and Ruben Flores have won the over 30's Peel Halton League, while playing on loan for MCM.  MCM has provided excellent training for Ouzo players in the past.  Stu Fletcher also played for a championship side during the off-season for the 3rd consectutive year.  Management is hoping these key players will bring the winning ways to the arena this fall.

A report also was confirmed last weekend that Steve Sacchitiello, known to the fans as "Sac" will be returning this season.  He has signed an "Ouzo4Life" contract and has ensured management that he is focused on Ouzo and has been training all summer.  All the returning players have also ensured Management that they have been following the strick Ouzo off-season training program, which consists of drinking beer, late nights, eating wings and working on their sports knowledge.  A receipe for success at Soccer City.

After a tough preseason up at the cottage this past weekend, Ouzo look to get in a few exhibition games before their upcoming season in Division 1 on Sundays.  


Ouzo4Life
Ouzo F.C Chat room
Thursday, May 18
Ouzo finishes strong
SOCCER CITY, ETOBICOKE - Unbeaten in their last 3 regular season games, Ouzo proved that they still belong in the top flight.  Finishing with 10 points secured 4th spot for the leagues top drinking team.  This meant that they made the play-offs twice is the 2005/06 season, which tops last year's back to back snub from the play-offs. 

With their 4th place finish, Ouzo were up against league leaders AC Attack, which proved to be one of the better games of the season.  Ouzo were forced to call up 2 players from the youth team with injuries to Anderson, Kennedy and enforcer "Sac".  Johhny Krilis and Matthew Smith were called up to strengthen the squad.  "those two guys were key down the stretch"  said Anderson after the game.  "They really added the confidence on the ball that we need with all the injuries adding up".  And confidence they had.  Krilis scored 5 goals in 3 goals for Ouzo this year, which should secure a spot for him in the 1st team next year.  The off-season should prove to be interesting one.  Trying to secure those two youth players to 1st team contracts while still in University. 

In the semi-final match, Ouzo opened the scoring with a cracker from Krilis at about the 5 minute mark.  Ouzo would maintain their lead for must of the half until and defensive mishap cost the team their lead.  With the score 1-1 at half, the game was still wide open.  The second half started with Ouzo on the power play.  Unable to muster up too many opportunities despite an excellent power play unit, a frustrated Ouzo knew they missed an opportunity.

The final buzzer sounded and the score had stayed the same throughout the 2nd half.  Both teams had their chances, but the goalies were saving the day.  Wright, who missed most of the season due to injury, had one of his better games in an Ouzo jersey.  Wright known for his "big game" plays, was solid as a rock.  "Definitely one of his better games"  said Delaney after the game. 

In the overtime period, both teams still created several good scoring opportunities, despite being tired from regulation.  And with less than a minute left before penalties, Ouzo let AC Attacks young striker to get behind the defensive and score the biggest goal of his young career.  "Tough way to lose"  said the Schnitzel after the game.  "All I want are those damn free wings and beer at the banquet".  Something our beloved team will have to wait another year for.

OUZO4LIFE
Monday, March 27
Ouzo lose 2nd straight game


SOCCER CITY, ETOBICOKE - For the second straight game, ...
Monday, March 20
Injury plagued Ouzo side take worst loss of the season
SOCCER CITY, ETOBICOKE - Ouzo fall back to .500 after an embarrassing ...
Monday, March 20
Welland Tournament Schedule

Saturday April 1st 2006

7:54pm:    Ouzo F.C vs. St. Catherines Concord (Loss 2-0)
8:57pm:    Ouzo F.C vs. Team Eletto (Tie 0-0)
10:21pm:  Ouzo F.C vs. Hot Shots (Won 5-0) (Anderson 2, Geisel 1, Fletcher, 1, Krilis 1)

Round of 16:  Ouzo F.C vs. Team Eletto
(0-0 after regulation and overtime) (Loss 1-0 in shootout)
Monday, March 13
Late goal gets the tie for Penguin and Company...another heartbreak for Ouzo
SOCCER CITY, ETOBICOKE - On a night where Ouzo's ironman Jesse Geisel ...
Tuesday, February 28
Let's Get Ready To Rumble........

SOCCER CITY, ETOBICOKE - Everyone knew that Ouzo and Arnold ...
Monday, February 20
ANDERSON TAKES MATTERS INTO OWN HANDS

Less than a day after celebrating the birth of a brand new baby girl, Rob ...
Sac + Phil= W Over AC Attack
Ouzo was out of the gates in the second session with a 5-4 win over AC Attack. Just as they ...
Monday, January 23
OUZO GETS OUZO'D AGAIN... A & B & REFEREE WIN 4-2.

SOCCER CITY, ETOBICOKE - Ouzo F.C found ...
GOAL! THE MOVIE

PROJECTED RELEASE DATE IN NORTH AMERICA: ...
Thursday, January 19
Ouzo F.C re-sign former Blakelock graduate to a long term deal
LONDON, ENGLAND:  News from the Ouzo camp is that Management has come to ...

Monday, January 16
OUZO FC ROARS INTO PLAYOFFS

SOCCER CITY, ETOBICOKE - Bring on Arnold and Bart! One ...

Saturday, January 7
First Annual Ouzo Road Hockey Game

The First Annual Ouzo Road Hockey Game will take place Saturday January 7/06 ...

Boxing day 2005 - The year of the Asian Escape!!!!

Not since the curse of Babe Ruth has the sporting world seen a run of such ...

Tuesday, December 27
Soccer City Boxing Day "Money" Tournament @ Soccer City


Ouzo F.C test their abilities at the Annual Soccer City Boxing Day Tournment ...

Tuesday, December 6
Ouzo Quiets Raging Bulls

SOCCER CITY, ETOBICOKE - Ouzo once again broke ...

Monday, December 12
Ouzo fall back to .500 for the season

SOCCER CITY, ETOBICOKE - Ouzo F.C showed ...

Monday, December 19
A late comeback by Ouzo not enough

On a day when the Colts, the NFL's only undefeated team, lose to the Chargers, ...

Sunday, November 20
Belfast boy in a life less ordinary - George Best Remembered by all

As concern grows over George Best's fading health Bill Elliott ...

Monday, November 28
A controversial late goal by AC Attack defeats Ouzo 2-1 on Sunday

SOCCER CITY, ETOBICOKE  George Best - Pure Genius (1946 - 2005)

Of the vast volume of words written and said about George Best, perhaps the ...

Sunday, December 4
A lackluster performance on Saturday turns into a 5-1 defeat to top team Arnold and Bart

SOCCER CITY, ETOBICOKE - Ouzo came out flat against league leaders - Arnold ...

Saturday, October 29
Ouzo Takes the First Two
Ouzo's Out of the Gates with a W

Ouzo's ...

Monday, October 10
2005 Fall Indoor Season - Preview

After ...

Sunday, November 6
Ouzo takes one off the chin in a 8-4 loss to MESOPOTAMIA

There was a buzz ...

Monday, November 21
Ouzo Rebounds with a 6-1 Win Over F.K Kontakt

Ouzo redeemed themselves this past Sunday with a 6-1 win over F.K Kontakt.  ...