Ossining AYSO: WIZ of OSS Tournament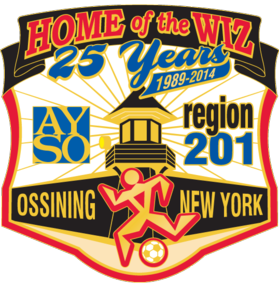 WIZ of OSS Tournament 25th Anniversary
WIZ of Oss Tournament
The WIZ of Oss is one of the area's premier youth soccer tournaments specifically geared toward AYSO Extra teams in the U9, U10, U11, & U12 divisions, as well as club teams (WYSL, etc) in Division II or lower (no D1 or premier teams). It is held each spring, and in the AYSO spirit, is organized and run entirely by volunteers - from the tournament staff to the coaches and referees on the field.
The 2015 WIZ of Oss tournament will be held on Saturday, June 13th at the Ossining High School athletic complex. Team and volunteer registration will be open soon - please check back here for the latest information!
Click here for directions to Ossining High School (address is 29 S. Highland Ave, Ossining, NY 10562 - parking lots are on Emwilton Place and Wolden Rd).
Registration and Referee Information
Teams: Please fill out a tournament team application and the appropriate roster (below) for your team's division and send to the tournament director at the address listed on the form, along with your registration fee and contact information for referees you are bringing with you to the tournament. Please address any questions to the tournament director, Ray Henshaw, at TheOssiningWiz@gmail.com
Referees: Referee "points" are awarded to a team based on the number of appearances credited to its referees, and count towards a team's total points earned in its respective division. Each match worked by a referee counts toward the total number of referee points that can be earned by a team, up to 2 (two), and it is expected that every team contribute at least TWO qualified referees (more is better) who can commit to collectively covering at least SIX matches. Even if you are not sending teams, referees from your region are not only welcome to participate, but are NEEDED in order to have 3-person ref teams for every match.
All tournament teams should fill out the "Referee Team Registration" form on behalf of their referees and send in along with their application. At a minimum, you can have your referees provide the following information directly to the tournament referee coordinator, Gary Gunn, at garygunn@verizon.net:
Referee contact details (full name, email, cell phone in case of emergency)
Current certification (Regional, Intermediate, etc)
Availability (e.g., morning, afternoon, all day, 8am-11am, 2pm-4pm, etc.)
Preference/comfort level for age/division (U9/10/11/12, boys or girls)
Preference/comfort level for CR (center ref) or AR (assistant ref)
Team or Region affiliation
Team Registration Forms
Applications and forms for the 2014 WIZ of OSS tournament - a complete team entry consists of the Team Application, Team Roster, Referee Team Roster, and the registration fee.
2014 WIZ Tournament Team Application (doc)
2014 WIZ U9-U10 Team Roster (doc)
2014 WIZ U12 Team Roster (doc)
2014 WIZ Referee Team Registration (pdf)
2014 WIZ Referee Team Registration (doc)
2014 WIZ Referee Team Registration (docx)
Tournament Rules
Official Team Rules and Regulations (doc)
Rules regarding Referee points, and Scoring (pdf)
2014 WIZ of OSS - For Referees
Please find below tournament schedule, referee assignments, and general guidelines for referees.
REFEREES: Please make every effort to arrive at least 30 minutes prior to your first match assignment to allow time for check in and to familiarize yourself with the field layout. Also, please review and familiarize yourself with the tournament rules and guidelines (see link below) prior to coming. Finally, don't forget your referee gear (FULL uniform, badge, whistle, flags, watch, etc).
NOTE: All referees will receive a "survival kit" upon check in, which includes, among other things, the special edition AYSO 50th anniversary referee badges - you are encouraged to wear this badge in lieu of your existing one!
Thanks for all you do for the kids, and remember: HAVE FUN OUT THERE!!
-- your friendly neighborhood WIZ tournament staff
Tournament Guidelines for Referees, Instructions, and General Information (pdf)
Wednesday, June 18
2014 WIZ of OSS