Ossining AYSO: My Site News
Two exciting summer camps to choose from!!!
Dos emocionantes campamentos de verano para elegir!!!
---
AYSO Soccer Camps, August 11th thru August 15th


AYSO Fútbol Campamentos ,

11 de agosto hasta el 15 de agosto
---
Challenger British Soccer Camp, August 4th thru August 8th
Challenger Soccer Camp británico, 04 de agosto hasta el 08 de agosto

Scroll further down on this page to see more information about this camp
Mover más abajo en esta página para ver más información sobre este campamento
| | |
| --- | --- |
| CAMP FEATURES | CARACTERÍSTICAS DEL CAMPAMENTO |
| • Certified Professional Coaches | • Certificados de Entrenadores Profesionales |
| • Skill Development | • Desarrollo de Habilidades |
| • All Ability Levels | • Para todos los niveles de habilidad |
| • Boys and Girls, 4-18 Years | • Para niños y niñas de 4-18 años |
| • Child Enrichment 'Inspire Curriculum' | • Enriquecimiento de los niños con "currículo inspirado ' |
| • Small Sided Games | • Juegos de caras pequeñas |
| • Limited Player To Coach Ratio | • Relación limitado de jugador - entrenador |
| • T-Shirt & Certificate / Evaluation | • Camiseta y Certificado / Evaluación |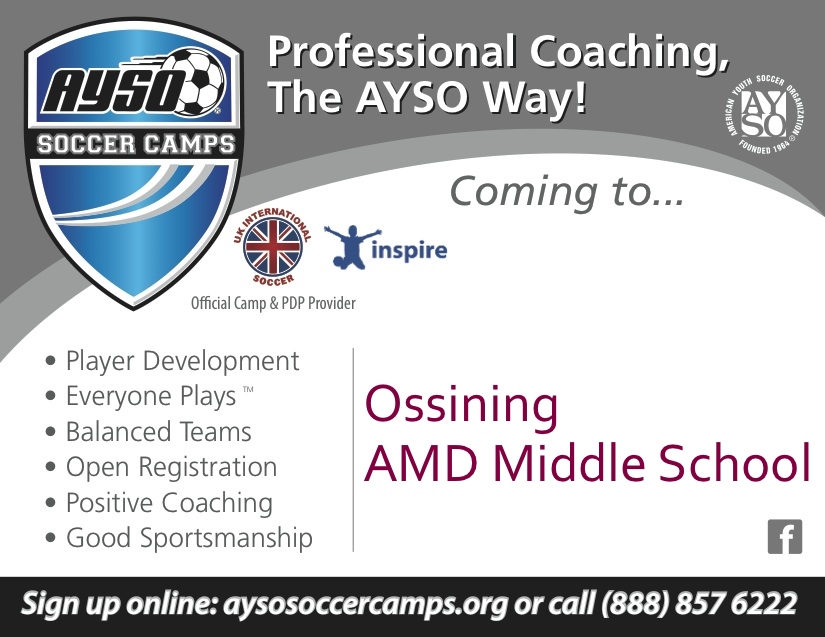 Hosting an AYSO Soccer Camps UK International Soccer Coach is a truly rewarding and enjoyable experience as well as being somewhat of a cultural exchange. The similarities and differences of our language, combined with the love of soccer ensures a memorable week and long lasting friendships for everyone. If you are interested in hosting an AYSO UK International soccer coach, please click below for information, or email us at
OssiningAYSO@gmail.com
Or download the pdfs
---

---
Ossining AYSO presents the Challenger British Soccer Camp
Ossining AYSO presenta el Campamento de fútbol británico Challenger
RETURNING FOR SUMMER 2014!
REGRESO PARA EL VERANO 2014!
When/Cuándo: August 4 through 8, 2014
Where/Dónde: Cedar Lane Park, 190 Cedar Lane, Ossining, NY 10562
Ossining AYSO is excited to partner again with Challenger Sports to bring a very unique soccer camp experience to the community and surrounding towns. Everyone is welcome.
Ossining AYSO están muy contentos de asociarnos una vez más con el Challenger Sports para traer una experiencia única del campo de fútbol, a la comunidad y sus alrededores. Todos estan bienvenidos.
British Soccer Camp is aimed at any player, any age, and any capability. It provides young players with the rare opportunity to receive high level soccer coaching from a team of international experts.
Campamento de fútbol británica se dirige a cualquier jugador, de cualquier edad y de cualquier capacidad. Se ofrece a los jugadores jóvenes con la rara oportunidad de recibir entrenamiento de fútbol de alto nivel de un equipo de expertos internacionales.
Several Different Camp Options Are Available:
Varios diferentes opciones Camp están disponibles:
9am-11am Mini Soccer Ages 3-4
(Mini Fútbol, Edades 3-4 )
9am-12 Half Day Player Development Ages 5-14
(Medio Día Desarrollo de Jugadores, Edades 5-14)
9am-4pm Full Day Player Development Ages 6-14
(Día Completo de Desarrollo de Jugadores, Edades 6-14)
5pm-8pm Half Day Player Development Ages 5-14
(Medio Día Desarrollo de Jugadores, Edades 5-14)
---
The Spring 2014 season has come to an end
La temporada de primavera de 2014 ha llegado a su fin
We hope to see you all again for the Fall 2014 season!
Esperamos verlos a todos de nuevo para la temporada de otoño 2014!
Please make sure you give thanks to all your volunteers, coaches and referees who helped make this season a success and lots of fun for the kids!
Por favor, asegúrese de dar las gracias a todos sus voluntarios, entrenadores y árbitros que ayudaron a que esta temporada sea un éxito y muy divertidas para los niños!
If you haven't already done so, please consider volunteering as a coach or referee for the next season. This program can only succeed with the help and dedication of all our AYSO volunteers.
Si aún no lo ha hecho, por favor considere convertirse en un voluntario como entrenador o árbitro para la próxima temporada. Este programa de AYSO sólo puede tener éxito con la ayuda y dedicación de todos nuestros voluntarios.
The satisfaction of creating a safe and fun program for our children is a gratifying reward that all our volunteers greatly appreciate.
La satisfacción de la creación de un programa de seguridad y diversión para nuestros niños y niñas es una recompensa gratificante que todos nuestros voluntarios aprecian mucho.
Please don't hesitate, and reach out to us if you'd like to help out in the Fall.
Por favor, no dude y póngase en contacto con nosotros si desea ayudar como voluntarios en el otoño.
Just ask any coach or referee for more information, and how to sign up!
Pregúntale a cualquier entrenador o árbitro para más información sobre lo fácil que es ser voluntario, y cómo registrarse!
You can also email us at OssiningAYSO@gmail.com
Ustedes también pueden envíenos un email a OssiningAYSO@gmail.com
---