Ohio State District Administrators: Welcome
Little League is the largest organized youth sports program in the world and the only Federally Chartered youth organization. It is truly a program of service to youth, adapted to the mental and physical capacities of children in a wide range of age groups. Combining all sanctioned Little League participation, more than 2.6 million children participate each year. Programs include both softball and baseball.Through the efforts and leadership of the past and present Administrators of the 11 districts in Ohio, numerous volunteers at the district and local league levels have provided exceptional Little League values and programs for the youth of Ohio.
If you have a question or comment please feel free to email us . All of our districts are gearing up for the 2015 season. This will be the 76th year for Little League.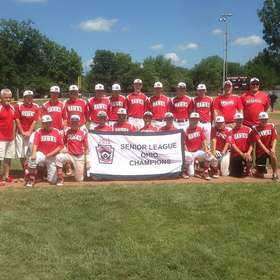 2015 OH SR BB CHAMPS E. HOLMES D4
Thursday, July 30
UPDATES
AND THE CHAMPIONSHIP GAME IS OVER D-4 HOLMES IS OUR NEW SR BB CHAMPION! CONGRATULATION TEAM!
7/30 UPDATE...THE BOYS HAVE WON THE SR BB REGIONAL CHAMPIONSHIP...ONTO BANGOR MAINE TO COMPETE IN THE WORLD SERIES FOR SR BB...GOOD LUCK!!!!!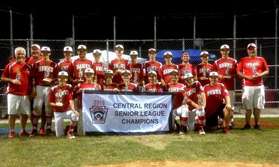 Central Region Champs!!!!
Sunday, July 19
O.S.D.A. Little League Baseball & Softball
Wednesday, July 1
2015 STATE TOURNAMENTS
In October 2014 the State DA's held their fall meeting and tournaments were assigned as follows:
9-10 BB DISTRICT 9 HAMILTON W. SIDE LL 8/01 THRU 8/08/15
10-11 BB DISTRICT 1 ASHTABULA LL, ASHTABULA, OH 8/01 THRU 8/08/15
50-70 BB DISTRICT 10 BRYAN LL 7/11 THRU 7/19/15
11-12 BB DISTRICT 1 PAINESVILLE LITTLE LEAGUE PAINESVILLE, OH 7/25 THRU 8/02/15
JR BB DISTRICT 9 OXFORD, OH MIAMI LL 7/18 thru 7/25
SR BB DISTRICT 10 MAUMEE LL 7/17 THRU 7/21/15
BIG LEAGUE BB DISTRICT 8 ENGLEWOOD LITTLE LEAGUE ENGLEWOOD, OH 7/10 THRU 7/12
9-10 SB DISTRICT 3 TALLMADGE LL 8/01 THRU 8/08/15 *
10-11 SB DISTRICT 3 ELYRIA E. LL 8/01 THRU 8/08/15 *
11-12 SB DISTRICT 11 MCDERMOT LL 7/11 THRU 7/18/15 **
JR & SR SB DISTRICT 11 MCDERMOT LL 7/17 THRU 7/20/15
BIG LEAGUE SB NO TOURNAMENT UNLESS TEAMS BECOME AVAILABLE
OHIO CHALLENGER BB DISTRICT 10 TOLEDO, OH 7/17 THRU 7/19/15
* SITE LOCATION HAS CHANGED SINCE MEETING ** District & Site has changed
Tuesday, July 15

Inlive Counter
Monday, January 27
HOW TO START OR FIND A LEAGUE
Is your community interested in starting a Little League group in your hometown...then click on the article title to find out more information.