Osceola Omen: Welcome
Our goal is to prepare 11 and 12 year old young men to play competitive high school baseball. Our guidelines to make this possible are the same as needed to succeed in life.
"Three C s"- Commitment, Character, Confidence
Commitment -Success cannot be achieved without first making a commitment. The will to progress and the will to succeed can only be attained and maintained through a desire for personal excellence. The successful player has the habit of doing things others find too difficult to continue. We have players and coaches with the mind set for achieving personal excellence in the game of baseball.
"You're either in or you're out, there is no in between"
Character- In baseball as well as in life there is no place for excuses. Always doing the best you can as a player and as a teammate,being accountable shows who you are. We develop players who respect their team, coaches, families, teachers, opponents, and officials. We develop players that maintain their spirit in defeat as well as in victory. Neither a victory nor a defeat defines who they are as individuals. Players actions before, during, and after a game defines their character.
"Sports do not build character. They reveal it." John Wooden
Confidence-Building confidence by making the players prepared through structured practices. Planned practices and instructions with game like situations, thus giving them confidence in their ability to perform under pressure during "Game Time." We do not believe in giving false praise but to give praise on effort and not so much from the total outcome of a game. Physical errors are a part of baseball. Baseball is a game filled with failure- so we want to instill confidence with an understanding that by giving full effort, failure is considered only as a learning tool and a building block for future success.
We develop our players to play with confidence.
With confidence they've won before they've started.
"When you punish your player for making a mistake or falling short of a goal, you create an environment of extreme caution, even fearfulness. In sports it's similar to playing "not to lose" - a formula that often brings on defeat." John Wooden
Commitment + Character + Confidence = Success
Contact Us; Barry Bryant - Coach/Manager
407-892-0005
Saturday, February 2
Osceola Omen -Turbo Tourney Champions
Osceola Omen start 2013 with 4 game sweep to the Championship of Turbo Tourney hosted by Nations of Orlando.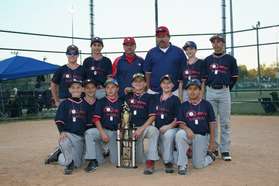 Osceola Omen -12U Turbo Champions
Sunday, July 15
Osceola Omen -Runner Up-CF Basball Championship
Osceola Omen continues their progression & after only 4 tournaments make their way to the Finals in the Central Florida Championship Tournament in Apopka hosted by Nations Orlando.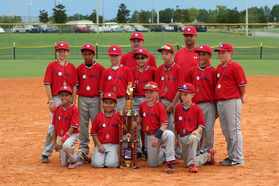 CF Championships-11U Runner Ups