Orland Park A's: Welcome
---
IMPORTANT ANNOUNCEMENTS
ORLAND PARK A'S 12U BH IS LOOKING FOR
1 MORE PLAYER/ATHLETE TO COMPLETE THEIR ROSTER.
CONTACT BOB HYLKA AT:
BOBHYLKA@YAHOO.COM TO ARRANGE A PRIVATE TRYOUT
ORLAND PARK A'S 13U AB IS LOOKING FOR
2 more players to add to their already solid team.
A pitcher and an all around utility player.
For a private tryout, please contact, Coach Angela Bartucci at:
ANGELA@S2BREAKTHROUGH.COM or call, (708) 935-1167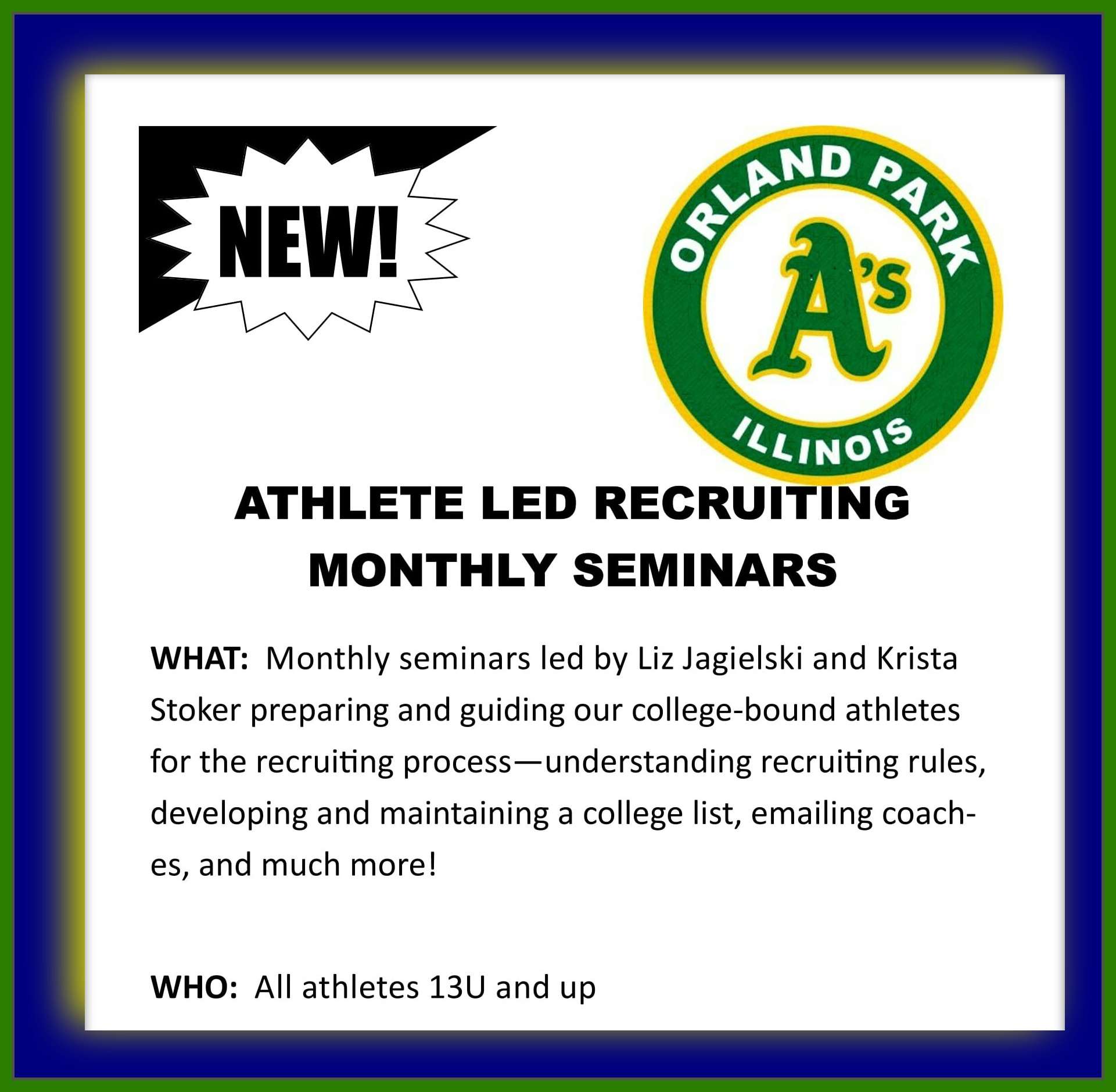 TIME T.B.D.
---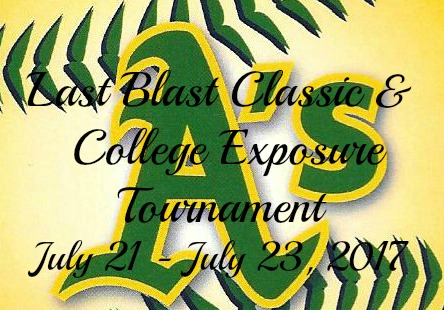 ORLAND PARK A'S 11TH ANNUAL
LAST BLAST CLASSIC SUMMER TOURNAMENT
FRIDAY, JULY 21 - SUNDAY, JULY 23, 2017
PLEASE CLICK HERE FOR 10U & 12U REGISTRATION FORM
ORLAND PARK A'S 11TH ANNUAL
LAST BLAST COLLEGE EXPOSURE TOURNAMENT
FRIDAY, JULY 21 - SUNDAY, JULY 23, 2017
PLEASE CLICK HERE FOR 14U, 16U & 18U REGISTRATION FORM
14U AND 18U ARE FULL AND NOW HAVE A WAITING LIST.
PLEASE CLICK HERE FOR THE LISTING OF COLLEGE COACHES THAT HAVE BEEN INVITED AND ATTENDED IN THE PAST
REGISTRANTS:
LAST UPDATED 03/20/2017
10U
BLUE WAVE FASTPITCH
SPARKS SOFTBALL
12U
LOCKPORT PRIDE LINCOLN WAY STORM WINDY CITY ICE BLUE '04 ILLINOIS STARS 2004 ILLINOIS SHOCKWAVE

14U

GTS ELITE ORLAND PARK A'S KH FORCE WINDY CITY THUNDER DM GRB RAYS VERNON HILLS STINGERS DD ELK GROVE HEAT RED ILLINOIS STARS 2002 OAK PARK WINDMILL EXPOSURE RED NWI SOX NEW LENOX POWER LOCKPORT PRIDE TOP TIER FASTPITCH BORDERTOWN BANDITS DIRT DEVILS AA WINDMILLS '02

16U
WINDY CITY ICE BLUE ROSELLE ROCKERS PURPLE LEMONT SIZZLERS VERNON HILLS STINGERS
NEW LENOX LIGHTNING ROSELLE RAMPAGE ILLINOIS IMPACT PRESTIGE FASTPITCH CRUSH TIDAL WAVE - PH ORLAND PARK A'S - 14U DD ORLAND PARK A'S - BRAD WINDY CITY ICE BLACK HAWKS HOMER LADY HEAT OAK LAWN GEMS DOVE ALL ASPECTS ELITE CHICAGO OUT BURST MUNDELEIN STAMPEDE WHEATLAND SPIKES GRB RAYS LOCKPORT PRIDE WINDY CITY THUNDER RM LISLE SLAMMERS

18U
TREVIANS OAK PARK WINDMILLS HAWKS
GRB RAYS STONE CITY FASTPISTCH DIRT DEVILS LEMONT ROCKERS LL CHICAGO OUT BURST

---
Mission Statement
The goal of the Orland Park Illinois A's travel softball program is to develop and promote the ideals of responsibility, hard work, sportsmanship, and teamwork. The individual growth of our athletes comes from training with our skilled coaching staff, competition, and discipline. These goals will be accomplished by providing athletes with an understanding of the fundamental and mental approach to the game of softball.

Our philosophy is that all athletes must play to improve at the 10U-13U levels. It is essential that athletes are given the chance to all play in championship play as well as weekday games. We believe this helps athletes with the mental aspect of the game and dealing with success as well as failure. Our 14U-16u age groups play a competitive PGF/ASA schedule and are designed to compete at the highest level.

Every athlete that competes in college no matter what level will be able to learn teamwork, time management, leadership, and respect. This in turn will produce responsible young woman with confidence in the work force that one day will hopefully give back to the sport.
-Orland Park A's FastPitch Softball