ORIGINALS-KOOP 18A FASTPITCH SOFTBALL: Welcome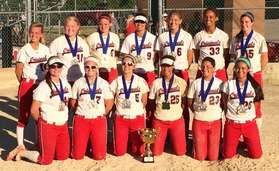 2014 USSSA 18A Missouri State Champions
Become a fan of
ORIGINALS-KOOP 18A - CALIFORNIA BOUND
The Originals-Koop TEAM next tournament will be....
The PGF National Championship - 18U Platinum
Premier Girls Fastpitch National Championship
Huntington Beach - Fountain Valley - Irvine, California
Games will be hosted on 07-26-2014 thru 08-02-2014
For addtional information, please visit the National PGF website at;
http://www.premiergirlsfastpitch.com/tournament-local.php?tid=366
HOME OF THE ORIGINALS-KOOP 18A
Welcome to the home of the Originals-Koop 18A Fastpitch Softball TEAM....and a proud member of the Originals Fastpitch Softball Club. Lead by Head Coach James Koop, this TEAM is comprised of young ladies from all around the Kansas City Metropolitan area. All players were given the opportunity as a result of the performance, both on and off the field, charitable contributions and community service, as well as their desire to play fastpitch softball at the college level...