Westside Athletic Club: Sports
Baseball
Coaches:
Bob Greco, Head Coach, 402-343-2670, bgreco@westside66.org
Jim Simons, Assistant Coach, 402-343-2751, jsimons@westside66.org
Steve Clark, Assistant Coach, sclark@westside66.org
Curt Shockey, Volunteer
Dave Vallinch, Junior Varsity
Josh Hoegh, JV Volunteer
Otis Seals, JV Volunteer
Jay Elliott, Reserve
Mark Michaells, Reserve Volunteer
Al Smith, Reserve Volunteer
Basketball
WHS Basketball Player Honored by Kiwanis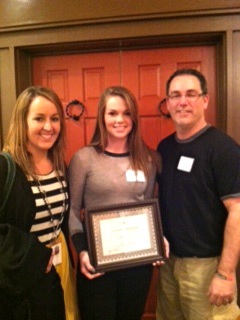 Karly Meyer, WHS senior basketball player, has been honored by Westside Kiwanis Club for achievements on and off the court. The club honors a senior boy and a senior girl basketball player each year. Honorees are represented from Westside, Marian, Northwest and Burke. They receive a plaque and certificate for their accomplishments. Meyer is pictured with Assistant Coach Jamie Davis and Head Coach Steve Clark.
Coaches:
Steve Clark, Varsity Head Coach, sclark@westside66.org
Jamie Davis, Varsity Assistant Coach, jamiedavis@westside66.org

Beth Peitzmeier, JV Head Coach, bpeitzmeier@westside66.org

Heather Steffen, JV Assistant Coach

Tom Marasco, Reserve Head Coach, tmarasco@westside66.org

Dan Harmon, Freshman Head Coach
Cheerleading & Dance
CONGRATULATIONS TO THE 2012-2013 CHEER SQUADS AND DANCE TEAM
Freshman Cheer: Sophie Cosimano, Haley Foral, Claire Hofmann, Macy Hollingsed, Krissy Hosman, McKenzie Meradith, Scout Petersen, Jasmyn Ross, Emily Shelton, Michaela Thompson
JV Cheer: Haley Bekins, Annie Bradford, Erin Ford, Michaela Gibbons, Sydney Hawekotte, Juliann Hellman, Anna Hoyme, Jessica Hrbek, Carole Kauffman, Maddie Marshall, Delaney Micheels, Skylar Ricceri, Nicole Russell, Hannah Shaw, Hannah Smith
Varsity Cheer: Emily Glazer, McKinney Harwood, Jacquilin Hogan, Molly Hughes, Leigh Lindquist, Caroline Luther, Molly Novoa, Gina Raneri, Erin Reynolds, Maddie Salerno, Laura Salisbury, Sonia Schrager, Kailey Siebert, Megan Ulrich, Cora Watanabe
Dance Team: Annie Davis, Brooke Schniederman, Casey Seline, Chelsea Bevridge-Grandizio, Claire Dyer, Claire Salem, Claudia Prescher, Gabby Simon, Hunter Kruszka, Katie Kupka, Kayla Holmes, Kennedy Matt, Kylene Abraham, Paige Clemons
Congratulations to the following girls who made cheer/dance at their colleges: Jessie Pflug - University of Nebraska Cheer Squad Lindsey Taylor (undecided) - Simpson College - basketball cheer/dance team, and Doane College -Cheer/Dance Team
Coaches:
Michaela Moore, Varsity Cheerleaders, 402.343.2695, mmoore@westside66.org
Tara Vaughn, JV Cheerleaders, 402.343.2664, tvaughn@westside66.org
Amy Studts, Reserve Cheerleaders, 402.343.2742
Lori Huffman, 9th Grade Cheerleaders
Andrea Street, Varsity Dance, 402.343.2755, astreet@westside66.org
Amy Studts, Varsity Dance, 402.343.2742 astudts@westside66.org
Cross Country
Boys Cross Country
Look for information on the cross country website:www.westsidecrosscountry.weebly.com.
Coaches:
Derek Fey, Head Coach, 402.408.8598 dfey@westside66.org
Drew Forrester, Assistant Coach
Girls Cross Country
Coaches:
Theresa Gosnell, Head Coach, 402.343.2769 tgosnell@westside66.org
Ryly Farr, Assistant Coach
Football
Coaches:
Brett Froendt, Varsity Head Coach, 402.343-2632, bfroendt@westside66.org
Shawn Blevins, Assistant Coach, 402.343.2672, sblevins@westside66.org
Justin Haberman, Assistant Coach, 402.343.2807, jhaberman@westside66.org
Rick McKeever, Assistant Coach, 402.343.2761, rmckeever@westside66.org
Chad Schmeckpeper, Assistant Coach, 402.343.2629, cschmeckpeper@westside66.org
Craig Secora, Assistant Coach, 402.343.2777, csecora@westside66.org
Mike Jernigan, Junior Varsity Head Coach, 402.343.2655, mjernigan@westside66.org
Ben King, Assistant Coach, bking@westside66.org
Trent Goodman, Assistant Coach
Brett Williams, Assistant Coach
Matt Hodgson, Freshman Head Coach, 402.343.2678 mhodgson@westside66.org
Dave Baker, Assistant Coach 408-8614 dbaker@westside66.org
Jake Pedersen, Assistant Coach 343-2757 jpedersen@westside66.org ; Sean Tatro, Assistant Coach.
Golf
Boys Golf
Coaches:
Brett Froendt, Head Coach, 402.343.2632 bfroendt@westside66.org
Matt Rasgorshek, Assistant Coach, 402.343.2714, mrasgorshek@westside66.org
Girls Golf
Coach:
Barry Glanzer, Head Coach, 402.408.8613, bglanzer@westside66.org
Soccer
Boys Soccer
Coaches: John Brian, Head Coach 343-2746 jbrian@westside66.org Josh Willits, Assistant Coach 408-8813 jwillits@westside66.org Jered Turner, Tom White, Junior Varsity Coach; Jim Pauley, Volunteer
Girls Soccer
Coaches: Nathan Moseley, Head Coach 343-2645 nmoseley@westside66.org Kurt Jejtmanek, JV Coach Lacey Batt, Assistant Coach
Softball
Westside Softball played tough at Districts in Grand Island Thursday, beating Lincoln East 6-3 and Grand Island 3-1 to move to the District Finals on Friday, where they fell to Grand Island 1-0 and 7-1.
Congratulations to seniors Allie Ladd, Kat Matuska and Morgan Teuscher and the rest of the team for a great 2012 season!
Coaches: Kevin Dunn, Head Coach, kdunn@westside66.org Stacy Dunn, Assistant Coach Mark Royer, Assistant Coach
Swimming & Diving
WAC congratulates Doug Krecklow on a phenomenal career
34 years as Coach
11 boys titles
5 runner-up finishes
9 girls titles
7 runner-up finishes
118 All-Americans
Thank you, Coach Krecklow, from all of the Westside family!!!
Coaches:
Doug Krecklow, Head Coach, 402.343.2770, dkrecklow@westside66.org
Lisa Ellis, Assistant Coach
Nick Joslin, Assistant Coach, 402.343.2688 njoslin@westside66.org
Bailey Ingles, Assistant Coach, 402.403.8309 bingles@westside66.org
Katy Saalfeld, Diving Coach
Tennis
Westside Boys Varsity Tennis Team finished 4th place out of 16 teams in the Metro tournament.
The following players received the Metro Tennis All Academic Award for academic excellence and tennis achievement:
#1 Doubles: Michael Mellen & Noah Placzek
#2 Doubles: Camden Bilyeu & Grant Glazer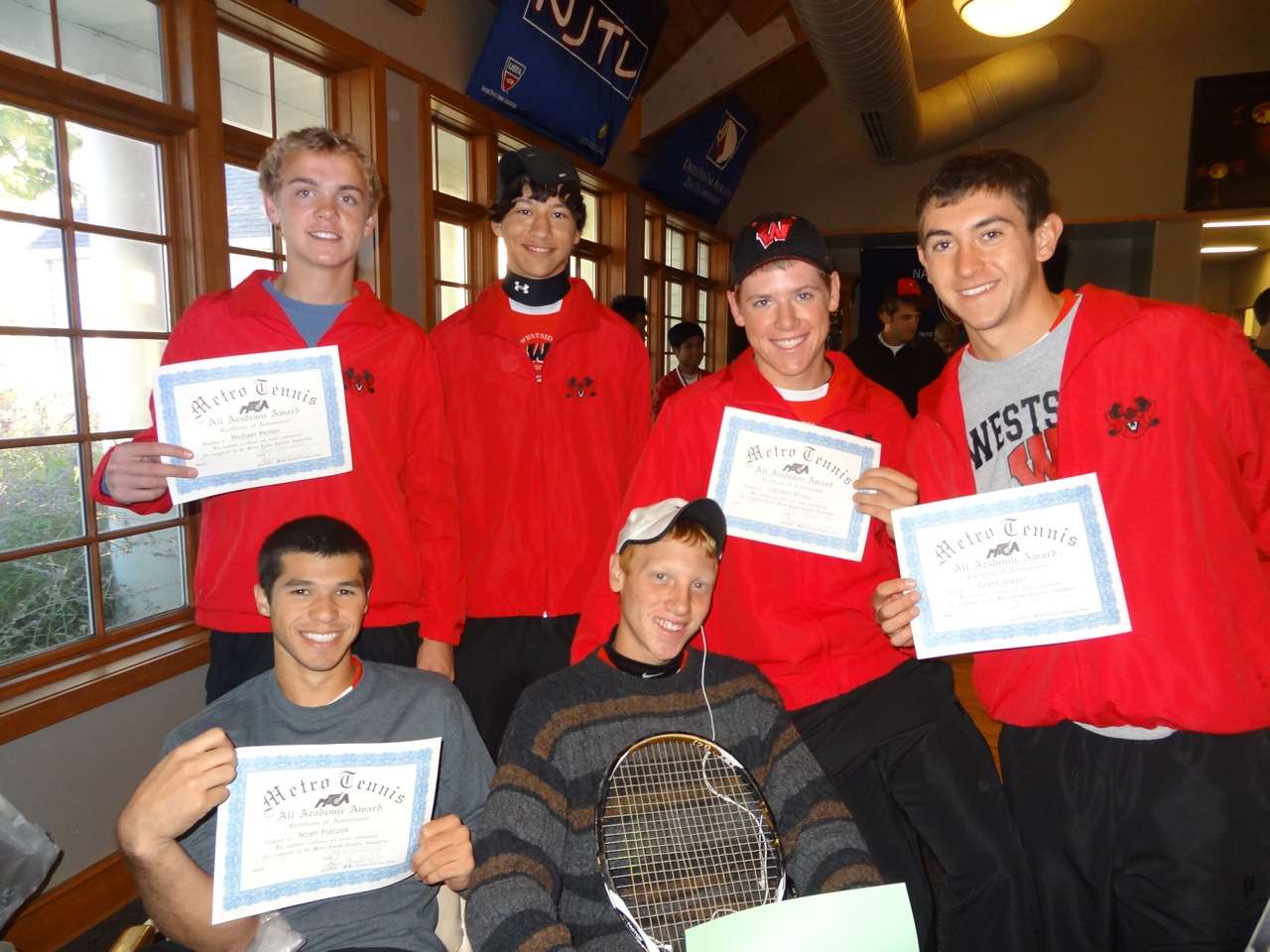 Individual Result:
#1 Singles, Trent Gardner: 4th place
#2 Singles, Sean Paddios: 3rd place
#1 Doubles, Mellen / Placzek: 3rd place
#2 Doubles, Bilyeu/Glazer: 2nd place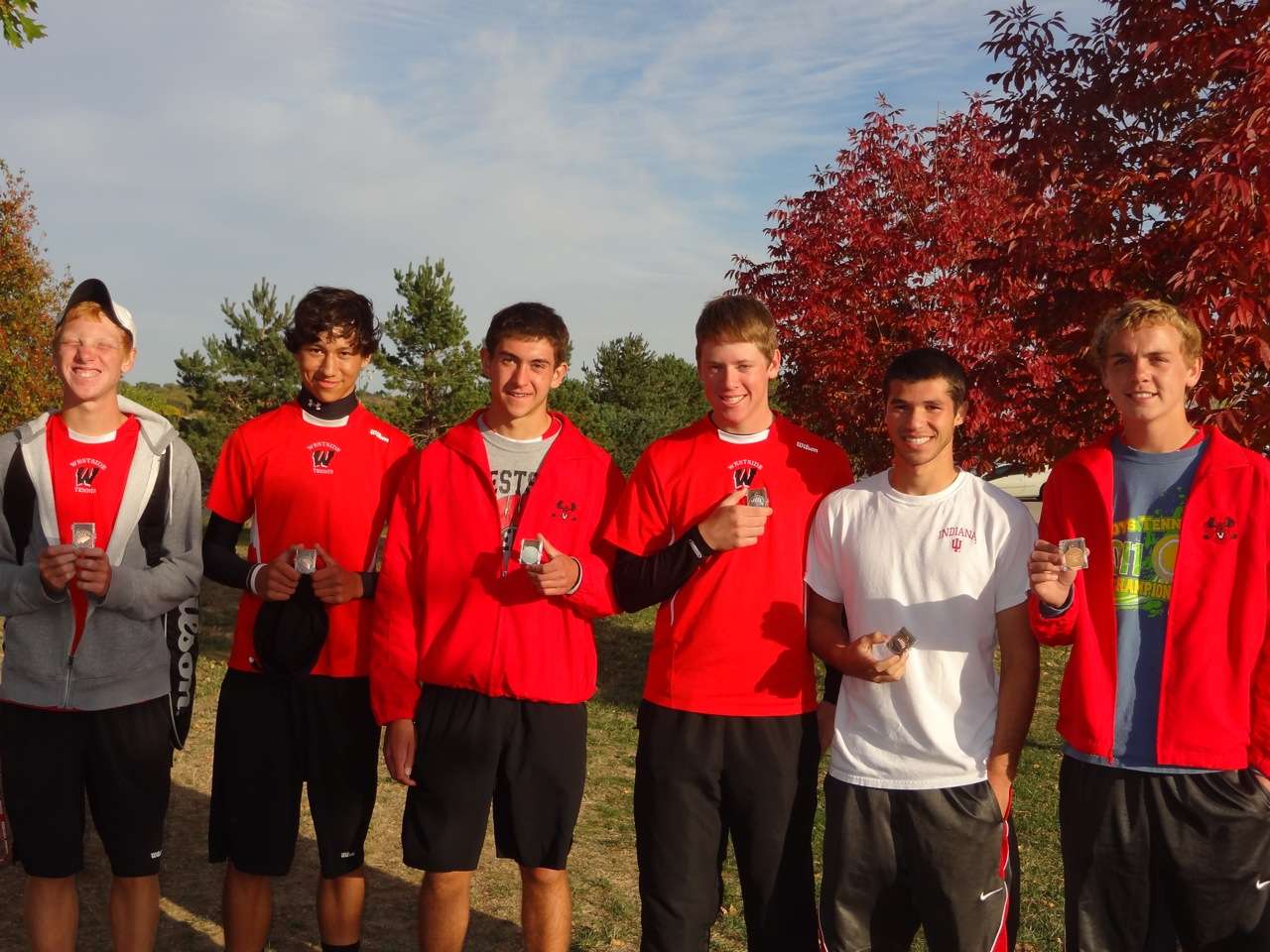 BOYS TENNIS RETURNS 10 LETTERWINNERS: The boys varsity tennis has a great deal of experience from last year's returning Metro and State starters. They include 4 seniors: Captains: Michael Mellen, Noah Placzek & Grant Glazer along with Trent Gardner. And, Juniors: Sean Paddios and Tom Kutilek.
2012 Westside Warriors Boys Varsity Tennis Team:
*Trent Gardner (12)
*Grant Glazer (12)
*Michael Mellen (12)
*Noah Placzek (12)
*Camden Bilyeu (11) Tyler Siegel (11)
*Joe Zanders (11)
*Jon Bass (10)
*Tom Kutilek (10)
*Sean Paddios (10)
*Max Slosburg (10)
Reis Pieper (10)
*Returning varsity players
Kim Gradoville, Varsity Coach
402-343-2725
kgradoville@westside66.org
Shaun McMahon, Junior Varsity Coach
402-343-2693
smcmahon@westside66.org
Track & Field
Boys & Girls Track/Field Coaches: Rick McKeever, Boys Head Coach 343-2761 rmckeever@westside66.org Jon Preister, Girls Head Coach 343-2737 jpreister@westside66.org Brian Stevens, Assistant Coach Sarah Percival, Assistant Coach Lonnie Moore, Assistant Coach Chad Schmeckpeper, Assistant coach Abi Lewis, Assistant Coach Tobin Ehlers, Assistant Coach Tarra Havlicek, Assistant Coach/WMS Derek Fey, Assistant Coach/WMS
Volleyball
Westside Varsity Volleyball team took first place at the Lincoln High Invitational. The warriors went undefeated during the tourney to clench the title.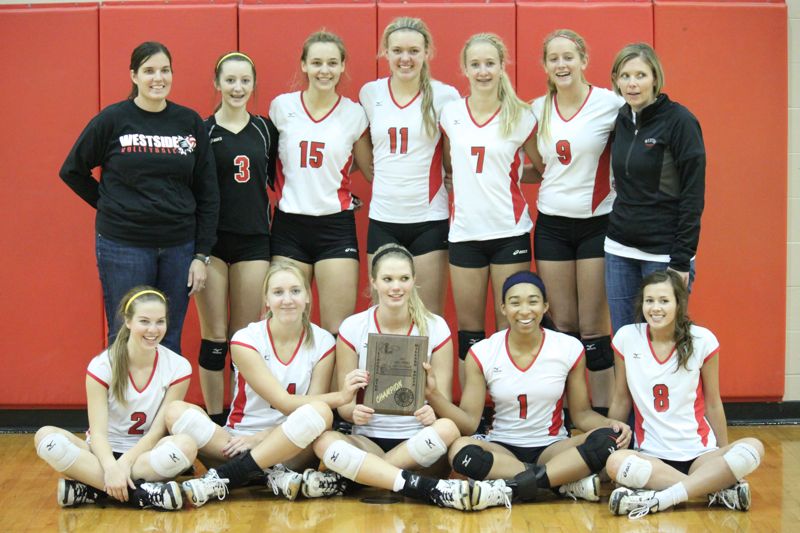 Coaches: Kim Eymann, Head Coach, 402-343-2741 keymann@westside66.org; Jessica Fauss, Assistant Coach, 402-343-2633, jfauss@westside66.org; Lindsay Scott, Junior Varsity Coach, 402-343-2723, lscott@westside66.org; Amanda Miller, Reserve Coach 402-343-2686, amandajmiller@westside66.org; Beth Peitzmeier, Freshman Coach, 402-408-8585, bpeitzmeier@westside66.org; Katie Harmon, Freshman Coach, 402-343-2637, kharmon@westside66.org
Wrestling
Season Outlook
The Warrior Wrestling Team is looking to young talent as they graduated 11 seniors last year. If everything comes together like it should, the team will push for a Top 10 finish at State. The team is fortunate to get Marcus Pierce from South Dakota who will be a solid addition at 160. Returning State Qualifiers: Antoine Tureaud (5th), Dylan Sorrell, Erick Vargas and Eric Neely. In addition to this list, other returning lettermen are Brady Novak and Jesse Nesbitt.
Coaches: Mike Jernigan, Head Coach 343-2655 mjernigan@westside66.org Reed Weber, Assistant Coach John Bombac, Junior Varsity Coach 343-2703 jbombac@westside66.org Mike Fauss, 9th Grade Coach 343-2716 mfauss@westside66.org