Minor League: Welcome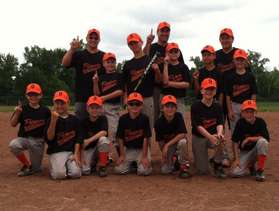 Congrats to Orange 3 (Benchmark Bank/Josie's) 2012 Best Player Tourney Champs!
Liberty 3 (Dent Magic/Underwood Orthodontics) 2012 Best Player Tourney Runner Up
Congrats also go to Orange 1 (Shearer Landscaping/Polaris Pet Salon) for their 3rd place finish! Thanks to all for a great Best Player Tourney and a special thanks goes to Stuart Crane for donating jerseys and hats for all the teams!!
Congrats to all on a great season! A big thanks to all the coaches who helped make it a great season! We hope to see you back for 2013!!
Use the menu options on the left or the links below to see game schedules, scores and standings. Please be sure to visit our Minor League SPONSORS page to show thanks for their great support!
Click STANDINGS to see final standings. From there, you can see individual game scores by clicking on the team name link within the standings.
---
SAFETY FORMS
Listed below are important safety-related forms. The first is a Pitch Log for keeping track of the pitch count for pitchers. The second form is a Pitcher Eligibility Form, which is to be completed at the end of a game and then exchanged with the opposing team prior to the next game. The last one is an Injury Report form.