Oldham County High School Girls Soccer Team: My Site News
Monday, April 1
Brittney Moshos Signs Letter of Intent to Play Soccer at Georgetown College
Senior Goalie Brittney Moshos signs her letter of intent to play soccer at Georgetown College.
Brittney's family looks on along with:
- OC Athletic Director KevinCombs
- OC Girls Soccer Coach Dan Schulz
- Georgetown College Woman's Soccer Coach Leah Castleman
- Thoroughbred Soccer Club Coach Rock Thompson
Congratulations, Brittney! Go Georgetown Tigers!
Thursday, August 16
SON Cup Tournament Update
Both JV and Varsity teams have won both of their games in the East Division Bracket
JV vs. Nelson County - won
JV vs. Eastern - won 5-0
Varsity vs. Nelson County - won 2-0
Varsity vs. Eastern - won 4-0
Nelson County JV and Varsity both won their games against Eastern with the JV winning 5-0 and the Varsity winning 6-1.
In other SON Cup Tournament news:
In South Division - South Oldham Varsity won on Monday night against Bishop Brossart 1-0 and had an exciting game on Wednesday night against Male, winning 4-3. Male and Bishop Brossart play on Friday evening to finish up the South Division Bracket.
In North Division - North Oldham Varsity won their game against North Bullitt 8-0 and plays their 2nd game in their bracket on Friday evening against Campbell County. North Bullitt and Campbell County play on Saturday morning to close out the North Bracket.
In the West Division - Manual Varsity won against Elizabethtown on Wednesday night 2-1 in a PK Shootout after the game was tied 1-1 in regulation time. Manual plays Scott County at OCHS on Friday night while Elizabethtown and Scott County will play on Saturday morning to round out the West Division Bracket.
After all pool play is finished, the division crossover games will be played at Oldham County High School on Saturday with JV games being at 9:30 a.m., noon, 1:30, 3:00, 4:30 and 6:00 p.m. and Varsity games at 11 a.m., 1:00, 3:00, 5:00, 7:00, and 9:00 p.m.
Finals will be held on Sunday at North Oldham with 3 games each at 11:00 a.m., 1:00 p.m, 3:00 p.m. and 5:00 p.m..
Monday, July 30
Bluegrass State Games
Both Junior Varsity and Varsity teams had a successful weekend at the 2012 Bluegrass State Games in Versailles. The Varsity went 3-0 for the weekend, beating Madisonville HS, Ohio County HS, and Danville HS with only 1 goal scored against them the entire weekend. JV was 2-1, beating Campbell County HS, Franklin County HS, and onlylosing to a very good Lexington Christian team on Sunday. GREAT JOB, LADIES! It's going to be another fantastic season for these Lady Colonels!!!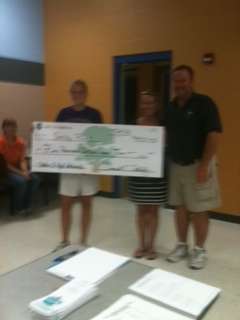 Shelby Rush Accepting Scholarship Check
Thursday, July 26
2012 OCHS Graduate Shelby Rush was presented a check for $500 from members of the Family Tree Foundation for the scholarship she received in memory of Coach Daniel Schulz's parents who were avid supporters of the Lady Colonels Soccer Team. Members of the 2011-2012 Lady Colonels Soccer Team selected Shelby Rush to receive this scholarship due to her dedication, hard work, and constant enthusiasm for the game and her team. Shelby Rush will be attending St. Catherine College this fall and playing for the Women's Soccer Team. Congratulations, Shelby!
Monday, July 23
2012 BLUEGRASS STATE GAMES - SCHEDULE
JV GAME SCHEDULE: (Woodford County Youth Soccer Association Fields)
Saturday, July 28 8:00 a.m. Field 13 OCHS vs. Campbell County HS
2:00 p.m. Field 3 Franklin County HS vs. OCHS
Sunday, July 29 12:30 p.m. Field 2 OCHS vs. Lexington Christian HS
VARSITY GAME SCHEDULE: (Woodford County Youth Soccer Association Fields)
Saturday, July 28 9:30 a.m. Field 13 Madisonville HS vs. OCHS
5:00 p.m. Field 15 Ohio County HS vs. OCHS
Sunday, July 29 11:00 a.m. Field 1 Danville HS vs. OCHS
Wednesday, July 11
Male Bulldog Cup - JV Tournament
Thursday, January 26
New State Soccer Alignment
The Kentucky High School Athletic Association approved on Wednesday, Janaury 25th the new district soccer alignment. Oldham County High School is now in District 29 and Region 8, which now looks like this:
REGION 8
District 29 - North Oldham, Oldham County, South Oldham,
District 30 - Anderson County, Collins, Shelby County, Spencer County
District 31 - Carroll County, Gallatin County, Henry County, Owen County
District 32 - Grant County, Simon Kenton, Walton-Verona
Friday, December 2
Shelby Rush Signs To Play at St. Catharine College
Rush to Join Women's Soccer
November 28, 2011
Monday, November 21, 2011 - The St. Catharine College Women's Soccer team added a second member of the 2012 recruiting class in one day last Monday, as Shelby Rush signed on to play next fall.
Joined by her parents and her high school and club coaches, Rush signed an NAIA scholarship contract and formally joined the Women's Soccer Program at St. Catharine College during a ceremony in the Oldham County High School Library. Shelby played defender for both Oldham County High School and the Thoroughbreds soccer club. In 2011, the Oldham County Lady Colonels won the 16th District Championship and were 8th Region runner-up.
Shelby is an outstanding soccer player. She has earned many accolades for soccer, including All District 16 in 2009, 2010, and 2011; Honorable Mention All Region 8 in 2009; Second Team All Region 8 in 2010 and 2011; Captain of her high school team; and being named the September 2011 BB&T Athlete / Scholar of the month for Oldham County. As a senior she was the recipient of the Oldham County Girls Soccer - Mary Jean and Edgar Schulz award for sportsmanship. She was also a 3 year member of the Oldham County High School Girls Varsity Basketball Team.
Shelby is strong in the classroom as well, where she is a member of the A/B Honor Roll; was named a BB&T Academic Award winner; earned a Colonel Pin, an English Award, and an Agriculture Leadership Award. She plans to study Elementary Education at St. Catharine.