Ohio Stealth: Welcome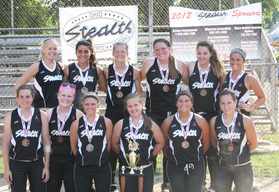 2012 ASA States - 3rd Place
The Ohio Stealth 18 and under softball team was established in 2009 by cofounders Jacqueline Markley and Craig Richards. We consider ourselves a teaching organization, and we are capable of teaching all aspects of the game of fastpitch softball.
Our organization was formed to provide our girls the opportunity to participate in softball at the elite level. Our girls represent their local communities, as well as the state of Ohio at ASA softball tournaments throughout the state.
Our goal is to continue to improve the overall quality of girls fast pitch softball in Ohio. Through competition at the elite levels, our girls will improve their softball skills to their fullest potential. The organization's focus is to foster a competitive learning environment that will prepare our players to advance to the collegiate level and beyond.
Our players will be well coached in all of the physical and mental aspects of playing competitive softball. In addition, a strong emphasis is placed on academic excellence, good sportsmanship, a positive behavior, and having fun.
The overall goal of the Ohio Stealth coaches is to provide our players with experiences and opportunities that will facilitate their growth into healthier & happier young adults. An equal importance is placed on the players family and how they interact & participate in a team environment.
Through hard work and dedication from managers, coaches, players, and parents, we will take pride in our abilities to become strong contenders at the National level.
Our players are coached to:
Become part of a team.
To think as a team.
To maintain good team attitudes.
To encourage and teach other players.
To take pride in personal and team accomplishments.
To accept winning and defeat with dignity.