Oconomowoc Volleyball Club: Welcome
Summer Opportunities
Youth Volleyball Camp @ Oconomowoc HS
June 10-13th
1-4th Grade 1:00-2:30pm - $50
5-6th Grade 1:00-2:30pm - $50
7-9th Grade 3:00-5:30pm - $55
Private Volleyball Lessons @ Roosevelt Field in Oconomowoc
*Led by Michelle Bruss on Mondays/Fridays starting June 14th
-5-12th Graders, 30min or 1 hour sessions
-Offering Volleyball Specific training or Speed/Agility Training individually or in groups.
-Contact Michelle for rates and more information: michelle_bruss@yahoo.com
---

Results - Way to Go Oconomowoc Volleyball Club! 




Congrats to the 15's for making it to the Gold Bracket of the 

2013 Mizuno Northern Lights Qualifier  - tied for 9th place




First!! 

14-1's - 1/20/13 Dodge County Clash
14-1's - 3/3/2013 JR Red Knight Classic IV
14-1's - 3/10/13 Oshkosh Thunder 1
14-1's - 3/23/13 Penguin Invite I1
15-1's - 1/6/13 Let the Games Begin II
15-1's - 1/27/13 WI Juniors Freeze Fest II
15-1's - 2/10/13 Block Party Open II
15-1's - 2/24/13 River City Open II
15-1's - 4/7/13 Fusao Campeonatos
Second
11-1's - 2/24/13 UW Whitewater Open
12-1's - 1/26/13 Penguin Freeze I
13-1's - 2/10/2013 WI Juniors February Fun II
13-1's - 3/9/2013 Block Party Bash I
14-1's - 2/3/13 2013 WI Juniors February Fun I1
14-1's - 2/24/13 River City Open II
15-1's - 2/10/13 Block Party Open II
15-2's - 1/13/13 WI Juniors Kick Off

Third 


11-1's - 3/10/13 Block Party Bash II 


12-1's - 2/2/13 Dells Center Invite


12-1's - 4/28/13 Penguin Fest 

14-2's - 2/16/13 Block Party Classic
14-2's - 2/24/13 WI Juniors Pride I
15-1's - 3/10/13 UW Whitewater Open
15-2's - 1/19/13 Fondy Fest

 


---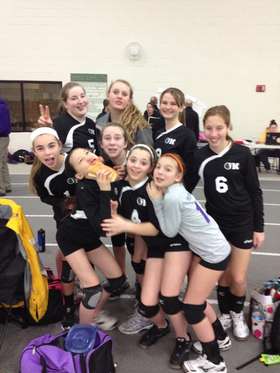 OVBC 13's