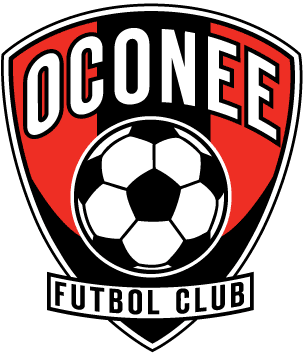 Friday, October 30
Oconee Futbol Club is building a foundation of Player Development based on the USSF Center of Excellence
Programs offered
Indoor Soccer is OFC's team program for boys and girls, all ages, which emphasizes individual skills with a soccer ball. Teams are small in size and play small-sided league games (6 v 6) to maximize each player's involvement in every game. Programs are offered in the winter and summer.
Academy Junior's is a skill development program for 5, 6, 7 and 8 year olds. The kids will be given instruction in the same manner as the Academy player in a fun filled format. They will participate in small sided games against others in the club. The Juniors development will prepare them for entry into the Academy.
Academy Program is for Boys and Girls, ages 8 – 12, and is designed for young players ready for a higher level of training and commitment. It is best suited to experienced players who are interested in moving from recreational soccer to competitive soccer. Teams train twice a week with league matches on the weekend and may participate in tournaments. Continuing OFC's emphasis on individual skill development, Academy players have access to Technical, Speed and Agility, and Goalkeeper training along with team training sessions.
Select and Athena soccer is competitive soccer for Boys and Girls, ages 12-18, who are ready for a serious commitment to soccer in effort and time and are aspiring to play soccer for their high school or beyond. Players are selected for teams based on a "tryout". OFC enters its Select teams into Georgia state wide leagues at either the Athena or Classic level. Teams train twice a week. Tournament play is an important part of the season at this level. Increased emphasis is given to the tactical and mental aspects of competition. Players are expected to learn to play skillfully in several positions and in various formations. Individual skill development remains important; Athena and Classic players have access to Technical, Speed and Agility, and Goalkeeper training in addition to team training sessions.