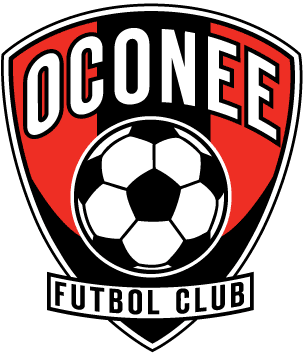 ---
Oconee FC: Excellence in Soccer
Oconee FC (OFC) is a 501 (c) 3 charitable organization which offers soccer instruction and competition for boys and girls, ages 5–18. Established in 2008, the soccer club is growing and will evolve as soccer increases in popularity in our area, Georgia, and the U.S. OFC is affiliated with United States Youth Soccer through Georgia Soccer. OFC is partnered with Blue Springs Soccer Association.
Serving Oconee County
OFC's comprehensive soccer training is conducted at Oconee Veteran's Park Soccer Complex area schools, and Westminster Christian Academy. Players from the Oconee area train at the OVP Soccer Complex and other locations. Within the OFC programs, many area high schools (public and private) are represented, along with their middles schools and many elementary schools.
Qualified, professional coaches
OFC's professional coaches and trainers share a common commitment to player development and must possess USSF or NSCAA certification. All are former soccer players at the collegiate or professional levels; many are or have been area college or high school coaches. All are passionate about the game of soccer. OFC's trainer system enables players to receive instruction from the entire staff of coaches, not just one, maximizing learning and exposing each player to the endless creativity the game of soccer encourages.
Focusing on Individual Player Development
Beginning with the youngest age groups, OFC training sessions focus on the love of the game and mastery of individual ball handling skills. OFC's soccer programs progressively instruct and challenge participants using a developmentally sound curriculum. Each program is designed for the physical, mental, social and emotional development of the participants. Tactics and emphasis on game results take a back seat until players are skilled enough with the ball and developmentally ready to play as a team. Long term player development takes priority over the short term results.
Proven Success
OFC players and teams demonstrate consistent success within statewide leagues. They also proudly represent OFC on their high school teams. Club teammates become fierce rivals, elevating the excitement and quality of area high school soccer. Many players under this coaching staff have gone on to play college soccer at all levels from D1 to NAIA. The coaching staff at OFC has alumni found on the rosters of Clemson, NYU, Georgia Southern, Berry, Young Harris, Presbyterian, Coastal Carolina, and others.
OFC: Where kids learn more than a game
OFC players become technically and tactically skilled in the game of soccer, acquire a confident "can-do" attitude, and develop a lifelong love of sport and fitness. Many OFC players are certified USSF referees, officiating league games and tournaments throughout the state; others complete USSF certification to serve as coaches/trainers for OFC's programs; and all contribute to the club as volunteers. As adults, OFC players will continue to support the game of soccer as players, fans, coaches, referees and the next generation of soccer moms and dads.
Looking to the Future
With developmentally sound soccer programs, qualified coaches and trainers, ample training space, and plans for future expansion, Oconee FC will continue to attract aspiring youth soccer players of all ages and levels who desire to reach their potential as athletes and individuals through "the beautiful game."
---