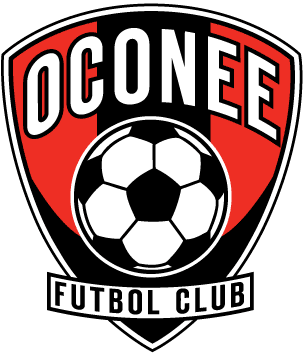 ---
Oconee Futbol Club
Putting the Focus Where it should be - On The Player!
An organization built by volunteers with dozens of years of Club experience. Now in our 3rd year of operation to promote excellence in the development of soccer players in Oconee County. Come see how we can provide your player with fundamental to advanced skills that will allow them to grow into the player they imagine.
P.O. Box 658 Watkinsville GA 30677
Oconee FC (OFC) is a 501 (c) 3 charitable non-profit organization which offers soccer instruction and competition for boys and girls. OFC is an affiliated member of Georgia Soccer, United States Youth Soccer, and US Club Soccer. A partner with Oconee County Parks and Recreation.
Focusing on Individual Player Development
Beginning with the youngest age groups, training sessions focus on the love of the game and mastery of individual ball handling skills. OFC's soccer programs progressively instruct and challenge participants using a developmentally sound curriculum. Each program is designed for the physical, mental, social and emotional development of the participants. Tactics and emphasis on game results take a back seat until players are skilled enough with the ball and developmentally ready to play as a team. Long term player development takes priority over the short term results.
OconeeFC is operating as a GA Soccer Affiliate Member for Select & Athena, Indoor Recreation and Academy Level travel teams.
---
Monday, August 16
Team Camp and Academy is Cancelled for tonight- Monday August 16th, 2010 due to rain and fields being too wet for play.
Camp will resume on Tuesday at 6:00pm.
---
Oconee FC TEAM Camp
Team Camp will be held beginning August 16th, Monday, beginning at 6:00 and ending at 8:00. This is a required camp for all players on all teams. The camp runs every day through Friday. The camp will be help at Oconee Veteran's Park. You will be receiving an email from your coach or team manager with any additional details before Saturday August 14th. Uniforms and season information will be handed out during the week. If you have any questions, email us at oconeefc@gmail.com.
---


Monday, May 17


Pat Mercardante - New Executive Director of Oconee FC


Oconee FC is very excited to announce that Pat Mercardante has accepted the opportunity to become the Executive Director of Oconee Futbol Club. Pat will be in charge of the operations and programs for the club. He brings a vast amount of experience with him. Pat was a Director with the YMCA in Athens for many years. His experience in running multiple programs for hundreds of kids will help OFC achieve even greater success. Pat believes in putting the best interest of each child first. He has proven that providing a positive experience for the kids will bring fun in their endeavors. The values and beliefs are synergistic with the mission of Oconee FC. Pat will be working with the OFC Coaching Directors, Dante Trevino and Ed Rock, to ensure that our focus is on the development of soccer and social skills for all players. They will center the training curriculum to provide the best opportunity for each player to develop soccer skills while in a fun and positive environment. We hope you will help us in wishing Pat great success for many years to come.

Oconee FC Board of Directors



OFC JUNIOR ACADEMY




What is Oconee Futbol Club doing regarding children that are 6, 7 and 8? We have implemented a Junior Academy program for this age group. This is NOT a recreation program. The training provided is by licensed professional coaches. It is the Next Level above recreation and intended to introduce the skills necessary to excel as a soccer player.

The Junior Academy is designed to develop young soccer players through their formative years and to give them all of the ingredients they need to succeed in the game at the highest level. Players from an early age need to acquire the technical ability to master the ball and be proficient with both sides of their body. Players are placed into age and ability groups to train twice a week in addition to their core age group, with expert professional staff.

The staff will teach and develop these players to have the confidence, and the technical ability to enjoy the game and be successful at whichever level they find themselves upon their graduation from the Academy. It is the Academy's primary aim to make soccer fun so that the vital ingredient of enjoyment is achieved at all times.

This is going to be a great year as players will have more training sessions and more inter club games. Junior Academy program will run in the Fall and Spring. We just completed our first Winter Indoor program. Location?Westminster Christian Academy. Who can participate? Players in the age range 6, 7 and 8 are encouraged to participate,. The Junior Academy is for players who want to challenge themselves to reach the next level. Players need to be proficient in aspects of the game such as finishing, defending, passing and/or dribbling, or possess some good athletic qualities. The Academy is meant to challenge players to the next level of competition. Our program is designed to be an introduction to the Academy program and give them the tools needed to play in future years. You can obtain more information or download a registration form by calling Dante Trevino, Director of Academy at 706 372 6347 or email: dtrevino@rxsuite.com.
---


Monday, January 25


U18 Boys Win the Norcross NIKE Cup


In what may have been the last tournament for many of the U18 Assault, they went undefeated to win the NIKE Cup. After winning their first two games, they defeated a long time rival from NASA to advance to the final. The boys faced the 2009 state champions from Alabama. It was a hard fought game but the Assault came away with the victory. Congratulations to a well desvered Championship.
---


Thursday, September 3


U16 Boys make the finals of the Clemson Anderson Soccer Classic


For the second time this preseason, the U16 Boys make the finals in tournament play. In the final, they fell behind 3-0 in the first half to a strong and fast Upstate SC team. However, they did not quit. They changed their formation and strategy in the second half and outplayed the opposition. USC settled in on defense and had to stop a number of opportunities. In the end, USC won the game but it was a valient effort to come back. The boys were missing two players but had the help of a guest player. Their season looks to be a good one. Keep up the pace guys! The club is rooting for you.
---
Sunday, August 23
OCONEE FC U11 ACADEMY BOYS WIN THE ATHENS UNITED INVITATIONAL
The u11 Boys Academy team won ALL four matches in the Athens United Invitational this past weekend. Congratualtions to all the boys and coaches: 1st row:Charles Baldwin, Rhodes Baldwin, Juan Pedro, Noah Yates, Joseph Lattin, and John Pokoski. 2nd row: Coach Griffin,Bennah Okoth, Genero Villanueva, Anthony Potts, Marek Lipold, Sam Karzen, and Thatcher White, and Coach Dante(not pictured).
WAY TO GO BOYS!!!
---
Monday, August 17
U-16 Boys Win GFC Senior Invitational
The boys of the OFC U16 team were undefeated this weekend at GFC's (Georgia Futbol Club) Senior Invitational to win the tournament!

Congrats to the following boys:
Caleb Aldridge, Steele Anglin, Kagho Asongu, Justin Barfield, Phillip Cenkush, John Walker Chittom, Tyler Coon, Jake Faulkner, Joseph Hutto, Chris Rogero, Ben Rose, Isaac Toney, Ben Wilde, & Austin Williams

Great job Coach Payne!!!! What a way to start your new season.
---


Monday, August 17


Soccer Nutrition


Recently FIFA posted a document on nutrition for soccer players. A contributor on sports medicine for U. S. Soccer and US Youth Soccer, Dr. Don Kirkendall, is one of the authors. Click on the link in the article for a seriously high quality nutrition resource for football.