LESLIE POOL FIELD RENOVATION PROJECT
In the summer of 2008, Olive Branch High School began a renovation project to Leslie Pool Field, home turf of Conquistador teams. The upgrade to this facility will benefit varsity, junior varsity and ninth grade football, band, boy's and girl's soccer, baseball, softball, cheerleaders, dance team, boy's and girl's track, off season training, community activities & events, physical education, summer camps and little league football. The enhancement and improvement to the stadium is being made possible through the ongoing support of businesses, individuals, foundations and alumni and friends.
The official groundbreaking ceremonies for the renovation of Leslie Pool Field took place on Monday, June 16th at 12 noon. The upgrades will include the installation of synthetic turf on the field, additional seating capacity, new fences surrounding the facility, pavers to the main entrance and a pavilion behind the west endzone.
Attending the event were Mayor Sam Rikard, several administrative officials from DeSoto County Schools, Olive Branch Principal Kyle Brigance, OBHS Head Football Coach Scott Samsel, former Quistor Head Coach Leslie Pool (for whom the field is named after), members of the Olive Branch Football Letterman's Club and representatives from the Bank of Mississippi and First Security Bank. Also, photos of the different phases of development to the facility are included below.
Another story regarding the renovation project from the DeSoto Times newspaper appears here: www.desototimes.com/articles/2008/06/17/sports/doc4857b29dab771528429958.txt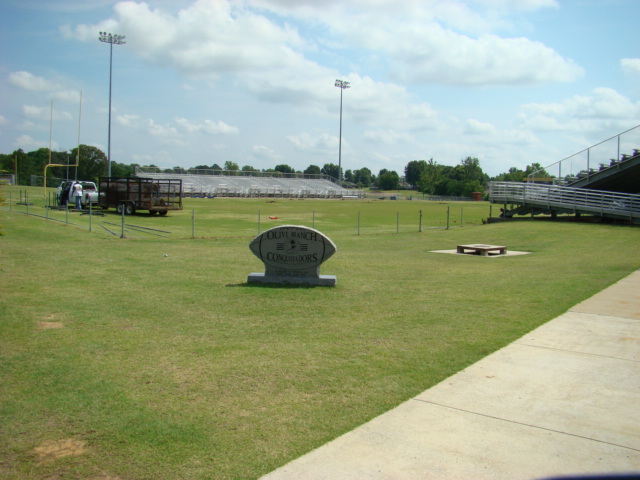 Removal of the cyclone fence surrounding the field.

Initial dirt work being performed and removal of the goalposts.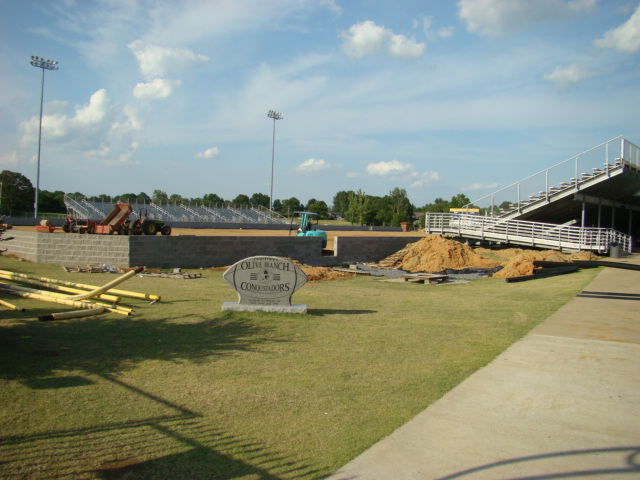 Building of decor concrete wall around the field and dirt preparation.
Completion of decor wall and crushed limestone over french drains on field.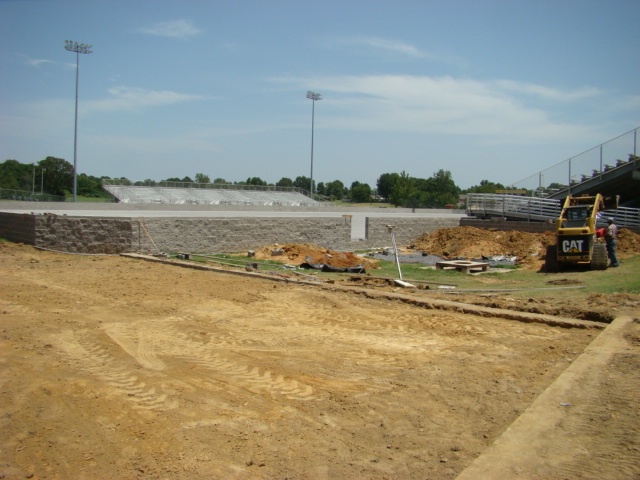 Removal of football monument and preparation for expanded concrete walkways.

Main entrance to receive a complete facelift.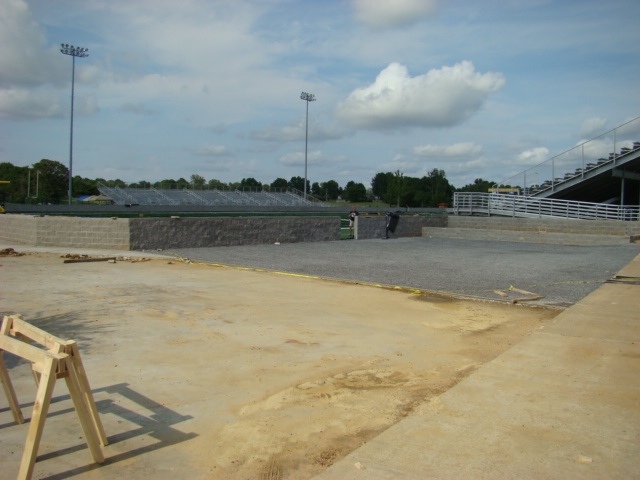 Main entrance prepared for brick pavers and "touch the turf" area.

"Touch the Turf" area inside the main entrance.

Press box view - prior to groundbreaking.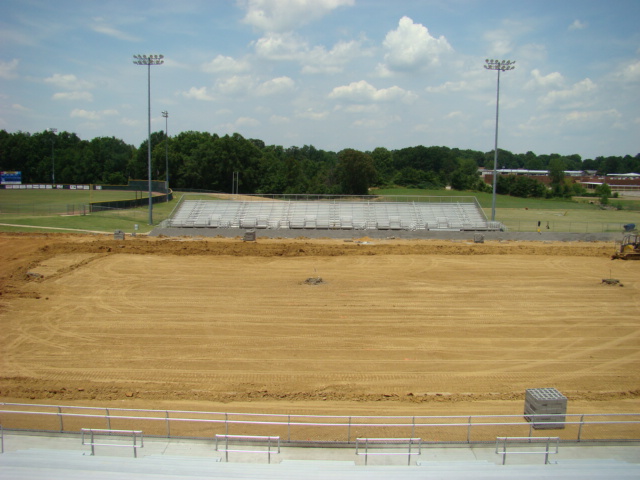 Press box view - initial dirt work.

Press box view - dirt preparation.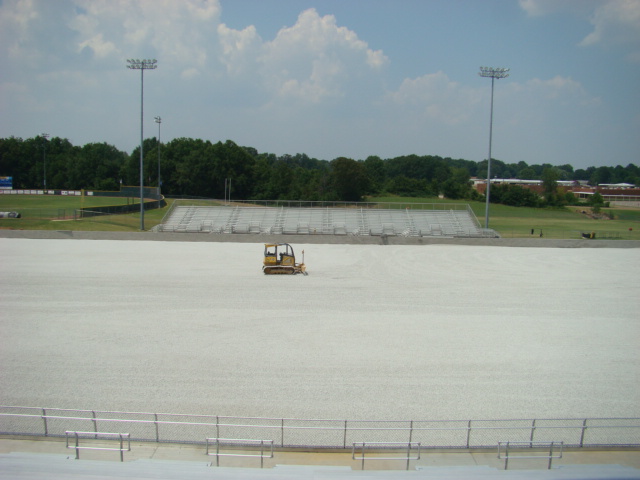 Press box view - crushed limestone layed over french drainage system.

Press box view - final layer of crushed limstone is applied.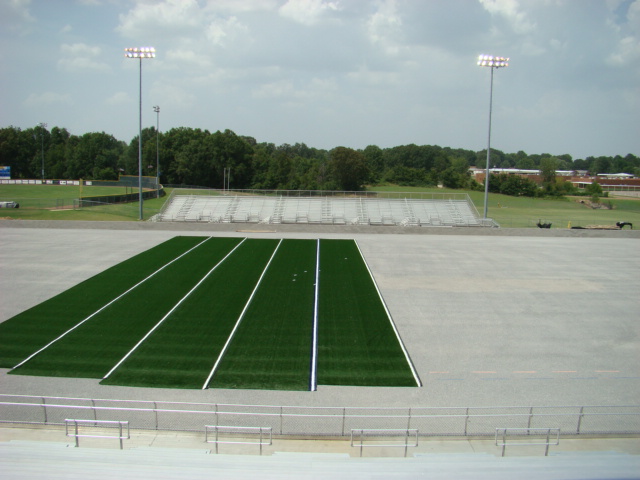 Press box view - rolling out the synthetic turf surface.

Press box view - additional turf is laid.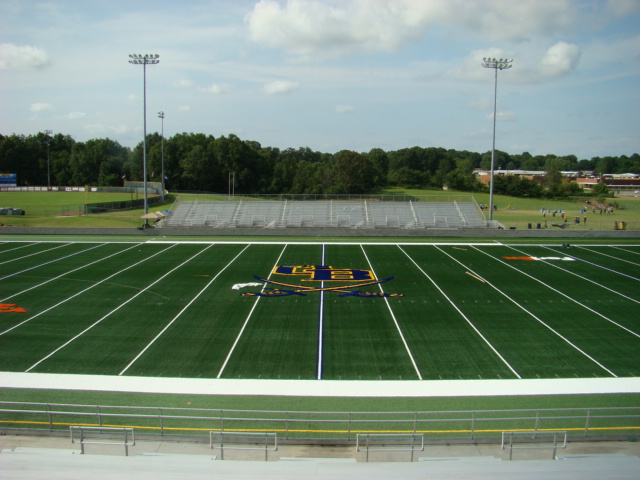 Press box view - Conquistador logo being applied at the fifty yard line.

Press box view - field turf nearing completion.