"Leslie Pool Field" - 2006 Regular Season Game - Olive Branch vs South Panola
THE CONQUISTADOR'S HOME TURF - "LESLIE POOL FIELD"
The Olive Branch Conquistadors play their home games at "Leslie Pool Field" behind the high school, located at 9366 Sandidge Road East. This field was officially named in honor of longtime and legendary Olive Branch Head Football Coach John Leslie Pool during half-time ceremonies of the OBHS-Southaven football game on September 30, 2005.

Prior to 1974, Olive Branch had already experienced a rich tradition in high school baseball. OBHS teams of the 1940's and 1950's had earned four state runner-up baseball titles. Leslie Pool came to Olive Branch in 1974 primarily as the baseball coach but also worked as an assistant football coach under Jesse Weeks for his first two years. After Weeks left following the 1975 season, Pool was promoted to head football coach, where he would guide Conquistador teams for the next quarter of a century. Ironically, it was his successful career as a head football coach that would make him most notable among the Olive Branch community.

During the Pool Era, from the 1976 to 1998 seasons, he would compile a 181 - 69 - 1 overall record (.724 winning percentage) and his teams would only experience just two losing seasons during his twenty-three year tenure. His 1995 team finished just one game shy of a winning year at 5-6 and his 1998 squad went 4-7, with six of the seven loses by a touchdown or less margin. Pool had two undefeated teams and ten other squads that lost only one game each in the regular season under his leadership.

In the Chickasaw Conference, that ended football competition following the 1992 season, his teams would capture a total of seven Chickasaw Championships and claim another eight runner-up positions to the title in 15 out of 17 years of conference play. In this time, he was also named Chickasaw Conference Coach of the Year on seven occasions while recording an .810 winning percentage against conference opponents. OBHS squads also won or shared fourteen county championships versus fellow DeSoto County schools during his period as head coach.

The Mississippi High School Activities Association instituted a state play-off system for football starting with the 1981 season. Pool's teams would make these play-offs in eleven of eighteen years, ten times as district/division champs and once as the division runner-up. He would lead the Conquistadors to the North Mississippi Championship game three different times (1981, 1982 and 1986).

The Olive Branch football stadium has been home to the Conquistador's since the evening of September 13, 1996 when it was christened with a 28-6 win over Memphis Wooddale by a Coach Leslie Pool led OBHS team.
The photo below is former Coach Leslie Pool under the main entrance to the stadium that bears his name. The next photo is a picture of the plaque that is mounted on the west side of the home concession stand at the field that commemorates his teaching, coaching and "molding" of young lives through athletics. It also displays his head football coaching record (from the 1976 to the 1998 seasons) and includes his two years as assistant coach (1974 and 1975) in his service to the school.

(PHOTO BELOW COURTESY OF JAY SHAPPLEY - HOLLAND STUDIO)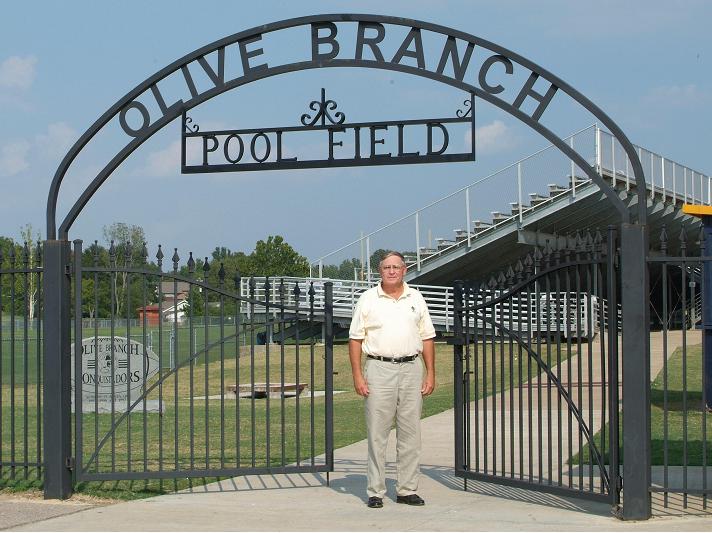 Former OBHS Head Football Coach Leslie Pool