OBHS TOUCHDOWN CLUB MEETING
The Olive Branch High School Touchdown Club will meet with Head Coach Steve Buckley in the football fieldhouse on the campus of OBHS at 6 PM on Tueday night - September 8th.
A review of the past week's game highlights will be shown and preview of the next Conquistador opponent will be the topic of the meeting.
CONQUISTADORS BEGIN JOURNEY UNDER NEW DIRECTION
By BOB BAKKEN Sports Editor - DeSoto Times-Tribune
New Olive Branch football coach Steve Buckley has challenged his team to learn a new system and he has been pleased with the Conquistadors' response.
"This team has been eager to learn our new system, both on offense and defense," Buckley said in previewing this year's squad.
Olive Branch, 5-6 overall last season and 2-5 in MHSAA 6A Region 1 under former coach Jeremy Toungett, will count on three returning starters on offense and four returners on defense to shoulder much of the leadership load in the first year under the former Petal head coach and Southern Miss assistant coach.
Buckley specifically pointed to defensive back Sanchez Blake as one of the team's top impact players.
"He is a physical football player with outstanding cover skills," Buckley said.
As a junior last fall, Blake was involved in 33 solo tackles and assisted on 46 others. He also picked off a pass and recovered two fumbles.
Others listed by the new Olive Branch coach as key players this season are Robert Miller, Demetrius Harris, Brady Burse, Donavan Watkins and Jay Banks.
As a backup to last year's quarterback Mario Nolan-Dillard, Burse threw for 332 yards and had the best completion percentage at .512. Burse threw for two touchdowns and was intercepted three times.
Miller made 11 tackles and assisted on 41 others on defense last season. Harris took care of 24 tackles and chipped in on 61 others as a junior last season He also had 10 tackles for loss.
Watkins scored four touchdowns as a running back for Olive Branch while averaging 5.7 yards per carry and had one game of more than 100 yards.
Banks tallied five touchdowns receiving 29 passes for 476 yards, a 16.4 yard per catch average.
A total of 23 seniors graduated from last year's Olive Branch but 21 letter winners return to the team.
Our goal is one week at a time," Buckley said. "We need to prepare each week to execute our game plan."
Bob Bakken is Sports Editor and may be reached at 662-429-6397 ext. 240.
QUISTORS WIN 7-on-7 FOOTBALL SHOOTOUT
By BOB BAKKEN Sports Editor - DeSoto Times-Tribune
On arguably the hottest day of the year thus far, with heat indices eclipsing 105 degrees, eight area high schools took the field for the first DeSoto County 7-on-7 Football Shootout Thursday at the Olive Branch Soccer Fields.
In the end, the Olive Branch Conquistadors defeated DeSoto Central 24-20 to win the first tournament of its type in DeSoto County.
Seven of the eight county schools were represented in the tournament, primarily put together by DeSoto Central athletic director/coach Matt Wallace. Senatobia completed the field playing a game many football programs are embracing as a means of off-season competition and conditioning for offensive receivers, quarterbacks and the defensive secondary.
The Conqustadors had to beat the Jaguars twice to win the title, taking the first game in the championship round 20-11.
Olive Branch got to the finals through wins over Lake Cormorant and Southaven, before a loss to DeSoto Central put the Quistors into the losers' bracket. There, Olive Branch beat Southaven 27-18 to reach the final round.
DeSoto Central made the final round with victories over Lewisburg, Senatobia, and Olive Branch.
The tournament bracket seedings were determined after pool play in the morning.
Southaven and DeSoto Central went 3-0 in pool play, Senatobia and Olive Branch were 2-1 and Horn Lake, Lake Cormorant and Center Hill were 1-2.
Horn Lake coach Brad Boyette said his squad stays busy in the summer with 7-on-7 football, such as a tournament this weekend in Cape Girardeau, Mo., but was quite impressed with the first year of this event, which organizers hope can double in size next summer.
"I think it's (the game is) big for our young quarterbacks," Boyette said. "It's an opportunity for those guys to get somewhat of a game situation and can make mistakes. I'd rather they make them in 7-on-7 than Friday night in the fall. We can go do conditioning and run, but here they are in a situation where they are competing and going at a higher speed and it's better conditioning than anything we can do as a team."
Senatobia football coach Michael Fair said he was glad to have his team involved in the tournament.
"It gives us a chance to compete against some really good talent," said Fair. "We get to work on some offensive things, get our timing down and that type stuff. But, more than anything, we just get to compete and come up here against some really good football teams that are really coached well and see how we stack up against them."
Boyette said he was grateful that his team got to play in a tournament so close to home.
"I think it's awesome the sponsors, like Ortho Memphis, Memphis Barbecue Company and Strike Zone Lanes are involved in this," Boyette said. "They're investing in the kids of DeSoto County. I think this is something that's really going to be huge in the future."
Bob Bakken is Sports Editor and may be reached at 662-429-6397 ext. 240.
NEW QUISTOR COACH LOOKS TO THE FUTURE
Photo and Article By BOB BAKKEN Sports Editor - DeSoto Times-Tribune
New Olive Branch High School coach Steve Buckley gave local Rotarians a sneak peek into his playbook and the future of Conquistador football Tuesday as he talked about his team and the vision he brings to the program.
"On offense, we're going to be a no-huddle, tempo offense," Buckley, a native of Natchez said. "Defensively, I want to be as multiple as I can be. I love to blitz, I love to bring different pressure packages, so we're going to be versatile on defense."
A former assistant coach at Southern Miss and LSU, Buckley was the guest speaker at the Rotary Club of Olive Branch meeting at the Olive Branch Country Club.
Buckley has taken on a program that is seeking stability along with a return to state championship-caliber success after missing the MHSAA 6A playoffs the past two seasons. The Quistors finished 7-5 but missed out on the postseason in Scott Samsel's last year at the helm in 2013, followed by a 2014 campaign under Jeremy Toungett that ended 5-6 overall with another pass on the playoffs.
Buckley, who coached Petal High School to the 2011 MHSAA 6A state title game against Olive Branch, which the Quistors won 35-34, believes it's time to put the past behind and start to look forward.
"The last few years have been trying," Buckley said. "The students of Olive Branch High School deserve the support of this great community. There are good kids at this school."
A total of 138 youngsters are out for football this season, said Buckley, who recognizes that success on the field has a great impact on the school and the community, adding it's important for the city to get behind his team.
"I think Friday nights in Mississippi are special," he said. "I think Friday nights give an opportunity to bring a community together like nothing else can do. Without a supportive community, you'll never have a successful football program."
With that in mind, Buckley wants to jumpstart the season ticket program that last year sold only 120 out of 336 possible "blue seats" at Pool Field.
"When people buy blue seats, the money is in the bank before the season starts," Buckley said. "That's vital. At the last school I was at, we put $214,000 in the athletic department account before the first game. It can be done here."
Buckley is also starting a Touchdown Club booster organization with a $200 membership fee that will put past groups under one umbrella and meet Tuesday nights during the football season at the high school after practice.
The upcoming schedule for Buckley's first season will be challenging. Non-district games will include a season-opening Saturday night home contest against Brentwood Academy of suburban Nashville, Tenn. on Aug. 22.
After that, a home contest against Charleston, followed by a road trip to Memphis University School on Sept. 4 and another road trip to White Station (Memphis) will set up an open date followed by the start of MHSAA 6A Region 1 district play with a home game Sept. 25 against Southaven.
In addition to the Saturday night home opener being not played on the traditional Friday night, Olive Branch will host DeSoto Central on Thursday, Oct. 8.
Buckley said he is looking forward to putting together a first-class program at Olive Branch.
"This is not about me and it's not about the last coach, or the last coach, or the last coach," Buckley said. "It's about the kids, not just the football players but the kids of Olive Branch High School. They deserve community support and they deserve school support."
Bob Bakken is Sports Editor and may be reached at 662-429-6397 ext. 240.
TWO QUISTORS SELECTED FOR 28TH ANNUAL AL-MS ALL-STAR GAME
Two Olive Branch football players were recently selected for the 2014 Mississippi team in the 28th Annual Alabama-Mississippi All-Star Football Classic to be played Saturday, December 13th at Cramton Bowl in Montgomery, Alabama beginning at 12 noon.
T. J. Jallow and Fred Walls were two of the players named to the 40-man roster chosen by the Mississippi All-Star coaching staff and selected media members recently. Including this year's selections, there have been a total of nineteen Conquistador seniors picked during the past eleven years for this prominent Classic.
In addition to this year's selection, OBHS players chosen for the previous Classics were: Todd Mays, D'Arthur Cowan, Leonard Pegues, Jalen Collins, Shon Coleman, Damien Robinson, Rod Woodson, Keshun Cowan, Aubrey Phillips, Sylvester Hemphill, Marlon Walls, K. J. Wright, Anthony Summers, Markeith Summers, Allen Walker, Victor Thomas and Ryan Hoormann.
(Click here to view the 2014 Mississippi & Alabama rosters)
.
.
OBHS PLAYER PICKED FOR BERNARD BLACKWELL ALL-STAR GAME
Olive Branch's KyKy Austin was recently chosen as a part of the 40-man North roster for the 66th Annual Bernard Blackwell Football Classic. This all-star game features standout high school seniors in football from North and South Mississippi in the annual all-star classic. The game will be played on Saturday, December 20th in Gulfport, MS with kickoff slated for 11:30 AM. Last year, Mississippi's South All-Stars defeated the North, 24-9.
Including Austin, there have been a total of eleven Conquistador seniors picked since 2006 to play in this all-star game. Other OBHS seniors selected over the previous eight seasons are: Ronald Cochran, Marcus Leflore, Chris Phillips, Devin Mondie, Jaylen Miller, Reggie Williams, Keyshun Shipp, Clint Wilson, Demarcus Harris and Chris Zinn.
(Click here for the North and South Mississippi rosters)
.
.
N.F.L. WILL TELL SHON COLEMAN'S STORY AS HE MAKES PICK AT DRAFT
(Click above for Shon's video story)
By Charles Goldberg

AuburnTigers.com
AUBURN, Ala. -- Shon Coleman will be on stage at Radio City Music Hall in New York for the first round of the NFL Draft, not as the next player selected, but as advocate for a cause he believes in.
The Auburn offensive lineman will represent St. Jude Children's Research Hospital, the hospital that came to his aid when he was diagnosed with cancer after signing with the Tigers in 2010. He'll announce a selection for a team, he's not sure which, as the nation hears his story on how he beat cancer and is now a contender for a starting job with Auburn this fall. At his side will be his mother, De Keishia Tunstall.
A team from St. Jude's spent Sunday with him as went through graduation ceremonies at Auburn. Next, St. Jude's will be with him in New York.
"It should be a great experience going up there and meeting new people," Coleman said.
One person in New York won't need an introduction. That's Greg Robinson, the player Coleman backed up last season. Followers of the draft say Robinson could be a Top 3 pick.
"It'll be fun going up there and seeing him get picked. That's a big deal for me," Coleman said.
Coleman would like to hear his name called next year. This year, it's about St. Jude's.
"For them to give me this opportunity is a blessing. It's very exciting. People are going to see my story."
This is Coleman's well-documented story: He was diagnosed with acute lymphoblastic leukemia a month after signing with Auburn. He went through chemotherapy following St. Jude's plan. Auburn never gave up on him, promising from the moment he was diagnosed with cancer that he'd always have a scholarship with Auburn whether he played or not.
He would. After signing in 2010, Coleman was cleared for football in the spring of 2012. He practiced, built up his strength, but didn't play that season. But he did play last year and will be competing for a starting role this fall.
Coach Gus Malzahn saw Coleman's improvement last year and talked about during this year's spring practice.
"You could see he got better and better in the spring," Malzahn said. "And once we got to fall, you could tell he was starting to get his strength back. He did a solid job for us when he got in last year. Now, he's fighting for a starting position. You can see the urgency's there. He definitely looks like the guy that we recruited four years ago when he was healthy."
MISSISSIPPI GRIDIRON GOLD HITS THEATERS IN JULY
The Mississippi Sports Council has announced the upcoming release of Mississippi Gridiron Gold (MGG), a full-length documentary celebrating the history of football in the Magnolia State. Based on the popular book Gridiron Gold, MGG captures the passion of Mississippi high school football and tells the unique story of how a small state with less than three million residents has built a national reputation for titanic football.
MGG is filled with interviews from many of the legendary coaches (including current Conquistador Head Coach Scott Samsel and former OB Head Coach Leslie Pool) responsible for building the tradition of high school football success. More than 80 hours of footage collected over the last three years have been packed into the 80-minute movie. Cost is $8.00 and tickets can purchased at the main entrance to the Performing Arts Building on the west side of the Olive Branch High School.
The movie is being shown at the Olive Branch High School Performing Arts Building (9366 East Sandidge Road):
FRIDAY, JULY 26 at 7 PM
SATURDAY, JULY 27 at 3 PM and 7 PM
SUNDAY, JULY 28 at 3 PM
Click Here for the Mississippi Gridiron Gold Website
.
.
FORMER CONQUISTADOR QUARTERBACK BARNARD WELCH PASSES AWAY
Former Conquistador Quarterback Barnard Nichols Welch, 47, died September 16, 2012. Visitation was held on Tuesday, September 18th and the Funeral Service on Wednesday, September 19th, both at Brantley Funeral Home in Olive Branch with burial in Lebanon Cemetery. He leaves his wife Natalie Welch, daughters Alison Welch and Lauren Welch, son Ethan Welch, sister Diane Latham and brother Bill Welch. Memorials may be made to The West Clinic.
Welch was a 1982 Olive Branch High School graduate that played for the Conquistador football team all four years in high school. In the 1981 season, Barnard led OBHS to a 10-3 record in his senior year as the starting quarterback and helped to capture the Runner-up spot in the Chickasaw Conference. As quarterback, the Conquistadors won the County Championship and defeated all other DeSoto County Schools by a combined score of 110 to 15.
The MHSAA instituted the state football playoff system in the fall of 1981 and Welch became the first Conquistador quarterback of an Olive Branch football playoff team. The '81 OBHS squad won the Class AA District II Championship and he would then guide the Quistors through the playoffs to the North Mississippi Class AA Title game.
Barnard was selected as Honorable Mention on the All-Chickasaw Conference Team his senior season. Welch was also the first recipient of the "Quistor Award", the annual award presented to an Olive Branch football player recognized by the coaches for the team member who demonstrates not only leadership and hard work but other character traits that lead to winning.
Please keep the Welch family in your thoughts and prayers.
.
.
5th QUARTER SHOW - STATE CHAMPIONSHIP GAME
The Conquistadors are Playing for the Class 6A State Championship
"I'm Goin' to Jackson"
Saturday, December 3
CONQUISTADORS ARE THE MISSISSIPPI 2011 CLASS 6A STATE CHAMPS
The Olive Branch Conquistadors captured the 2011 Mississippi High School Activities Association's Class 6A State Championship in football on Friday, December 2nd at Jackson, Mississippi's Veterans Memorial Stadium. Olive Branch defeated the Petal Panthers in a thrilling come-from-behind victory (35-34).
(Click Here for the Clarion-Ledger Sport's Article on the Game)
(Click Here for the Commercial Appeal Sport's on the Game)
(Click Here for the DeSoto Times-Tribune Sport's Article on the Game)
(Click Here for the DeSoto Post Sport's Article on the Game)
.
.
Saturday, April 30
FORMER QUISTOR K. J. WRIGHT DRAFTED BY THE SEATTLE SEAHAWKS
Former Olive Branch Conquistador and Mississippi State Bulldog football standout K. J. Wright has been drafted by the NFL's Seattle Seahawks. K. J. was selected in the fourth round as the 99th overall pick in the National Football Association's 2011 Draft on Saturday, April 30th. Wright was called on his cell phone and informed by NFL officials just minutes before walking on the stage to pick up his Criminology degree in graduation ceremonies at MSU. Last season, Wright served as a team captain for the MSU Bulldogs and recorded the second highest number of tackles on the team.
Wright becomes Olive Branch's third football player to be drafted by the NFL and the first in 25 years since Jeff Walker was chosen by the San Diego Chargers in the 1986 Draft.
K. J. was a 2007 Olive Branch High School graduate that played on the football and basketball teams for the Quistors. On the OBHS football squad, he was chosen by his teammates as a Permanent Team Co-Captain and was selected by the coaching staff for the "Leslie Pool Quistor Award".
As a football player in his junior year, he was selected by The Commercial Appeal on the second team All-DeSoto County squad. As a senior, Wright received numerous awards and honors. He was picked by the Mississippi Association of Coaches to their All-State First Team Defense, played in the 20th annual Mississippi-Alabama All-Star Classic, selected as the MHSAA Region 1-5A Defensive Player of the Year and picked by The Commercial Appeal as the #5 Most Wanted Shelby-Metro football recruit and made their Shelby-Metro All-Suburban squad.
Congratulations K. J. from obhsfootball.com, we wish you well in your professional football career!
(Click here for a SeattlePI article on K. J.)
(Click here for another SeattlePI article on K. J.)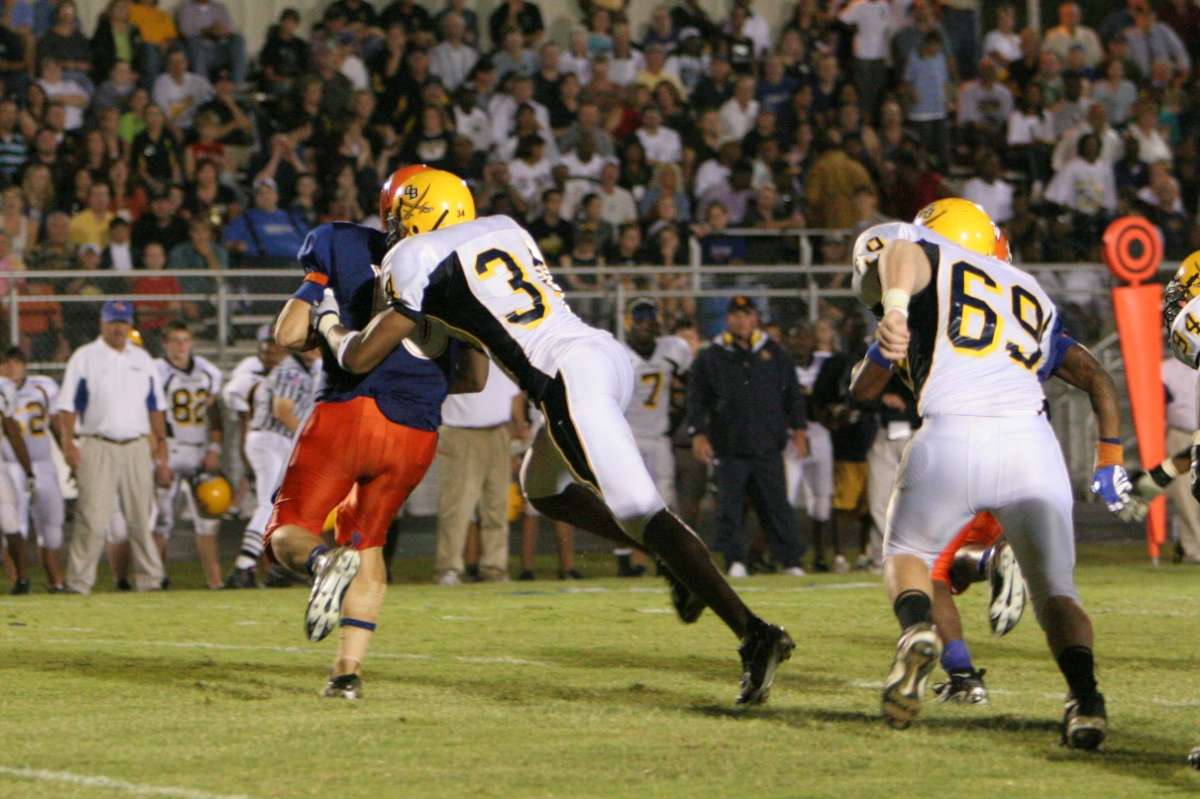 One of K. J.'s four quarterback sacks against the Southaven Chargers in 2006
Wednesday, September 29
ST. JUDE TRIBUTE FUND SET UP FOR FORMER OBHS OL SHON COLEMAN
2010 Olive Branch High School graduate and former Quistor star Offensive Lineman Shon Coleman now has a St. Jude Tribute Fund set up in his honor. Coleman was diagnosed in March, 2010 with Acute Lymphoblastic Leukemia and has been undergoing treatment at St. Jude Children's Hospital in Memphis.
Shon is in remission and going through chemo treatments at the hospital to make sure that his cancer remains out of his system. This past February, he signed with Auburn University to play football for the Tigers and will be enrolling there in the spring of 2011 with hopes of participating in spring practice.
While at OBHS, the 6-foot-7, 285-pound Coleman was selected as a First Team All-State Offensive Lineman by the Mississippi Association of Coaches, All-State OL by the Clarion-Ledger newspaper, along with being named by the newspaper's Most Wanted College Recruit from Mississippi and picked to play in the 23rd Annual Mississippi-Alabama All-Star game as well as in the U.S. Army All-American Bowl. Shon was also honored to the Commercial Appeal newspaper's Shelby-Metro All-Suburban team and chosen to the First Team as an OL for the MHSAA All-Region 1 - Class 6A squad. Upon completion of last year's Conquistador football season, he was selected by his fellow players as one of two OBHS Permanent Team Co-Captains for the 2009 season.
This fund has been created as a means for the Auburn Family and others to wrap it's arms around Shon and his family as they endure this battle. The team goal is $30,000 of which over $20,000 has already been raised thus far.
(Click here to visit Shon's St. Jude Tribute Fund website)
obhsfootball.com WEBSITE WINS ETEAMZ SPOTLIGHT SITE TROPHY AWARD
The Olive Branch High School Conquistador Football Website has won a webpage award. eteamz recently selected the obhsfootball.com website as the Spotlight Site Winner for the month of January, 2008.
Since 1998, eteamz has been connecting coaches, players, families, friends and fans of teams in over 120 countries. Their resources and customer focus have enabled them to become the Team Sports Website Leader. eteamz is home to over 2.5 million teams worldwide.
Here at obhsfootball.com, we are very honored to have been chosen for this award and we would like to thank eteamz for its consideration and selection. Go Conquistadors !
2014 OBHS SPRING GAME DAY ACTIVITIES
2014 OBHS Spring Game Day Activities will be on Saturday, May 17 at Pool Field and consists of:
"MEET the QUISTORS" from 12:30 PM to 1 PM
"OB PRIDE" Celebration from 1 PM to 5 PM
"SPRING GAME" OBHS Conquistadors vs the Memphis Manassas Tigers at 5 PM
Follow us on Social Media on "Facebook" at OBHS Football Boosters and "Twitter" @QuistorFootball