CONQUISTADOR'S 2017 ALL-REGION 1-5A PLAYERS




Head Football Coaches from the eight (8) high schools that comprise of the Mississippi High School Activities Association's Region 1 - Class 5A teams selected players at the conclusion of the 2017 football season for the MHSAA Region 1-5A All-Region Team. First and second teams for both offense and defense were picked including Most Valuable Players (MVP) as well.

The Conquistadors were well represented on this past year's All-Region 1-5A squad including Olive Branch's Defensive Lineman Fabien Lovett being chosen as the Region's Defensive Co-MVP for 2017. Congratulations to these OBHS players !!!

ALL-REGION 1-5A FIRST TEAM OFFENSE

Demarcus Ware II (Runningback)

Charles Heard (Guard)

Daniel Raybon (Tackle)

Cole Catledge (Punter)

ALL-REGION 1-5A FIRST TEAM DEFENSE

Cordarius Watson (Defensive End)

Jordan Green (Inside Linebacker)

Jerrick Reed II (Safety)

Jaylon Reed (Cornerback)

Jaylan Hassell (Safety)

ALL-REGION 1-5A SECOND TEAM OFFENSE

Cory Gates (Center)

Kyler Cotton (Guard)

E. J. Davis (Wide Receiver)

Ian Holland (Tackle)

ALL-REGION 1-5A SECOND TEAM DEFENSE

Kristian Banks (Cornerback)

Jevon Banks (Outside Linebacker)

Caden Burse (Inside Linebacker)

ALL-REGION 1-5A DEFENSIVE CO-MVP

Fabien Lovett





CONQUISTADOR'S LOVETT CHOSEN FOR 2017 'DANDY DOZEN'




Olive Branch High School Defensive End Fabien Lovett has been selected by the Capital City's Clarion-Ledger newspaper for their 'Dandy Dozen' team for the 2017 season. Since 1989, the C-L has been picking what is considered the top twelve prep football players from around the state after conducting interviews with high school coaches and college recruiters.

Lovett is the eighth player overall from Olive Branch to ever be selected to this prestigious squad. Almost two decades ago the Clarion-Ledger chose Quistor Offensive Lineman James Campbell before the start of the 1999 season as the first OBHS football player to be so honored.

In addition to Lovett and Campbell, Wide Receiver D'Arthur Cowan was selected in 2011, Offensive Lineman Damien Robinson was picked in 2009, Defensive Back Rod Woodson was chosen in 2008 and Quarterback Anthony Summers, Wide Receiver Markeith Summers and Defensive Back Allen Walker were 2005 selections.

Congratulations Fabien and www.obhsfootball.com would like to thank the Clarion-Ledger's sports staff for this consideration.





TURNER CHARGED WITH TURNING AROUND QUISTOR FOOTBALL




Photo and Story by BOB BAKKEN Sports Editor - DeSoto Times-Tribune

June 13, 2017

New Olive Branch High School football coach Tyler Turner has a bit of advice for football fans watching his team in action this fall: Don't go for the popcorn once the Quistors get the ball. You're going to miss a lot.

"Offensively, we're going to be a no-huddle, up-tempo spread offense and we're trying to snap the ball after just two seconds gone on the play clock," Turner said Tuesday. "We're going to use every bit of speed on our team to our advantage and speed is not going to be an issue here at Olive Branch."

Turner, introduced to the DeSoto County Board of Education after the board formally approved his hiring in a special session before a budget hearing Tuesday afternoon, added the players on the other side of the ball won't play nice with their opponents.

"Defensively, we're going to have 11 guys get to the football on every play in a bad mood," Turner said. "We're going to play faster than any defensive team in the state of Mississippi."

Those were some bold predictions from Turner, the same coach who turned Liberty Tech Magnet (Jackson, Tenn.) into a state challenger in just two short seasons, who now faces the same challenge in turning around the fortunes of a tradition-rich Quistor program that has fallen on hard times in recent years. Turner has also been an assistant coach at Wynne, Ark., where his teams enjoyed similar success there.

"We went 25-4 in my two years there (Liberty Tech), the first undefeated regular season in school history when I was there," Turner said. "We went 13-1 and lost to a big private school in Tennessee. We actually had a rematch with that same private school in the state semifinals and beat them, but then lost to 15-time state champion Alcoa in the finals."

The "big private school" was Christ Presbyterian Academy of Nashville, which Liberty Tech lost 21-0 to in the TSSAA Class 3A semifinals in 2015. Last season, Liberty Tech avenged the loss with a 33-20 victory in the semifinals before running into Alcoa 45-12 in the BlueCross Bowl state finals at Cookeville, Tenn.

Meanwhile, the Quistors suffered through a winless 2016 campaign, a far cry from its undefeated 2011 MHSAA 6A state championship team under since-departed coach Scott Samsel, whose controversial firing by then-principal Allyson Killough after the 2013 season started the recent problems with keeping coaches in Olive Branch and subsequently winning games.

Three others, including last year's coach Pete Hurt, were either relieved of their duties, or in the case of Steve Buckley, left after one season for another job.

"I did some research on it, but it didn't concern me at all," Turner said. "At Olive Branch, the expectations are high, so you've got to win and I know that. But, that's what excites me about it and I also know that you can win here."

New school Principal Jacob Stripling said a search committee was formed after Hurt was released as coach earlier this spring. The group culled "an almost-nationwide search," as he put it, down to what was considered the top seven-to-eight candidates left in the entire region and the final choice was his decision.

"After I sat down and interviewed everyone that was left, he was the guy," Stripling said. "When I met with the candidates, I stressed to them that I needed someone who was going to come in and be loyal to the community and loyal to the players for years to come."

Bob Bakken is Sports Editor and may be reached at 662-429-6397 ext. 240.





STRIPLING NAMED NEW OBHS PRINCIPAL




Photo and Story by BOB BAKKEN Sports Editor - DeSoto Times-Tribune

June 6, 2017

DeSoto County Schools Monday announced at its regular school board meeting new administrative assignments as the district moves closer to having all of its principal positions filled for the new school year.

The most notable move came from Olive Branch High School, where principal Allyson Killough leaves to become the next principal at Career Tech Center-West in Horn Lake.

In her place, the district approved the appointment of Jacob Stripling as Olive Branch High School principal.

Killough has led Olive Branch High for four years and Supt. Cory Uselton said in a release that she will be a great fit in the job of leading career education at the new Horn Lake center.

"Allyson Killough has been a strong instructional leader at Olive Branch High School and she is moving to a critical role as principal of Career Technical Center West," Uselton said. "Our school district is a leader in career technical education and she is a perfect fit as we continue to enhance this program. We are excited to see what she will accomplish in her new role."

Stripling has led Center Hill Middle School the past three years to become one of the top middle schools in Mississippi. He has also served the district as assistant principal at Hernando High School and Horn Lake Middle School.

"Center Hill Middle School has been one of the highest-performing middle schools in the state during Jacob Stripling's tenure as principal, "Uselton said. "He will bring strong leadership skills to his new role as principal of Olive Branch High School. He is excited about being a part of the pride and tradition of Olive Branch High School and he looks forward to working with the Olive Branch students, teachers, community and alumni base."

Stripling, introduced at Monday night's board meeting, said he was ready to hit the ground running.

"I have a notebook of things here," Stripling said, gesturing to material he was carrying in his arm. "I've got some homework to do tonight."

The new leader for Olive Branch High School enters the new position with more than just academic decisions to make, however. He must help fill the current head coaching vacancy in the Conquistadors' football program, which Killough recently opened again with the dismissal of Pete Hurt as head coach after a winless 2016 season.

Killough had to deal with four years of new football coaches during each year of her tenure, which began with the dismissal of Scott Samsel in what became a public dispute between the two that led to a lawsuit that has now been settled.

Samsel assistant Jeremy Toungett was similarly let go after a year as head coach and Steve Buckley was brought in and coached a year before resigning to lead the program at Jones County Junior College. Hurt was hired before the last school year began and released from his coaching duties earlier this spring.

Bob Bakken is Staff Writer and may be reached at 662-429-6397 ext. 240.





QUISTORS-JAGUARS GAME FOR THE AGES




By BOB BAKKEN Sports Editor - DeSoto Times-Tribune

Photo Courtesy - MARK ANDERSON

The venerable Leslie Pool Field in Olive Branch has seen plenty of exciting football games in the course of its history, but it had never seen anything like what it experienced Thursday night when DeSoto County rival DeSoto Central came to tackle the Conquistadors in a MHSAA 6A-1 gridiron battle.

The scoreboard standing at the end of the stadium, which is also unique by not identifying "Visitors" or "Home," but rather "Y'all" and "Us," also has not been worked over as much as it was in the Conquistadors' 87-86 triple-overtime victory over the Jaguars.

The result, now considered the highest-scoring high school football game in Mississippi history and fifth-highest scoring contest in national history, according to the National Federation of High Schools (NFHS), likely left everyone exhausted, from the players and coaches to fans, statisticians… everyone.

It was nothing they had ever seen before or experienced before.

"It was probably a four-and-a-half hour game, but everything just happened so fast," Olive Branch coach Steve Buckley said. "As a coach, you're just thinking about the next play and the next series. It was just one of those unbelievable games that I've never been a part of, never seen, and hope I never am a part of another like that."

It was a crazy game, but Buckley said his sideline still kept focus on the task at hand and not the constantly-changing scoreboard.

"Honestly, everybody was calm," Buckley said. "But, it was 243 plays in a ball game and there was no time to rest your brain at all. It was constant movement the whole ball game."

A high-profile star in the game did what was expected of him, as DeSoto Central senior running back Alan Lamar nearly single-handedly willed his Jaguars to victory.

Lamar rushed for 421 yards on 59 carries and nine touchdowns for DeSoto Central. The senior tied a state record with the yardage and the number of rushing touchdowns.

Lamar did more than just run the football, however, taking a punt 86 yards for a touchdown and throwing an 18-yard strike to Keshunn Abram for another score.

Lamar's name was involved in 11 of the 12 touchdowns scored by DeSoto Central.

On the other side, Olive Branch found plenty of ways to keep pace. Quarterback Brady Burse threw for 354 yards and eight touchdowns and running back Tarik Travis ran for 200 yards and three scores.

Buckley has been high all year on the progress Burse has made leading the team.

"Sometimes it takes a little while to totally understand what you are trying to accomplish offensively and how we attack people," Buckley said. "Every week, Brady is starting to understand our offense more. Not only Brady, but our receivers also."

The receiving tandem of Jay Banks, Jr., T.J. Moore and Jaylon Gale together caught a combined 16 passes for 349 yards and seven touchdowns in the game.

Several records were set by both sides after the game. Olive Branch official statistician Greg "Buz" Phillips listed seven Quistors' team records eclipsed, one team record tied and two individual records set.

Burse's 354 passing yards and eight touchdowns are new school records.

The Conquistadors tied a school record for 13 scoring plays (12 touchdowns and a field goal).

Team records set included most points by the Quistors, by an opponent and combined, combined first half points, most players with 100 or more pass receiving yards, combined total offense yards by two teams and combine all-purpose yardage by two teams.

Through all that, the difference came down to one play, however, as the Olive Branch defense stopped Lamar short of the goal line on a two-point try following a touchdown in the third overtime to end the game.

With it, the "Y'all vs. Us" scoreboard at Leslie Pool Field likely echoed a huge sigh of relief after having reflected in its lights such a historic battle between the two DeSoto County rivals.

Bob Bakken is Sports Editor and may be reached at 662-429-6397 ext. 240.





MISS. RB ALAN LAMAR SCORES 11 TDs IN ONE GAME, BUT TEAM STILL FALLS




By CAM SMITH - USA TODAY High School Sports

It was an amazing night in more than one way for Alan Lamar. The superstar running back for DeSoto Central High accounted for 11 touchdowns in a single game, having a hand in each of his team's scoring plays. Yet DeSoto still lost, by a score of 87-86, to Olive Branch in triple overtime.

For the record, Lamar had 9 touchdowns on the ground, returned a punt for a score and also passed for another. In other words, everything he touched turned to gold. Everything, that is, except a final 2-point conversion that would have won the game in the third OT. After Lamar's final touchdown, from three yards out, had cut the deficit to one, Desoto Central football coach Matthew Wallace went for the gusto and called for a two-point conversion and the win.

It didn't work out, which made it one of the only things that didn't work out for Lamar all night.

In review, Lamar's nine touchdown runs tied a state record, with two more thrown in for good measure. His team lost because Lamar was nearly matched by Olive Branch quarterback Brady Burse, who passed for 8 touchdowns and ran for another.

As for Lamar, the 5-foot-8 back has been receiving steadily increased attention from colleges, including recent scholarship offers from Air Force and Miami of Ohio. With a game like that, something tells us he'll have plenty more coaches knocking at his door in the days ahead.





DCHS-OBHS GAME OFF THE CHARTS




By JOHN VARLAS of The Commercial Appeal

Even after giving up almost 600 yards and 11 touchdowns to a single player, Olive Branch coach Steve Buckley was most proud of his defense Thursday night.

"I'm not going to be upset with our defense," the Quistors' first-year coach said. "Our defense won the game for us. It was just a weird, weird, weird game."

You could say that again.

In a season that has seen its share of high-scoring contests, Olive Branch and DeSoto Central took it to another level, with the Quistors prevailing 87-86 in triple overtime. Records from earlier eras are sketchy, but it's a very safe bet the game is the highest-scoring in DeSoto or Shelby County history.

"I've never been part of anything remotely like it before," Buckley said. "And I don't want to again."

Said Olive Branch's Parker Pulliam, who went the whole game at right tackle, "I got really exhausted, but you don't even really notice it. I was just like, 'Dang. This is crazy.' I don't know how the guys stuck it out."

After a 5-yard touchdown run by OB quarterback Brady Burse and Luis Garcia's 10th extra point of the game gave the Quistors an 87-80 lead, Alan Lamar scored his 10th touchdown of the game for DeSoto Central on a 3-yard run. Jaguars coach Matt Wallace had no hesitation in going for two and the victory, but Olive Branch snuffed out the play.

"It was like a heavyweight slugfest with both teams just trading haymakers for 12 rounds," said Wallace, who coached on crutches due to a hip problem.

"We were gassed. A lot of our players go both ways and we were just absolutely exhausted. It was the right call to make.

"I joked with one of the officials that anybody on either team associated with coaching defense should have been fired on the spot. It was a coach's nightmare."

And also one for the stat keepers.

The biggest night belonged to Lamar. The 5-9, 185-pound senior carried 59 times for 421 yards, scoring on runs of 60, 4, 5, 55, 11, 13, 4, 10 and 3 yards. In addition, he threw a 19-yard touchdown pass to Keshuun Abram and brought a punt back 86 yards for a touchdown, finishing with 597 total yards.

"And he had an 80-yard punt return called back," said Wallace. "He's the leading rusher in the state of Mississippi, runs a 4.3 (40-yard dash), has a 30 on his ACT and a 4.6 grade-point average but doesn't have a single offer from a Power Five school or from Memphis. Somebody's not doing their job."

OB's Burse also had a huge game, throwing for 354 yards and eight touchdowns — both school records — and running for a ninth. In two weeks, the 6-0, 170-pound senior has rewritten the Quistors record book; he set game records for completions (26) and attempts (41) in last week's loss to South Panola.

"Brady's coming along," said Buckley. "Sometimes it takes time with a new system, but he's really improved and recognizing what we're trying to do."

The teams combined for 1,323 yards. Rewatching the contest will require a significant time investment; there were 243 plays from scrimmage.

"There were a couple of times in the huddle where I told the guys 'Hey, we can pull this off. I have faith in us,'" said Jaguars quarterback Cameron Bowman, whose team trailed 35-15 early, then scored two touchdowns and two 2-point conversions in the final three minutes of regulation just to tie it.

"I've been playing with Brady since we were 8 years old and then with the DeSoto Central-Olive Branch rivalry. ... It was just wild. Unbelievable."





OBHS 87, DCHS 86: RB LAMAR HAS 11 TDs




By COURTNEY CRONIN - The Clarion-Ledger

The score from Thursday night's DeSoto Central-Olive Branch matchup resembled more of a basketball final than it did a football game.

The Conquistadors beat the Jaguars, 87-86, in triple overtime. Despite his team's Week 8 loss, DeSoto running back Alan Lamar's breakout performance created a night that won't soon be forgotten.

The three-star running back had 55 carries for 412 yards and nine touchdowns. Lamar also threw an 18-yard touchdown pass and took a punt return 85 yards for a score. In total, the senior scored 11 of the Jaguars' 12 touchdowns. Following Lamar's last TD in the third overtime (a score from 3 yards out), DeSoto Central trailed Olive Branch by one. The Jaguars went for the 2-point conversation and the win, but Lamar was stopped short of the goal line.

The running back also tallied five tackles and a 60-yard kickoff return. His nine rushing touchdowns ties the state record, which was last matched by former Pearl running back Jordan Wright against Bastrop (La.) in 2014. Lamar currently leads Mississippi in rushing with 1,881 yards and 32 touchdowns. The three-star prospect has a 4.40 GPA and holds offers from the likes of Air Force, Navy and Yale.

Olive Branch quarterback Brady Burse also had a banner night with eight touchdown passes. Burse is tied for third in Mississippi high school football history for most single-game touchdown passes thrown.

Contact Courtney Cronin at (601) 961-7091 or ccronin@jackson.gannett.com. Follow @CourtneyRCronin on Twitter.





QUISTORS OUTRACE JAGUARS IN TRIPLE-OVERTIME THRILLER




By JON BELL Sports Writer - DeSoto Times-Tribune

Thursday night, the Olive Branch football Conquistadors outscored the DeSoto Central Jaguars 87-86 in three overtimes.

In a game where defensive stops were limited, both teams scored on almost every possession.

DeSoto Central was led by their running back, Alan Lamar, who had part in 11 of their 12 touchdowns.

But the record-breaking play of quarterback Brady Burse and the Olive Branch wide receivers was enough to outscore DeSoto Central.

Burse threw for a school-high eight touchdowns.

The Conquistadors jumped out to a 34-15 lead in the first half.

Burse threw a touchdown pass each to Dontadrian Bruce and Jay Banks Jr., and he threw two to Jaylon Gale.

The other touchdown came from a 61-yard run by Tarik Travis.

Luis Garcia made four extra points and the Conquistadors failed on a two-point conversion attempt.

After falling behind, the Jaguars came back and gained the lead 35-34, as Lamar scored three rushing touchdowns and took a punt return in for another touchdown.

Cameron Bowman connected with Keshunn Abram for a touchdown pass, and Grant Foley made a 33-yard field goal.

Foley had one extra point blocked and made the other two, but the Jaguars failed to score on a pair of two-point conversions.

The Conquistadors gained back the lead on their next possession and went on a 22-7 run to make the score 56-42.

Travis ran for two touchdowns and Burse threw his fifth touchdown of the game to Banks Jr.

A two-point conversion by Burse and two extra points by Garcia gave Olive Branch 56 points.

The Jaguars score in that run was a 56 yard run by Lamar and the extra point by Foley gave them 42.

The two teams traded a few scores to bring the score to 63-54.

DeSoto Central's Lamar ran for a touchdown and threw for one to Abram.

Foley missed an extra point and Olive Branch blocked the other.

Burse threw his school record-breaking touchdown to T.J. Moore, and Garcia made the extra point.

The Conquistadors then went up 70-54 on Burse's seventh touchdown pass, his third to Gale, and looked in control of the game.

But a touchdown followed by a recovered onside kick led to the game-tying score by DeSoto Central.

Lamar scored both touchdowns and ran for one two-point conversion.

The other conversion was a pass from Bowman to Jesse Curry Jr.

That tied the game at 70-70 and sent it into overtime.

In the first overtime, Garcia of Olive Branch, and Xavier Maxwell of DeSoto Central both traded field goals.

In the second overtime, Lamar and Maxwell put the Jaguars up, but a pass from Burse to Gale, and Garcia with an extra point sent it to a third overtime at 80 points each.

The third overtime started with Burse's first rushing touchdown and an extra point by Garcia.

After Lamar ran for another touchdown, he was stopped on a two-point conversion to end the game 87-86.

Jon Bell is a Sports Writer for the DeSoto Times-Tribune.





QUISTORS-TIGERS PART OF NATIONAL RIVALRY SERIES


Article By BOB BAKKEN Sports Editor - DeSoto Times-Tribune

Photo By EDDIE GREGORY - DeSoto Times-Tribune

The upcoming MHSAA 6A-1 division football rivalry between defending state champion South Panola and the Olive Branch Conquistadors is about to get a little more than the usual interest this year.

Friday's game at Batesville will get national attention from The Great American Rivalry Series, which has chosen the contest as one of its collection of top-notch high school football rivalries across the country.

Part of the attention will come from a live Internet broadcast of the game on what is called the Great American Rivalry Sports Network. The game Friday night is one of 100 showdowns nationwide and the series is sponsored by the U.S. Marine Corps.

According to series founder Rick Ford, who started the series 12 years ago, "With all the traditions of these games including bonfires, pep rallies, and parades, high school football has brought communities together to watch their teams compete in these classic battles for more than a hundred years."

Friday's winner will take home the Great American Rivalry Series Champions trophy, presented by the Marines. The game's Most Valuable Player and the top student athlete from each school are also recognized as part of the series. Along with these awards, an alumnus from each school will be inducted into the 12th class of the Great American Rivalry Series Hall of Fame.

South Panola has a three-game winning streak in the series and leads the overall series with Olive Branch 29-10.

Last week, the top-ranked Tigers, coached by Lance Pogue, ran their record to 5-0 with a 50-20 division victory over Horn Lake.

Senior quarterback Tyler Pogue threw for 112 yards and three scores and Oluwain Hoskins ran for two touchdowns in the win.

The Conquistadors, under first-year Olive Branch coach Steve Buckley, a former Petal head coach and Southern Miss assistant coach, improved to 3-2 overall with a 22-13 defeat of county rival Southaven in the annual "Backyard Brawl."

Brady Burse threw for 107 yards and two touchdowns while Dontradian Bruce threw for another touchdown. All three ended up in the hands of Jay Banks, Jr.

More information and a link to the live and archived broadcasts can be found at www.GreatAmericanRivalry.com.

Bob Bakken is Sports Editor and may be reached at 662-429-6397 ext. 240.





QUISTORS BEAT CHARGERS IN BACKYARD BRAWL




Article By BOB BAKKEN Sports Editor - DeSoto Times-Tribune

Photo By EDDIE GREGORY - DeSoto Times-Tribune

Friday night's Backyard Brawl between Olive Branch and Southaven certainly lived up to its name, as the two schools started MHSAA 6A-1 play at Pool Field, a game eventually won by Olive Branch 22-13.

Defensive plays were a key part of the Conquistadors' victory, which moved Olive Branch to 3-2 for the season and dropped the Chargers also to 3-2 for the year.

But the offensive combination of Olive Branch quarterback Brady Burse to receiver Jay Banks Jr. for three touchdowns was the offensive difference for the Quistors.

Southaven opened the scoring in the first quarter after an exchange of punts and a short drive stalled at the Olive Branch 13. Luis Lopez kicked a 30-yard field goal with 4:36 left in the quarter for a 3-0 Charger lead at the end of the first quarter of play.

Olive Branch snatched the lead away early in the second quarter when quarterback Burse hit Banks Jr. on a 27-yard touchdown pass with 11:53 left in the half. Olive Branch quick snapped the conversion try and ran it in for the two-point conversion and a 8-3 lead. The score culminated a 57-yard scoring drive.

The Chargers moved within two points of the Quistors on a drive that started at the Southaven 20 after a touchback on the kickoff later in the quarter. Southaven drove to the Olive Branch one-yard line, but penalties stopped the drive and Lopez kicked his second field goal of the night, a 27-yard attempt with 7:27 left before halftime and the Olive Branch lead was cut to 8-6.

But the Conquistadors increased the lead later in the quarter when Burse hit Banks Jr. again for a touchdown, this time a 33-yard strike with 3:08 remaining in the half and Olive Branch had fashioned a 15-6 lead, which became the halftime score.

The Chargers again closed the gap in the third quarter after an interception gave Southaven the ball on the Olive Branch 46 yard line. The drive was climaxed by a 19-yard pass from quarterback Matthew Martin to T.J. Campbell for a touchdown with 6:30 remaining in the third quarter, as the Chargers drew within 15-13 Olive Branch and that score would hold going into the fourth quarter.

Late in the contest, a fourth-and-long attempt for a first down was stopped at the Southaven 38-yard line and one play later, Burse had hooked up with Banks Jr. again for the third time and a 22-13 lead with 3:55 remaining.

Southaven threatened late in the contest, but when stopped deep in Olive Branch territory, a 36-yard field goal attempt by Lopez was blocked by Devin Johnson and kept points off the board with just over two minutes remaining.

Bob Bakken is Sports Editor and may be reached at 662-429-6397 ext. 240.





TWO QUISTORS SELECTED FOR 28TH ANNUAL AL-MS ALL-STAR GAME




Two Olive Branch football players were recently selected for the 2014 Mississippi team in the 28th Annual Alabama-Mississippi All-Star Football Classic to be played Saturday, December 13th at Cramton Bowl in Montgomery, Alabama beginning at 12 noon.

T. J. Jallow and Fred Walls were two of the players named to the 40-man roster chosen by the Mississippi All-Star coaching staff and selected media members recently. Including this year's selections, there have been a total of nineteen Conquistador seniors picked during the past eleven years for this prominent Classic.

In addition to this year's selection, OBHS players chosen for the previous Classics were: Todd Mays, D'Arthur Cowan, Leonard Pegues, Jalen Collins, Shon Coleman, Damien Robinson, Rod Woodson, Keshun Cowan, Aubrey Phillips, Sylvester Hemphill, Marlon Walls, K. J. Wright, Anthony Summers, Markeith Summers, Allen Walker, Victor Thomas and Ryan Hoormann.

(Click here to view the 2014 Mississippi & Alabama rosters)

.

.





OBHS PLAYER PICKED FOR BERNARD BLACKWELL ALL-STAR GAME




Olive Branch's KyKy Austin was recently chosen as a part of the 40-man North roster for the 66th Annual Bernard Blackwell Football Classic. This all-star game features standout high school seniors in football from North and South Mississippi in the annual all-star classic. The game will be played on Saturday, December 20th in Gulfport, MS with kickoff slated for 11:30 AM. Last year, Mississippi's South All-Stars defeated the North, 24-9.

Including Austin, there have been a total of eleven Conquistador seniors picked since 2006 to play in this all-star game. Other OBHS seniors selected over the previous eight seasons are: Ronald Cochran, Marcus Leflore, Chris Phillips, Devin Mondie, Jaylen Miller, Reggie Williams, Keyshun Shipp, Clint Wilson, Demarcus Harris and Chris Zinn.

(Click here for the North and South Mississippi rosters)

.

.



N.F.L. WILL TELL SHON COLEMAN'S STORY AS HE MAKES PICK AT DRAFT

(Click above for Shon's video story)
By Charles Goldberg

AuburnTigers.com
AUBURN, Ala. -- Shon Coleman will be on stage at Radio City Music Hall in New York for the first round of the NFL Draft, not as the next player selected, but as advocate for a cause he believes in.
The Auburn offensive lineman will represent St. Jude Children's Research Hospital, the hospital that came to his aid when he was diagnosed with cancer after signing with the Tigers in 2010. He'll announce a selection for a team, he's not sure which, as the nation hears his story on how he beat cancer and is now a contender for a starting job with Auburn this fall. At his side will be his mother, De Keishia Tunstall.
A team from St. Jude's spent Sunday with him as went through graduation ceremonies at Auburn. Next, St. Jude's will be with him in New York.
"It should be a great experience going up there and meeting new people," Coleman said.
One person in New York won't need an introduction. That's Greg Robinson, the player Coleman backed up last season. Followers of the draft say Robinson could be a Top 3 pick.
"It'll be fun going up there and seeing him get picked. That's a big deal for me," Coleman said.
Coleman would like to hear his name called next year. This year, it's about St. Jude's.
"For them to give me this opportunity is a blessing. It's very exciting. People are going to see my story."
This is Coleman's well-documented story: He was diagnosed with acute lymphoblastic leukemia a month after signing with Auburn. He went through chemotherapy following St. Jude's plan. Auburn never gave up on him, promising from the moment he was diagnosed with cancer that he'd always have a scholarship with Auburn whether he played or not.
He would. After signing in 2010, Coleman was cleared for football in the spring of 2012. He practiced, built up his strength, but didn't play that season. But he did play last year and will be competing for a starting role this fall.
Coach Gus Malzahn saw Coleman's improvement last year and talked about during this year's spring practice.
"You could see he got better and better in the spring," Malzahn said. "And once we got to fall, you could tell he was starting to get his strength back. He did a solid job for us when he got in last year. Now, he's fighting for a starting position. You can see the urgency's there. He definitely looks like the guy that we recruited four years ago when he was healthy."
FORMER CONQUISTADOR QUARTERBACK BARNARD WELCH PASSES AWAY
Former Conquistador Quarterback Barnard Nichols Welch, 47, died September 16, 2012. Visitation was held on Tuesday, September 18th and the Funeral Service on Wednesday, September 19th, both at Brantley Funeral Home in Olive Branch with burial in Lebanon Cemetery. He leaves his wife Natalie Welch, daughters Alison Welch and Lauren Welch, son Ethan Welch, sister Diane Latham and brother Bill Welch. Memorials may be made to The West Clinic.
Welch was a 1982 Olive Branch High School graduate that played for the Conquistador football team all four years in high school. In the 1981 season, Barnard led OBHS to a 10-3 record in his senior year as the starting quarterback and helped to capture the Runner-up spot in the Chickasaw Conference. As quarterback, the Conquistadors won the County Championship and defeated all other DeSoto County Schools by a combined score of 110 to 15.
The MHSAA instituted the state football playoff system in the fall of 1981 and Welch became the first Conquistador quarterback of an Olive Branch football playoff team. The '81 OBHS squad won the Class AA District II Championship and he would then guide the Quistors through the playoffs to the North Mississippi Class AA Title game.
Barnard was selected as Honorable Mention on the All-Chickasaw Conference Team his senior season. Welch was also the first recipient of the "Quistor Award", the annual award presented to an Olive Branch football player recognized by the coaches for the team member who demonstrates not only leadership and hard work but other character traits that lead to winning.
Please keep the Welch family in your thoughts and prayers.
.
.
5th QUARTER SHOW - STATE CHAMPIONSHIP GAME
The Conquistadors are Playing for the Class 6A State Championship
"I'm Goin' to Jackson"
Saturday, December 3
CONQUISTADORS ARE THE MISSISSIPPI 2011 CLASS 6A STATE CHAMPS
The Olive Branch Conquistadors captured the 2011 Mississippi High School Activities Association's Class 6A State Championship in football on Friday, December 2nd at Jackson, Mississippi's Veterans Memorial Stadium. Olive Branch defeated the Petal Panthers in a thrilling come-from-behind victory (35-34).
(Click Here for the Clarion-Ledger Sport's Article on the Game)
(Click Here for the Commercial Appeal Sport's on the Game)
(Click Here for the DeSoto Times-Tribune Sport's Article on the Game)
(Click Here for the DeSoto Post Sport's Article on the Game)
.
.
Saturday, April 30
FORMER QUISTOR K. J. WRIGHT DRAFTED BY THE SEATTLE SEAHAWKS
Former Olive Branch Conquistador and Mississippi State Bulldog football standout K. J. Wright has been drafted by the NFL's Seattle Seahawks. K. J. was selected in the fourth round as the 99th overall pick in the National Football Association's 2011 Draft on Saturday, April 30th. Wright was called on his cell phone and informed by NFL officials just minutes before walking on the stage to pick up his Criminology degree in graduation ceremonies at MSU. Last season, Wright served as a team captain for the MSU Bulldogs and recorded the second highest number of tackles on the team.
Wright becomes Olive Branch's third football player to be drafted by the NFL and the first in 25 years since Jeff Walker was chosen by the San Diego Chargers in the 1986 Draft.
K. J. was a 2007 Olive Branch High School graduate that played on the football and basketball teams for the Quistors. On the OBHS football squad, he was chosen by his teammates as a Permanent Team Co-Captain and was selected by the coaching staff for the "Leslie Pool Quistor Award".
As a football player in his junior year, he was selected by The Commercial Appeal on the second team All-DeSoto County squad. As a senior, Wright received numerous awards and honors. He was picked by the Mississippi Association of Coaches to their All-State First Team Defense, played in the 20th annual Mississippi-Alabama All-Star Classic, selected as the MHSAA Region 1-5A Defensive Player of the Year and picked by The Commercial Appeal as the #5 Most Wanted Shelby-Metro football recruit and made their Shelby-Metro All-Suburban squad.
Congratulations K. J. from obhsfootball.com, we wish you well in your professional football career!
(Click here for a SeattlePI article on K. J.)
(Click here for another SeattlePI article on K. J.)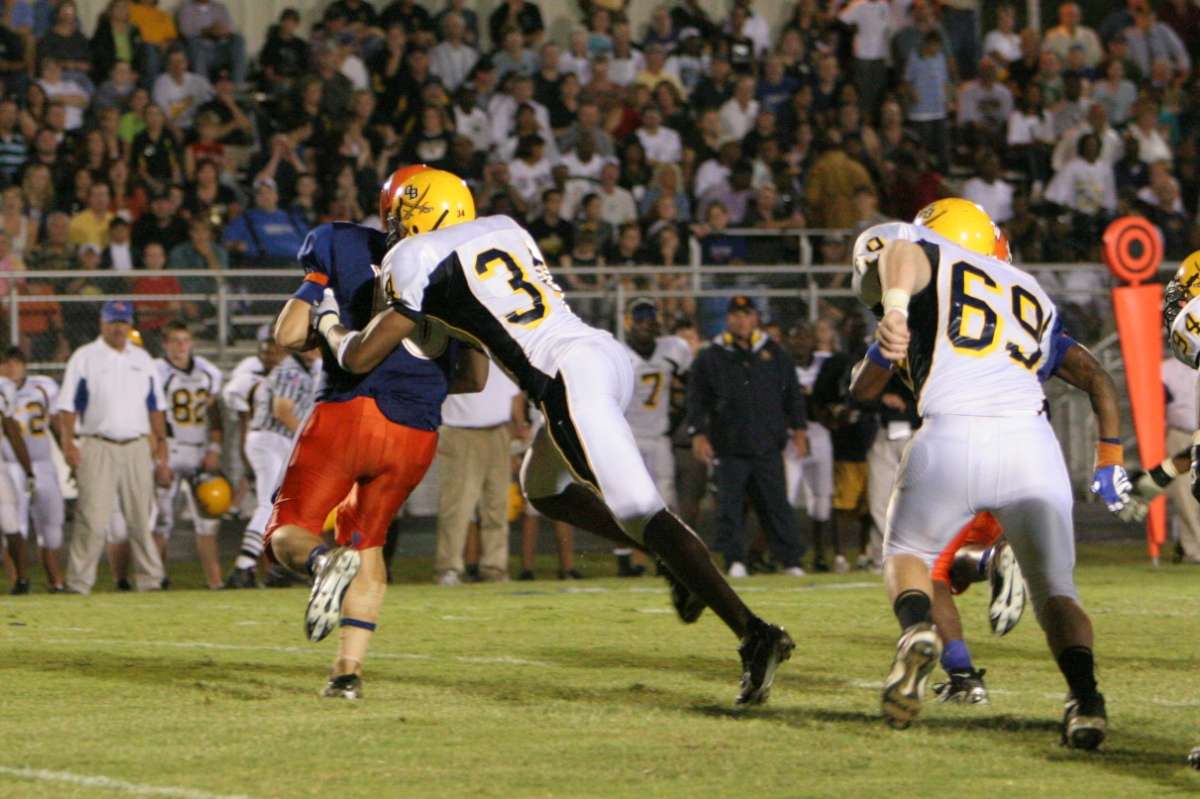 One of K. J.'s four quarterback sacks against the Southaven Chargers in 2006
Wednesday, September 29
ST. JUDE TRIBUTE FUND SET UP FOR FORMER OBHS OL SHON COLEMAN
2010 Olive Branch High School graduate and former Quistor star Offensive Lineman Shon Coleman now has a St. Jude Tribute Fund set up in his honor. Coleman was diagnosed in March, 2010 with Acute Lymphoblastic Leukemia and has been undergoing treatment at St. Jude Children's Hospital in Memphis.
Shon is in remission and going through chemo treatments at the hospital to make sure that his cancer remains out of his system. This past February, he signed with Auburn University to play football for the Tigers and will be enrolling there in the spring of 2011 with hopes of participating in spring practice.
While at OBHS, the 6-foot-7, 285-pound Coleman was selected as a First Team All-State Offensive Lineman by the Mississippi Association of Coaches, All-State OL by the Clarion-Ledger newspaper, along with being named by the newspaper's Most Wanted College Recruit from Mississippi and picked to play in the 23rd Annual Mississippi-Alabama All-Star game as well as in the U.S. Army All-American Bowl. Shon was also honored to the Commercial Appeal newspaper's Shelby-Metro All-Suburban team and chosen to the First Team as an OL for the MHSAA All-Region 1 - Class 6A squad. Upon completion of last year's Conquistador football season, he was selected by his fellow players as one of two OBHS Permanent Team Co-Captains for the 2009 season.
This fund has been created as a means for the Auburn Family and others to wrap it's arms around Shon and his family as they endure this battle. The team goal is $30,000 of which over $20,000 has already been raised thus far.
(Click here to visit Shon's St. Jude Tribute Fund website)
obhsfootball.com WEBSITE WINS ETEAMZ SPOTLIGHT SITE TROPHY AWARD
The Olive Branch High School Conquistador Football Website has won a webpage award. eteamz recently selected the obhsfootball.com website as the Spotlight Site Winner for the month of January, 2008.
Since 1998, eteamz has been connecting coaches, players, families, friends and fans of teams in over 120 countries. Their resources and customer focus have enabled them to become the Team Sports Website Leader. eteamz is home to over 2.5 million teams worldwide.
Here at obhsfootball.com, we are very honored to have been chosen for this award and we would like to thank eteamz for its consideration and selection. Go Conquistadors !