.
.
2013 OBHS VARSITY FOOTBALL SCHEDULE
| | | | |
| --- | --- | --- | --- |
| | | | |
| DATE | OPPONENT | TIME | LOCATION |
| August 23 | Memphis Ridgeway | 7 PM | Home |
| August 30 | Memphis Raleigh-Egypt | 7 PM | Home |
| September 6 | Charleston | 7 PM | Home |
| September 14 (Sat.) | Longview, TX | 7:30 PM | Shreveport, LA |
| September 20 | Tunica Rosa Fort | 7 PM | Home |
| September 27 | * Southaven | 7 PM | Home |
| October 4 | * South Panola | 7 PM | Away |
| October 11 | * DeSoto Central | 7 PM | Home |
| October 18 | * Horn Lake | 7 PM | Away |
| October 25 | * Grenada | 7 PM | Away |
| November 1 | * Hernando | 7 PM | Home |
| November 8 | * Tupelo | 7 PM | Away |
* MHSAA Region 1 - 6A Game
(A printable version is available in the "Downloads" section at the top left side of this page.)
2013 NATIONAL COLLEGE SIGNING DAY AT OBHS
The Conquistadors signed eight football players to college scholarships on "National Signing Day" on Wednesday morning, February 6th. The event was held on the campus of Olive Branch High School with parents, coaches and the media in attendance. Congratulations to these fine young men and we wish you well in your future endeavors. OBHS players that signed:
UNIVERSITY OF MEMPHIS
Jamil Collins, Sam Craft and Dontrell Nelson
NORTHWEST MISSISSIPPI COMMUNITY COLLEGE
Jordan Hall, Malik Mayweather, Byrekus "Jap" Payne and Kevin Snow
PEARL RIVER COMMUNITY COLLEGE
Davion Milan (also has an offer to walk-on at the University of Memphis)
.
.
2012 POST SEASON HONORS, SELECTIONS & AWARDS
MISSISSIPPI ASSOCIATION OF COACHES (MAC) ALL-STATE TEAM
MHSAA - CLASS 6A

First Team
Alfred Dickens - Safety

Second Team
Jamil Collins - Cornerback

MHSAA ALL-REGION 1 - CLASS 6A TEAM

Most Valuable Player - Offense
Sam Craft - Quarterback
All-Region
Jamil Collins - Cornerback
Josh Cooley - Outside Linebacker
Alfred Dickens - Strong Safety
Malik Mayweather - Wide Receiver
Daivon Milan - Offensive Lineman
Dontrell Nelson - Free Safety
Byrekus "Jap" Payne - Runningback
Honorable Mention
Dontavis Bruce - Runningback
Devontae Davis - Linebacker
Javonte Hall - Defensive Lineman
Chris Phillips - Offensive Lineman
Fred Walls - Linebacker
COMMERCIAL APPEAL "Best of the Preps" - MS/AR COUNTY TEAM

Jamil Collins
Josh Cooley
Sam Craft
Alfred Dickens
Malik Mayweather
Daivon Milan
Dontrell Nelson
Byrekus "Jap" Payne
CLARION LEDGER ALL-STATE TEAM
(Includes both MHSAA & MAIS Schools and All Classifications)

First Team
Dontrell Nelson - Defensive Back

Second Team
Jamil Collins - Defensive Back
.
.
2012 OBHS POST SEASON FOOTBALL BANQUET
The annual OBHS football banquet for 2012/13 was held at Olive Branch High School on Saturday night - December 8th. A sincere thanks and appreciation to the player's parents and the OBHS Football Booster Club members and officers for your hard work and effort in making this banquet a success.
The dinner was prepared by Wray's Fins & Feathers Restaurant, after the meal Head Coach Scott Samsel spoke about the 2012 season and post season honors and awards were presented to the players. The 2012 highlight film on the games played by the Conquistadors this past year were shown to conclude the night's activities.
The following players were selected with team honors and awards for the 2012 season:
B. J. "Red" CHAIN, Sr. ACADEMIC AWARD
Zack Wier

LESLIE POOL QUISTOR AWARD
Kevin Snow

PERMANENT TEAM CO-CAPTAINS
Jamil Collins & Daivon Milan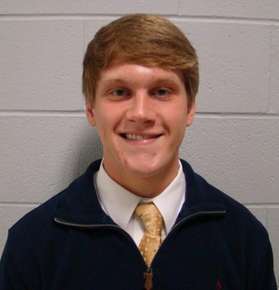 "B. J. Chain, Sr. Academic Award" - Zack Wier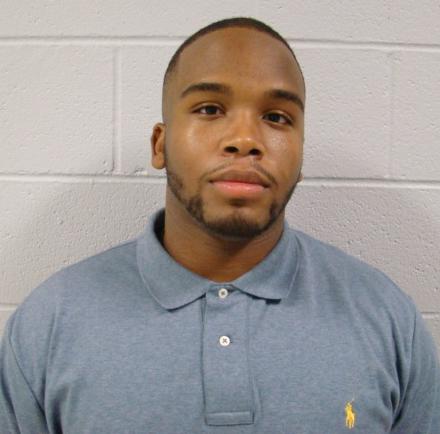 "Leslie Pool Quistor Award" - Kevin Snow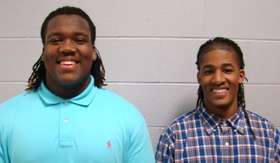 "2012 Permanent Team Co-Captains" - Daivon Milan & Jamil Collins
.
.
FORMER CONQUISTADOR QUARTERBACK BARNARD WELCH PASSES AWAY
Former Conquistador Quarterback Barnard Nichols Welch, 47, died September 16, 2012. Visitation was held on Tuesday, September 18th and the Funeral Service on Wednesday, September 19th, both at Brantley Funeral Home in Olive Branch with burial in Lebanon Cemetery. He leaves his wife Natalie Welch, daughters Alison Welch and Lauren Welch, son Ethan Welch, sister Diane Latham and brother Bill Welch. Memorials may be made to The West Clinic.
Welch was a 1982 Olive Branch High School graduate that played for the Conquistador football team all four years in high school. In the 1981 season, Barnard led OBHS to a 10-3 record in his senior year as the starting quarterback and helped to capture the Runner-up spot in the Chickasaw Conference. As quarterback, the Conquistadors won the County Championship and defeated all other DeSoto County Schools by a combined score of 110 to 15.
The MHSAA instituted the state football playoff system in the fall of 1981 and Welch became the first Conquistador quarterback of an Olive Branch football playoff team. The '81 OBHS squad won the Class AA District II Championship and he would then guide the Quistors through the playoffs to the North Mississippi Class AA Title game.
Barnard was selected as Honorable Mention on the All-Chickasaw Conference Team his senior season. Welch was also the first recipient of the "Quistor Award", the annual award presented to an Olive Branch football player recognized by the coaches for the team member who demonstrates not only leadership and hard work but other character traits that lead to winning.
Please keep the Welch family in your thoughts and prayers.
.
.
2012 OBHS FOOTBALL PROGRAM / MEDIA GUIDE NOW ON SALE AT HOME GAMES
The 2012 Olive Branch Conquistador Football Program & Media Guide (shown above) is now available for purchase for $7.00 at the booster club booth at any of the home football games at Leslie Pool Field this season. The Program has all the information about your 2012 Conquistadors and includes details on former OBHS teams from the 2002, 1992, 1982, 1972, 1962, 1952, 1942 and 1932 seasons, past head coaches records, past year's Olive Branch teams and their records, OBHS team and individual player school records, milestone games, past homecoming contests, this year's opponents schedules and records against OBHS, all-time records for opponents versus Olive Branch, quick facts on the school, current school administration, the coaching staff, support staff personnel, 2012 roster and color team photos and much more.
This season's Olive Branch Football Program was designed and assembled by Mrs. Cindy Cooley, wife of Quistor Defensive Line Coach John Cooley and mother of OBHS Linebacker/Quarterback Josh Cooley. Mrs. Cooley has spent a great effort and time in compiling the 2012 Program and she has done a very professional and first class job. www.obhsfootball.com would like to say hats off on a fantastic job and a sincere thanks to Mrs. Cindy!
.
.
5th QUARTER SHOW - STATE CHAMPIONSHIP GAME
The Conquistadors are Playing for the Class 6A State Championship
"I'm Goin' to Jackson"
MARKS THE SPOT ACTION SHOTS OF CONQUISTADOR GAMES
The Olive Branch Football Booster Club has retained the services of Conquistador Photographer Mark Anderson again this season. Mr. Anderson works the sidelines during OBHS games photographing Quistor players and taking action shots of the plays as they happen.
You can view and order his pictures from his website by clicking on the rotating camera to the left or at www.marksthespot.shutterfly.com Use the following password once you scroll to the site by typing in: obhs
.
.
Wednesday, February 1
2012 NATIONAL COLLEGE SIGNING DAY AT OBHS
On Wednesday morning, February 1st, ceremonies for "National College Signing Day" were held at Olive Branch High School, attended by the local news and sports media, family, supporters, fans, alumni, school administrators and coaches. Eighteen (18) Conquistador players signed their name on the dotted line to play football at the next level. This is the most ever in a single year in the history of OBHS football. Quistors participating in the event (in alphabetical order) along with the college they chose:
BYRON AKINS - Northwest Mississippi Community College (Senatobia, MS)
RYAN CORDICE - Northwest Mississippi Community College (Senatobia, MS)
D'ARTHUR COWAN - University of Arkansas (Fayetteville, AR)
COURTNEY DRAIN - Northwest Mississippi Community College (Senatobia, MS)
MARQUIS ECHOLS - Northwest Mississippi Community College (Senatobia, MS)
NOLAN GEESLIN - Northwest Mississippi Community College (Senatobia, MS)
JIMMY GIPSON - East Mississippi Community College (Scooba, MS)
JOHN JOHNSON - Mississippi Valley State University (Itta Bena, MS)
NICK JOHNSON - NECC (Booneville, MS) / Mississippi Valley State University (Itta Bena, MS)
TODD MAYS - Arkansas State University (Jonesboro, AR)
WYNTON McMANIS - University of Memphis (Memphis, TN)
JAYLEN MILLER - Holmes Community College (Goodman, MS)
DEVIN MONDIE - Arkansas State University (Jonesboro, AR)
LEONARD PEGUES - University of Memphis (Memphis, TN)
DARIUS "BAM" PHILLIPS - Northwest Mississippi Community College (Senatobia, MS)
TRE PRICE - Mississippi Valley State University (Itta Bena, MS)
JAMARCUS WILLIAMSON - Holmes Community College (Goodman, MS)
KYLE WISEMAN - Mississippi Valley State University (Itta Bena, MS)
Congratulations gentlemen, obhsfootball.com wishes you well in your college careers and future endeavors!
.
.
Saturday, December 3
CONQUISTADORS ARE THE MISSISSIPPI 2011 CLASS 6A STATE CHAMPS
The Olive Branch Conquistadors captured the 2011 Mississippi High School Activities Association's Class 6A State Championship in football on Friday, December 2nd at Jackson, Mississippi's Veterans Memorial Stadium. Olive Branch defeated the Petal Panthers in a thrilling come-from-behind victory (35-34).
(Click Here for the Clarion-Ledger Sport's Article on the Game)
(Click Here for the Commercial Appeal Sport's on the Game)
(Click Here for the DeSoto Times-Tribune Sport's Article on the Game)
(Click Here for the DeSoto Post Sport's Article on the Game)
.
.
Saturday, April 30
FORMER QUISTOR K. J. WRIGHT DRAFTED BY THE SEATTLE SEAHAWKS
Former Olive Branch Conquistador and Mississippi State Bulldog football standout K. J. Wright has been drafted by the NFL's Seattle Seahawks. K. J. was selected in the fourth round as the 99th overall pick in the National Football Association's 2011 Draft on Saturday, April 30th. Wright was called on his cell phone and informed by NFL officials just minutes before walking on the stage to pick up his Criminology degree in graduation ceremonies at MSU. Last season, Wright served as a team captain for the MSU Bulldogs and recorded the second highest number of tackles on the team.
Wright becomes Olive Branch's third football player to be drafted by the NFL and the first in 25 years since Jeff Walker was chosen by the San Diego Chargers in the 1986 Draft.
K. J. was a 2007 Olive Branch High School graduate that played on the football and basketball teams for the Quistors. On the OBHS football squad, he was chosen by his teammates as a Permanent Team Co-Captain and was selected by the coaching staff for the "Leslie Pool Quistor Award".
As a football player in his junior year, he was selected by The Commercial Appeal on the second team All-DeSoto County squad. As a senior, Wright received numerous awards and honors. He was picked by the Mississippi Association of Coaches to their All-State First Team Defense, played in the 20th annual Mississippi-Alabama All-Star Classic, selected as the MHSAA Region 1-5A Defensive Player of the Year and picked by The Commercial Appeal as the #5 Most Wanted Shelby-Metro football recruit and made their Shelby-Metro All-Suburban squad.
Congratulations K. J. from obhsfootball.com, we wish you well in your professional football career!
(Click here for a SeattlePI article on K. J.)
(Click here for another SeattlePI article on K. J.)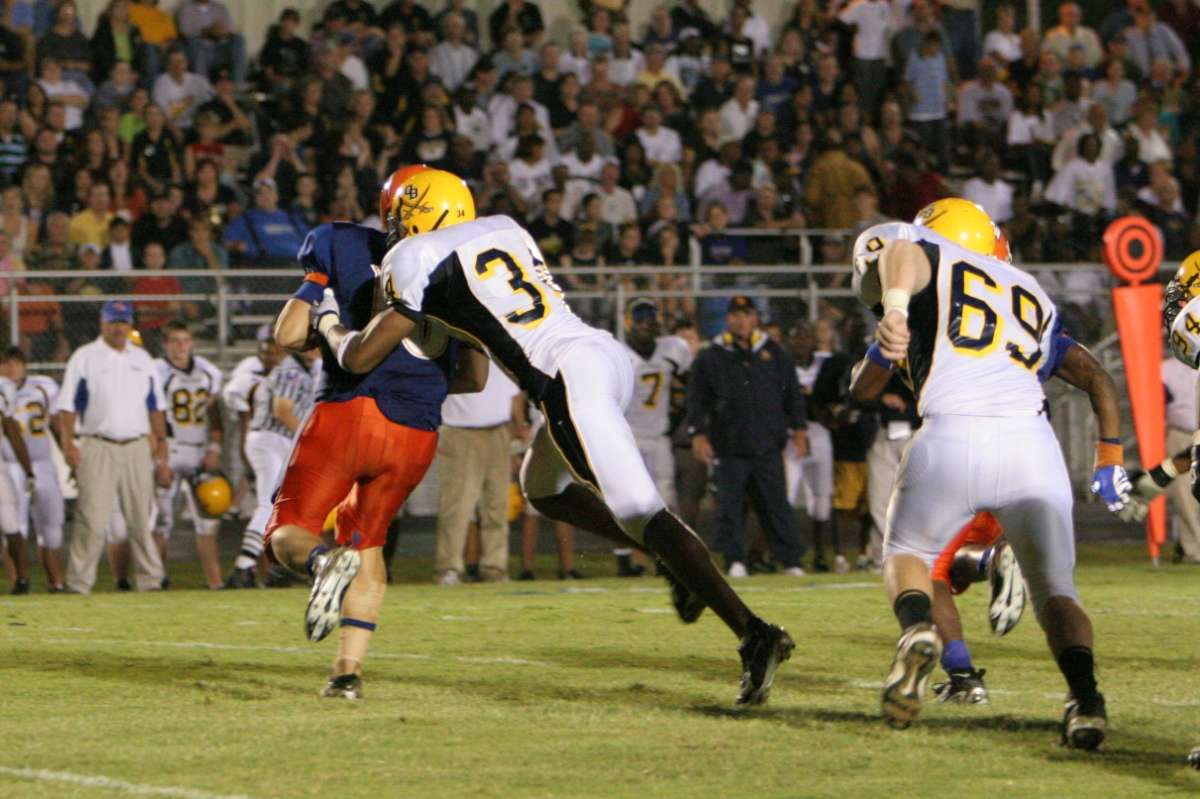 One of K. J.'s four quarterback sacks against the Southaven Chargers in 2006
Wednesday, September 29
ST. JUDE TRIBUTE FUND SET UP FOR FORMER OBHS OL SHON COLEMAN
2010 Olive Branch High School graduate and former Quistor star Offensive Lineman Shon Coleman now has a St. Jude Tribute Fund set up in his honor. Coleman was diagnosed in March, 2010 with Acute Lymphoblastic Leukemia and has been undergoing treatment at St. Jude Children's Hospital in Memphis.
Shon is in remission and going through chemo treatments at the hospital to make sure that his cancer remains out of his system. This past February, he signed with Auburn University to play football for the Tigers and will be enrolling there in the spring of 2011 with hopes of participating in spring practice.
While at OBHS, the 6-foot-7, 285-pound Coleman was selected as a First Team All-State Offensive Lineman by the Mississippi Association of Coaches, All-State OL by the Clarion-Ledger newspaper, along with being named by the newspaper's Most Wanted College Recruit from Mississippi and picked to play in the 23rd Annual Mississippi-Alabama All-Star game as well as in the U.S. Army All-American Bowl. Shon was also honored to the Commercial Appeal newspaper's Shelby-Metro All-Suburban team and chosen to the First Team as an OL for the MHSAA All-Region 1 - Class 6A squad. Upon completion of last year's Conquistador football season, he was selected by his fellow players as one of two OBHS Permanent Team Co-Captains for the 2009 season.
This fund has been created as a means for the Auburn Family and others to wrap it's arms around Shon and his family as they endure this battle. The team goal is $30,000 of which over $20,000 has already been raised thus far.
(Click here to visit Shon's St. Jude Tribute Fund website)
.
.
OBHS SPIRIT BRICKS TO PAVE WAY INTO RENOVATED POOL FIELD
Olive Branch High School would appreciate your donation to help with the renovation to Leslie Pool Field. All Olive Branch High School students, alumni, Boosters, former Lettermen, parents, friends and neighbors are invited and encouraged to participate in this once in a lifetime opportunity.
The Spirit Brick program will establish a "Bricked Courtyard" at the main gate into Pool Field. Your customized Spirit Brick will be placed in the Pool Field Courtyard to become a permanent piece of OBHS legacy. We want you to have an opportunity to commemorate a special event in someone's life, honor a friend or family member or memoralize someone special to show your Conquistador spirit.
With OBHS Spirit Bricks, you can be one of the first to forever immoralize your school spirit and show your support for Olive Branch High School and the Pool Field renovation project. Donate a piece of history with your personalized brick and for Conquistadors past, present and future.
Click on the banner above for additional information.
obhsfootball.com WEBSITE WINS ETEAMZ SPOTLIGHT SITE TROPHY AWARD
The Olive Branch High School Conquistador Football Website has won a webpage award. eteamz recently selected the obhsfootball.com website as the Spotlight Site Winner for the month of January, 2008.
Since 1998, eteamz has been connecting coaches, players, families, friends and fans of teams in over 120 countries. Their resources and customer focus have enabled them to become the Team Sports Website Leader. eteamz is home to over 2.5 million teams worldwide.
Here at obhsfootball.com, we are very honored to have been chosen for this award and we would like to thank eteamz for its consideration and selection. Go Conquistadors !