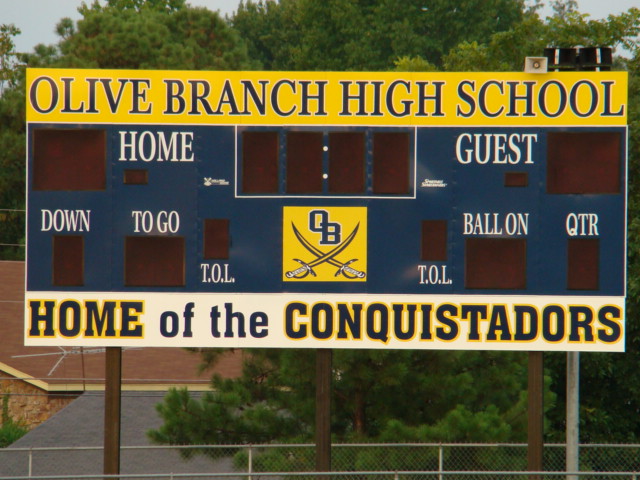 ___________________
TRADITION - CLASS - PRIDE
"DeSoto County's First Organized High School Football Program"
Established in 1926
___________________
www.obhsfootball.com
OLIVE BRANCH HIGH SCHOOL WELCOMES .....
2015 OBHS FOOTBALL SCHEDULE
| | | | |
| --- | --- | --- | --- |
| | | | |
| DATE | OPPONENT | TIME | LOCATION |
| August 21 | Brentwood Academy (TN) | 7 PM | Home |
| August 28 | Memphis University School | 7 PM | Away |
| September 4 | Charleston | 7 PM | Home |
| September 11 | Memphis White Station | 7 PM | Away |
| September 18 | - - - - OPEN DATE - - - - | | |
| September 25 | * Southaven | 7 PM | Home |
| October 2 | * South Panola | 7 PM | Away |
| October 9 | * DeSoto Central | 7 PM | Home |
| October 16 | * Horn Lake | 7 PM | Away |
| October 23 | * Columbus | 7 PM | Away |
| October 30 | * Hernando | 7 PM | Home |
| November 6 | * Tupelo | 7 PM | Away |
* MHSAA Region 1 - 6A Game
(For a printable version of the schedule go to the "Downloads" section at the top left side of this webpage)
TWO QUISTORS SELECTED FOR 28TH ANNUAL AL-MS ALL-STAR GAME
Two Olive Branch football players were recently selected for the 2014 Mississippi team in the 28th Annual Alabama-Mississippi All-Star Football Classic to be played Saturday, December 13th at Cramton Bowl in Montgomery, Alabama beginning at 12 noon.
T. J. Jallow and Fred Walls were two of the players named to the 40-man roster chosen by the Mississippi All-Star coaching staff and selected media members recently. Including this year's selections, there have been a total of nineteen Conquistador seniors picked during the past eleven years for this prominent Classic.
In addition to this year's selection, OBHS players chosen for the previous Classics were: Todd Mays, D'Arthur Cowan, Leonard Pegues, Jalen Collins, Shon Coleman, Damien Robinson, Rod Woodson, Keshun Cowan, Aubrey Phillips, Sylvester Hemphill, Marlon Walls, K. J. Wright, Anthony Summers, Markeith Summers, Allen Walker, Victor Thomas and Ryan Hoormann.
(Click here to view the 2014 Mississippi & Alabama rosters)
.
.
OBHS PLAYER PICKED FOR BERNARD BLACKWELL ALL-STAR GAME
Olive Branch's KyKy Austin was recently chosen as a part of the 40-man North roster for the 66th Annual Bernard Blackwell Football Classic. This all-star game features standout high school seniors in football from North and South Mississippi in the annual all-star classic. The game will be played on Saturday, December 20th in Gulfport, MS with kickoff slated for 11:30 AM. Last year, Mississippi's South All-Stars defeated the North, 24-9.
Including Austin, there have been a total of eleven Conquistador seniors picked since 2006 to play in this all-star game. Other OBHS seniors selected over the previous eight seasons are: Ronald Cochran, Marcus Leflore, Chris Phillips, Devin Mondie, Jaylen Miller, Reggie Williams, Keyshun Shipp, Clint Wilson, Demarcus Harris and Chris Zinn.
(Click here for the North and South Mississippi rosters)
.
.
FOLLOW THE CONQUISTADORS ON SOCIAL MEDIA
______________________________________________________________________
"Facebook" at OBHS Football Boosters
and
"Twitter" @QuistorFootball
______________________________________________________________________
.
.
OBHS SPECIALTY VEHICLE TAGS NOW AVAILABLE AT TAX COLLECTOR'S OFFICE
SHOW YOUR SCHOOL SPIRIT! The Olive Branch School Specialty Vehicle Tags are now available for purchase at the DeSoto County Tax Collector's Office on B.J. Chain Drive off Hwy. 305 in Olive Branch. The tag has a Conquistador school logo and swords set on a gold background on the left side along with letters "OB" on the right side of the right side and "Olive Branch High School" is printed on the bottom.
On March 31, 2009 the Mississippi Legislature passed an amendment presented by former State Senator Merle Flowers into a conference report that will create a distinctive motor vehicle license plate for Olive Branch High School. The tag will cost an additional thirty-one dollars, with approximately twenty-four dollars from each license plate sold going directly to the Olive Branch Football Booster Club.
Thanks Senator Flowers and OBHS Supporters for Your Help in this Project!
MARKS THE SPOT ACTION SHOTS OF CONQUISTADOR GAMES
The Olive Branch Football Booster Club has retained the services of Conquistador Photographer Mark Anderson again this season. Mr. Anderson works the sidelines during OBHS games photographing Quistor players and taking action shots of the plays as they happen.
You can view and order his pictures from his website by clicking on the rotating camera to the left or at www.marksthespot.shutterfly.com Use the following password once you scroll to the site by typing in: obhs
.
.
OBHS SPIRIT BRICKS TO PAVE WAY INTO RENOVATED POOL FIELD
Olive Branch High School would appreciate your donation to help with the renovation to Leslie Pool Field. All Olive Branch High School students, alumni, Boosters, former Lettermen, parents, friends and neighbors are invited and encouraged to participate in this once in a lifetime opportunity.
The Spirit Brick program will establish a "Bricked Courtyard" at the main gate into Pool Field. Your customized Spirit Brick will be placed in the Pool Field Courtyard to become a permanent piece of OBHS legacy. We want you to have an opportunity to commemorate a special event in someone's life, honor a friend or family member or memoralize someone special to show your Conquistador spirit.
With OBHS Spirit Bricks, you can be one of the first to forever immoralize your school spirit and show your support for Olive Branch High School and the Pool Field renovation project. Donate a piece of history with your personalized brick and for Conquistadors past, present and future.
Click on the banner above for additional information.
GUESTBOOK
Please show your OB Pride by clicking on the "Guestbook" label at the top left side of the homepage and signing our guestbook to let us know that you were here. Thanks.


Olive Branch High School Conquistadors
"eteamz Spotlight Site Winner"
January 2008

Football