---
TRADITION - CLASS - PRIDE
"DeSoto County's First Organized High School Football Program"
Established in 1926
---
www.obhsfootball.com
2013 OBHS VARSITY FOOTBALL SCHEDULE
.
.
2013 OBHS VARSITY FOOTBALL SCHEDULE
| | | | |
| --- | --- | --- | --- |
| | | | |
| DATE | OPPONENT | TIME | LOCATION |
| August 23 | Memphis Ridgeway | 7 PM | Home |
| August 30 | Memphis Raleigh-Egypt | 7 PM | Home |
| September 6 | Charleston | 7 PM | Home |
| September 14 (Sat.) | Longview, TX | 7:30 PM | Shreveport, LA |
| September 20 | Tunica Rosa Fort | 7 PM | Home |
| September 27 | * Southaven | 7 PM | Home |
| October 4 | * South Panola | 7 PM | Away |
| October 11 | * DeSoto Central | 7 PM | Home |
| October 18 | * Horn Lake | 7 PM | Away |
| October 25 | * Grenada | 7 PM | Away |
| November 1 | * Hernando | 7 PM | Home |
| November 8 | * Tupelo | 7 PM | Away |
* MHSAA Region 1 - 6A Game
(A printable version is available in the "Downloads" section at the top left side of this page.)
2013 NATIONAL COLLEGE SIGNING DAY AT OBHS
The Conquistadors signed eight football players to college scholarships on "National Signing Day" on Wednesday morning, February 6th. The event was held on the campus of Olive Branch High School with parents, coaches and the media in attendance. Congratulations to these fine young men and we wish you well in your future endeavors. OBHS players that signed:
UNIVERSITY OF MEMPHIS
Jamil Collins, Sam Craft and Dontrell Nelson
NORTHWEST MISSISSIPPI COMMUNITY COLLEGE
Jordan Hall, Malik Mayweather, Byrekus "Jap" Payne and Kevin Snow
PEARL RIVER COMMUNITY COLLEGE
Davion Milan (also has an offer to walk-on at the University of Memphis)
.
.
2012 POST SEASON HONORS, SELECTIONS & AWARDS
MISSISSIPPI ASSOCIATION OF COACHES (MAC) ALL-STATE TEAM
MHSAA - CLASS 6A

First Team
Alfred Dickens - Safety

Second Team
Jamil Collins - Cornerback

MHSAA ALL-REGION 1 - CLASS 6A TEAM

Most Valuable Player - Offense
Sam Craft - Quarterback
All-Region
Jamil Collins - Cornerback
Josh Cooley - Outside Linebacker
Alfred Dickens - Strong Safety
Malik Mayweather - Wide Receiver
Daivon Milan - Offensive Lineman
Dontrell Nelson - Free Safety
Byrekus "Jap" Payne - Runningback
Honorable Mention
Dontavis Bruce - Runningback
Devontae Davis - Linebacker
Javonte Hall - Defensive Lineman
Chris Phillips - Offensive Lineman
Fred Walls - Linebacker
COMMERCIAL APPEAL "Best of the Preps" - MS/AR COUNTY TEAM

Jamil Collins
Josh Cooley
Sam Craft
Alfred Dickens
Malik Mayweather
Daivon Milan
Dontrell Nelson
Byrekus "Jap" Payne
CLARION LEDGER ALL-STATE TEAM
(Includes both MHSAA & MAIS Schools and All Classifications)

First Team
Dontrell Nelson - Defensive Back

Second Team
Jamil Collins - Defensive Back
.
.
2012 OBHS POST SEASON FOOTBALL BANQUET
The annual OBHS football banquet for 2012/13 was held at Olive Branch High School on Saturday night - December 8th. A sincere thanks and appreciation to the player's parents and the OBHS Football Booster Club members and officers for your hard work and effort in making this banquet a success.
The dinner was prepared by Wray's Fins & Feathers Restaurant, after the meal Head Coach Scott Samsel spoke about the 2012 season and post season honors and awards were presented to the players. The 2012 highlight film on the games played by the Conquistadors this past year were shown to conclude the night's activities.
The following players were selected with team honors and awards for the 2012 season:
B. J. "Red" CHAIN, Sr. ACADEMIC AWARD
Zack Wier

LESLIE POOL QUISTOR AWARD
Kevin Snow

PERMANENT TEAM CO-CAPTAINS
Jamil Collins & Daivon Milan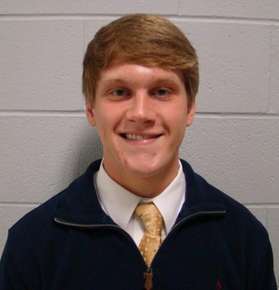 "B. J. Chain, Sr. Academic Award" - Zack Wier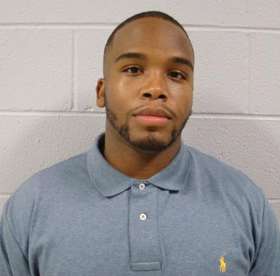 "Leslie Pool Quistor Award" - Kevin Snow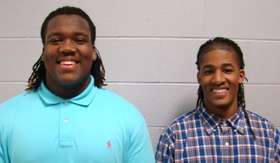 "2012 Permanent Team Co-Captains" - Daivon Milan & Jamil Collins
.
.
FORMER CONQUISTADOR QUARTERBACK BARNARD WELCH PASSES AWAY
Former Conquistador Quarterback Barnard Nichols Welch, 47, died September 16, 2012. Visitation was held on Tuesday, September 18th and the Funeral Service on Wednesday, September 19th, both at Brantley Funeral Home in Olive Branch with burial in Lebanon Cemetery. He leaves his wife Natalie Welch, daughters Alison Welch and Lauren Welch, son Ethan Welch, sister Diane Latham and brother Bill Welch. Memorials may be made to The West Clinic.
Welch was a 1982 Olive Branch High School graduate that played for the Conquistador football team all four years in high school. In the 1981 season, Barnard led OBHS to a 10-3 record in his senior year as the starting quarterback and helped to capture the Runner-up spot in the Chickasaw Conference. As quarterback, the Conquistadors won the County Championship and defeated all other DeSoto County Schools by a combined score of 110 to 15.
The MHSAA instituted the state football playoff system in the fall of 1981 and Welch became the first Conquistador quarterback of an Olive Branch football playoff team. The '81 OBHS squad won the Class AA District II Championship and he would then guide the Quistors through the playoffs to the North Mississippi Class AA Title game.
Barnard was selected as Honorable Mention on the All-Chickasaw Conference Team his senior season. Welch was also the first recipient of the "Quistor Award", the annual award presented to an Olive Branch football player recognized by the coaches for the team member who demonstrates not only leadership and hard work but other character traits that lead to winning.
Please keep the Welch family in your thoughts and prayers.
.
.
OBHS SPECIALTY VEHICLE TAGS NOW AVAILABLE AT TAX COLLECTOR'S OFFICE
SHOW YOUR SCHOOL SPIRIT! The Olive Branch School Specialty Vehicle Tags are now available for purchase at the DeSoto County Tax Collector's Office on B.J. Chain Drive off Hwy. 305 in Olive Branch. The revised tag now has an OB logo and swords set on a navy blue background along with the 2011 Class 6A State Football Champions emblem attached.
On March 31, 2009 the Mississippi Legislature passed an amendment presented by State Senator Merle Flowers into a conference report that will create a distinctive motor vehicle license plate for Olive Branch High School. The tag will cost an additional thirty-one dollars, with approximately twenty-four dollars from each license plate sold going directly to the Olive Branch Football Booster Club.
Thanks Senator Flowers and OBHS Supporters for Your Help in this Project!
.
.
.
.
MARKS THE SPOT ACTION SHOTS OF CONQUISTADOR GAMES
The Olive Branch Football Booster Club has retained the services of Conquistador Photographer Mark Anderson again this season. Mr. Anderson works the sidelines during OBHS games photographing Quistor players and taking action shots of the plays as they happen.
You can view and order his pictures from his website by clicking on the rotating camera to the left or at www.marksthespot.shutterfly.com Use the following password once you scroll to the site by typing in: obhs
.
.
OBHS SPIRIT BRICKS TO PAVE WAY INTO RENOVATED POOL FIELD
Olive Branch High School would appreciate your donation to help with the renovation to Leslie Pool Field. All Olive Branch High School students, alumni, Boosters, former Lettermen, parents, friends and neighbors are invited and encouraged to participate in this once in a lifetime opportunity.
The Spirit Brick program will establish a "Bricked Courtyard" at the main gate into Pool Field. Your customized Spirit Brick will be placed in the Pool Field Courtyard to become a permanent piece of OBHS legacy. We want you to have an opportunity to commemorate a special event in someone's life, honor a friend or family member or memoralize someone special to show your Conquistador spirit.
With OBHS Spirit Bricks, you can be one of the first to forever immoralize your school spirit and show your support for Olive Branch High School and the Pool Field renovation project. Donate a piece of history with your personalized brick and for Conquistadors past, present and future.
Click on the banner above for additional information.
GUESTBOOK
Please show your OB Pride by clicking on the "Guestbook" label at the top left side of the homepage and signing our guestbook to let us know that you were here. Thanks.


Olive Branch High School Conquistadors
"eteamz Spotlight Site Winner"
January 2008

Football